**These posts often contain affiliate links. Please see our disclosure policy for details.**
Felt balls are one of my favorite and most often used crafts supplies.
I have made everything from felt ball garlands to felt ball wreath and Christmas tree ornaments, and felt ball dream catcher ornaments.
Valentine's Day is a great opportunity to combine felt balls with another of my favorite craft supplies (googly eyes!) and make fun treat buddies to accompany Valentine treats for school.
Here's how to make simple and yet SO cute Valentine's Day treat buddies that your kids (and their classmates) will love.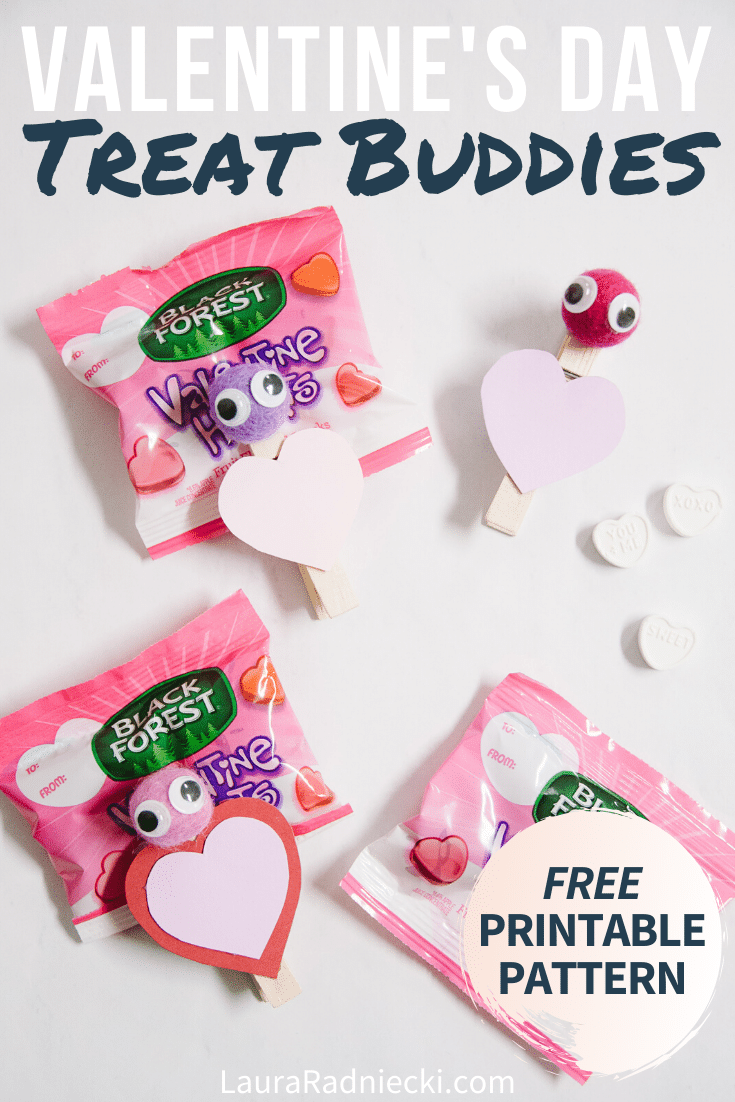 How to Make Valentine's Day Treat Buddies | Valentine Treats for School
Step 1. Gather Supplies.
Supplies Needed:
Felt Balls (20mm felt balls are my favorite size)
Colored paper or card stock
Wooden clothes pins
Scissors
Hot glue gun and glue
Pencil
Heart Templates (they're free in The Resource Library!)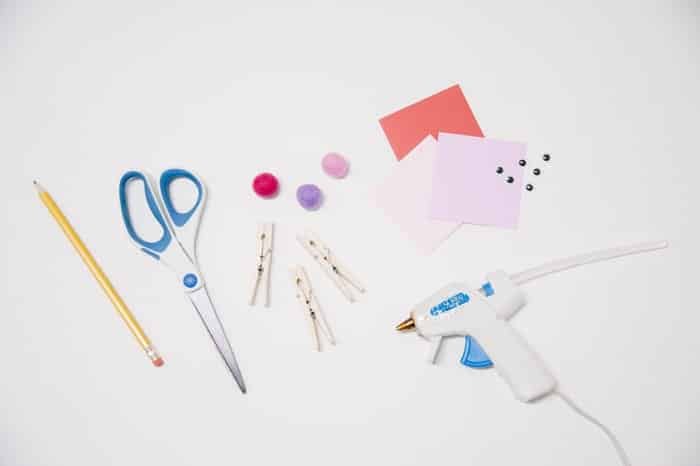 Step 2. Trace and cut out colored hearts.
Print and cut out the heart shaped templates from the resource library.
Using the templates, trace hearts onto the pieces of colored card stock and cut out hearts.
You can keep things simple and do one heart per treat buddy, or you can combine the two different sized hearts too.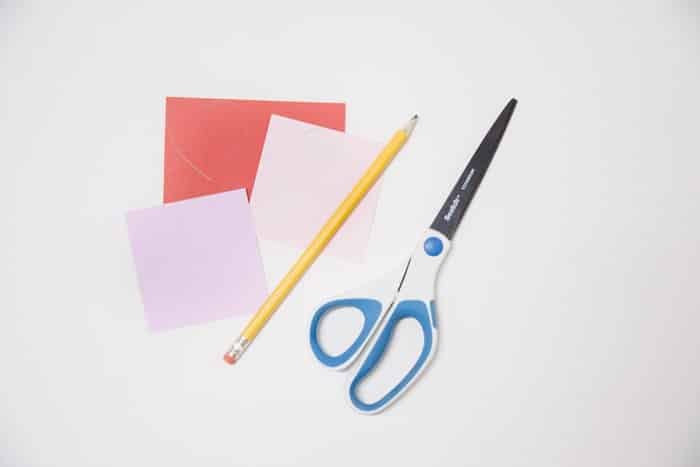 Step 3. Hot glue googly eyes onto felt balls.
Carefully put two small dots of hot glue onto each felt ball and add googly eyes.
Let dry.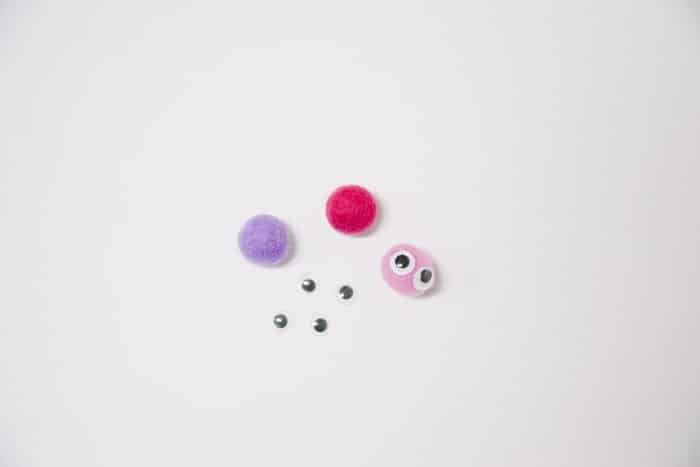 Step 4. Hot glue felt ball head to one end of a wooden clothes pin.
Take a wooden clothes pin and put a dab of hot glue on one end.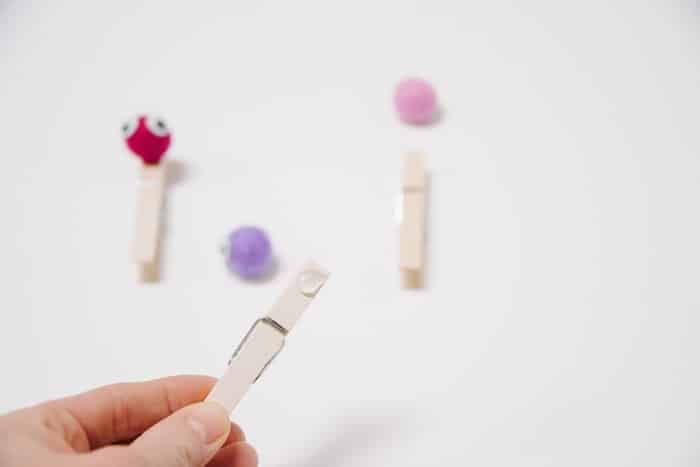 Add a felt ball head, and hold in place until the glue sets.
Repeat for all of the treat buddies.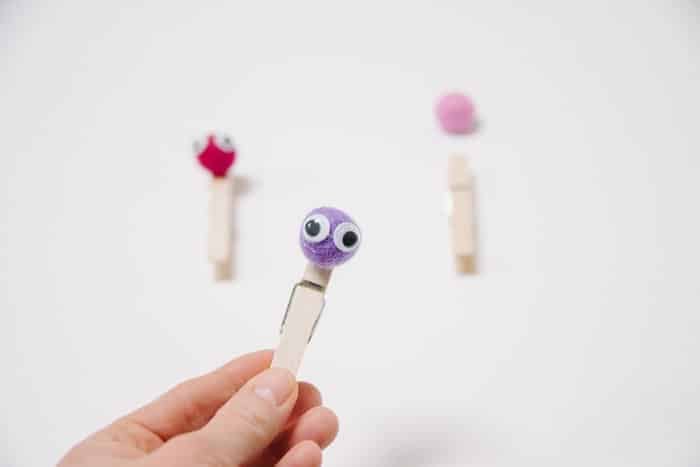 Step 5. Hot glue a heart to each clothes pin.
Match up the colored hearts to the felt ball colors. I wanted variation so I mixed and matched. I didn't want pink with pink or purple with purple etc; I wanted to mix them up.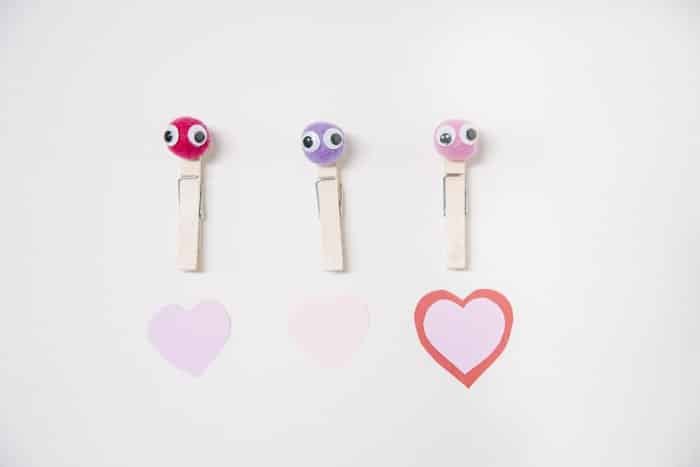 Add a line of hot glue a little less than 1 inch long to the middle of the clothes pin.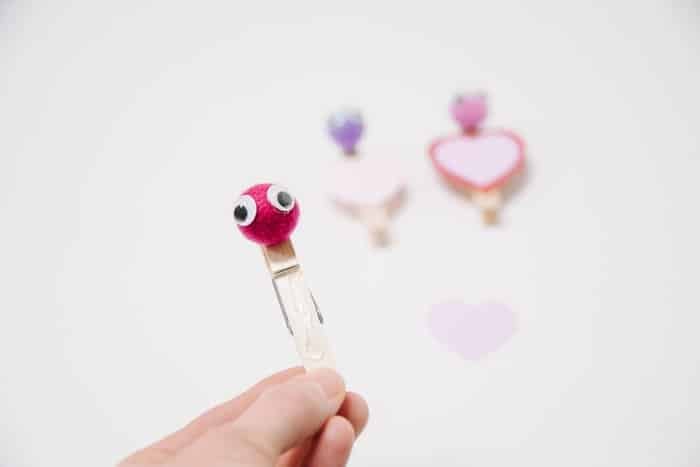 Carefully lay paper heart on top of the line and let dry.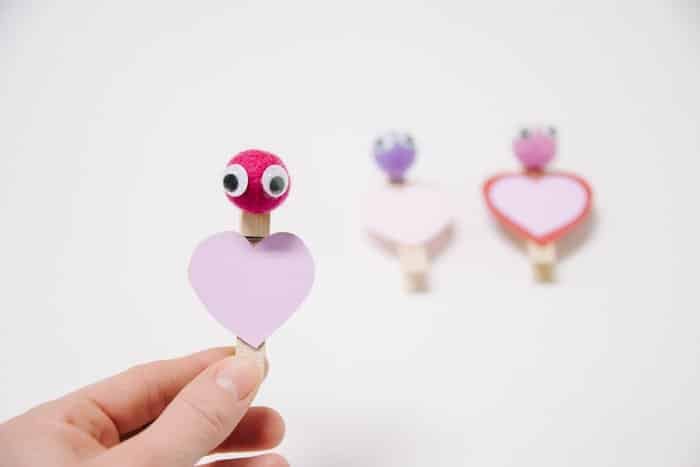 Repeat for all of the clothes pins and hearts.
Step 6. Write a Valentine's Day Message on each heart.
This step is actually easier if it's done before gluing the hearts to the clothes pin, but it can be done now as well. (Like I did with the ones in the photos.)
I wrote a simple message on the hearts like "Happy Valentine's Day! <3, Raleigh"
Step 7. Clip a sweet treat into the clothes pin, and deliver the Valentine treats for school!
You can clip any kind of valentine's day treat into the clothes pin.
I used some Valentine's Day fruit snacks for these treat buddies.
I'm not sure what it is about googly eyes but they make everything so much better!
– – – – –
Save this idea for later by pinning the photo below to Pinterest!