**These posts often contain affiliate links. Please see our disclosure policy for details.**
Fourth of July decor doesn't have to be fancy or complicated. It's the main holiday of summertime, which is typically when people are busiest while school's out.
With a few simple supplies and five minutes, here is a fourth of July felt ball garland that gets you in the Independence Day spirit fast!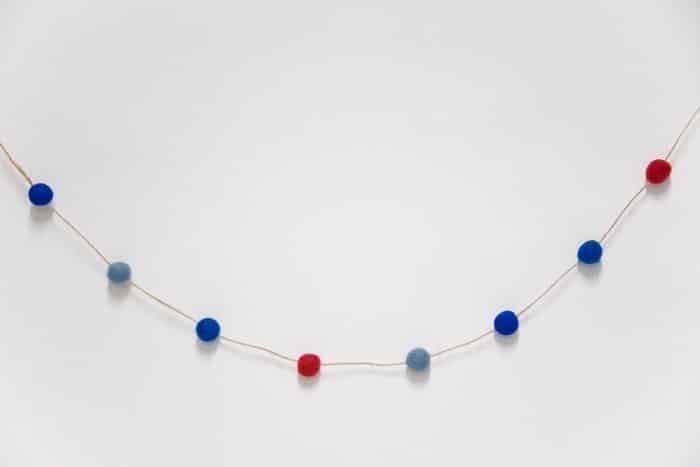 How to Make a Fourth of July Felt Ball Garland
Step 1: Gather your supplies.
Supplies Needed: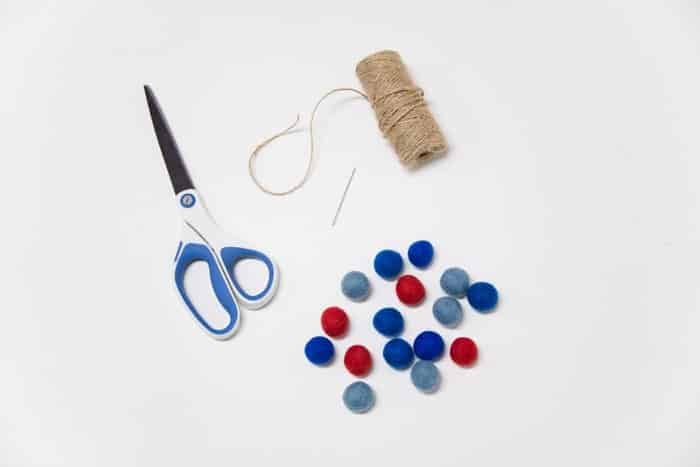 Step 2. Determine pattern for felt ball colors.
Depending on the colors of felt balls you have, and the look you are going for with your garland, decide what order you want the felt balls to be in. Do you want a red-white-blue-red-white-blue garland? Or are you looking for something more random?
Step 3. Thread needle with string.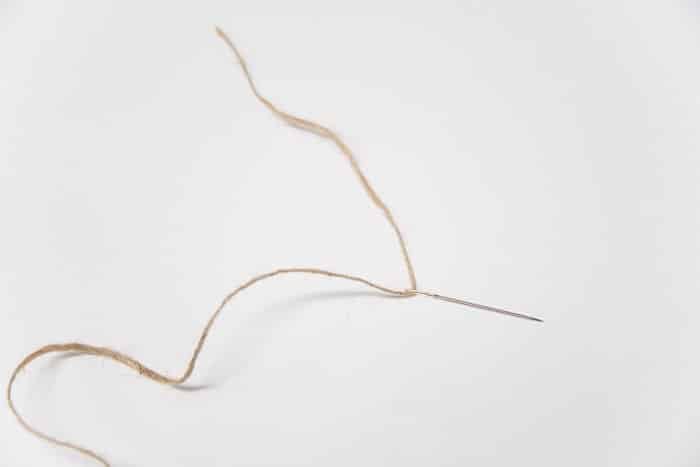 Step 4. String felt balls onto needle and string.
This is the toughest step. Sometimes, the needle slides through the felt balls easily and other times, the balls must be more dense and it's harder to get the needle through.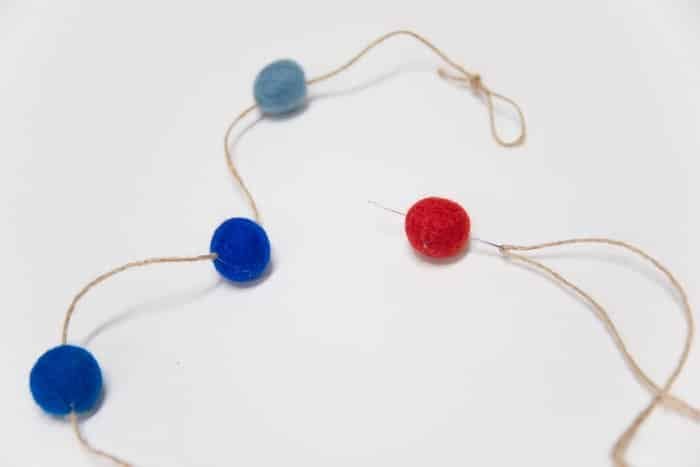 You can use a thimble to try to help, or push against any hard surface with the end of your needle.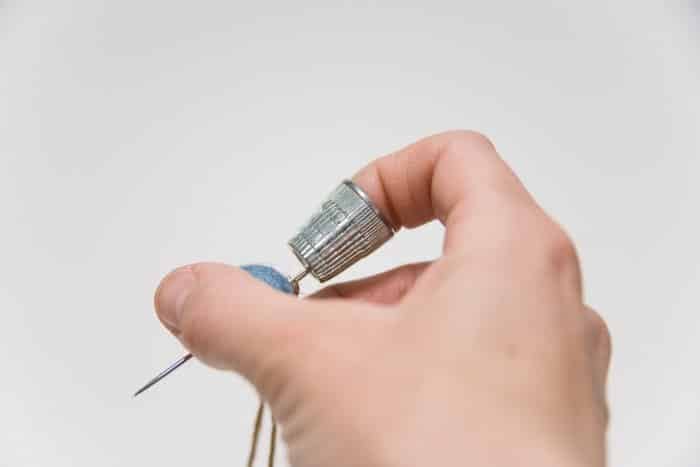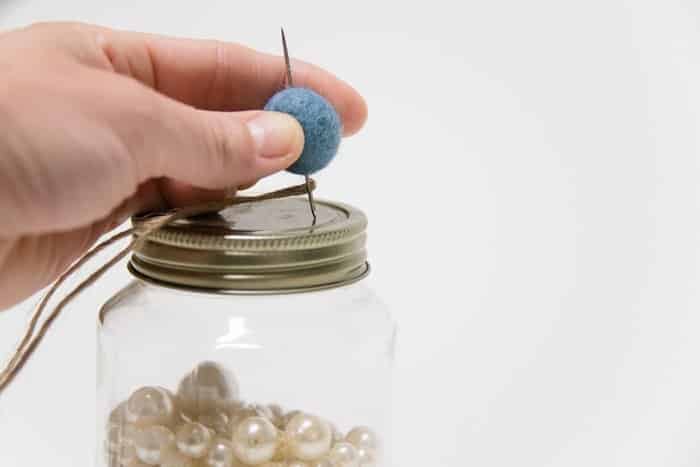 One by one, string the felt balls onto the string. You don't need to worry about spacing yet; just get all of the balls onto the string first.
Step 5. Space out the balls to desired distance.
This step depends on how long of a garland you need to make, how many felt balls you have, and what type of garland look you like.
Play around with the spacing of the balls, and decide what your desired spacing is. Perhaps something like 3 inches apart is a good starting point for spacing out your felt balls. You decide what you like!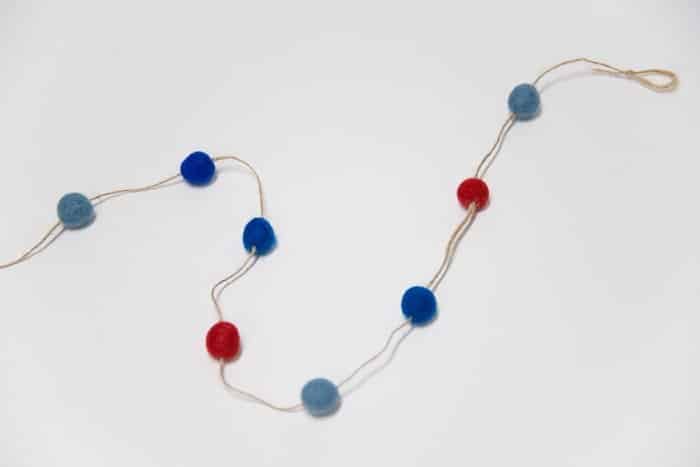 Step 6. Tie loops at the end of the 4th of July felt ball garland string and hang!
Tie a loop at each end of the string, and you're ready to hand up the garland on your wall or mantle.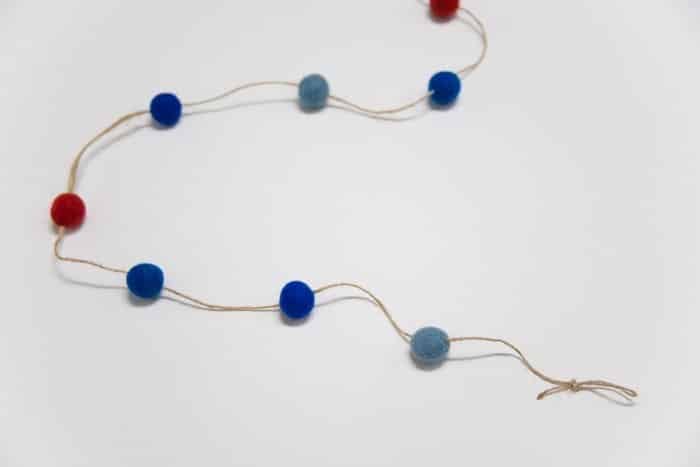 My preferred method of hanging is with Command strips that are designed for hanging Christmas lights. They're small, relatively invisible, and cheap.
If you don't have command hooks and are ok with making a few little holes in your wall, small nails would work too.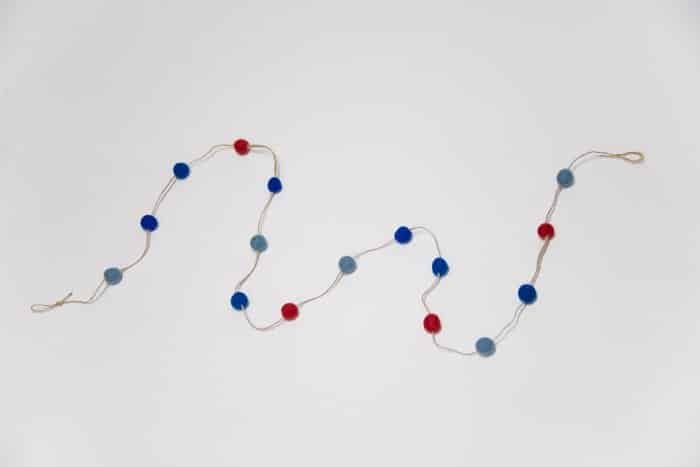 That's it! Making a garland with felt balls is as easy as that; the perfect fourth of July decor idea.
Customize the colors of the felt balls and the type and color of string you use, to make a garland that suits your decorating style perfectly.
And better yet, combine it with another 4th of July garland to take your patriotic decor to the next level!