Well, hi there fellow crafter!
You're likely here because you too get a thrill out of seeing an idea and figuring out if you can make it yourself. You've probably got more craft supplies than you want to admit and a "crafts to try" list a mile long. And chances are you also feel too busy and stretched thin most of the time. If so… you're in the right place!
To save you time, and make the crafts and tutorials on this site fun, fast, and easy to do, I keep patterns, checklists, and worksheets for them in a free resource library.
Inside The Mama Makers Club free resource library, you'll find printable patterns for the projects, checklists you can print out to help (I love a good to-do checklist!), as well as other free resources to save you time and make your craft life better!
Patterns for Nativity Scenes, Leaf Crafts, Pacifier Clips and more
Checklists for Yarn Ball Pumpkins, Preparing Pine Cones and Acorns, How to Stencil and more
Cheatsheets such as 11 Supplies, 6 Easy Projects
Wallpaper graphics and photos to inspire and encourage
and more every day!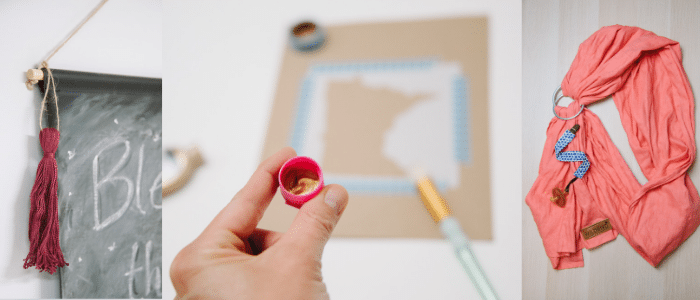 If this describes you:
Crafts are your love language
You've got more craft projects you want to try than there are days in a year
You've got a hot glue gun and you know how to use it…
The Mama Makers Club is waiting for YOU.
Come join the club, get inspired, and get access to the free resource library too! All you need to get in is the password, which you can get by filling out the form below.
OUR TOP 3 MOST POPULAR CRAFTS:
Go take a look. You'll love them!
If you already have your password, enter the free resource library here.
– – – – –
PASSWORD TROUBLESHOOTING:
Forgot your password? I put the password at the bottom of nearly all of my emails. (Search your inbox for messages from [email protected]). But if you can't find one of my emails, you can either fill out the form above again or email me at [email protected]
Password Tip: I recommend that you copy and paste the password in to avoid any accidental mistakes.
Still Not Working? I promise the password works—I haven't changed it since I opened the library, and everyone gets the same password. Try the copy/paste method again and make sure the URL you are going to has https at the start of it (that's a secure page and it makes a difference). If that still isn't working, try a different web browser.
If you still can't get into the resource library, email me at [email protected]
P.S. If you already have your password, ENTER THE FREE RESOURCE LIBRARY HERE!
Click the photo below to pin it to Pinterest!