**These posts often contain affiliate links. Please see our disclosure policy for details.**
Learn how to prepare pine cones for crafts so they are clean, dry, and bug-free! With vinegar and water, you can clean pine cones easily so they're ready for any craft projects you want to make!
Pine cones are one of those elements of nature that get overlooked by almost everyone… unless they are a crafter. To a craft lover, pine cones are bundles of potential, just waiting to be made into something amazing!
I'll never forget going to an outdoor maze one day, beneath some tall pine trees. My enjoyment of the maze paled in comparison to my enthusiasm about the incredible pine cones that were scattered all over the ground. (And yes, I picked up a bunch to bring home with me…)
But before you can make something with pine cones, you have to clean them.
Pine cones are home to dirt, debris, and bugs so it's important to clean them properly so they're ready for your craft projects.
It's not nearly as complicated as it sounds. All you need to clean pine cones for crafts is water, vinegar, an oven, and a little bit of time.
When you're done, you'll have a bunch of clean pine cones just waiting to be used for all of the craft and decor projects you can dream up!
Here's how to prepare pine cones for crafts. (And here's how to prepare acorns for crafts too!)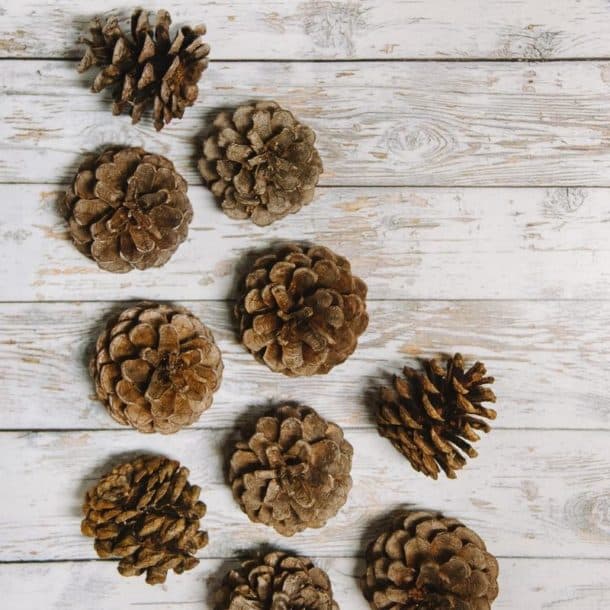 How to Prepare Pine Cones for Crafts
Step 1. Gather Supplies
Supplies Needed: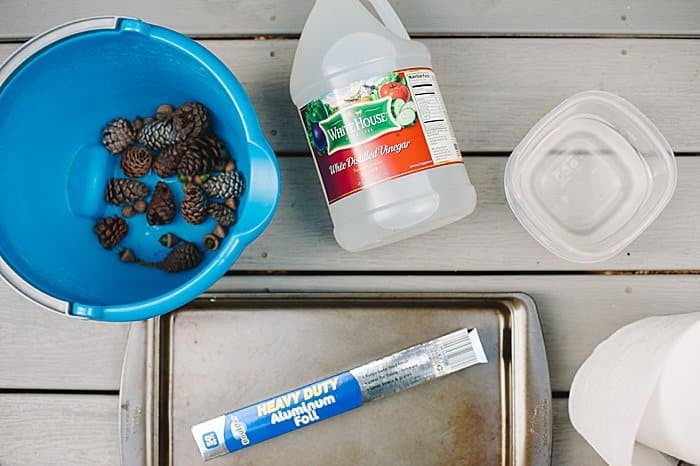 Step 2. Soak pine cones in vinegar and water mixture.
Before you begin, remove any visible dirt, grass, pine needles, or leaves you can see.
Next, in a bowl, mix water and vinegar together. A cup of vinegar is a good starting point.
Add in pinecones and soak them for 20 minutes.
This will help clean dirt off of them, and begin to get rid of any bugs inside them too.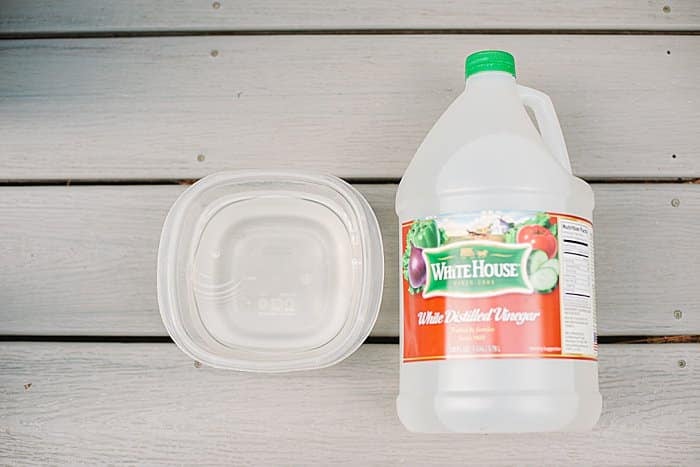 The pine cones will close up as they get wet, so don't panic. This is normal.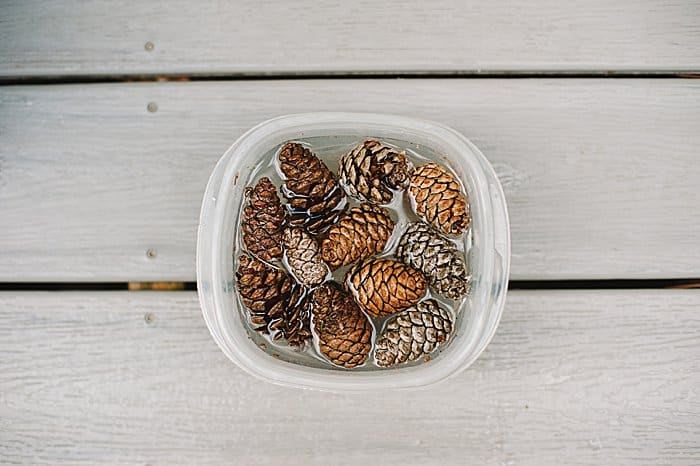 Step 3. Bake pine cones in a 200-degree Fahrenheit oven.
Next, take the pinecones out of the water and rinse them. Using a strainer is the easiest way to do this.
Drain off any excess water.
Place the pine cones on a foil-lined baking sheet and place in a 200 degree F oven.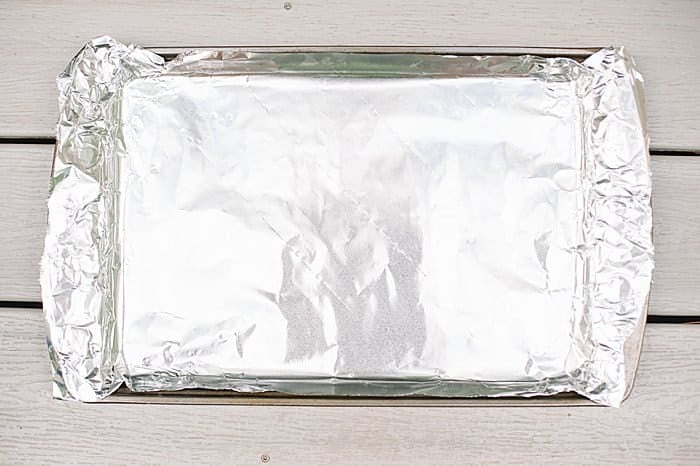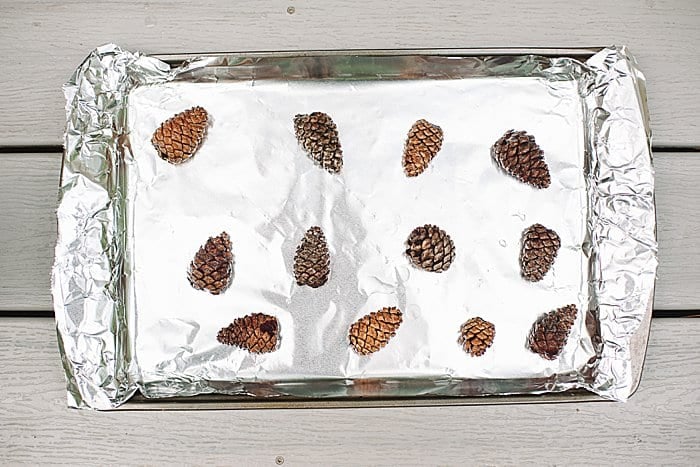 Here is where you have two different options:
3a. Bake the pine cones at 200 degrees for 20 minutes to kill any remaining bugs, and then let air dry for 2-3 days until open and fully dry.
3b. Bake the pine cones at 200 degrees for 2+ hours, turning them every 30 minutes, until they are fully dry and opened up. (Keep a watchful eye on them because you don't want them to burn or become brittle with too much baking.)
Depending on how much time you have to babysit your oven, and how fast you need the pine cones for your project, you can decide which of these two methods to use.
NOTE: Some people ask if they smell as they bake. They do give off a wet, woody smell as they bake, mixed with the vinegar from the soaking step. To me, it's not a great smell, but it's not terrible either. It goes away once you're done baking.
Step 4. Place pine cones on paper towel-lined cookie sheet to air dry.
If you don't want to bake them for 2+ hours, remove them from the oven after 20 minutes and let cool before handling.
Line your baking sheet with paper towels, and place the pine cones on it to air dry.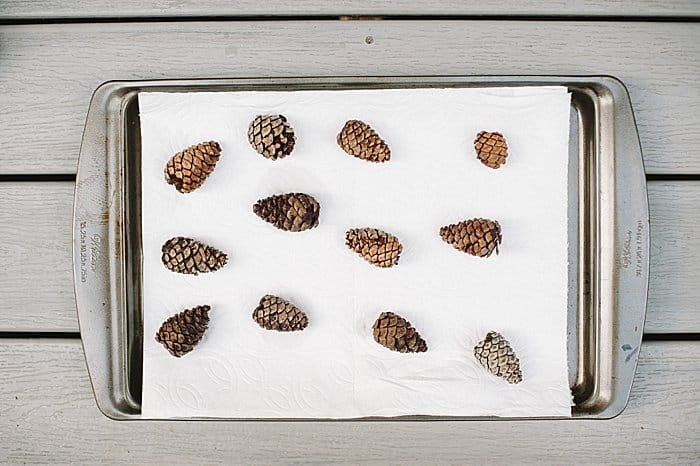 Depending on factors like pine cone size and the humidity level in the air, the required air dry time for your pine cones will vary.
Mine took 2 to 3 days to open back up and dry completely.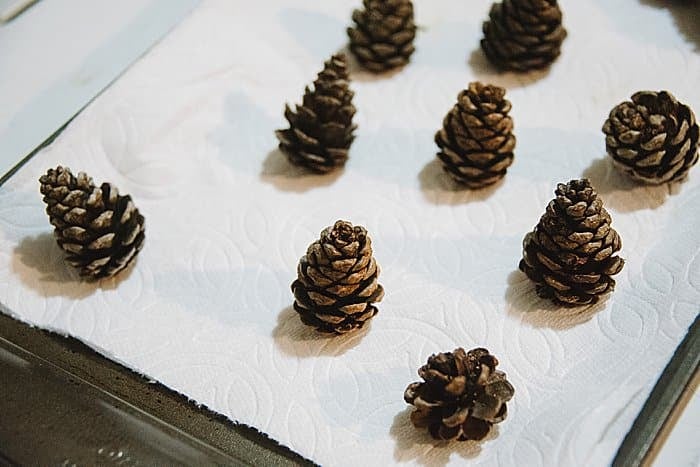 I moved them around and flipped them over after a day so any of the still-damp parts could be exposed to air and dry better.
When they are all fully opened and dry, they're ready to go.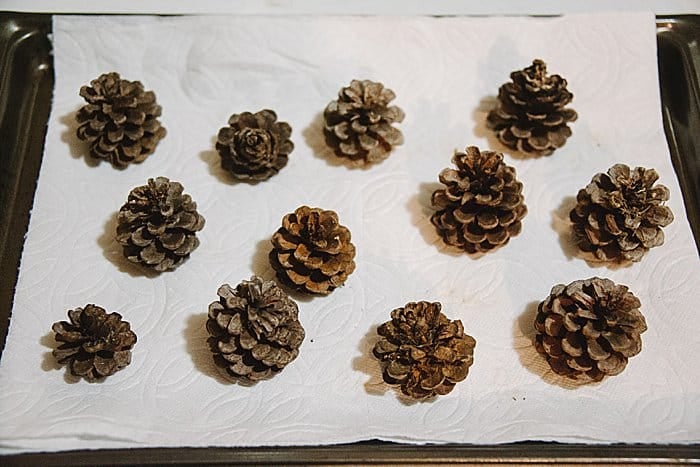 Step 5. Remove any remaining debris.
Once they are opened back up, you might see some remaining bits of grass, dirt, or debris you missed in earlier. (Or at least I did haha.)
You can use a toothpick etc to remove anything else that is still inside the pine cones.
Step 6. Spray with Clear Acrylic Sealer for added protection.
This step isn't necessary if you are going to paint or embellish them further.
However, if you plan to use or display the pine cones naturally, sealing them with Clear Acrylic Sealer helps to preserve and protect them and adds a little bit of shine.
Step 7. Go make things!
Now they are ready for you to use to go make things!
Maybe you'll decide you want to paint your pine cones, or maybe you'll make Cinnamon pine cones, turn them into a pine cone wreath or pinecone garland, or even make a simple pine cone Christmas ornament or a pine cone person ornament. Or you could leave them natural and incorporate them into your fall or holiday decor plans.
Whatever you plan to do with them now that you've figured out how to prepare pine cones for crafts, you've got the raw materials for some awesome projects!