Hello and welcome, mama!
I'm thrilled to have you here in my corner of the internet.
I'm Laura Radniecki, a mama who makes stuff.
I've loved crafts and making things for literally as long as I can remember. It's in the genes: I got it from my dad.
My guess, if you are reading this, is that you too are a mama who makes stuff.
You are a mama who sees an idea and thinks "I wonder if I can make that too?"
You are a mama who notices things that would work great for a project… ("Look at those amazing pine cones!")
You are a mama who eagerly looks forward to nap time, so you can have a few minutes to work on whatever you're making at the moment. (Kid nap time = craft time. Or mama nap time.)
If that's you, you've come to the right place. I am your kind of person.
Who is Laura Radniecki?
Here are the must-know things about me:
Radniecki is pronounced "RAD-nick-ee".
I'm a blogger, photographer, and mama who makes stuff, from small-town Minnesota.
I'm married to my high school sweetheart.
Mama to our two kids (a son and a daughter).
Dog-mama to our feisty toy poodle who thinks she's a human.
I'm a Type-A introvert, who fights perfectionist tendencies every day.
Miraculously though, I'm a Type-B crafter.
I have big dreams of living part-time in an RV with my family.
I've been blogging for over a decade and I just can't stop.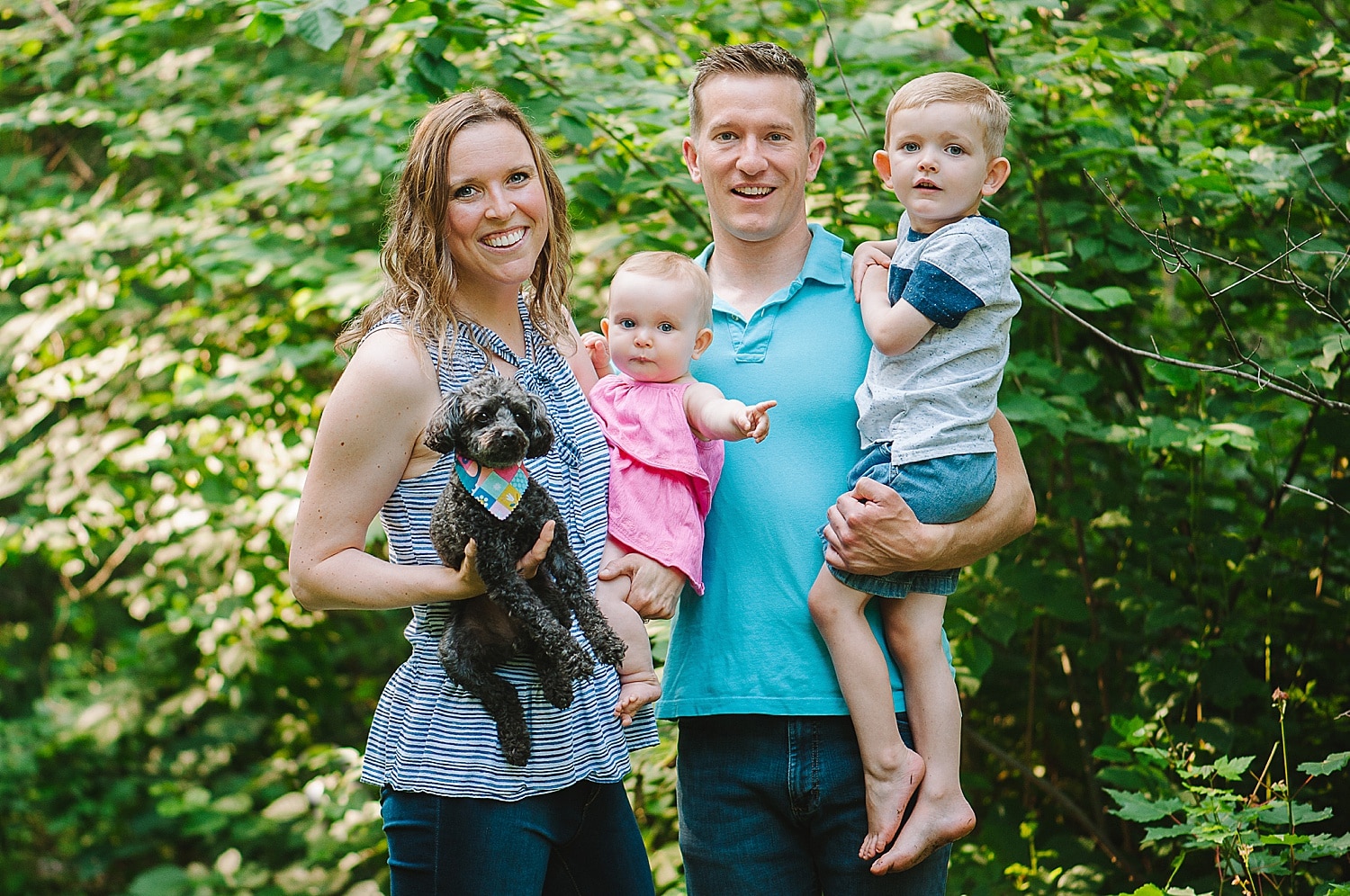 What is LauraRadniecki.com All About?
Around here, you'll find inspiration and ideas for all kinds of craft projects.
Most of the crafts are fast, fun, and easy because motherhood doesn't seem to leave much time for lengthy, involved craft projects right now. (Can I get an Amen?)
To name a few, you'll find information about:
Look through the menu options at the top; things are sorted by materials, projects, seasons and kids.
The Motto – "Done is Better Than Perfect"
I am type-A to my core, but you'll often hear me talk about the phrase "done is better than perfect" (Lara Casey, I love you for inventing this quote!) when I make things. I work hard to bring a type-B mentality into my crafting, and I believe you should too.
There's no perfection possible in handmade, and it'll suck the fun out of everything if that's your goal.
We'll embrace type-B imperfections in our crafts together.
I look forward to getting to know you, either through the blog post comments, social media or by email. You can send me a message any time. I'd love to meet and hear from you!
You can find me on social media at: Instagram — Facebook — Pinterest
If there is something specific you are looking for around here, you can use the SEARCH BAR. It's at the upper right of the screen if you're on a computer, or down at the bottom of the screen if you're on your phone.
If you are looking for information about The Perfect Pacifier Clip Guide, The Love Your Camera E-Course or any of the other products available here, visit the Laura Radniecki SHOP.
Thank you for being here. I'm excited to make stuff with you!
xo, Laura
P.S. If you want to reach out at any time, you can contact me or email hello @ lauraradniecki.com