**These posts often contain affiliate links. Please see our disclosure policy for details.**
Learn how to make cornhole bags in this step-by-step photo tutorial for homemade cornhole bags DIY.
Summer brings with it sunshine, warm weather, barbecues, bonfires, and corn hole games.
Cornhole, also known as bags, or bean bag toss, is a popular outdoor yard game; so popular there are entire online shops dedicated to selling cornhole boards, bags, and supplies to make your own.
They even make artificial corn filler specifically designed for cornhole bags, and there are "official cornhole rules" by a governing body.
People take their Cornhole playing seriously!
Here's a fast and easy tutorial, showing you how to make cornhole bags that are DIY but also regulation level.
You'll be ready for the game field in no time.
Let's get started!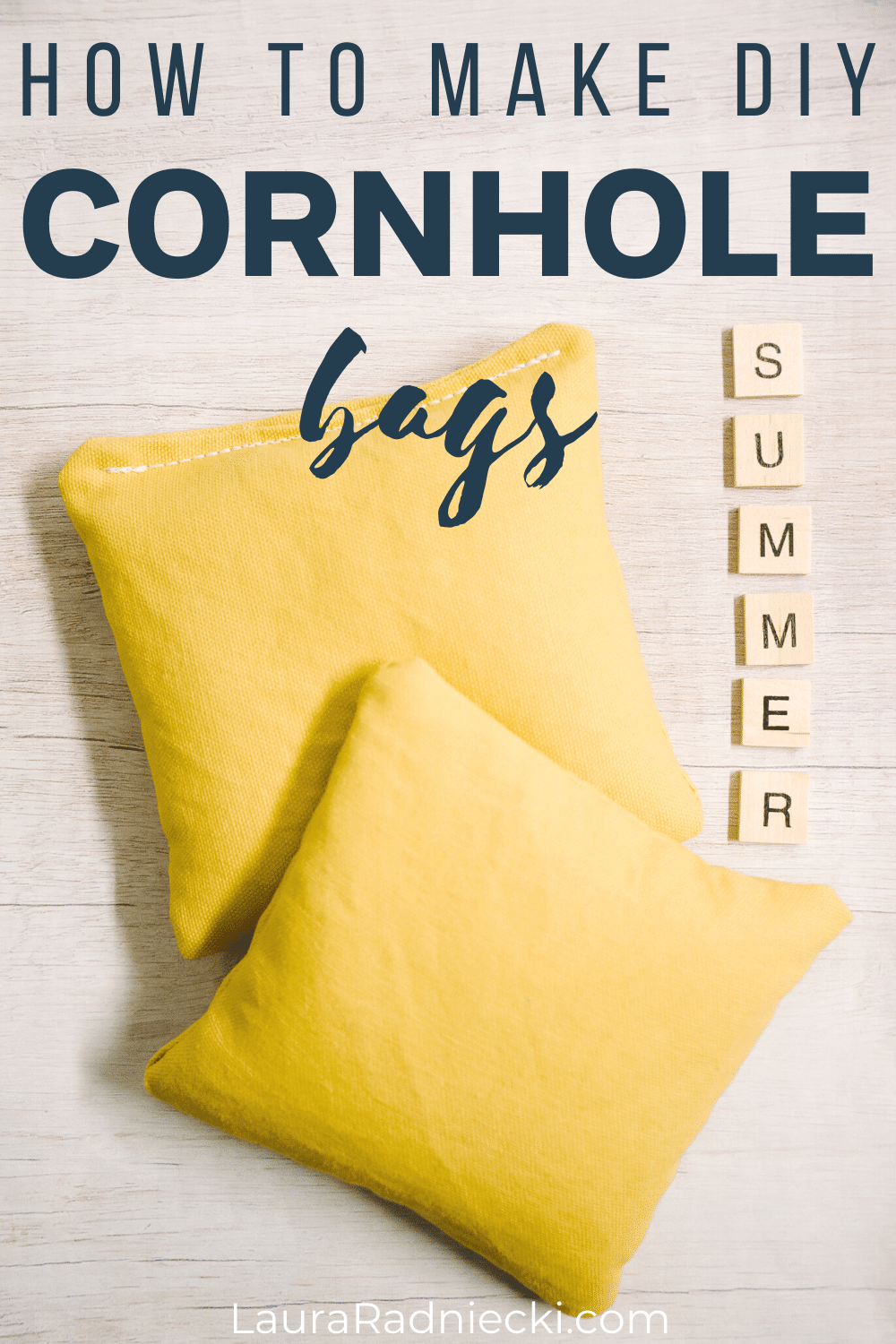 How to Make Cornhole Bags
Step 1. Gather Supplies
Supplies Needed:
Cotton Duck Fabric – (To make 4 cornhole bags, you need half of a yard. It's possible to get by with a quarter of a yard, depending on how long your fabric is, but my thought is always to over-buy on fabric. More projects for the future! Nothing squashes my creativity like running out of fabric before my project is complete. So, to make a set of 8 cornhole bags with 4 of each color, you'll need one-half yard each of two different colors.)
Scissors
Rotary Cutter, Ruler, Cutting Mat
Sewing Machine
Thread
Fill of some type – (real feed corn, synthetic plastic pellets, artificial plastic corn)
Food Scale – to measure the correct amount of fill per bag
Scoop and Funnel – to make filling easy without spilling things everywhere.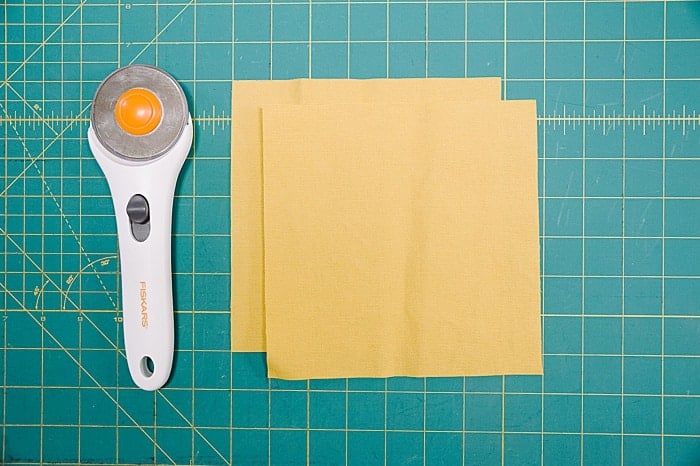 Step 2. Cut two 7"x7" squares, and stack them one on top of the other, with the RIGHT sides together.
Step 3. Sew around the perimeter using a ½" seam allowance, and leave a 3" turn hole.
Backstitch and the beginning and end of your stitching.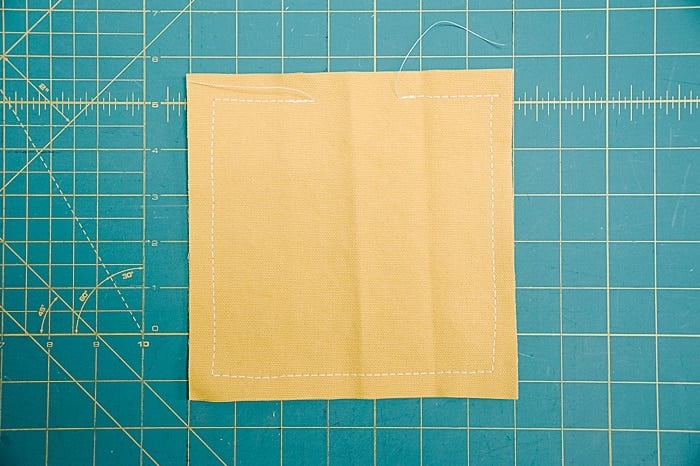 (I only left a 2" turn hole and it was a tight fit to turn things right side out. Learn from my mistake haha.)
Step 4. Sew around the perimeter again, using a ¼" seam allowance.
Backstitch at the beginning and end of the stitching again.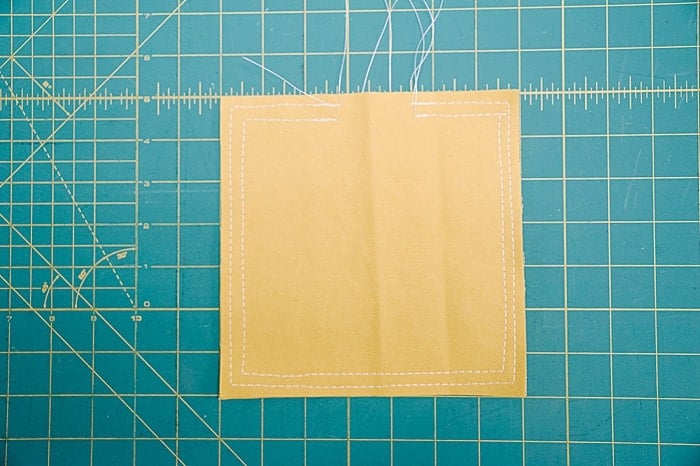 These double lines of stitching are part of the cornhole bag regulations and help make them more durable.
Step 5. Clip corners and turn right side out through the turning hole.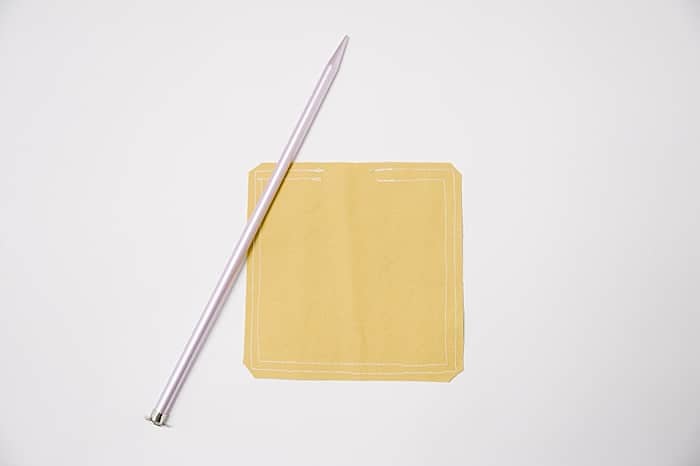 Use a blunt pencil or knitting needle (very carefully!) to help you, if needed.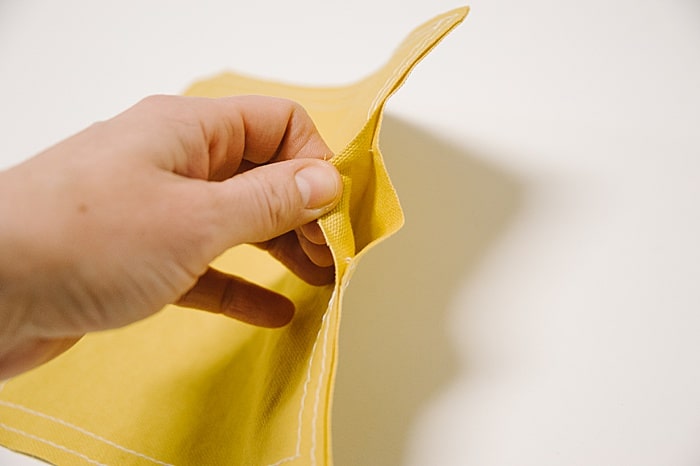 I prefer to use my fingers, reaching up inside the turn hole to push out the corners with my fingertips.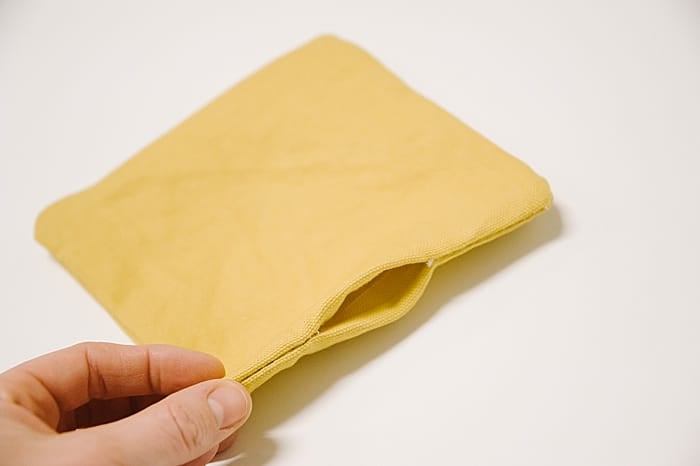 Step 6. Fill the bags with your fill of choice (we used artificial corn filling), using the scoop and funnel to assist.
Each finished cornhole bag should weigh as close to 16 oz as possible.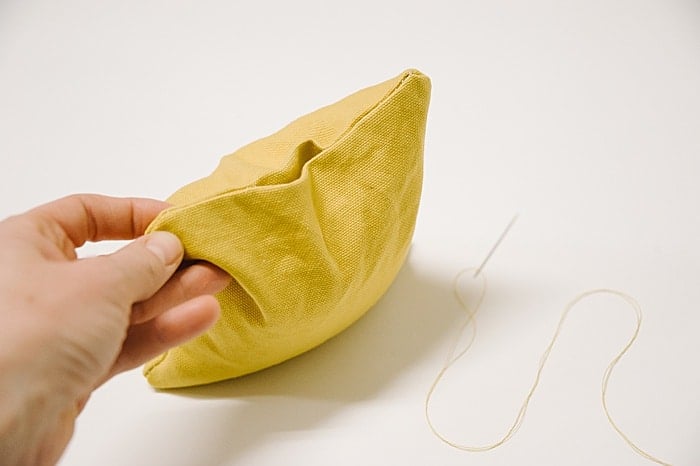 Step 7. Close up the fill hole in the cornhole bag.
You have two options for closing up the fill hope in the cornhole bag.
The first option is to topstitch the seam closed.
This is arguably the fastest method, but it was the bigger pain for me.
It was very awkward to try to get my beanbag under my sewing machine's needle without getting fill toward my seam, and it did not end up even.
The second option is to use a ladder stitch, also called an invisible stitch, to sew the hole closed.
This is my preferred method. I think it looks the best and though it does take longer, it looks so much cleaner.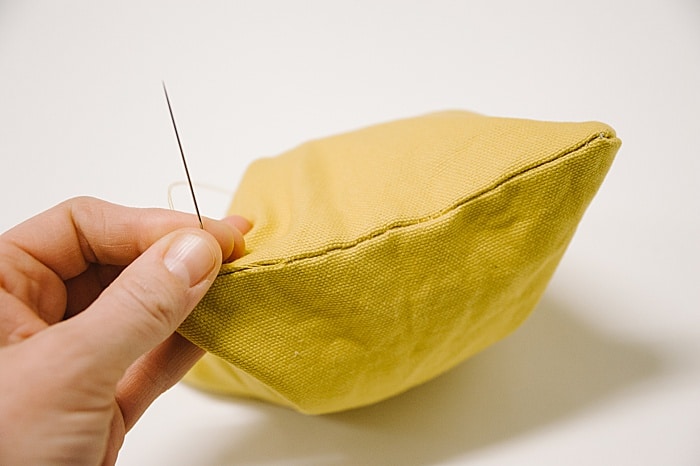 Because these bags need to be very durable, I sew the hole closed using a ladder stitch in one direction, and then I come back the way I just came and sew it closed again using the same hidden stitch again.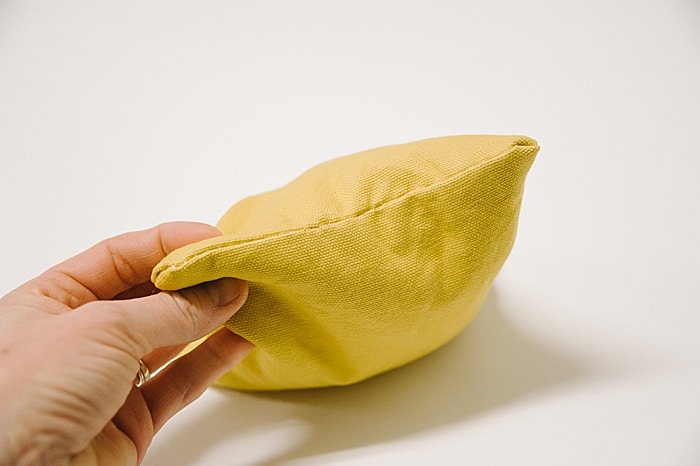 The result is a double-reinforced seam that is a lot stronger than if I only did one pass using the invisible stitch.
Step 8. Inspect the cornhole bags to make sure they're solid and stable, with no holes anywhere.
If they pass the test, they're ready for game day!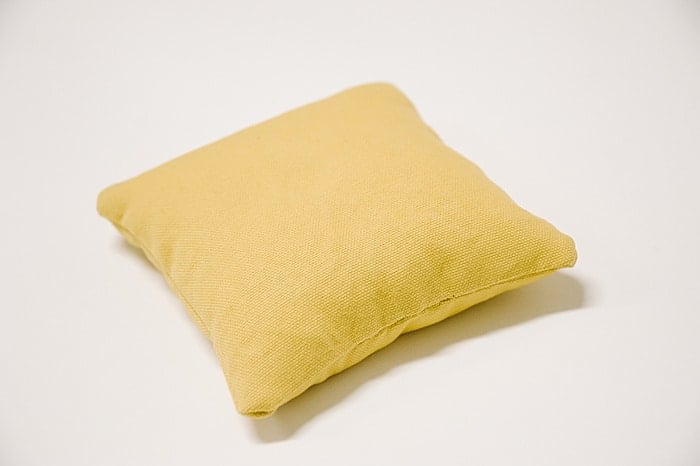 – – –
All you need is cotton duck fabric, basic sewing skills, and some kind of bag filler (real feed corn, synthetic plastic pellets, or the probable favorite – synthetic corn filler!) to get started making your own set of cornhole bags.
Customize your colors and whip up a batch in no time.
You'll be ready to hit the grass with your diy cornhole bags soon!