**These posts often contain affiliate links. Please see our disclosure policy for details.**
Learn how to make a DIY cat stuffed animal in this easy kids' craft tutorial. Kids can draw their cat shape and color it with fabric markers!
Most kids love stuffed animals, and for good reason. They're cute, cuddly, and fun to play with.
What's even better than a stuffy from a store? One that they make by themselves!
Here is an easy craft tutorial outlining how to make a DIY cat stuffed animal. It's all kid-focused here – there's no perfection and very little coaching.
(The results reflect that haha!)
Here's how to make it!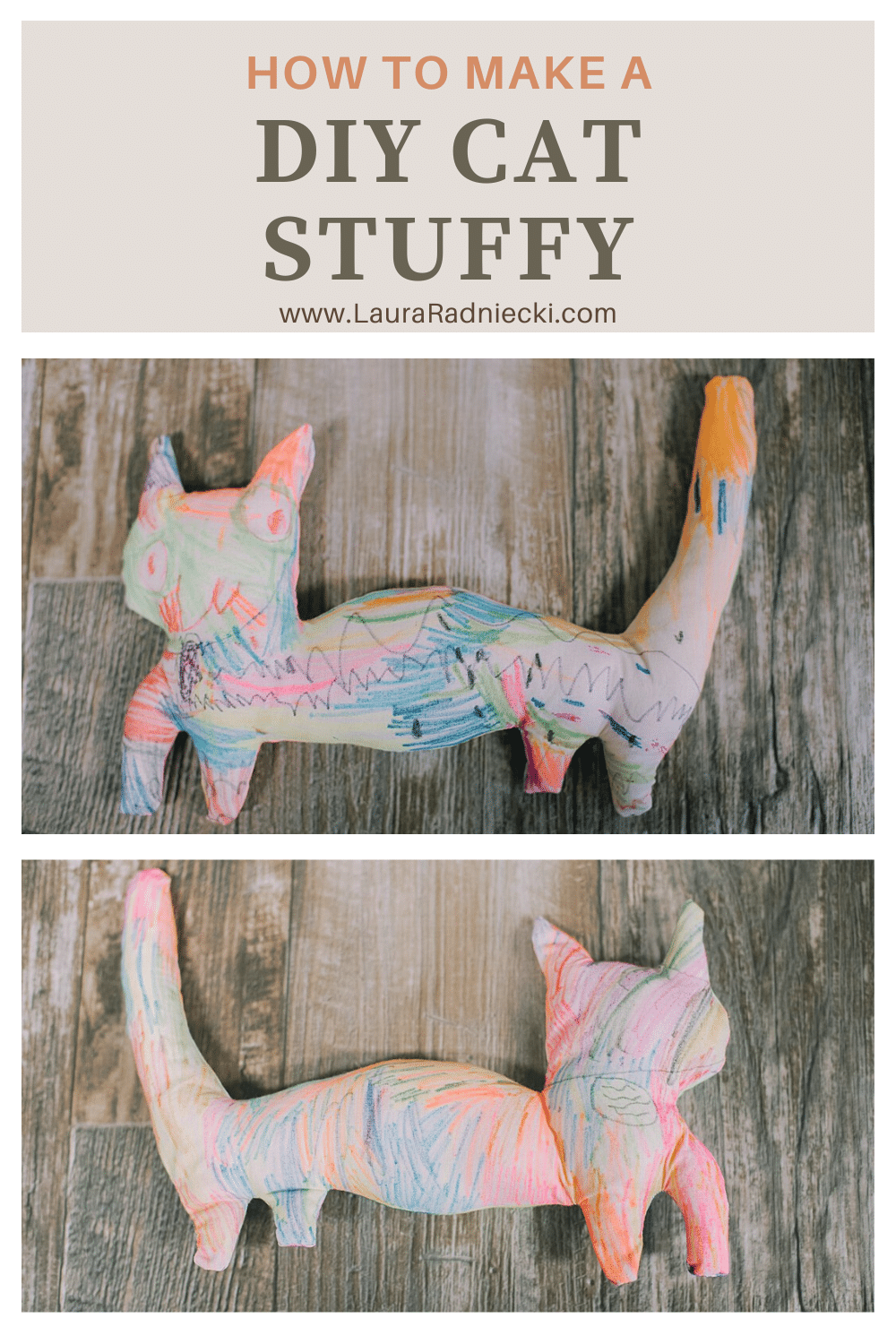 How to Make a DIY Cat Stuffed Animal | Kids Craft Idea
Step 1. Gather Supplies
Supplies Needed:
Fabric
Scissors
Fabric Markers – permanent and able to be washed without fading
Sewing Machine
Cat Template – draw your own freehand, or find one online to use. (My daughter drew this one.)
Step 2. Fold the fabric in half.
Step 3. Draw a cat shape, and cut the cat shape out.
Step 4. Determine which sides of the fabric need to be decorated, in order to come together to make a completed cat.
They should be two mirror images.
(I've been known to accidentally decorate the wrong side of the fabric, only to realize that it would end up on the inside of the cat at the end!)
Step 5. Decorate one or both sides of the cat with permanent fabric markers.
Step 6. Stack the fabric with the right sides in, and sew around the perimeter.
Leave a turn hole/stuffing hole. (I left a hole at the back end, but you could do it on the belly or back.)
Step 7. Turn the cat right-side out, and use your fingers or the eraser end of a pencil to help push out the small parts like the tail, ears, and legs.
Step 8. Stuff the cat to your desired fullness with poly-fil or fiber fill.
Step 9. Use an invisible ladder stitch to close up the remaining hole by hand.
That's it!
The DIY stuffed cat is done!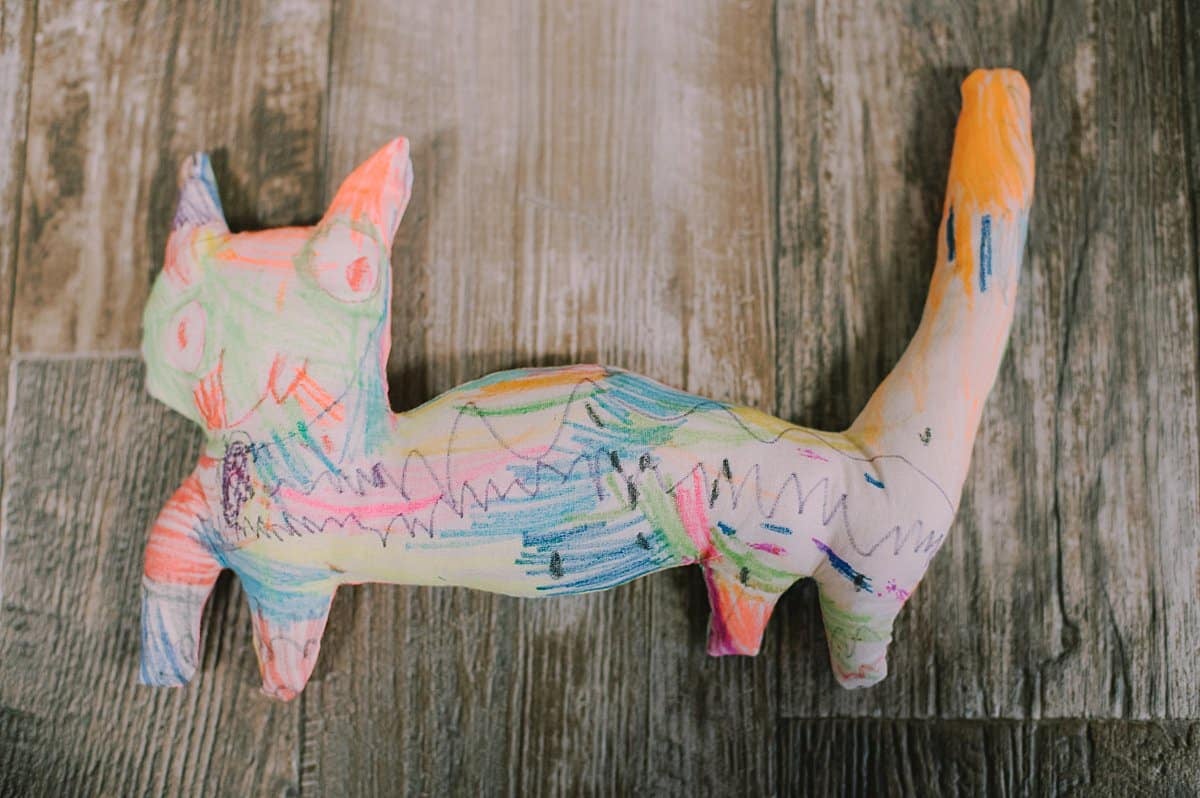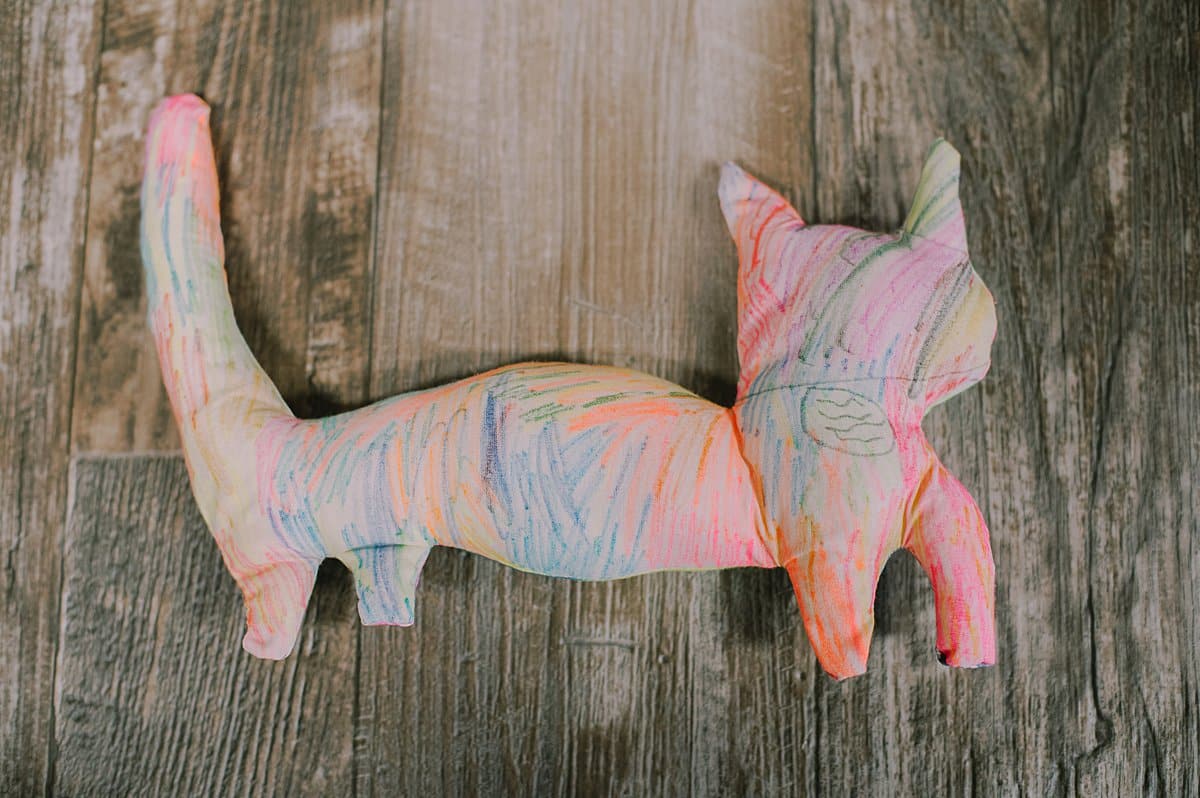 Sure, it's no commercially sold cat (obviously haha!) but I love it even more because my kid made it.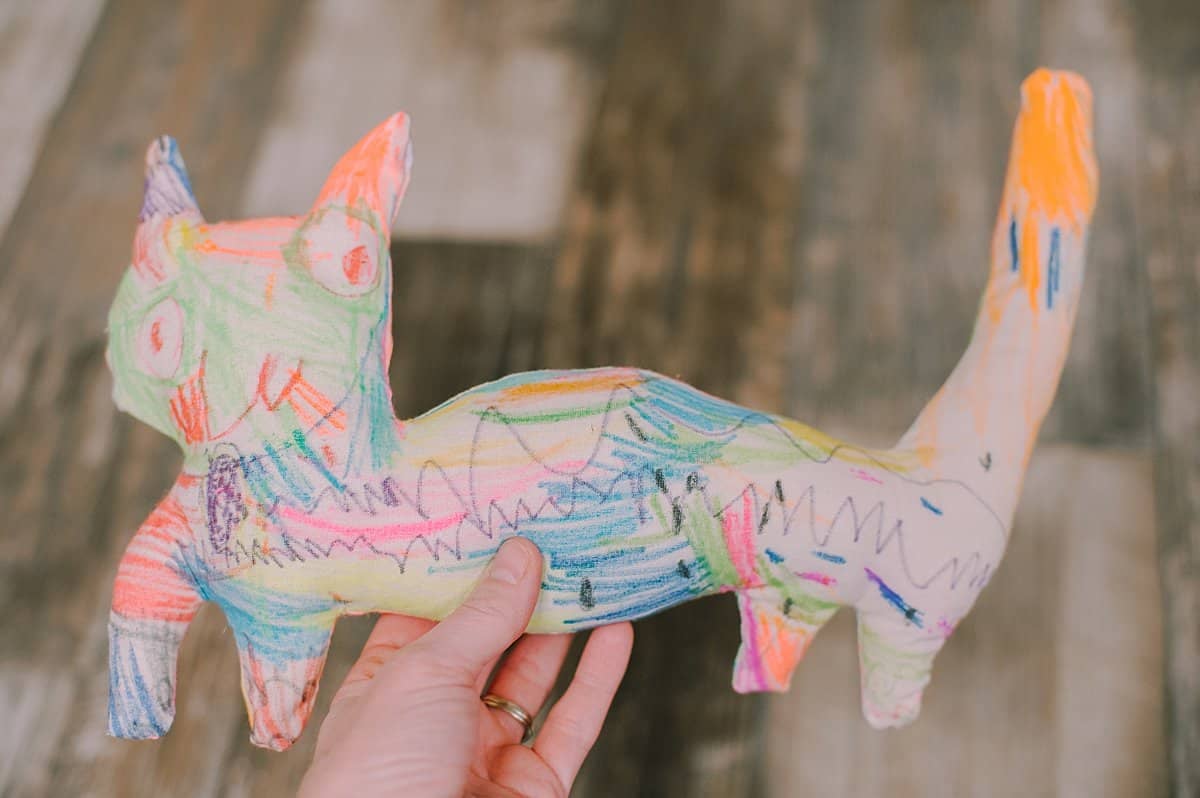 You can use any kind of animal shape, or even just a shape like a circle, teardrop, heart, or any other shape, and turn that into a stuffed animal!
All the rest of the steps are the exact same; you would just use a different template or shape to cut out your two fabric pieces.
Let the kids get creative and see what they come up with when they set out to make a DIY cat stuffed animal!