**These posts often contain affiliate links. Please see our disclosure policy for details.**
The speed of sewing with a sewing machine is fantastic, but there is something magical about deliberately sewing a project by hand.
Especially when it involves felt and sewing with embroidery thread; I love the big, imperfect stitches, and watching it come together in my hands.
We're on Day 22 of The 30 Days of Ornaments Project, where we are making 30 handmade ornaments in 30 days.
Today, we are going to work with felt, embroidery floss, and fiber fill to handsew a DIY felt Christmas tree ornament!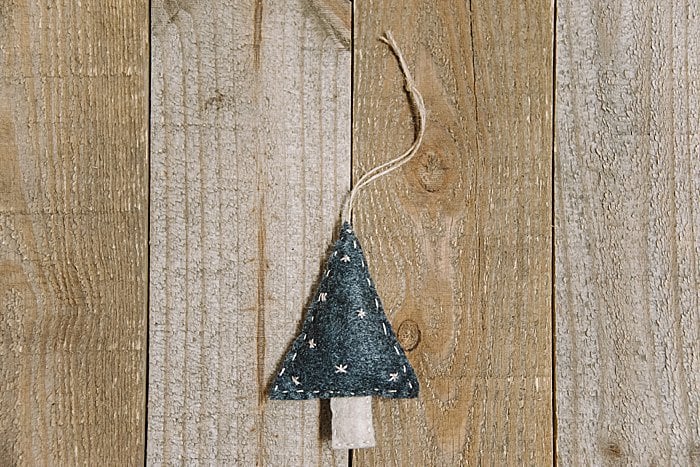 Here's how to make it!
Day 22: How to Make a Handsewn Felt Christmas Tree Ornament
DIY Handsewn Felt Ornament for Christmas
Step 1. Gather supplies.
Supplies needed: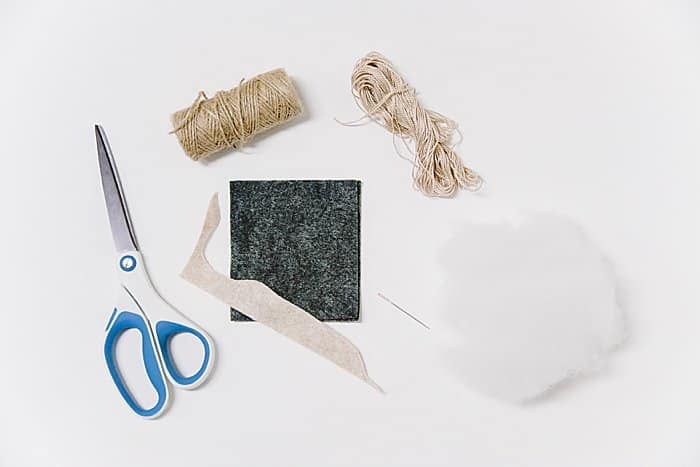 Step 2. Cut a 12″ section of twine as a hanging string and set aside.
Step 3. Cut two triangles of felt for the Christmas tree, and two small rectangles for the trunk.
Step 4. Thread embroidery floss onto the needle, layer the two tree truck pieces on top of one another, and stitch three sides of the tree trunk, leaving the top open.
Step 5. Stuff tree trunk with a small amount of fiber fill through the open top.
Step 6. Stitch small stars or "ornaments" onto one of the felt triangles to make the embellished front of the tree.
Step 7. Fold twine hanging string in half, knot, and trim excess.
Step 8. Add a small dab of hot glue to the inside of the top point of one of the triangle pieces, and lay hanging string in the glue. This will secure the string and prevent it from being pulled out later.
Step 9. Layer the back felt triangle and then the tree trunk section, and then the front felt triangle, and stitch carefully around the outside edge of the Christmas tree. Leave a small 1″ section open on one side in order to add fiber fill through.
Step 10. Stuff fiber fill into the Christmas tree, and then continue hand stitching the Christmas tree closed.
Step 11. Secure and knot floss, and inspect to make sure the whole ornament is secure on all sides. If so, it's ready to hang!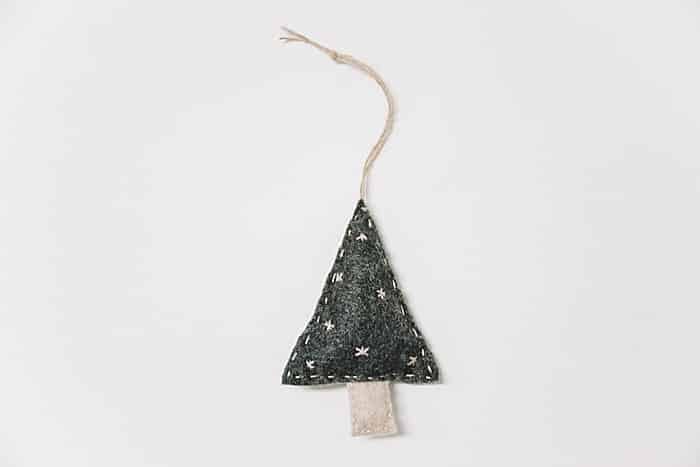 I find felt so fun to work with. It's easy to cut, easy to sew, and fun to dream up objects and shapes to create.
I have sewn a quirky felt owl ornament as well as a DIY donut ornament as well, and I love them all.
The best part about this ornament is it's NOT meant to look machine-stitched. It's meant to look handsewn, and be imperfect.
So bring the kids in and get them involved. If they are old enough to stitch by hand, they can make this ornament too!
Save the idea for later by pinning the photo below to Pinterest!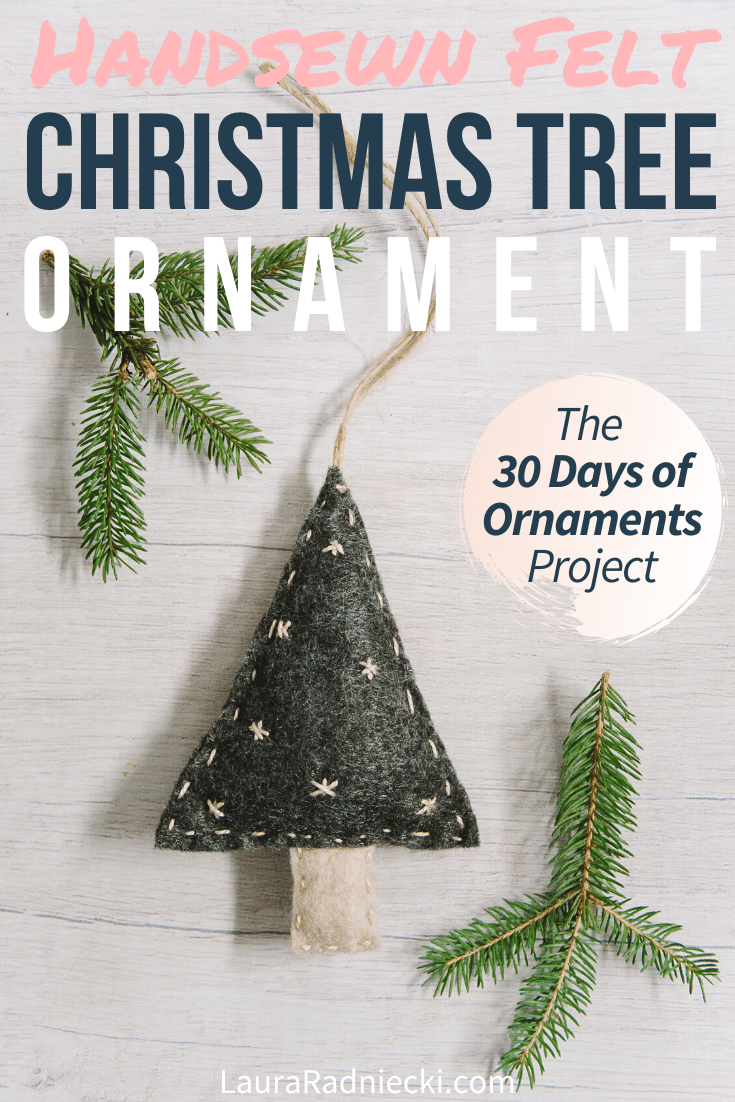 . . . . . . .