**These posts often contain affiliate links. Please see our disclosure policy for details.**
No more baby pacifiers on the floor! Here's a DIY tutorial showing how to make a pacifier clip for baby with fabric scraps, ribbon, and cute metal clips.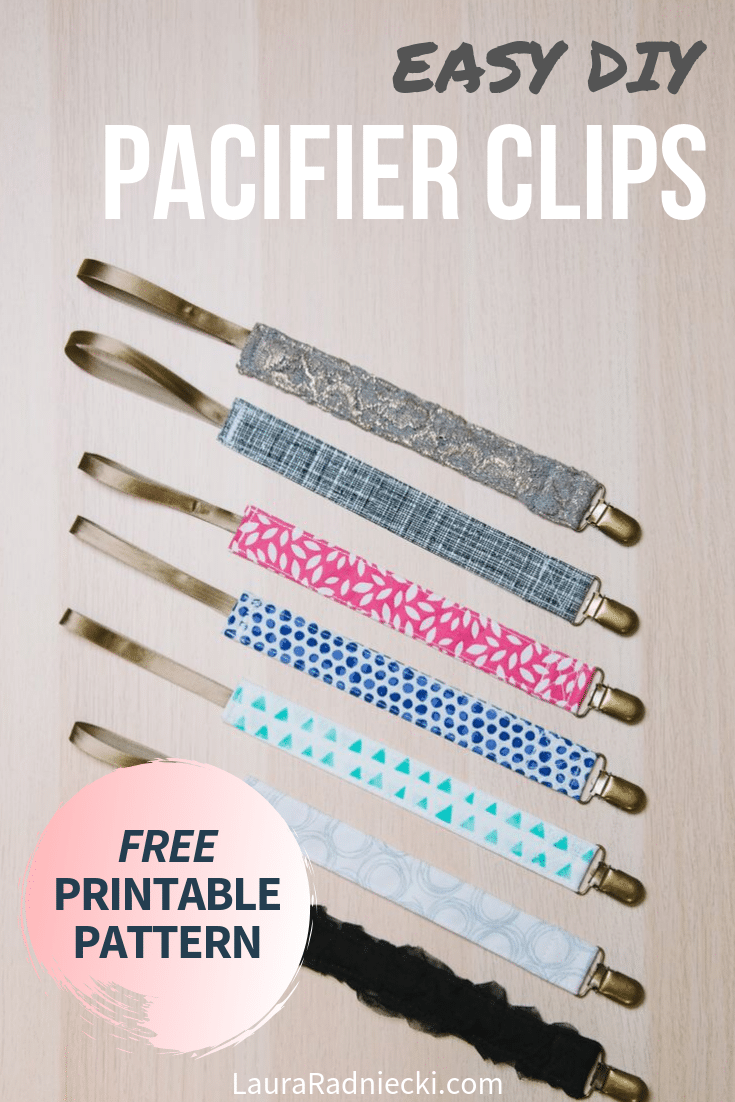 When I was younger, I LOVED my pacifier.
We called it a "nukie" and many of the photos from my first few years show me with one in my mouth, often upside down.
When my dad would ask me why I liked it, I'm told I would reply, "It tastes really good!"
I apparently gave it up around 2 years old, but then my sister was born shortly after, and I reverted back to my nukie-loving ways, probably because I wanted to be a baby again too.
In my quest to use up some of my fabric stash, I decided to make some of the pacifier clips I have seen both in the stores, out in public, and on Pinterest.
– – – – –
How to Make a Pacifier Clip:
Let's take a look below, at an overview of the steps that I followed to make my pacifier clips.
Supplies Needed to Make DIY Pacifier Clips:
Fabric – I used scraps from my fabric pile.
Ribbon or elastic – for the end that will attach to the pacifier. I used 1/4″ ribbon.
Pacifier clips – I used bronze ones because I liked the darker color. A lot of people use the shiny silver ones, but I thought these looked classy.
Coordinating thread
Iron
Scissors, pins
Sewing machine
Pacifier PATTERN and CHECKLIST (See info at bottom of this post; they're FREE in the Resource Library!)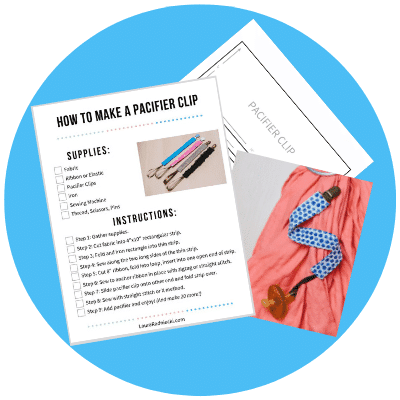 1. Cut fabric strip to 4″x10″ rectangle.
2. Iron fabric rectangle into thin strip.
(This step is shown in great detail with step-by-step photos in The Perfect Pacifier Clip. **)
First, fold over the two 4″ edges of your fabric strip 1/4″ and iron. This creates a clean edge for each end of your pacifier clip.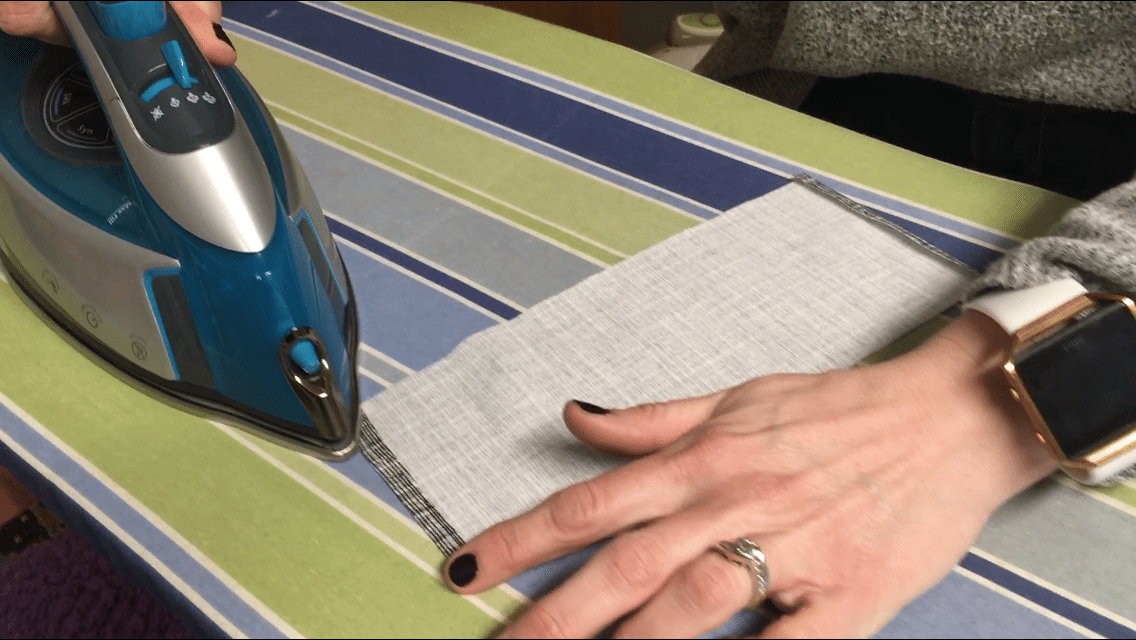 Next, fold it "hot-dog" style in half the long way, and iron that fold.
Open it back up, and then fold each of the long sides in toward the middle seam you just created with the iron, and iron again.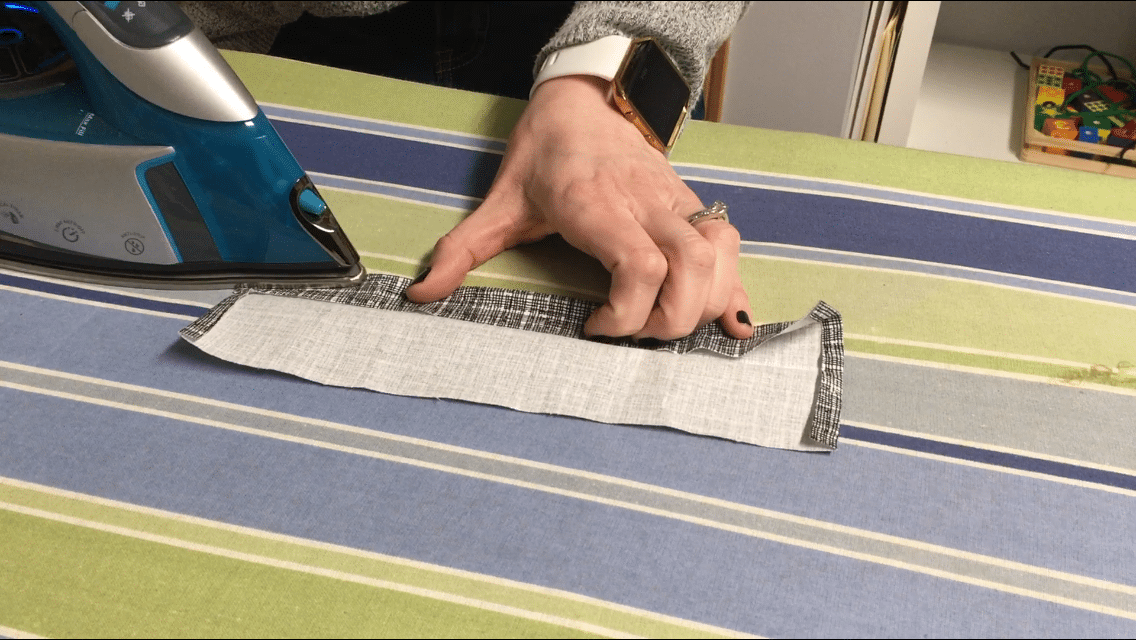 When you're done with one side, do the other side so both are now pressed in toward the center seam.
Fold the strip in half again and press the whole thing flat. You're left with a neat strip that is 1/4th the width of the original piece of fabric.
3. Sew down the two long sides of the strip
4. Cut the ribbon (8″ sections work well), fold it to make a loop, and tuck it into place in one open end of the strip.
5. Sew the ribbon in place.
You can use a straight stitch or a zigzag stitch for this step.

6. Slide the clip onto the other end, and fold the end of the strip over.
7. Sew the clip in place.
You can use the "X and rectangle" method or a simple straight stitch.
8. Attach pacifier to the ribbon or elastic end and you're done with your pacifier clip!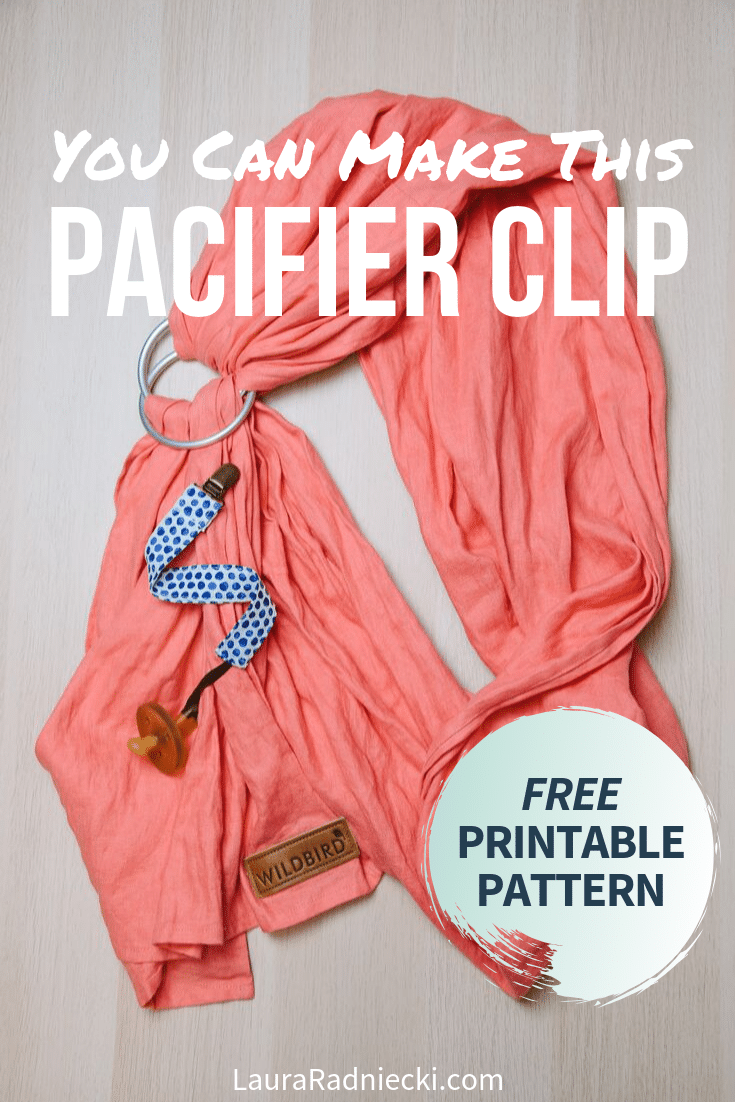 It doesn't matter how good or bad you are at sewing, you can make one (or a hundred) of these pacifier clips. They're that easy.
Can you sew a straight line? Yes.
Do you have 8 minutes? Yes.
Perfect – you can do it!
These DIY pacifier clips are so easy and versatile, you can't have too many.
(Baby doesn't take a paci? No problem! These work great for teethers and other toys to keep them off the floor too!)
Get ready to be obsessed and want to make a dozen, because that's exactly what is going to happen.
– – – – –
Want to try it yourself?
Here's the FREE PATTERN & CHECKLIST that make sewing Pacifier Clips easy!
Get the password for the library with the free pattern and checklist here by filling out this form:
---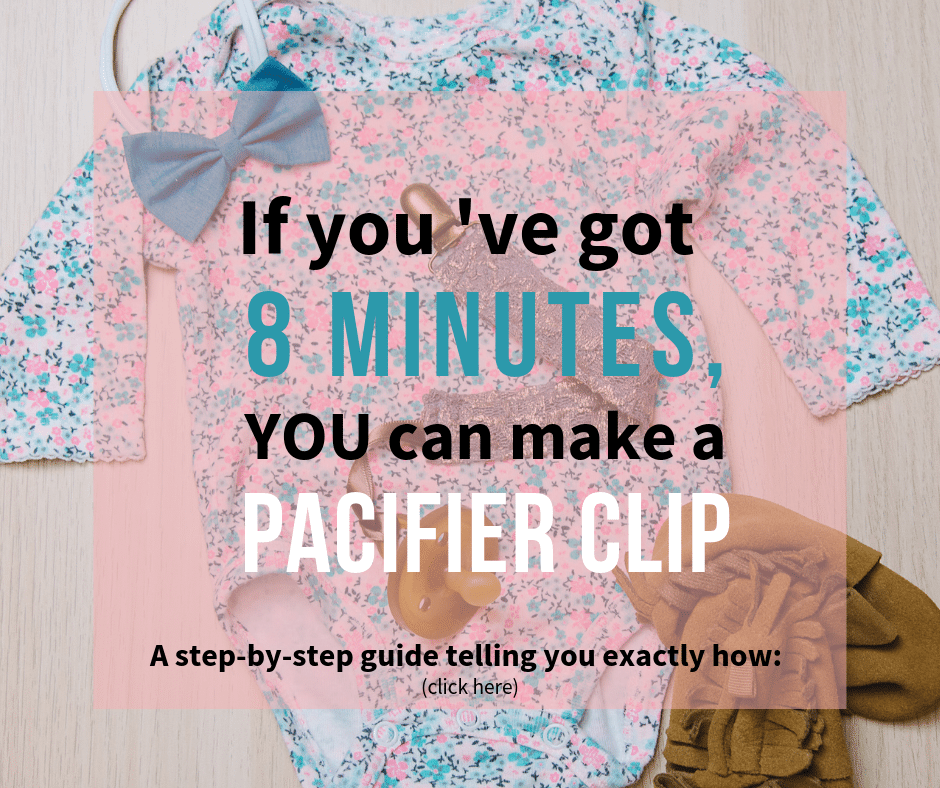 **P.S. A PRO TIP: If you want a complete, detailed step-by-step tutorial with photos documenting every step of this process, I created The Perfect Pacifier Clip guide just for you. It is packed with instructions, photos, tips, tricks, and bonuses. It's your ticket to making the perfect pacifier clip in less than 8 minutes. (For real. I timed it!) And it costs less than buying ONE pacifier clip in the store. Take a look and see if it might be for you!