**The blog posts I write often contain affiliate links. Please see my disclosure policy for more information.**
No more baby pacifiers on the floor! Here's a DIY tutorial showing how to make pacifier clips for baby with fabric scraps, ribbon, and cute metal clips.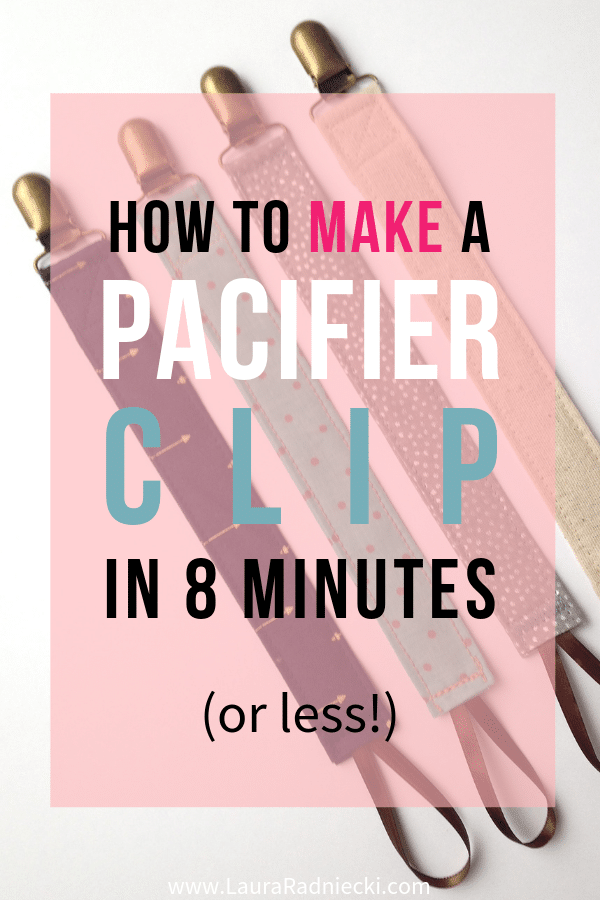 When I was younger, I LOVED my pacifier.
We called it a "nukie" and many of the photos from my first few years show me with one in my mouth, often upside down.
When my dad would ask me why I liked it, I'm told I would reply, "It tastes really good!"
I apparently gave it up around 2 years old, but then my sister was born shortly after, and I reverted back to my nukie-loving ways, probably because I wanted to be a baby again too.
So, if my son takes after me in any way, he may love a nukie too.
In my quest to use up some of my fabric stash during my nesting/crafting craze, I decided to make some of the pacifier clips I have seen both in the stores, out in public, and on Pinterest.
Supplies Needed to Make DIY Pacifier Clips:
Fabric – I used scraps from my fabric pile.
Ribbon or elastic – for the end that will attach to the pacifier. I used 1/4″ ribbon.
Pacifier clips – I used bronze ones because I liked the darker color. A lot of people use the shiny silver ones, but I thought these looked classy.
Coordinating thread
Iron
Scissors, pins
Sewing machine


How to Make a Pacifier Clip:
(I found this simple and straight forward tutorial on Pinterest for making these clips.) *Edited to add: the tutorial isn't live anymore, so I've untagged it.
I followed it pretty much all the way through, but I made a couple of modifications.
The steps that I followed can be summed up like this:
1. Cut fabric strip to 4″x10″.
[I just looked at her tutorial and realized she used 4×12″ strips. I did 4×10″ strips. I don't think it matters; the strap doesn't need to be very long to reach from the baby's mouth to their shirt to clip on.]
2. Iron fabric strip.
First, fold over the two 4″ edges of your fabric strip 1/4″ and iron. This creates a clean edge for each end of your pacifier clip.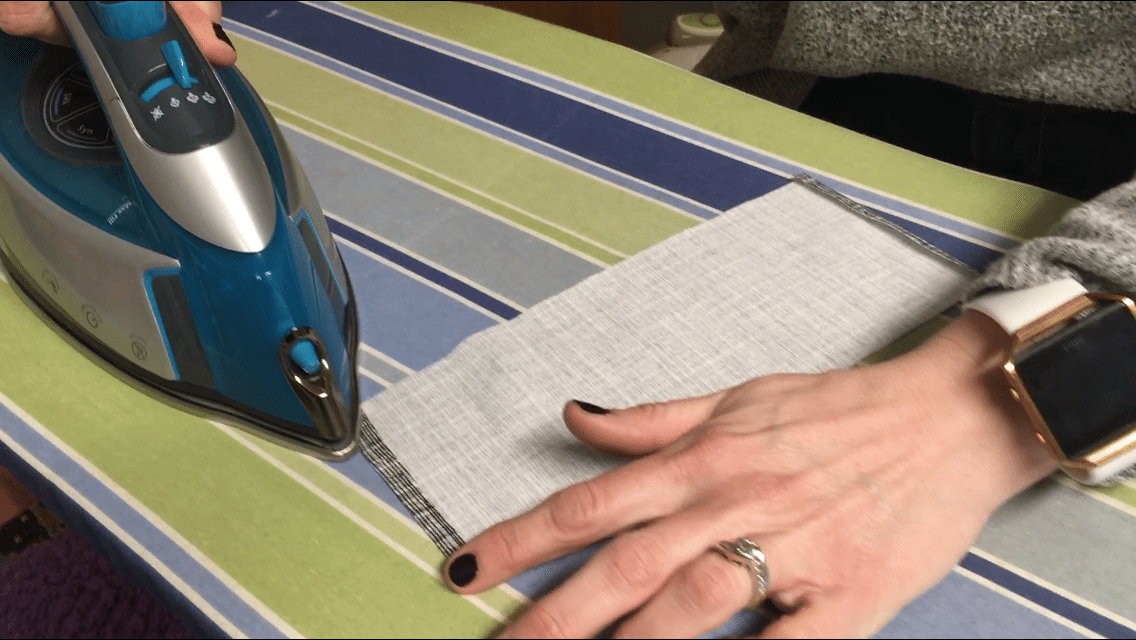 Next, fold it "hot-dog" style in half the long way, and iron that fold.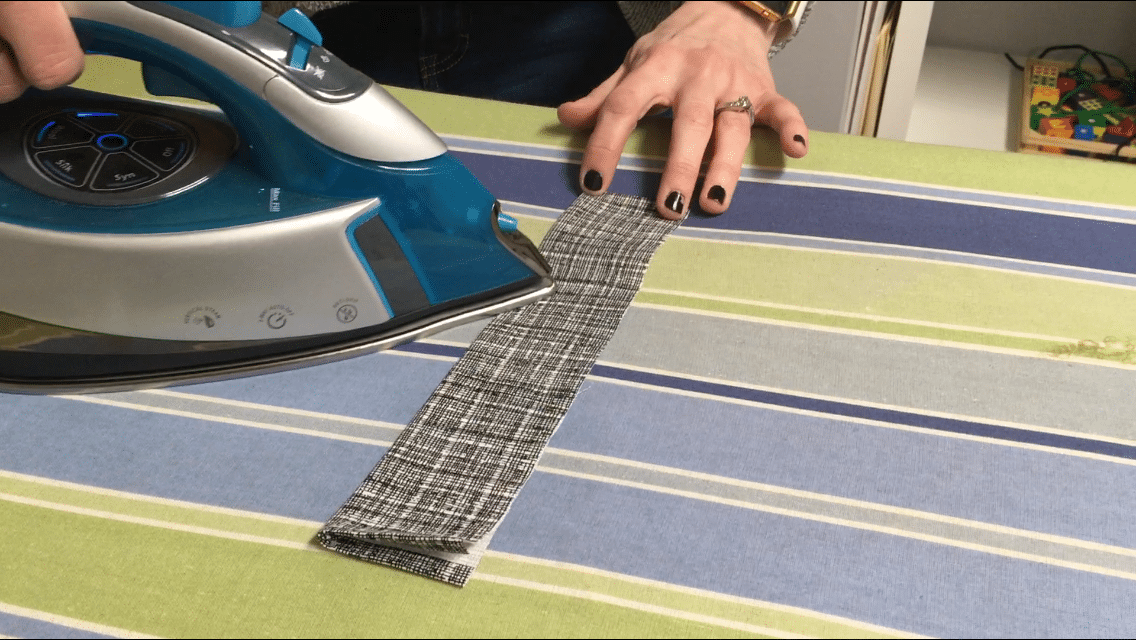 Open it back up, and then fold each of the long sides in toward the middle seam you just created with the iron, and iron again.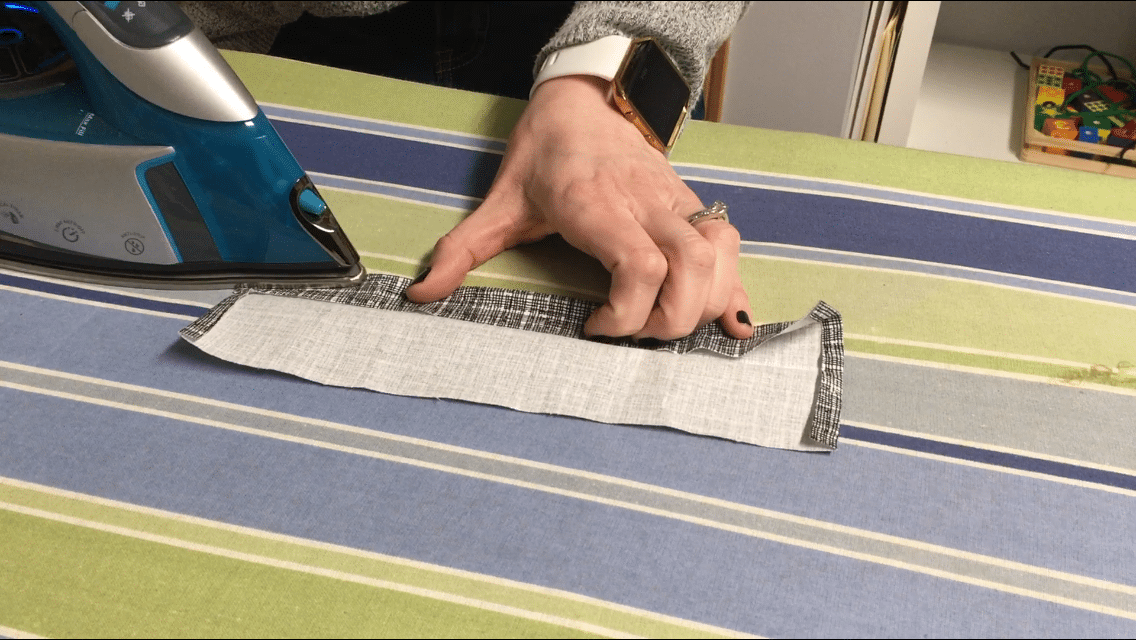 When you're done with one side, do the other side so both are now pressed in toward the center seam.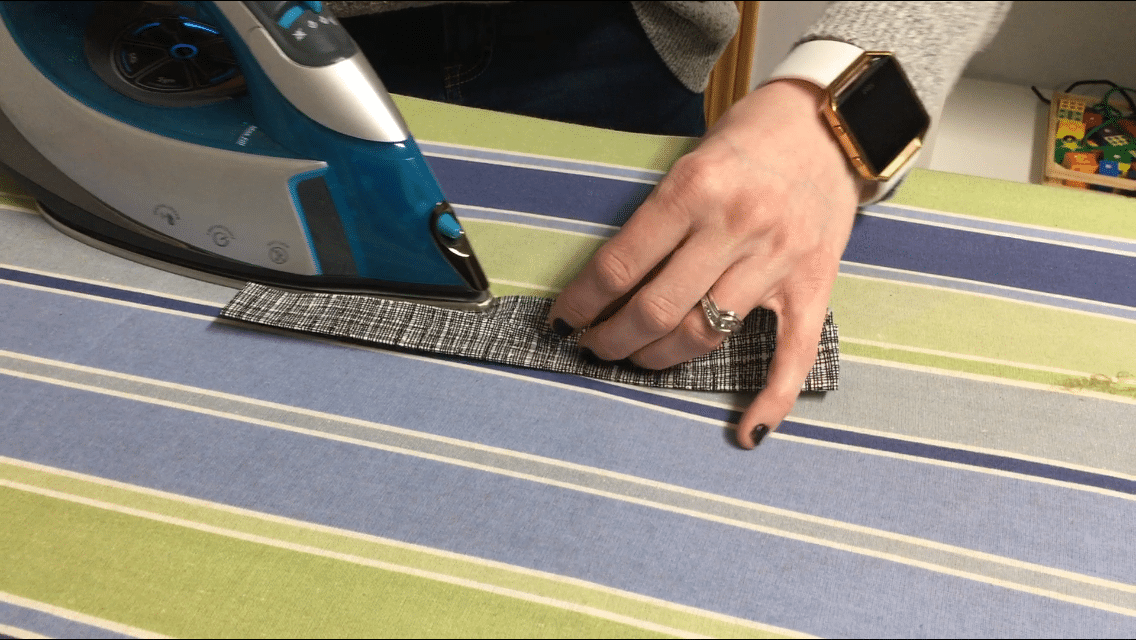 Fold the strip in half again and press the whole thing flat. You're left with a neat strip that is 1/4th the width of the original piece of fabric.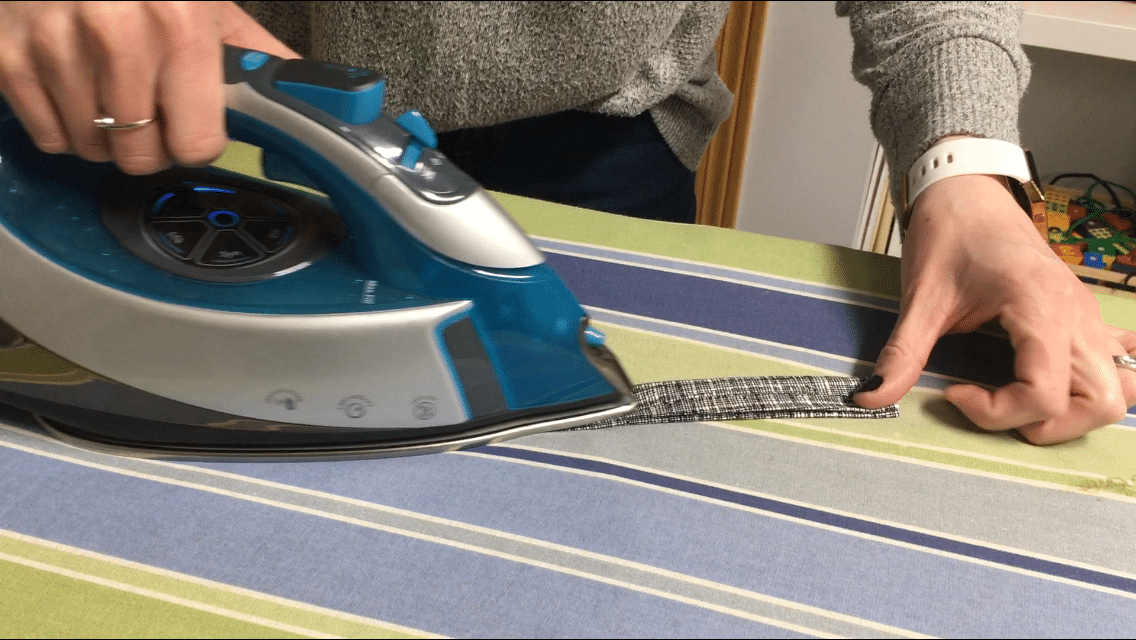 3. Sew the two long sides of the strip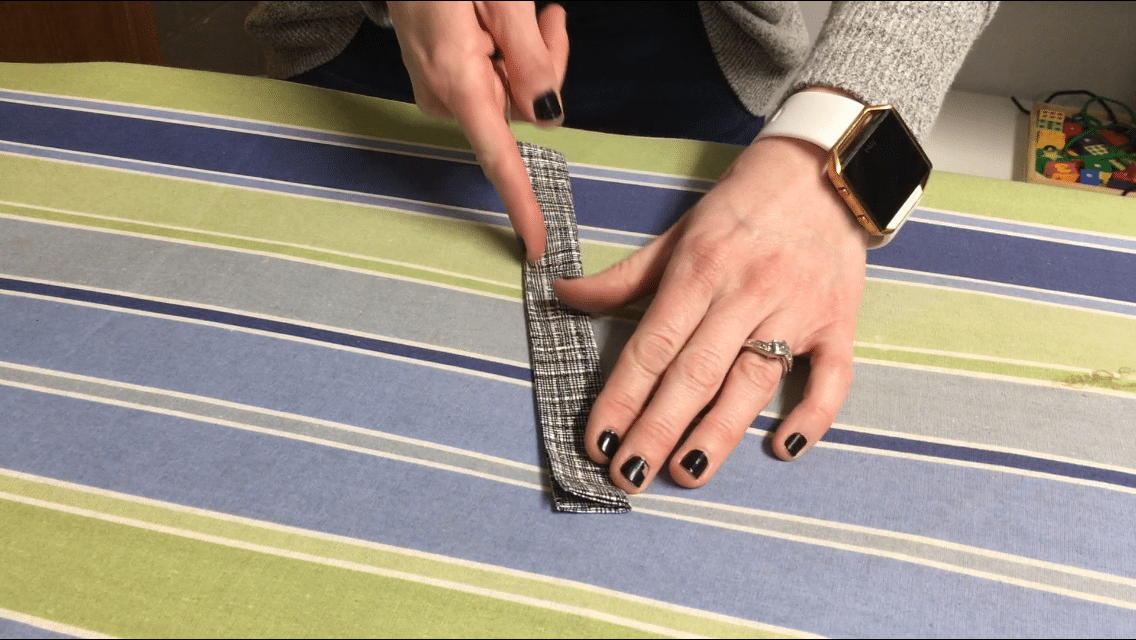 4. Cut the ribbon (6″ to 8″ sections work well), fold it to make a loop, and tuck it into place in one open end of the strip.
5. Sew the ribbon in place.
This is where I made one of the modifications to the original tutorial I followed.
She just used a plain straight stitch here and went back and forth over it a few times. That's one way to do it and it looks ok. When I did it this way, I maybe went back and forth too many times because it looked pretty messy.
So I decided to use a zigzag stitch instead. I went back and forth a few times with the zigzag stitch and like the look of it.
[The right photo below shows the straight method on the teal and the zigzag on the other three.]
The one thing I learned though is a zigzag stitch can unravel easily, even with backstitching, so you might want to end it with a couple of straight-stitch backstitches to secure the zigzag stitches better.

6. Slide the clip onto the other end, and fold the end of the strip over a little less than an inch.
7. Sew the clip in place.
This is another place where I modified her tutorial.
I borrowed the "rectangle and X" method of finishing these from some other photos of pacifier clips I saw online. I liked the look of it, and I thought it would add more security to the clip end too, making it strong.
So I carefully sewed in this "rectangle and X" pattern, to secure the folded over piece of fabric in order to attach the clip.
8. Attach pacifier to the ribbon or elastic end and you're done!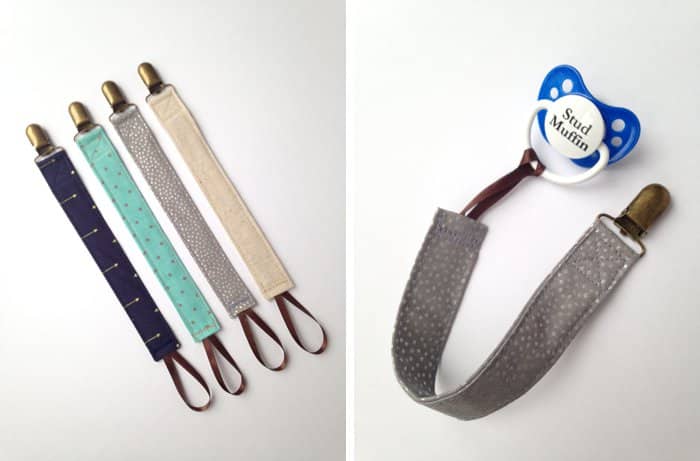 I made up a handful of these in different fabrics I had on hand.
I like that they're neutral and pretty. I think they'll be the perfect way to keep pacifiers from rolling onto the floor all the time.
– – – – –
One thing to mention is the color of thread used.
At first, as you can see in the teal polka dot strap above, I didn't use a coordinating thread color.
In my opinion, they look nicer when the thread blends in with the fabric, because then you can't see discrepancies in your stitches as much.
But the choice is yours; if you wanted to use contrasting thread colors, you could do that too, to add some visual interest to your fabric choices.
Because I'm not a super precise seamstress, I like having matching thread because it helps hide any imperfections in my stitches.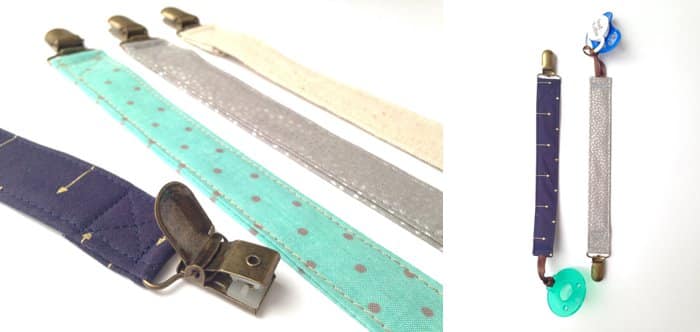 Now, we'll wait and see whether our baby likes pacifiers or not!
P.S. The clips I used to make these can be found on Amazon here; they are bronze clips!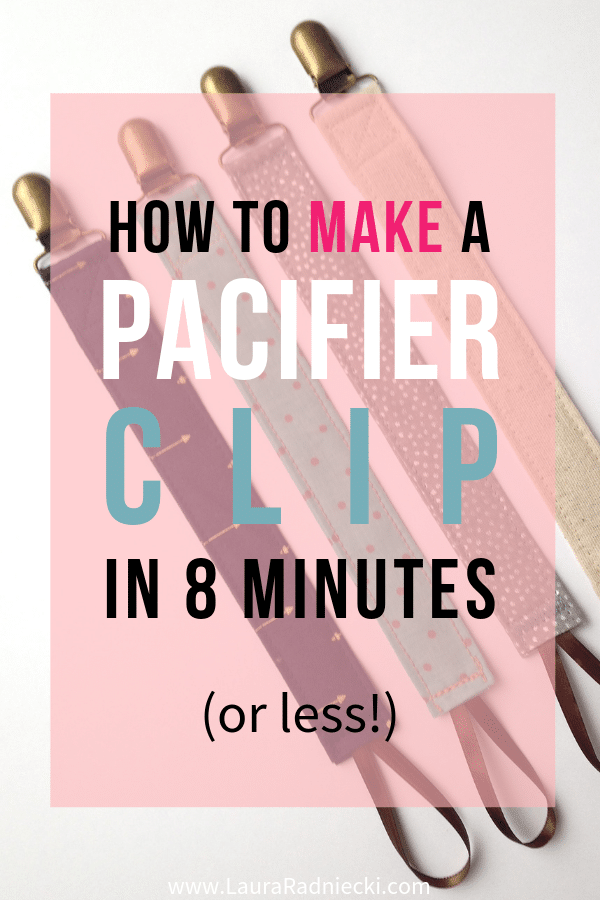 – If you liked this post, I would love if you would share it on Pinterest or Facebook. Thanks & xo! –