**These posts often contain affiliate links. Please see our disclosure policy for details.**
Cinnamon is the official scent of the holidays! In this easy DIY Christmas craft, combine cinnamon, pine cones and glue to make Cinnamon Pinecones! They are cheap, easy, and make the perfect Holiday and Christmas decoration for the mantle or tablescape!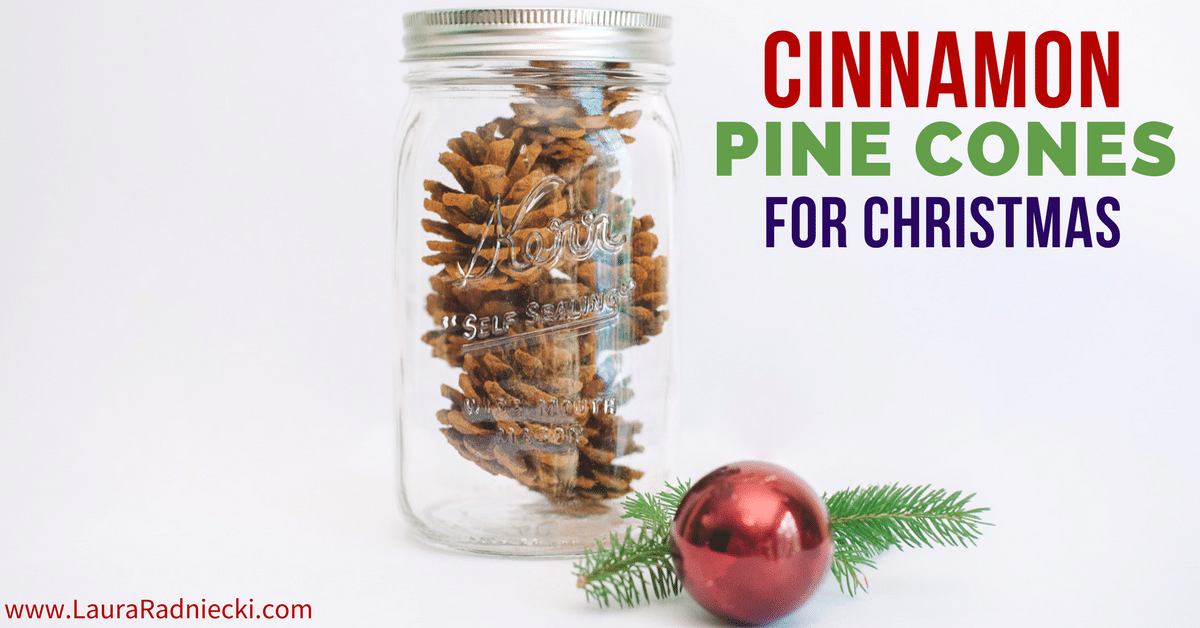 I love the smell of cinnamon.
Actually, I love everything about cinnamon – the smell, the taste, the artificial flavoring in things like Hot Tamales, Big Red Gum or Red Hots candy… All of it!
Cinnamon means Christmas to me (although I love all of that candy year 'round), so it makes sense that I would want my house to smell like cinnamon all holiday season. It's the smell of Christmas! (And I LOVE Christmas!)
Being the craft obsessed person I am, I collected a whole bunch of perfect pinecones throughout the summer and fall, with plans to use them for crafts. I can picture cousin-craft-days in the future, with little hands making ornaments or other crafts out of pinecones.
While looking through Pinterest one day this fall, I came across a post about making cinnamon scented pinecones, and I immediately decided to put it to the test with some of my newly collected stash.
The whole process was easy and fun (and a little messy), and I love the end result. These cinnamon pinecones put me right into the holiday spirit! Here's how I made them.
How to Make Cinnamon Pinecones | DIY Christmas Decor
Supplies Needed:
Clean pinecones
Elmers Glue
Paintbrush
Essential Oil (optional) – I used Christmas Spirit by Young Living, but you can use something on Amazon like this Cinnamon essential oil
Bowl to mix glue and essential oil in
Cinnamon
Mason Jar to store pinecones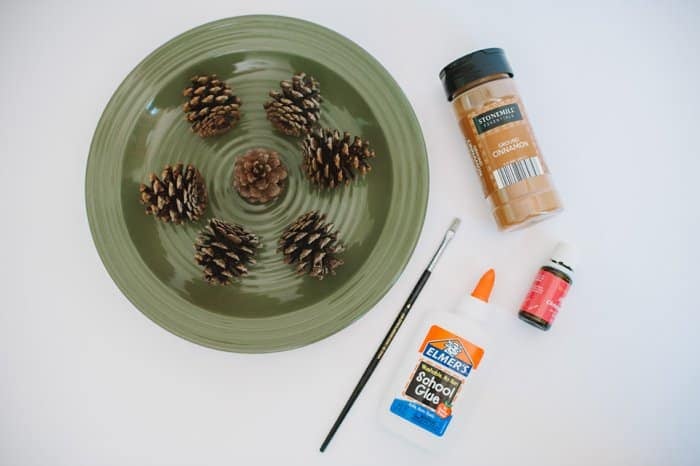 Step 1: Prep Your Pinecones (if you got them outside).
I collected mine from the ground underneath our pine trees outside, so they needed to be cleaned and sanitized.
I found instructions on how to clean pinecones online.
To Clean Pinecones: I soaked them in a vinegar/water bath for a while, and then baked them in a 200 degree oven for 20 minutes. This kills any bugs that might be inside them.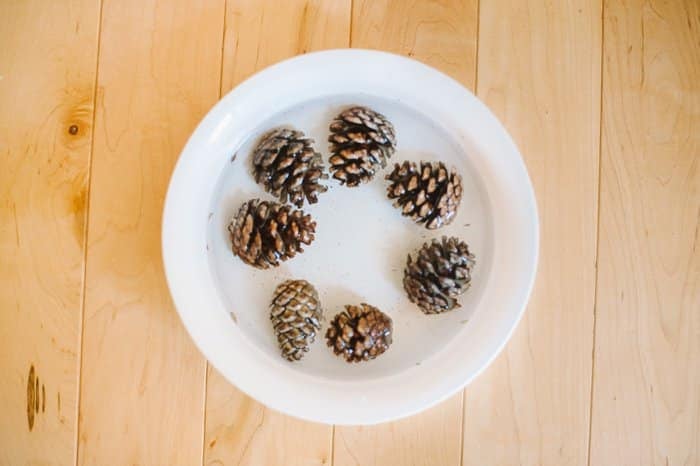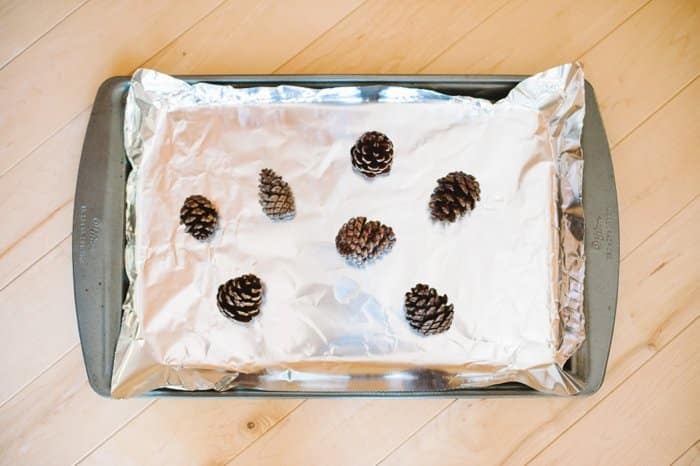 Then, I let them dry out on a paper towel for a few days, rotating them halfway through.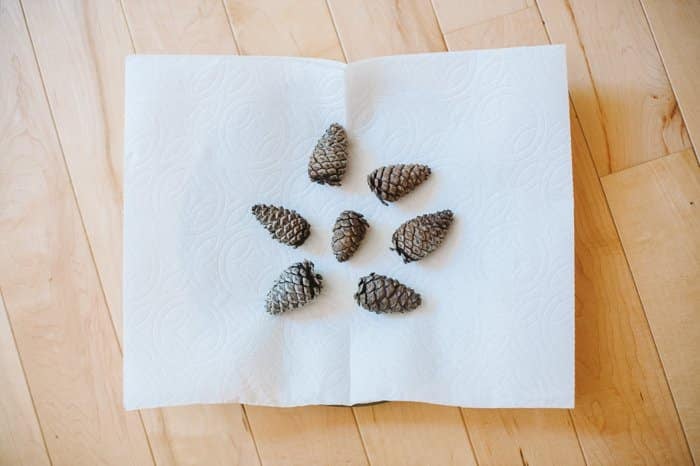 When pinecones are wet, they fold in on themselves. As they dry out, they open up again.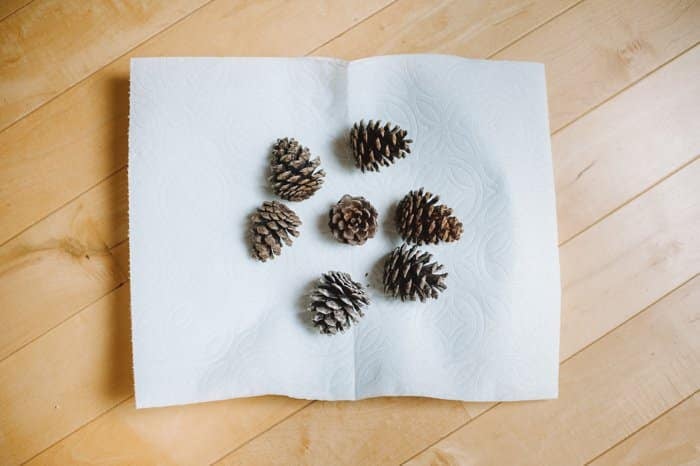 Step 2. Prepare the Glue
In a bowl, put in some Elmer's Glue and add a little bit of water. There's no need to measure this; you just want to thin the glue out a little bit so it's easier to paint onto the pinecone with the brush.
I added a few drops of essential oil into the diluted glue and mixed it together.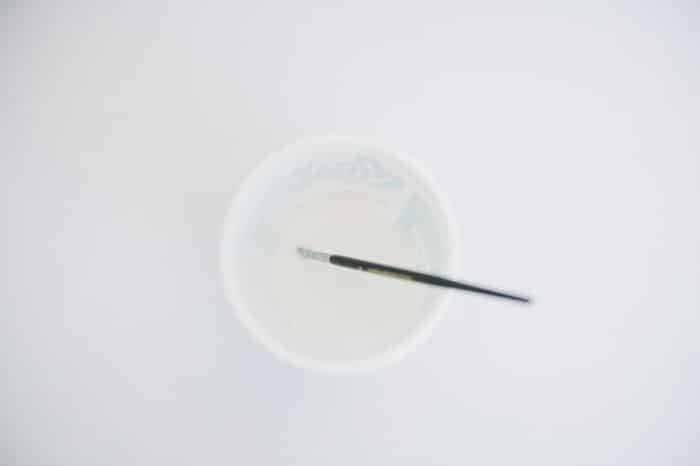 Step 3. Paint Glue onto Pinecone
Using a paintbrush, coat the pinecone with a thin layer of glue. Make sure you get the tops, bottoms and sides of all the sections of the pinecone so that the cinnamon will stick later.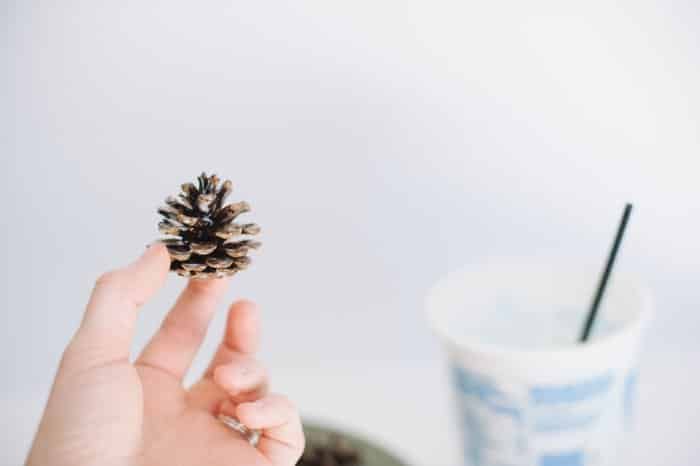 Step 4. Coat with Cinnamon
Once the whole pinecone is coated with glue, sprinkle it with cinnamon, covering all surfaces, nooks and crannies.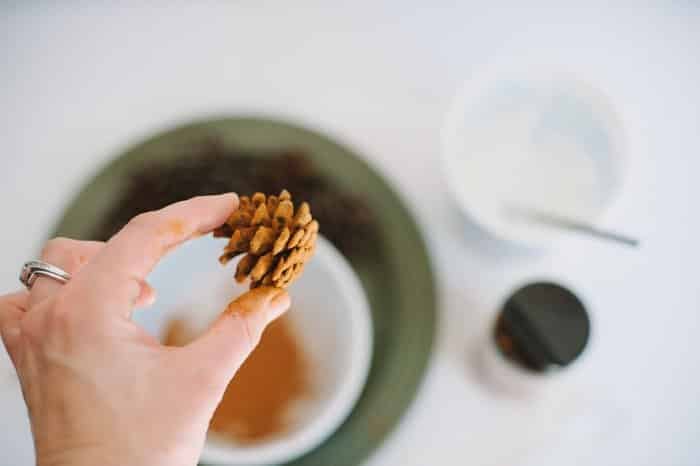 Step 5. Shake Off Excess Cinnamon
Once you've coated the entire pinecone, making sure you've put cinnamon in all of the nooks and crannies, you can remove the excess cinnamon by tapping it, or shaking it over your cinnamon bowl. The excess cinnamon that is not glued onto the pinecone will fall off.
If you see any glue sections that don't have a layer of cinnamon on them, add cinnamon to any missed spots. Otherwise, if the entire pinecone is coated in cinnamon, you're almost done!
Step 6. Let Glue Dry
Once the pinecones are completely coated in cinnamon, you want to let the glue dry. Then, you're done! They will be fragrant and beautiful; ready to dress up your house for the holidays!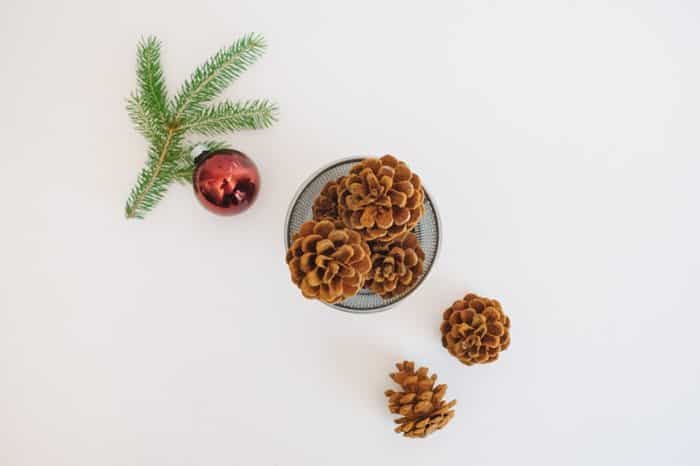 They are pretty delicate, requiring TLC when you handle them. Too much handling will cause the cinnamon to start rubbing off. But with them being so easy to make, you don't need to baby them too much; you can always make more!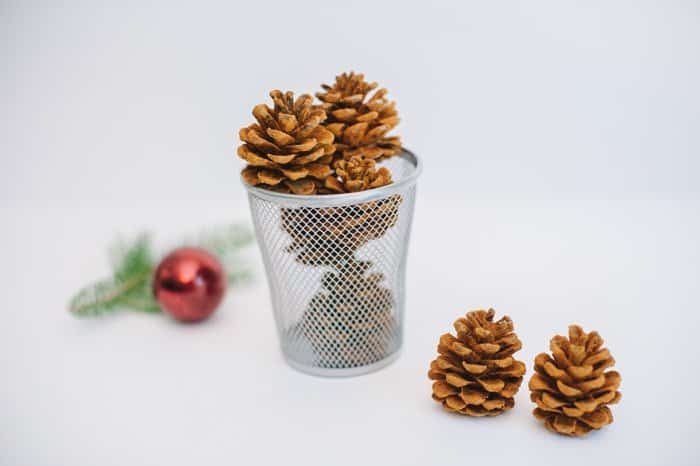 Step 7. Enjoy the Cinnamon Pinecones!
You can display the cinnamon scented pinecones in a variety of different ways, depending on your design style and budget.
I'm a sucker for mason jars so I put mine inside a large mason jar for storage. When I want the scent to carry, I can simply remove the lid and let them do their thing!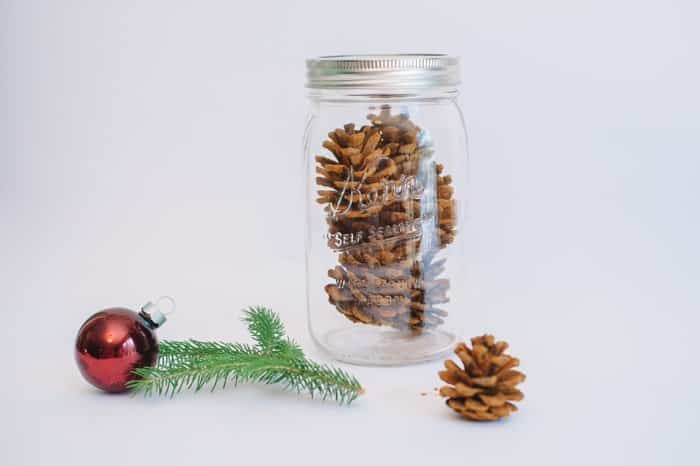 I have a whole Pinterest board dedicated to pinecone crafts. It's safe to say I'm completely obsessed with these little nuggets of nature!
This easy Christmas craft incorporated three things I love: pinecones, cinnamon and the Christmas season, and all three of them fit together perfectly!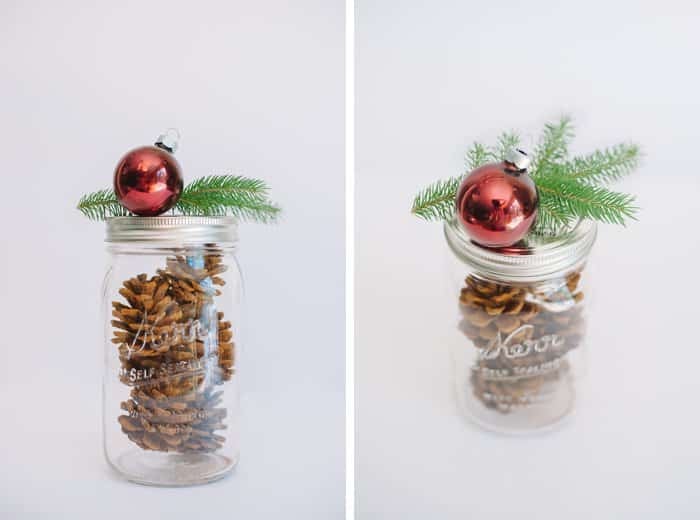 Give these cinnamon scented pinecones a whirl, and we can both enjoy Hallmark Christmas movies as we're surrounded by the scent of cinnamon. I sure love this time of year!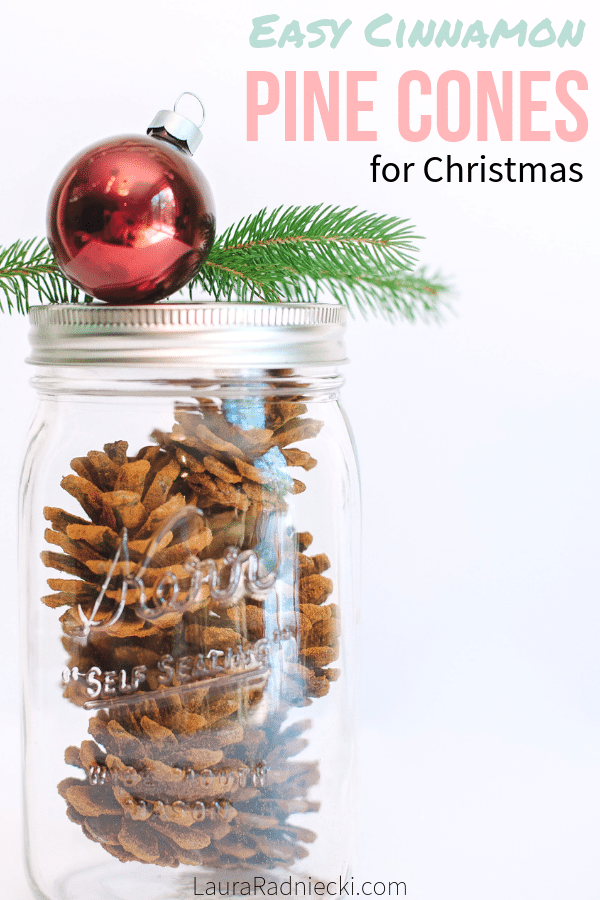 – If you liked this post, I would love if you would share it on Pinterest or Facebook. Thanks! –