**These posts often contain affiliate links. Please see our disclosure policy for details.**
Much like pine cones, I'm convinced acorns are one of those things often overlooked by everyone except curious kids and crafters. Yet, if you are a DIY, decor, or craft enthusiast, you likely know the potential that acorns have for amping up fall decor, or becoming something amazing in a fun craft project.
But before you can make anything with the beautiful acorns you pick up from the yard, you need to clean them. Bugs (and dirt) love acorns, so you want to clean the acorns before you make or do anything with them.
Here's how to clean and preserve acorns for crafts after you pick them up off the ground outside.
How to Prepare Acorns for Crafts
Step 1. Gather Supplies
Supplies Needed: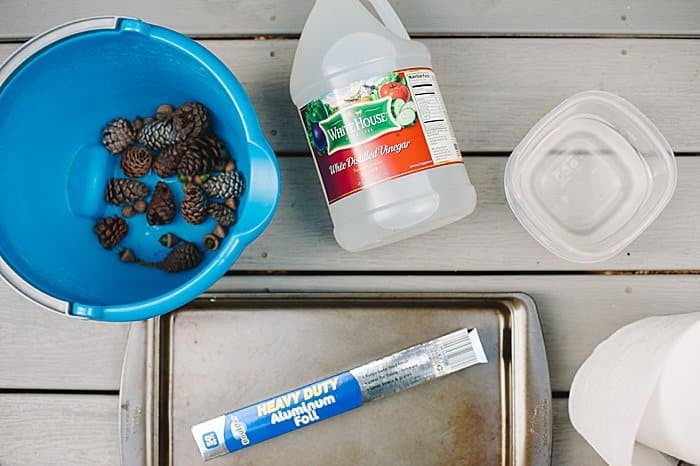 Step 2. Soak acorns in vinegar and water mixture.
Before you begin, remove any visible dirt you can see.
Next, in a bowl, mix water and vinegar together. A half cup of vinegar is a good starting point.
Add in acorns, swish them around, and soak for 20 minutes.
This will help clean dirt off of them, and begin to get rid of any bugs inside them too.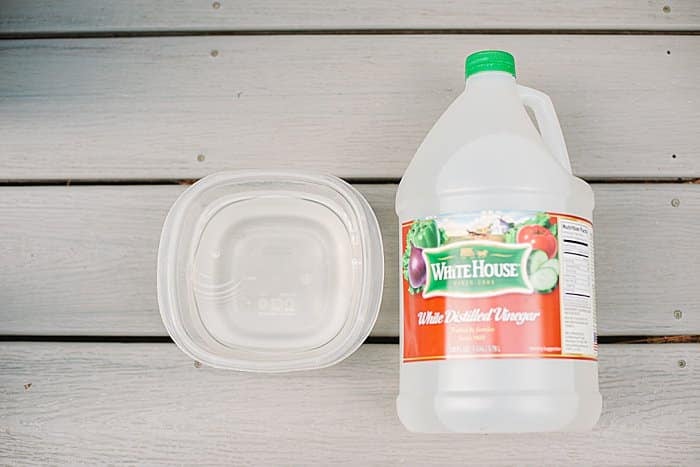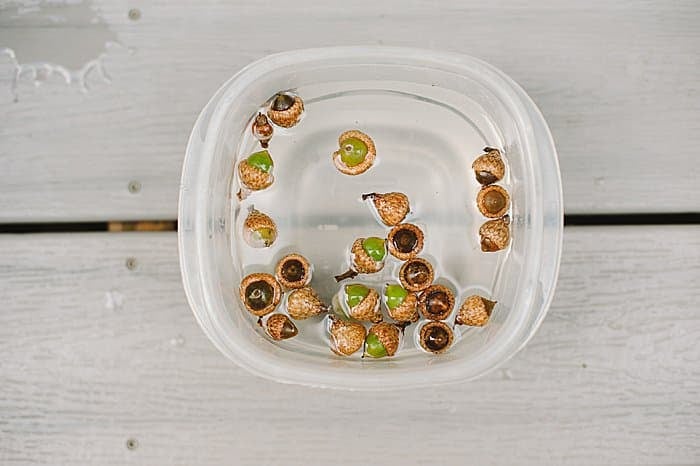 Step 3. Bake acorns in 175 degree oven for 1-2 hours, flipping halfway through.
Next, take the acorns out of the water and rinse them. Using a strainer is the easiest way to do this.
Drain off any excess water and let them dry for a minute on a paper towel.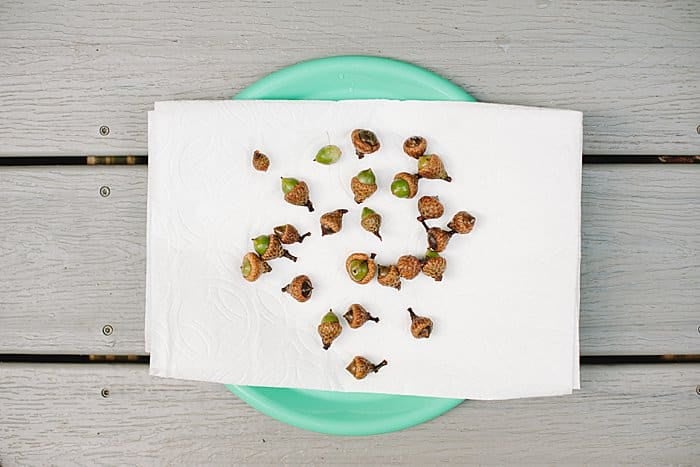 Place the acorns on a foil-lined baking sheet and place in a 175 degree F oven for 1 to 2 hours.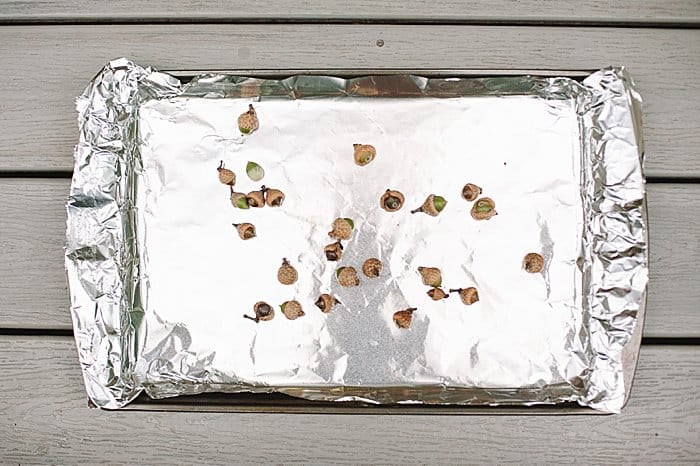 Some people recommend leaving the oven door cracked open as you bake the acorns to let the moisture escape.
With little kids in my house, I wasn't comfortable leaving the door open as they baked. So I did "convection bake" on my oven and closed the door, to help suck excess moisture out that way.
Halfway through the bake time, flip the acorns over with a spatula or spoon so the other side has a chance to bake.
Any green acorns will turn brown.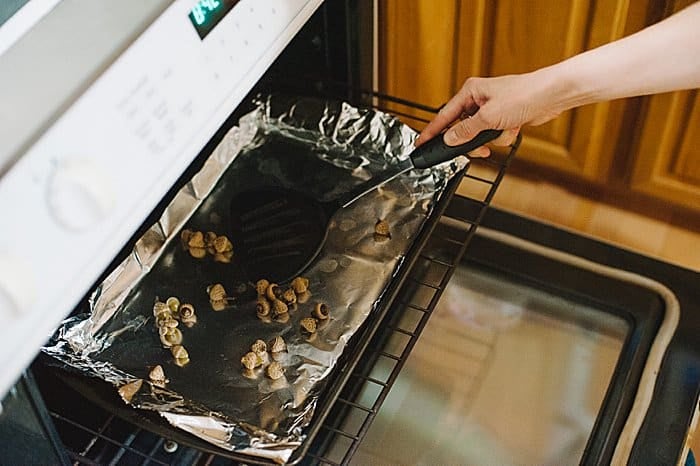 Step 4. Remove from oven, let cool completely.
After baking for 1-2 hours, remove the cookie sheet and acorns from the oven and let cool completely.
Step 5. Reattach any loose caps with hot glue.
Some of the caps may have come loose in the drying process. You can use a small dab of hot glue on the inside of the cap to reattach it to the acorn.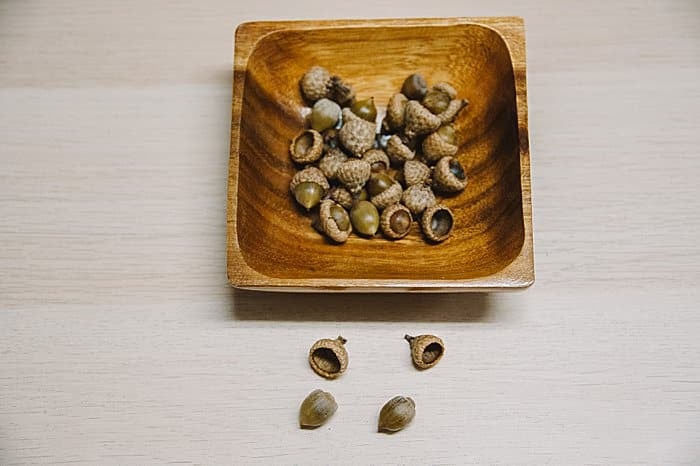 After I cleaned my acorns, I painted them a few days later. Things worked great, but then after another few weeks, I looked at them and over time (and likely more internal drying of the acorns) a lot of the caps that were once tight were now loose. So I had to glue on many more of the caps.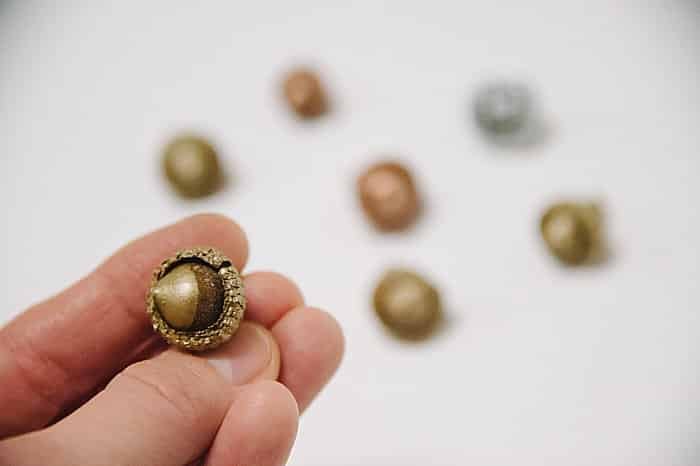 If possible, let your clean acorns sit for awhile and assess them to see if any caps are loose or come off completely, and need to be glued back on. This is best done BEFORE you paint or start any other projects with the acorns if possible.
Step 6. Spray with Clear Acrylic Sealer for added protection.
This step isn't necessary if you are going to paint or embellish the acorns further.
However, if you plan to use or display them naturally, sealing them with Clear Acrylic Sealer helps to preserve and protect the acorns and adds a little bit of shine.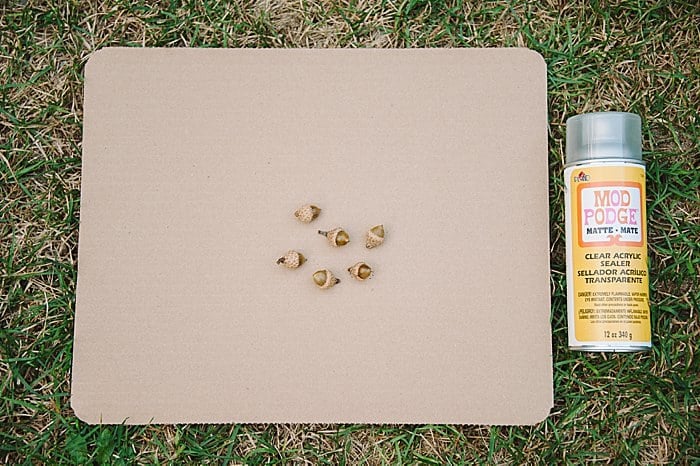 Step 7. Go make things!
Now the acorns are ready for you to use to make things or to use for decorating!
No matter what you plan to do with them now that you've figured out how to prepare acorns for crafts, you've got the supplies for some fun projects!
– – – – –
Save this information for later by pinning the photo below to Pinterest!