**These posts often contain affiliate links. Please see our disclosure policy for details.**
Learn how to make mini felt ball pumpkins for your DIY Fall decor this year. They are easy to make, a great fall kids' craft idea, and so cute!
Felt balls are an awesome craft supply – they can be used in so many fun projects like felt ball acorns, a felt ball garland, and multiple Christmas ornaments, like a felt ball tree ornament, a felt ball wreath ornament, and a felt ball dreamcatcher ornament.
Today, we're bringing felt balls into the Fall season, and turning them into mini felt ball pumpkins!
Here's how to do it!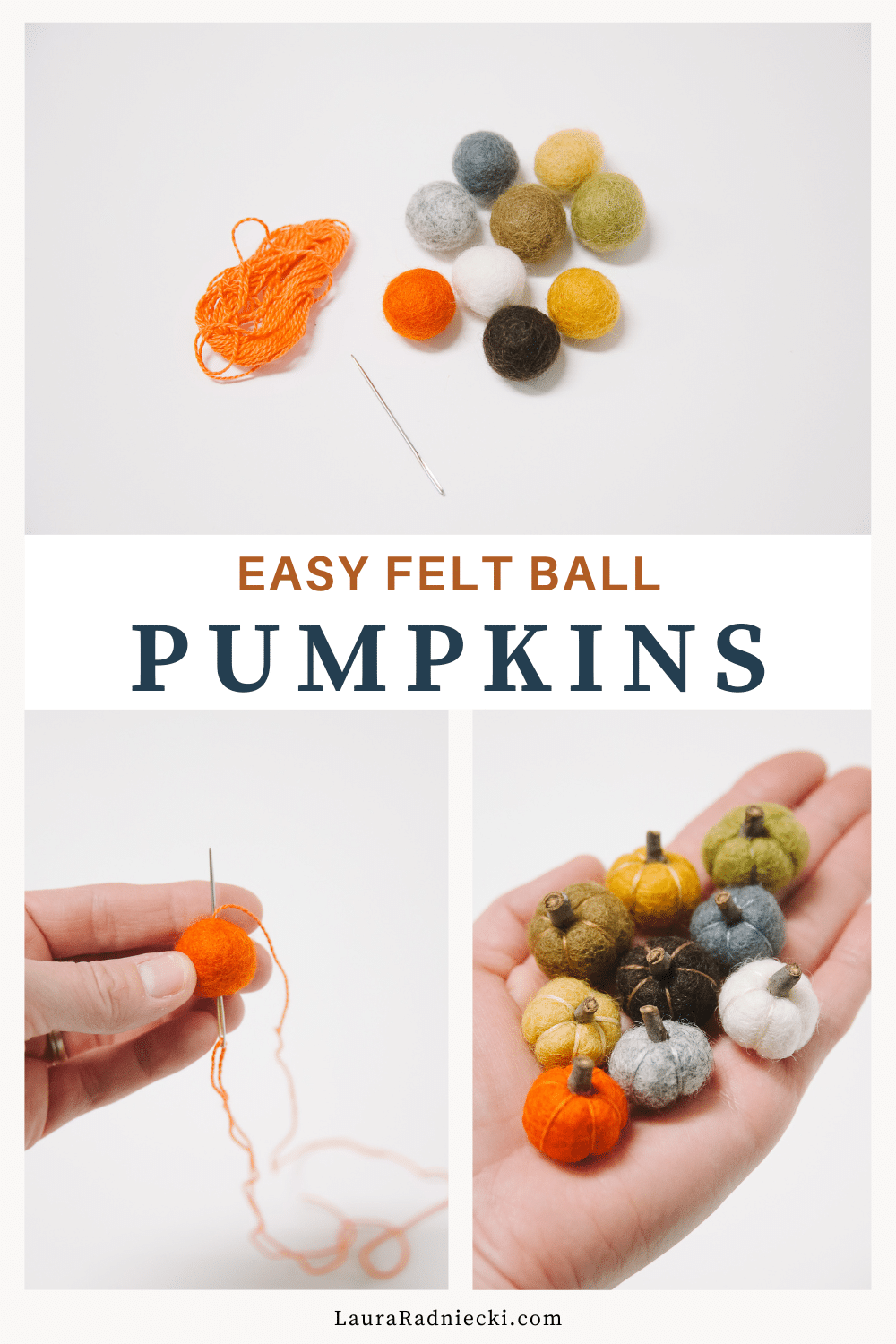 How to Make Mini Felt Ball Pumpkins
Step 1: Gather Supplies
Supplies Needed:
Embroidery Thread
Scissors
Wooden Branch
Hot Glue Gun and Glue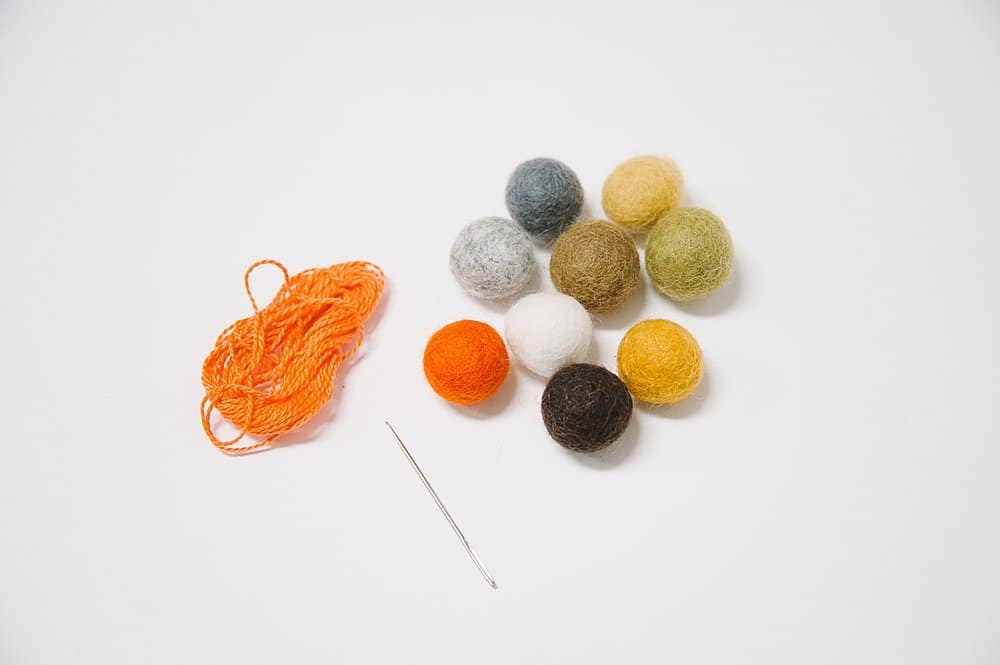 Step 2: Thread an embroidery needle with embroidery floss that matches the color of the felt ball you are making into a pumpkin.
Tie a knot at the end of the embroidery floss.
Start at the bottom of the felt ball, and push the needle up to the top.
Pull all the slack floss through to the top.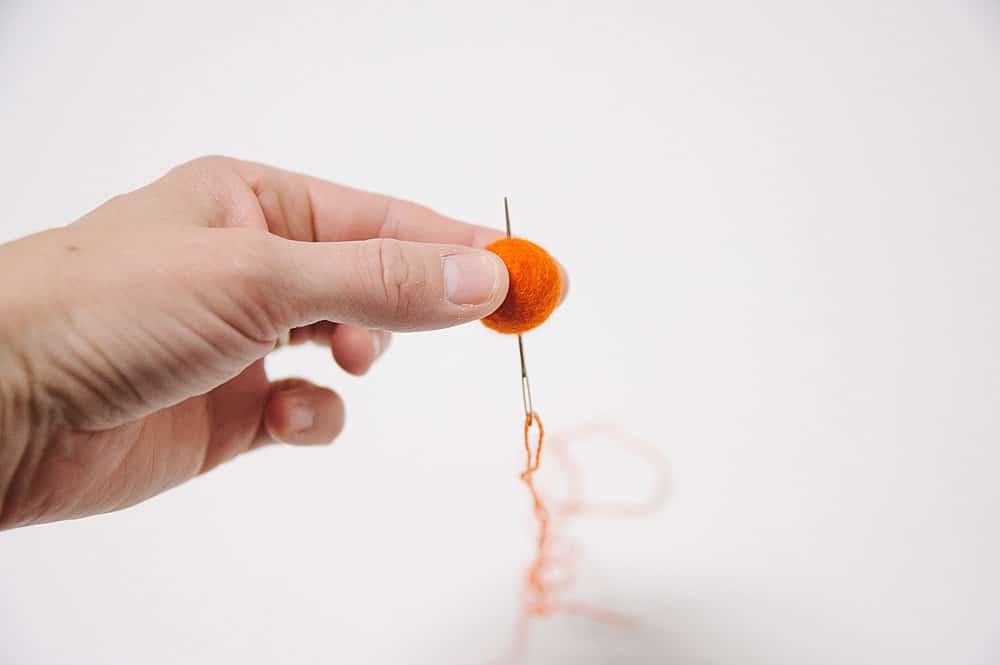 Step 3. Take the needle and go back to the bottom where you just inserted it, and push it through to the top again.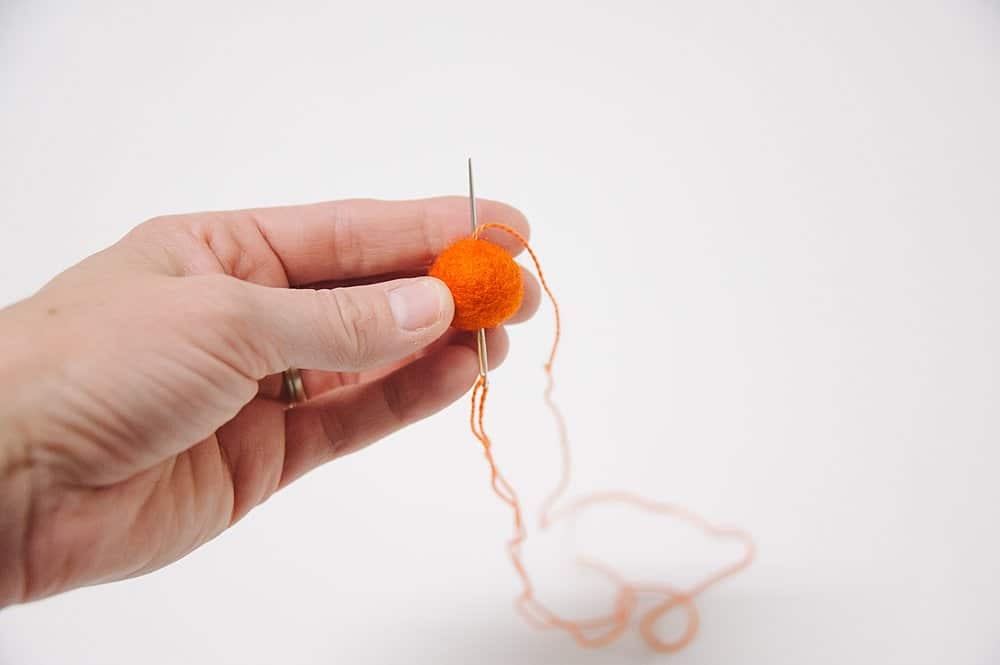 Pull any slack.
As you pull tighter, you will see an indentation form on the side of the felt ball from the embroidery floss.
This is how to turn a felt ball into a pumpkin; you are going to make 6 evenly spaced indentations along the ball to make it look like a pumpkin.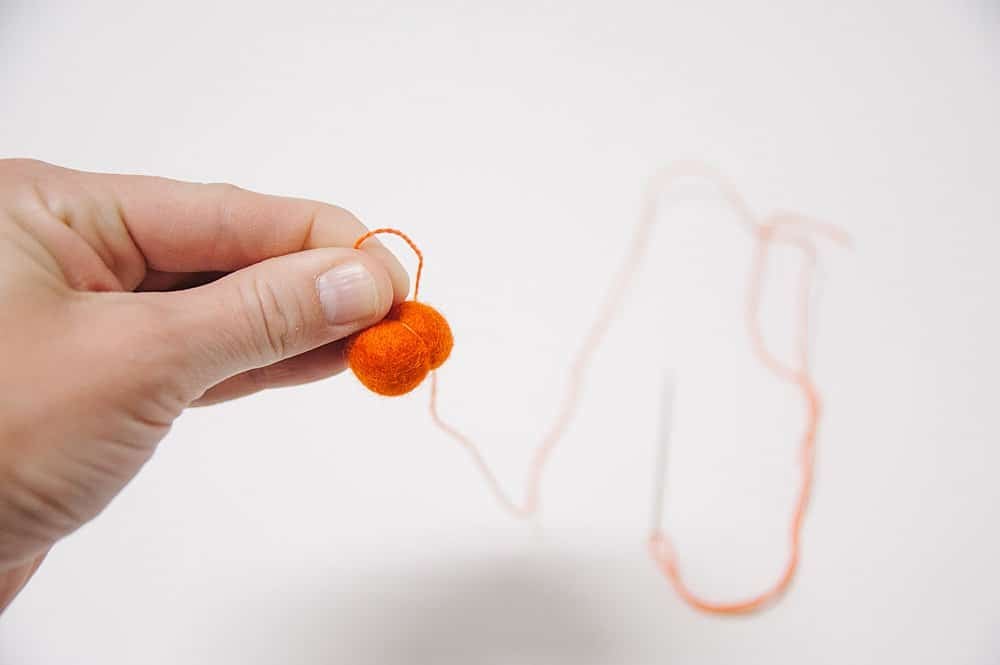 Step 4: Bring the needle back to the bottom of the ball again, and push it up to the top again.
This will create another indentation.
Position the floss directly across from the first indentation, before you pull the slack all the way out.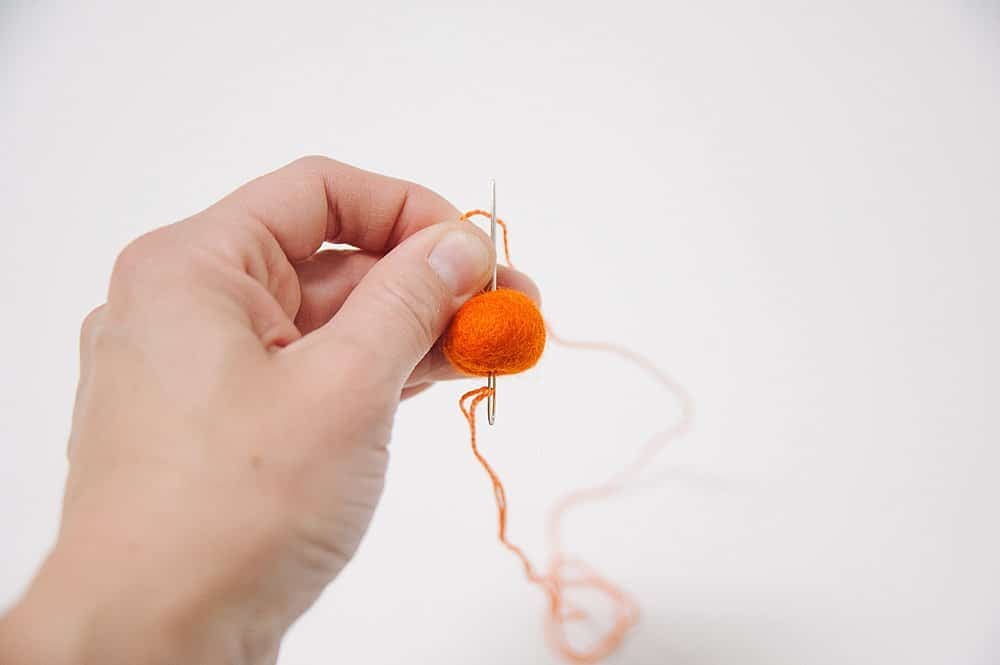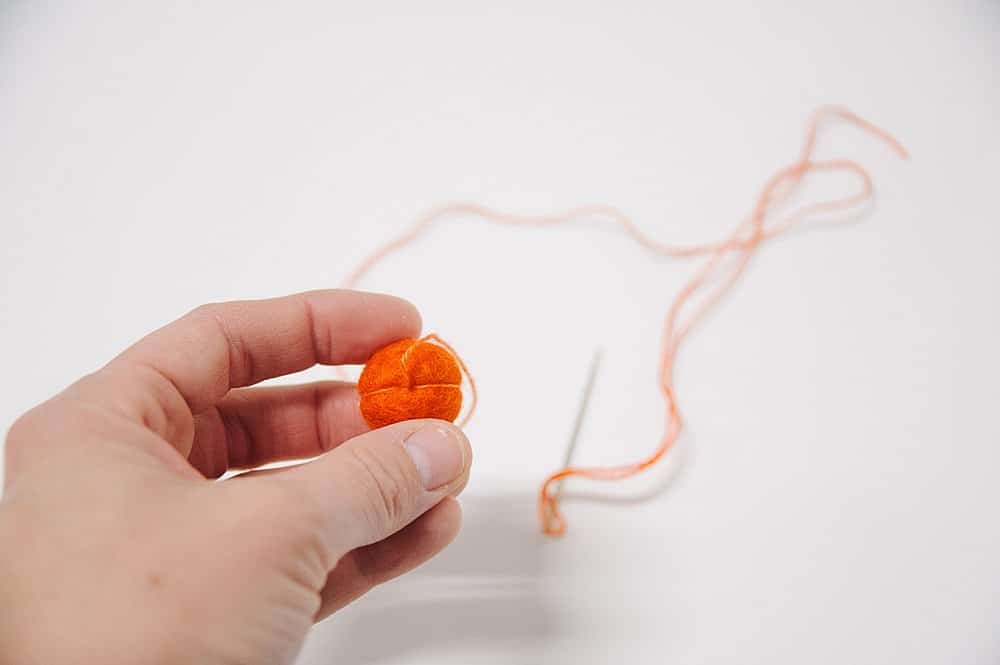 Repeat the process of pushing the needle into the bottom of the felt ball, up to the top, pulling the slack, and creating another indentation in the side of the pumpkin, until you have 6 evenly spaced sections.
Here is what it looks like when there are 4 done.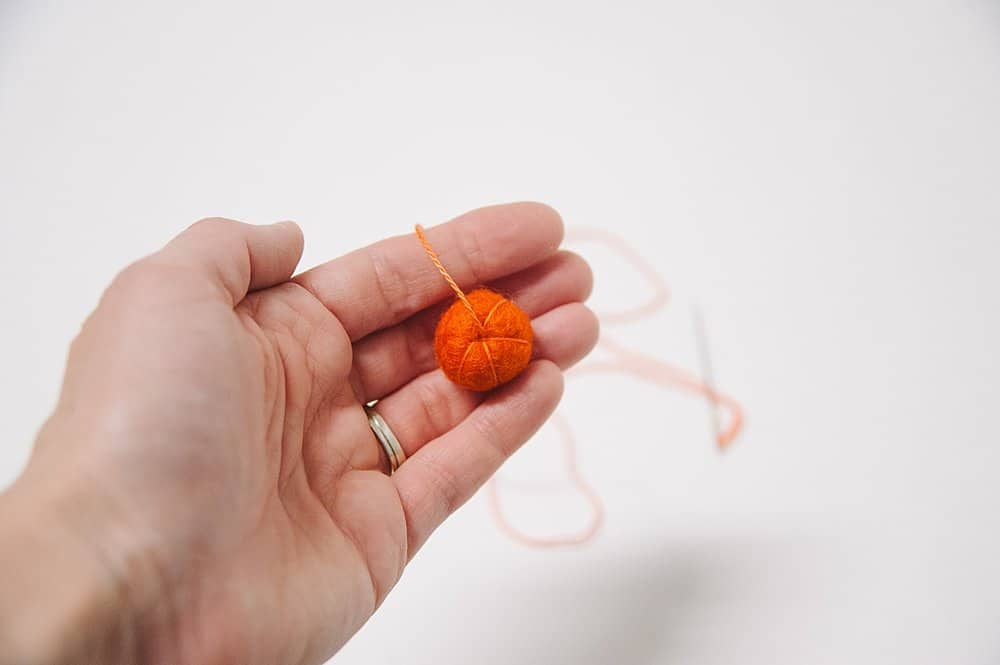 And what it looks like when you have all 6 done.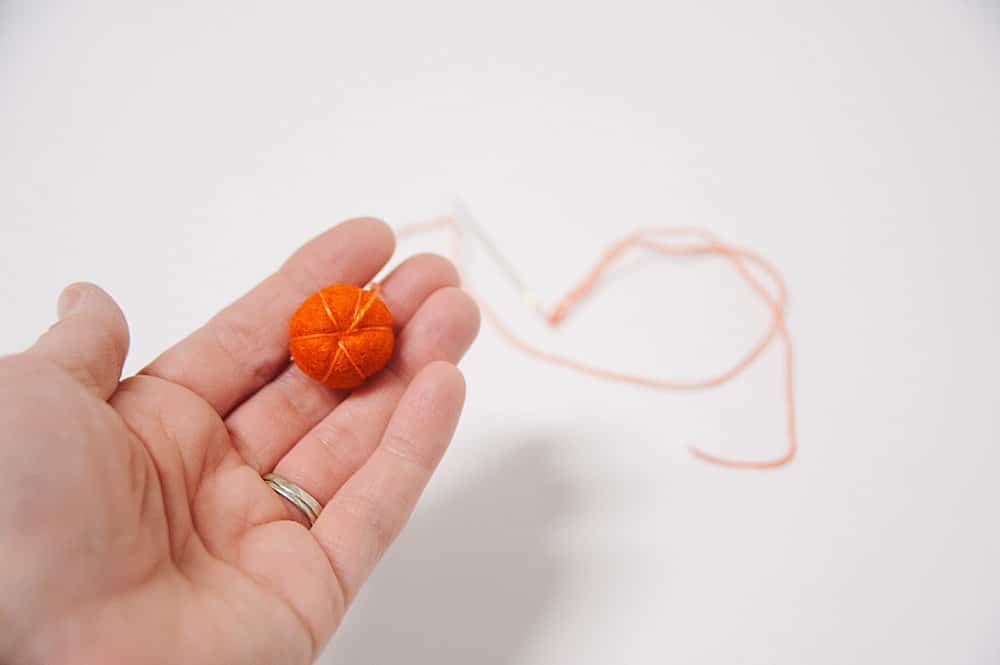 Secure the embroidery floss, tie a knot, and trim any loose ends.
This is the top of your felt ball pumpkin (photo below).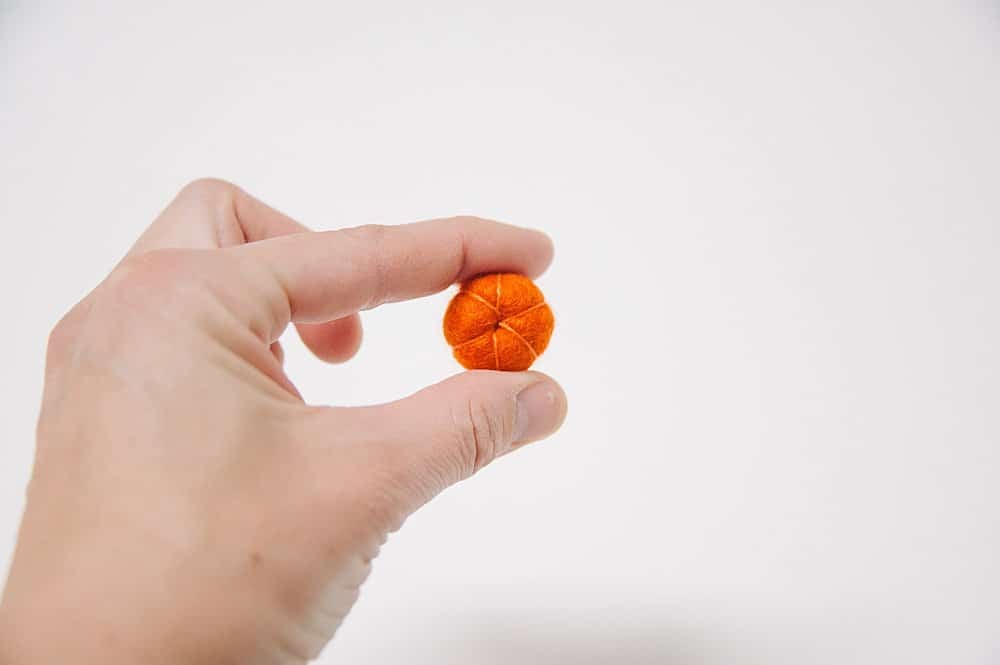 And this is the bottom of the pumpkin (photo below).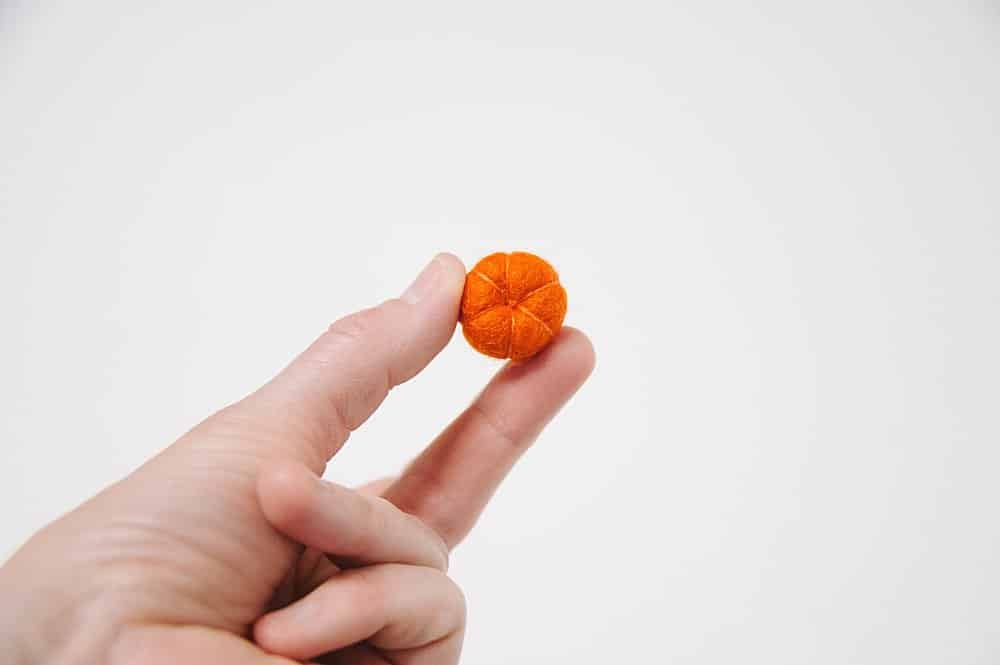 Step 5. Cut a small wooden branch into sections for the pumpkin stems.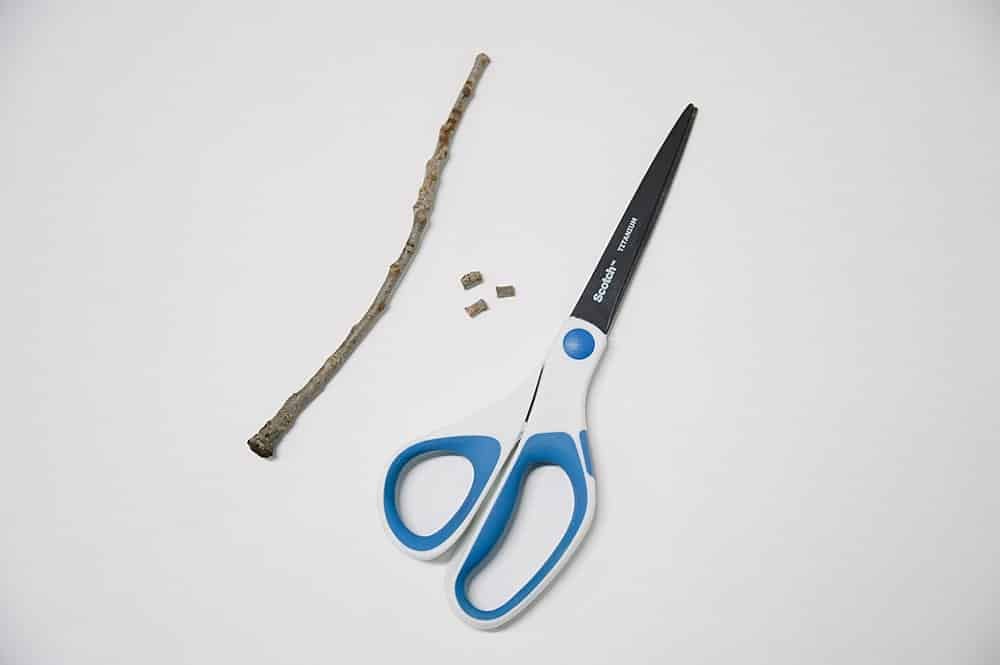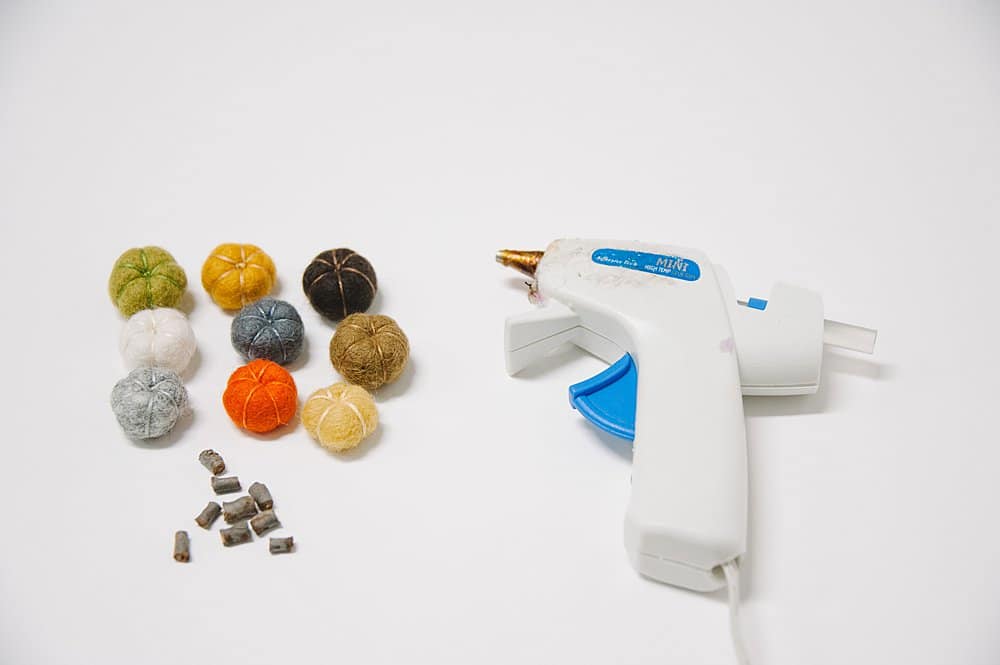 Step 6: Hot glue the stem onto the top of the mini felt ball pumpkin.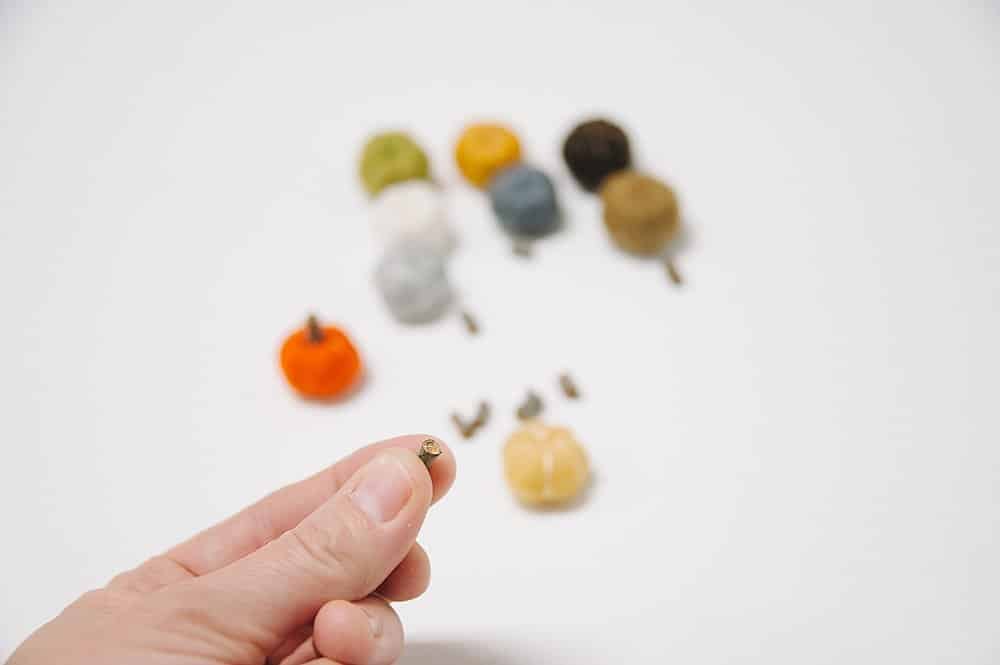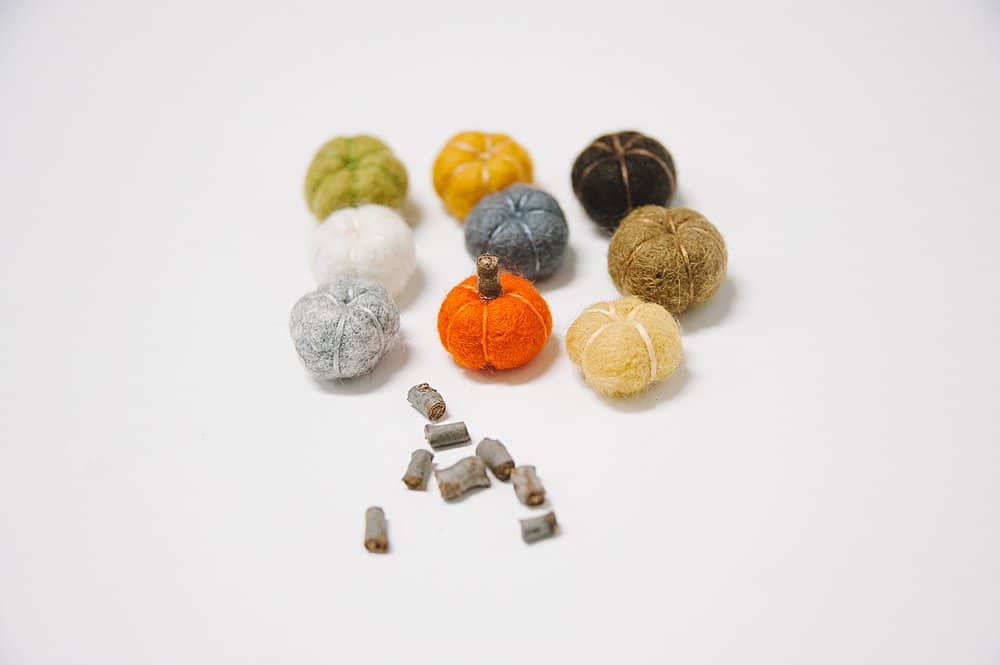 Step 7: Repeat for all of the felt ball pumpkins you have made.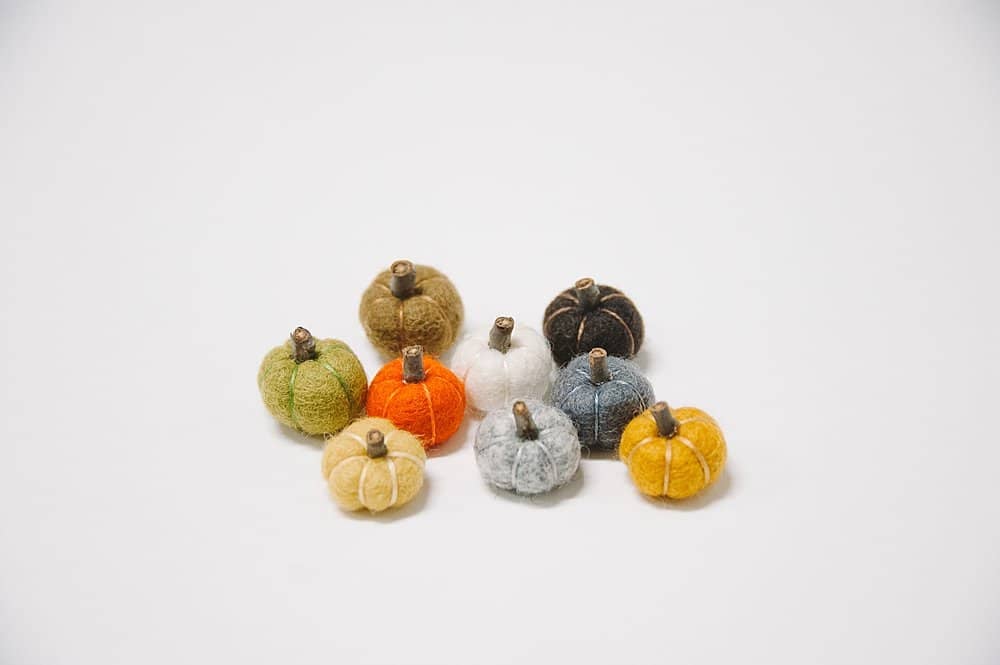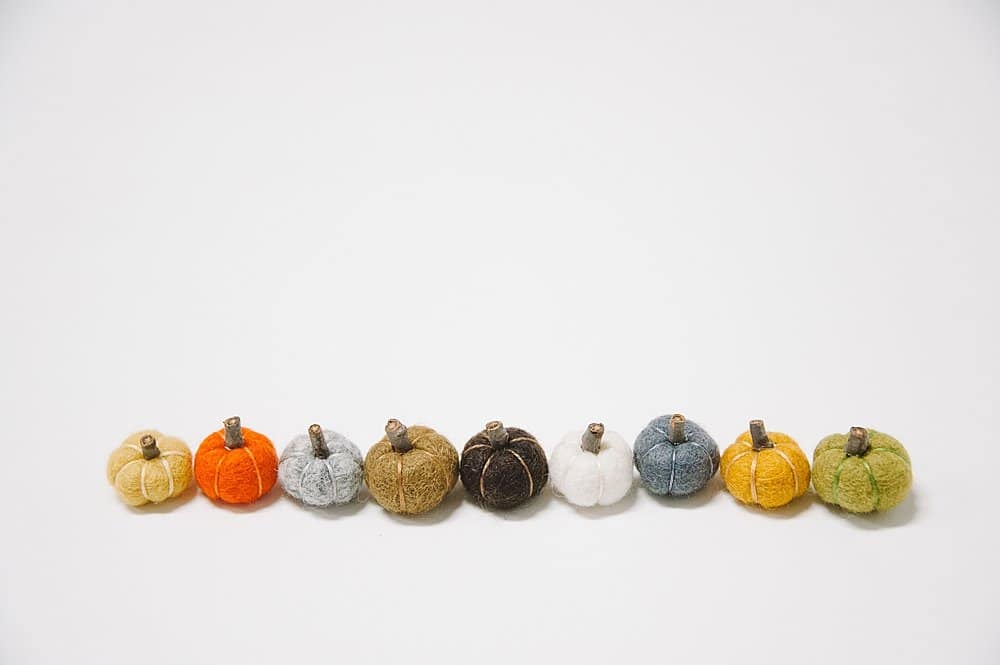 Your mini felt ball pumpkins are DONE!
How cute are they?!?!?!
So tiny, so delicate, and SO sweet!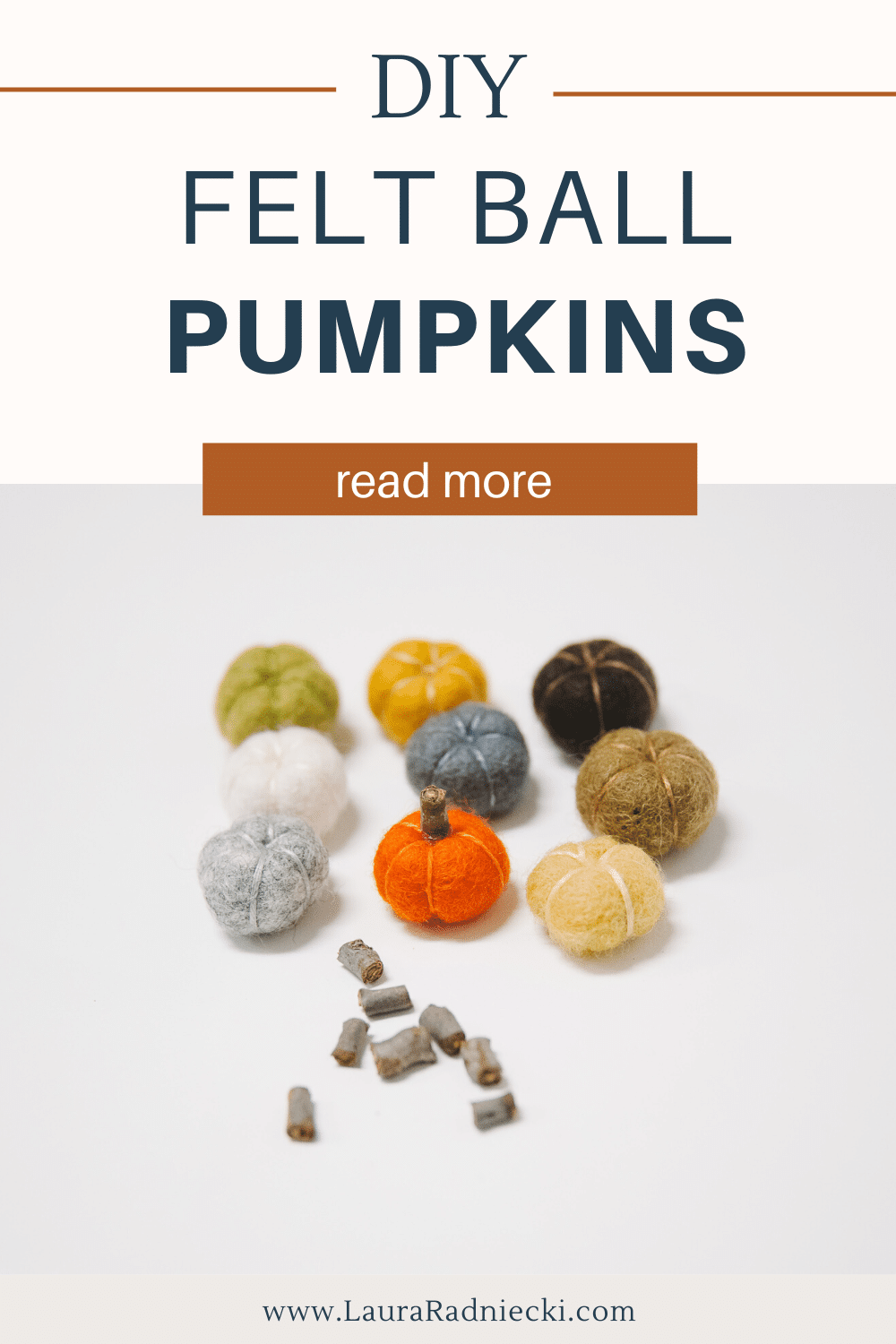 Two More Fall Craft Project Ideas using Felt Ball Pumpkins
How to Make a Miniature Pumpkin using a Felt Ball
If you want to make your felt ball pumpkin a bit more realistic, you can add a green leaf too.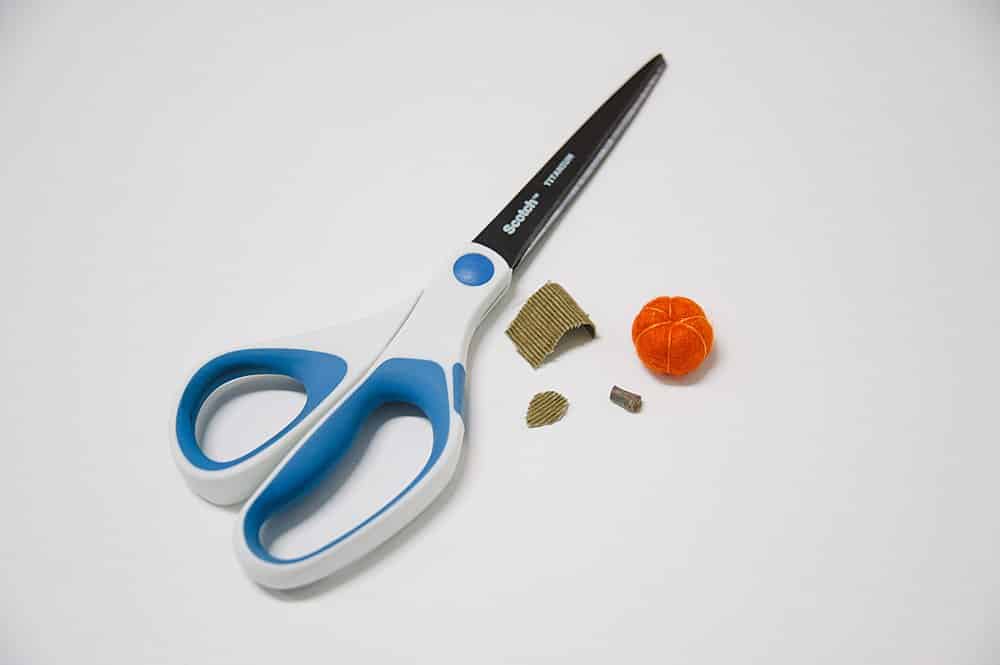 First, cut out a tiny leaf of green fabric.
Hot glue the leaf onto the felt ball pumpkin first.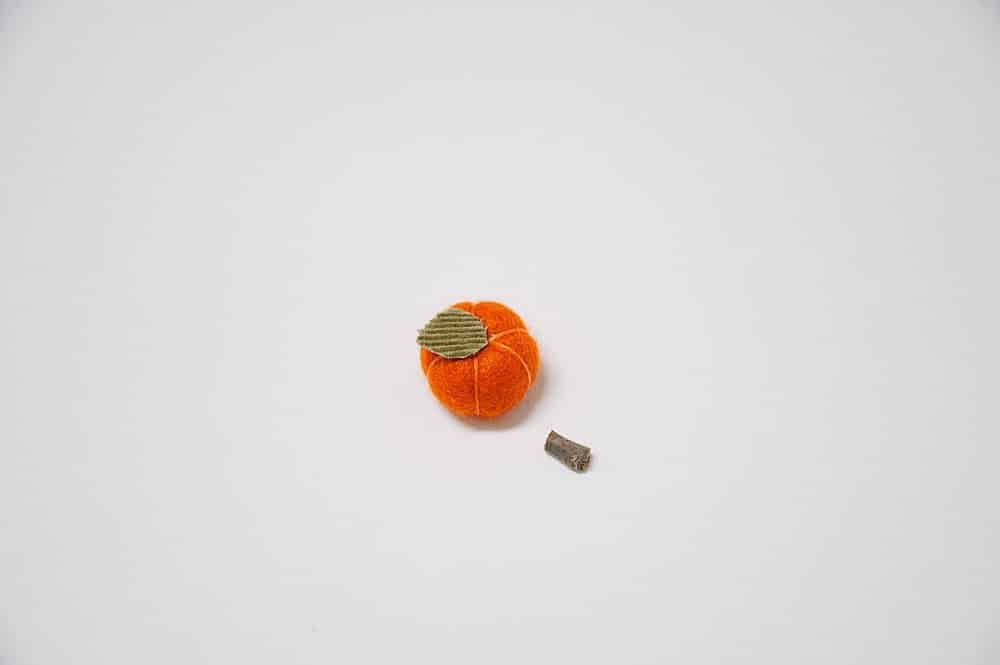 Next, glue the stem onto the top of the leaf.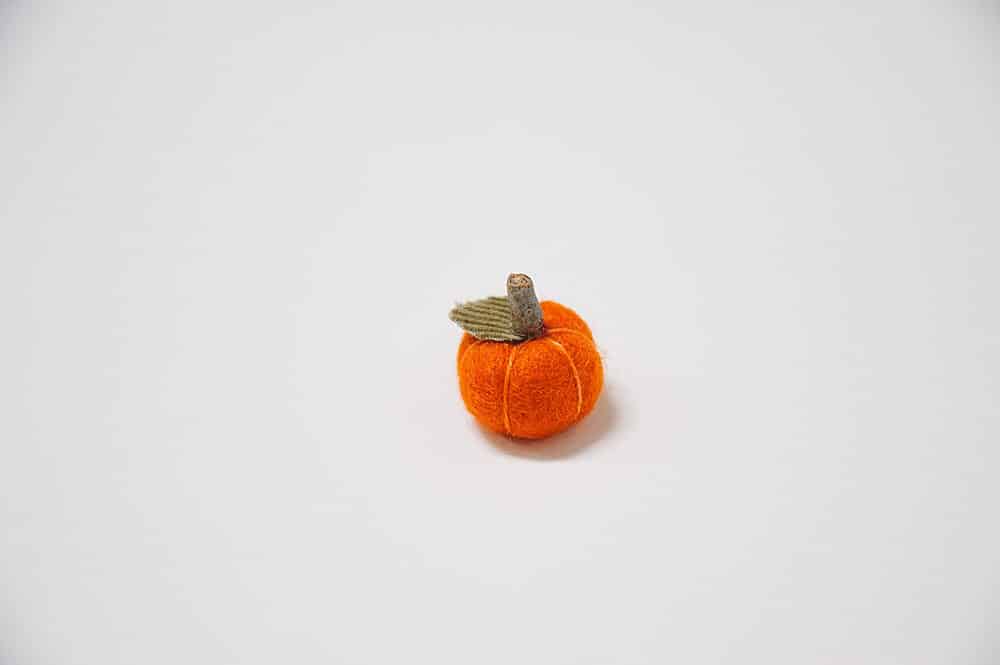 This mini pumpkin is more realistic, and would be perfect for a fairy garden, doll house, or Barbie house's fall decor!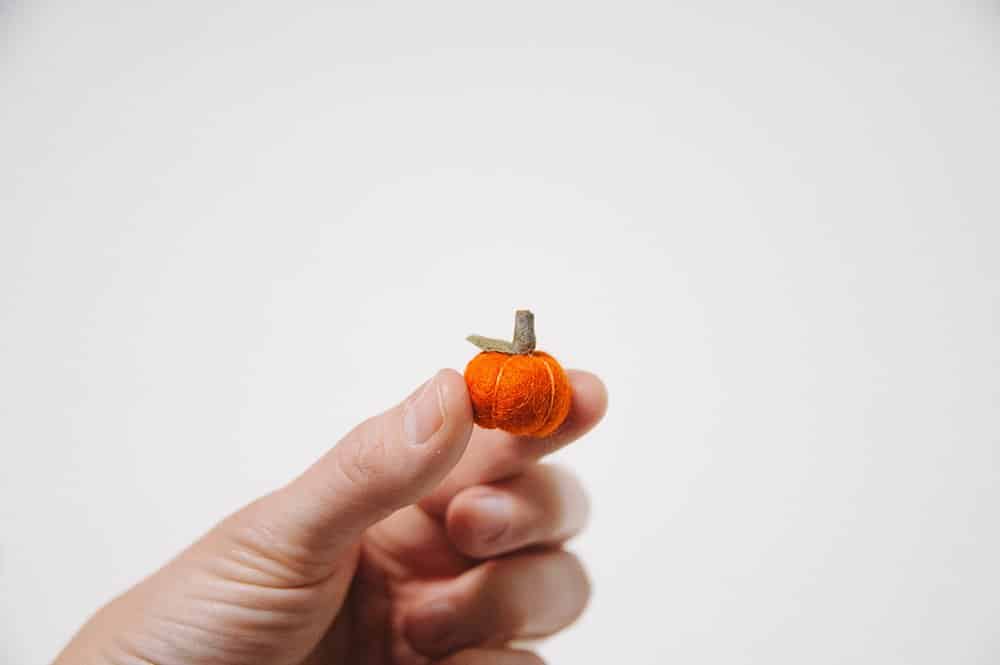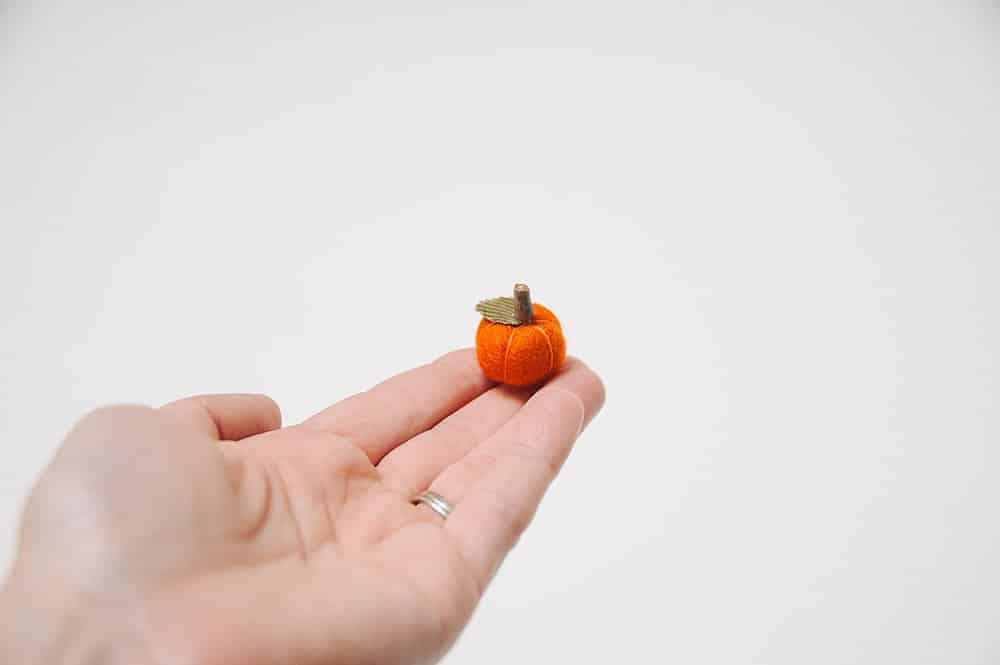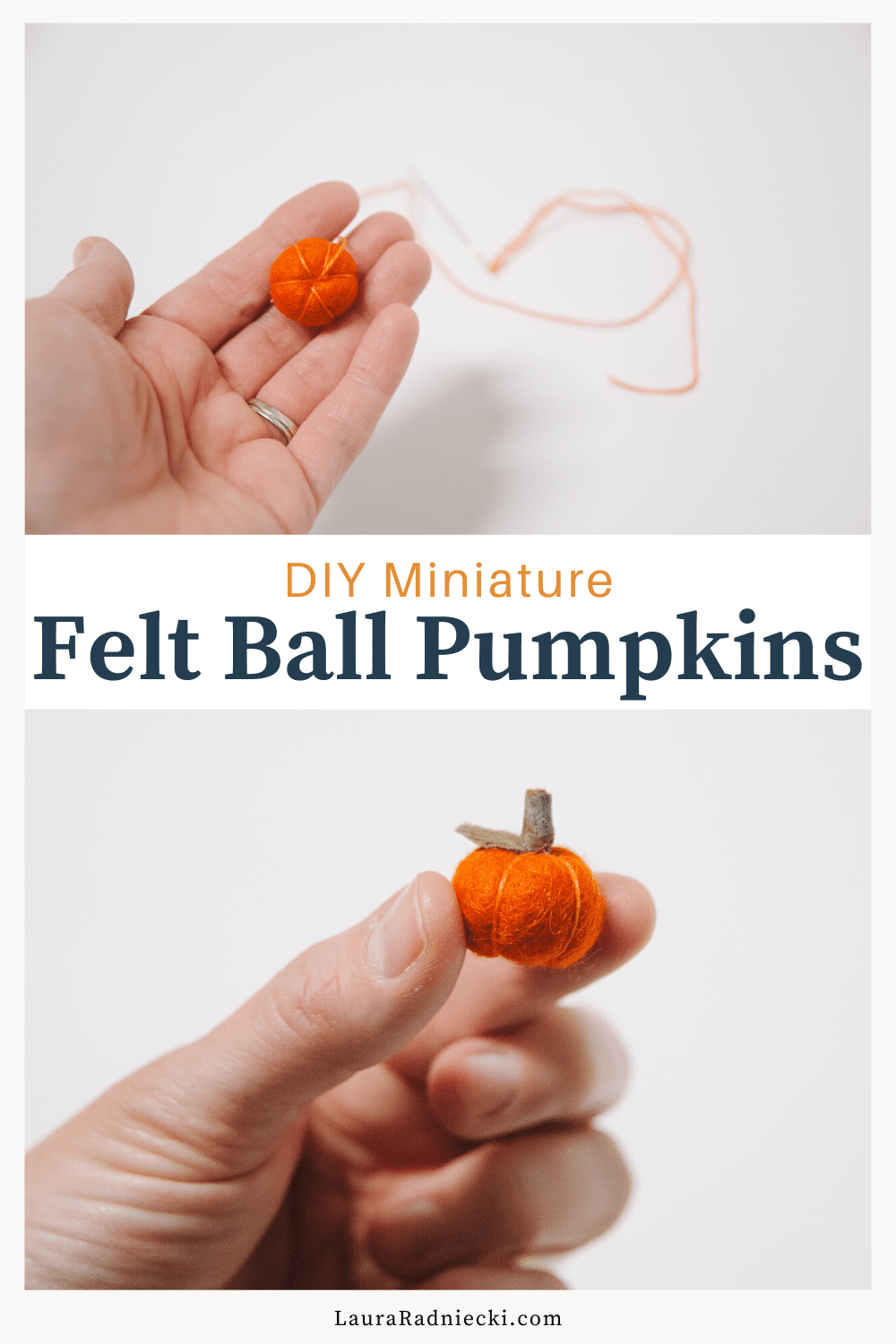 Fall Garland Idea with Felt Ball Pumpkins and Felt Ball Acorns
Here is one last project idea with felt ball pumpkins, and felt ball acorns.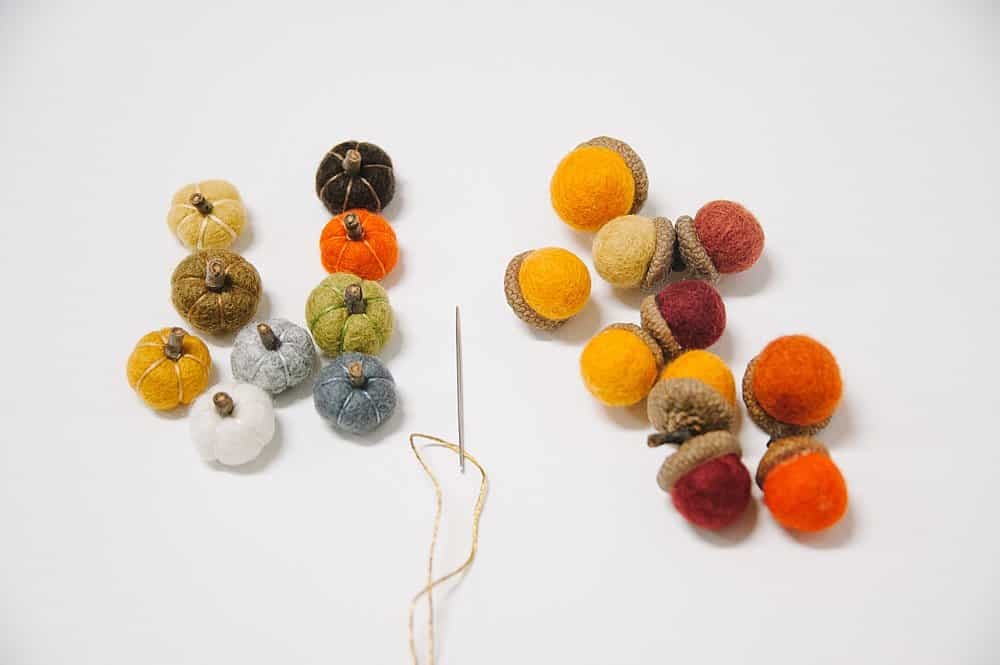 You can make a beautiful fall garland by stringing them onto embroidery floss or thin twine (we used gold embroidery floss!)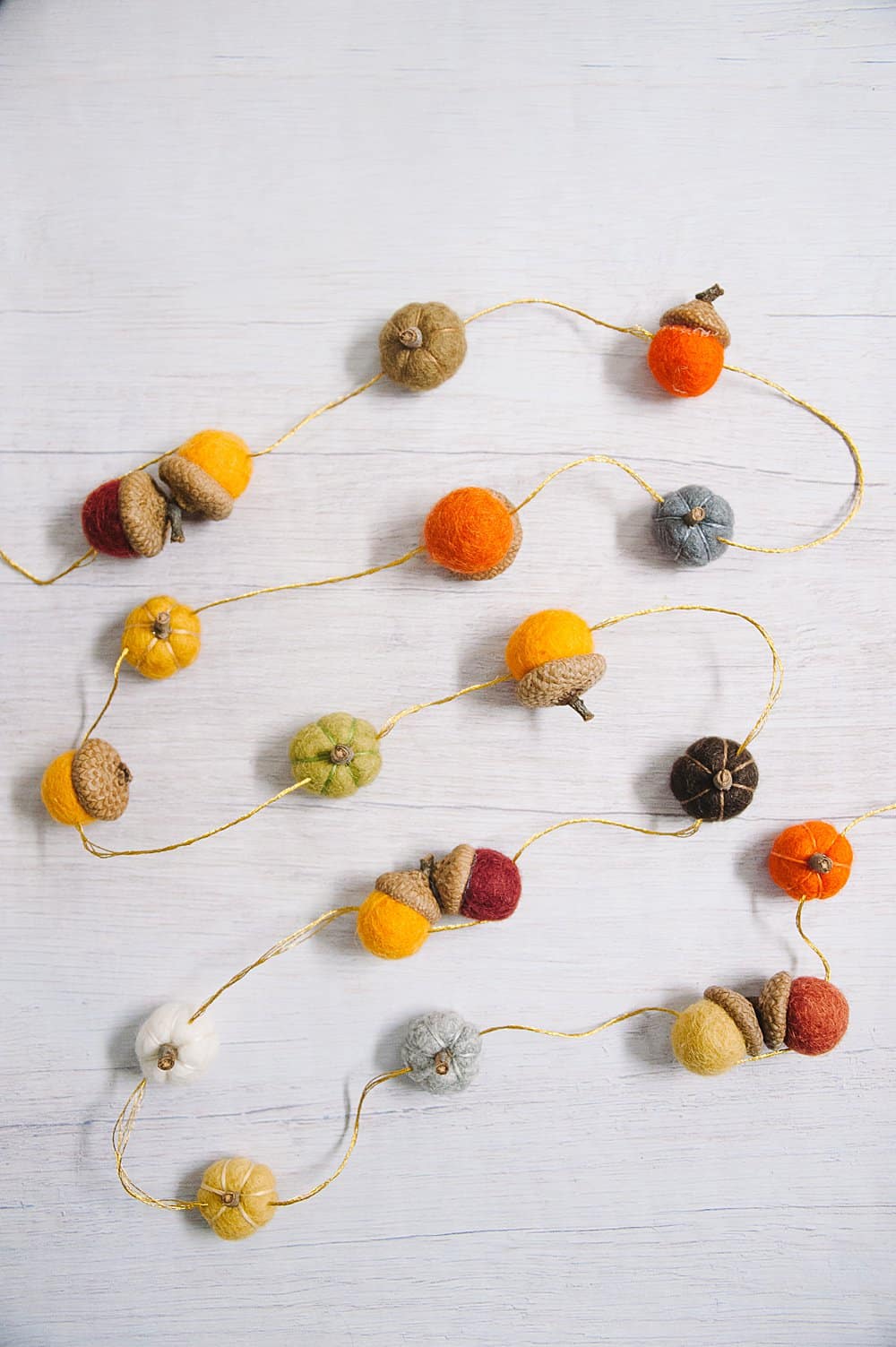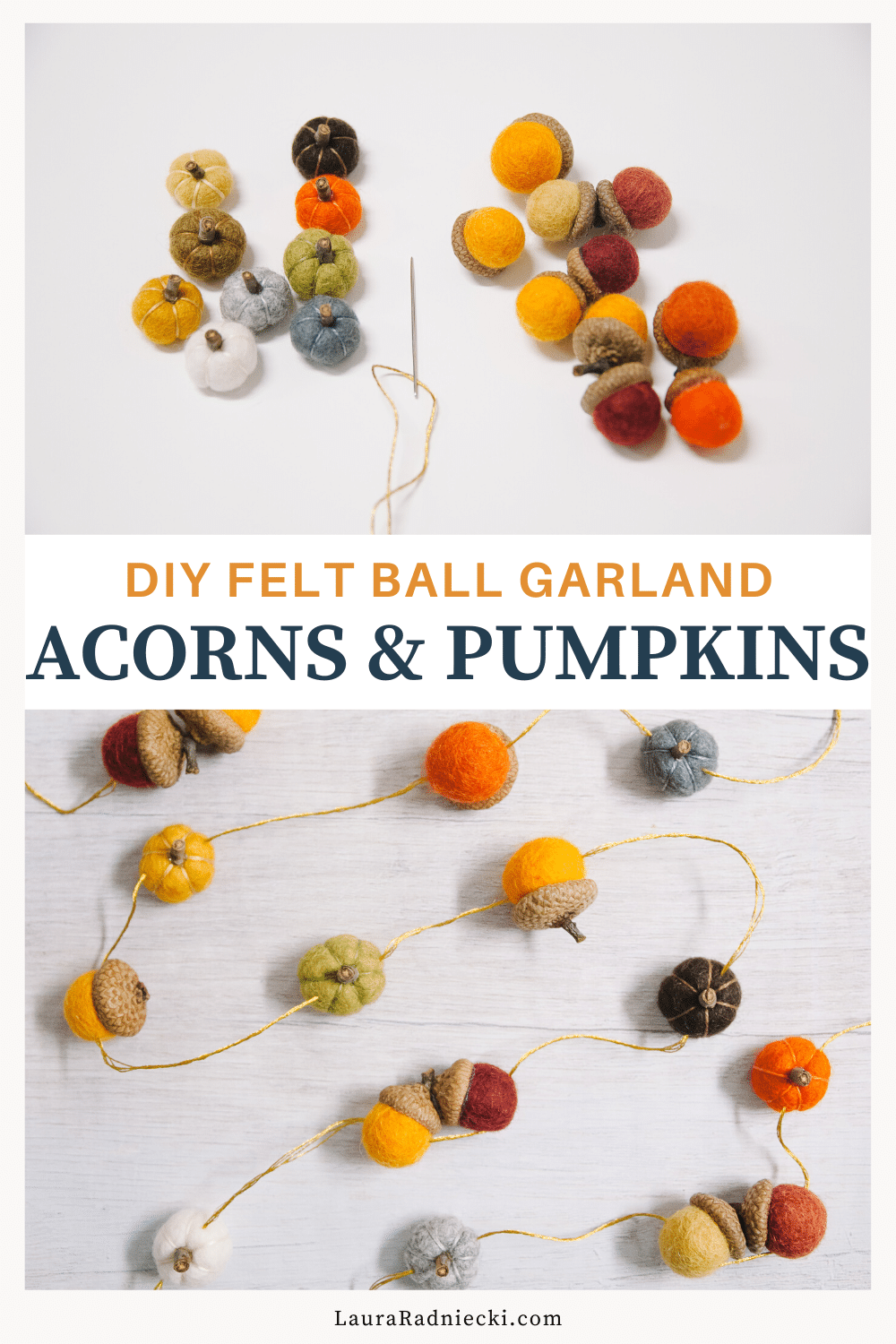 – – – – –
Felt balls are a fun craft supply, and can be made into so many different projects.
Today, we turned felt balls into miniature pumpkins, using embroidery floss and a tiny wooden branch as a stem.
You can use the pumpkins in your fall decor by themselves, or combine them with felt ball acorns into a gorgeous fall garland.
Just know that once you make one mini felt ball pumpkin, you'll want to make a dozen!
If you give them a try, let me know how it goes!