**These posts often contain affiliate links. Please see our disclosure policy for details.**
FELT BALL CRAFTS FOR CHRISTMAS GET KICKED UP A NOTCH WITH THIS DIY FELT BALL DREAMCATCHER ORNAMENT FOR THE CHRISTMAS TREE USING A WOODEN TEETHING RING, EMBROIDERY FLOSS, AND FELT BALLS.
Earlier in The 30 Days of Ornaments Project, we used felt balls to make a Christmas tree shaped ornament with hot glue, and now we are going to use felt balls in a different way!
We're on Day 11 of The 30 Days of Ornaments Project, where we make 30 handmade ornaments over 30 days.
Today, we are combining felt balls with a wooden teething ring and turning it into a beautiful DIY felt ball dreamcatcher Christmas ornament!
Here's how to make it!
Day 11: How to Make a Felt Ball Dreamcatcher Ornament
DIY Felt Ball Dreamcatcher Christmas Ornament
Step 1. Gather supplies.
Supplies needed:
Felt Balls (20mm felt balls are my favorite)
Pliers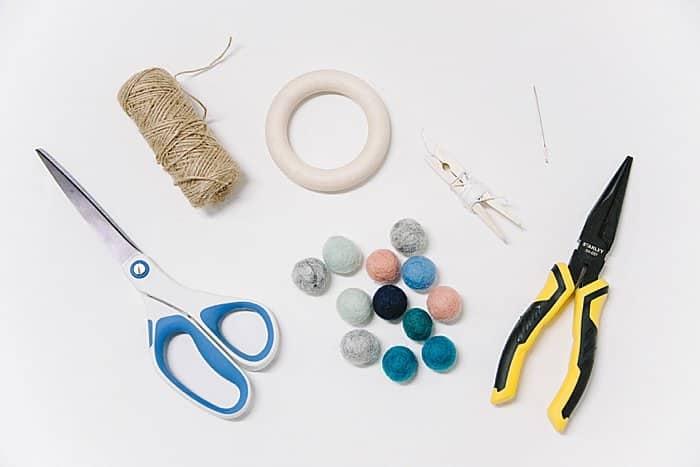 Step 2. Cut 12″ of twine for a hanging string. Set aside.
Step 3. Cut three 12″ sections of embroidery thread.
Step 4. Tie and knot all three sections of embroidery floss onto teething ring.
Step 5. Determine felt ball arrangement and color order.
Step 6. Starting with the first section of string, thread needle with embroidery floss. String on felt balls, using pliers to help if needed.
Step 7. String on felt balls to all three sections of embroidery thread.
Step 8. Space out felt balls along embroidery floss as desired. Knot beneath bottom ball, and clip off excess.
Step 9. Add hanging string to top of wooden teething ring.
Step 10. Inspect and hang up the DIY felt ball dreamcatcher!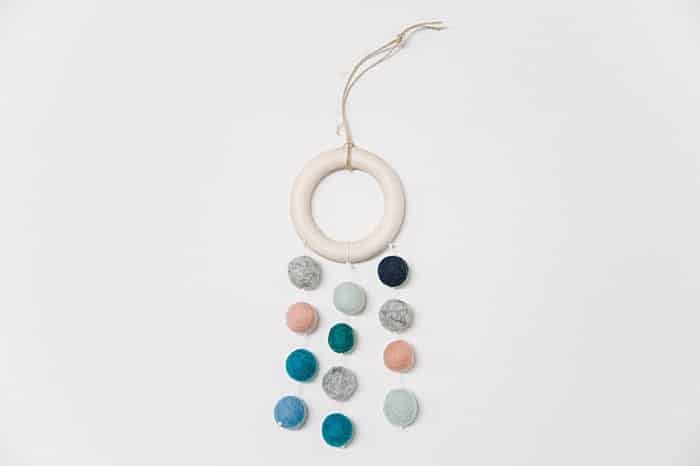 Felt balls are some of my favorite craft supplies, and I love using them in any way I can.
Felt ball garlands, and felt ball acorns have been personal favorites, and we made a Christmas tree shaped felt ball ornament earlier in this project.
This simple felt ball dreamcatcher looks elegant and beautiful, and would even make a great addition to a gallery wall, as well as the Christmas tree!
Save the idea for later by pinning the photo below to Pinterest!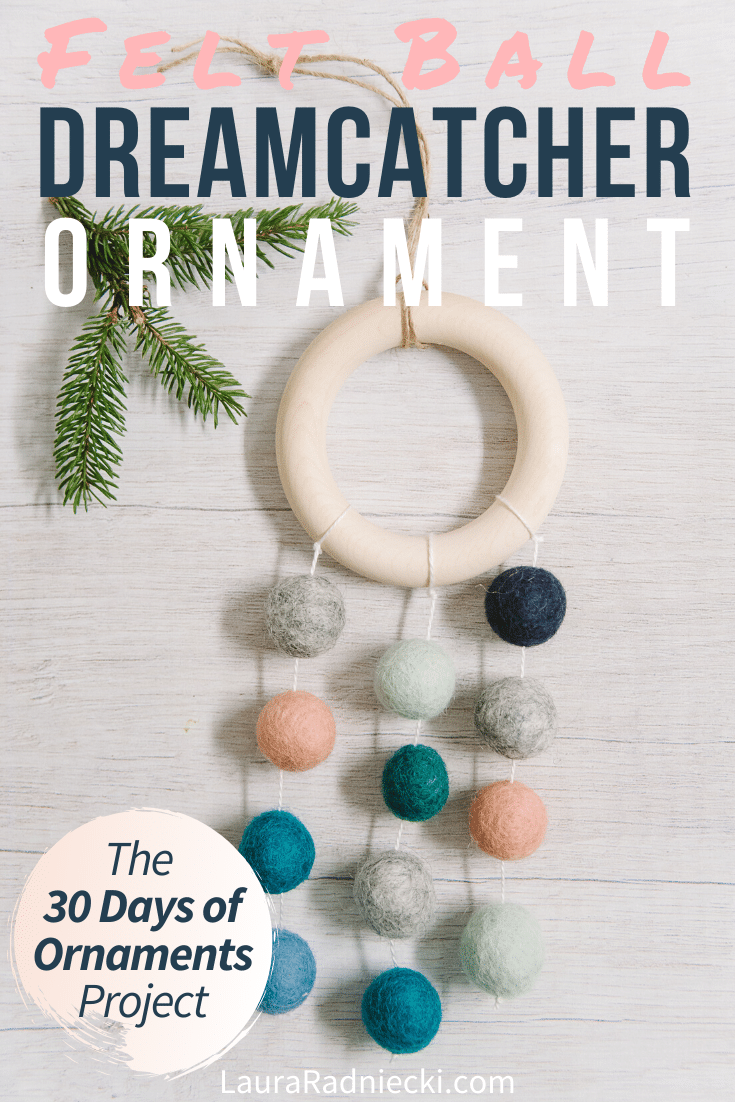 . . . . . . .