**These posts often contain affiliate links. Please see our disclosure policy for details.**
To me, quintessential fall decor involves pine cones and acorns. How amazing that these little nuggets of nature just fall from trees and are laying on the ground, waiting for someone to pick them up and turn them into something fun!
During the acorn cleaning and drying process, a lot of my acorns separated from the acorn caps. I hot glued most of them back on, but I wanted to try an idea I saw online involving acorn caps and felt balls.
Felt ball acorns!
So I gathered the three supplies needed and got to work making this spin-off of a traditional acorn craft.
LOOK AT THE RESULT!
These felt acorns are so cute, and so fast to make. I've got big plans for how I'm going to use them, and I'm already thinking up ways to make more for other holidays and seasons.
I think this might be one of my favorite crafts of all time.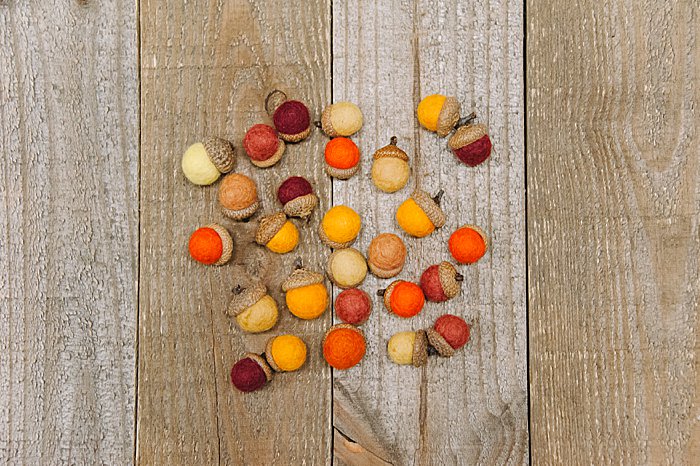 Here's how to make felt acorns!
How to Make Felt Acorns using Acorn Caps and Felt Balls
Step 1. Gather Supplies
Supplies Needed: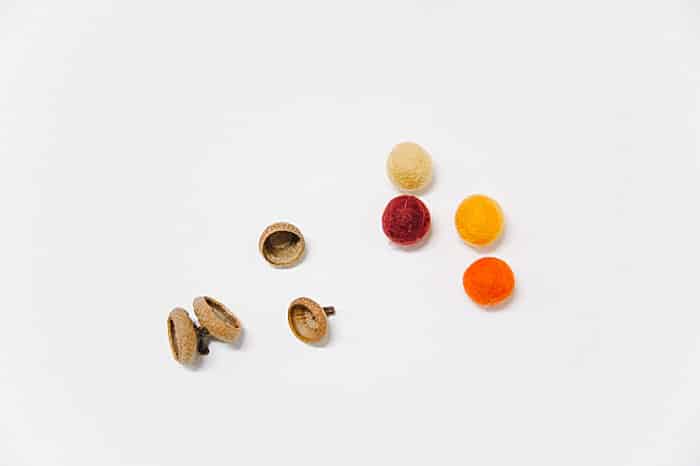 Step 2. Squeeze hot glue liberally inside an acorn cap.
Turn the acorn cap upside down and squeeze hot glue into the cap.
Use enough glue to cover the whole inside of the cap. You want to ensure your felt ball is going to stick.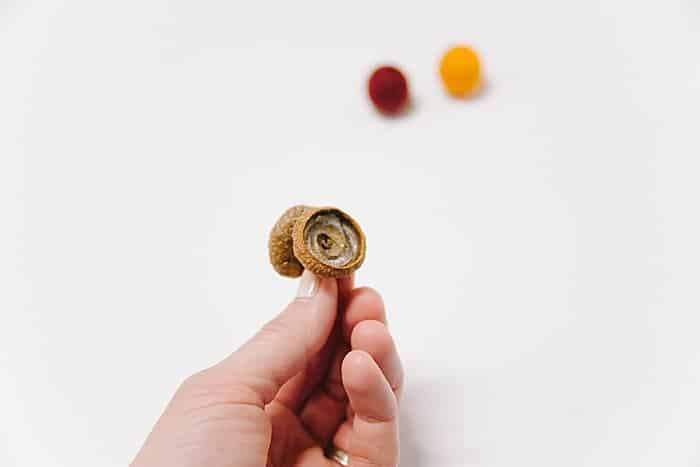 Step 3. Press a felt ball into the glued acorn cap.
Take a felt ball and fit it into the glued acorn cap.
Press and hold for several seconds while the glue sets.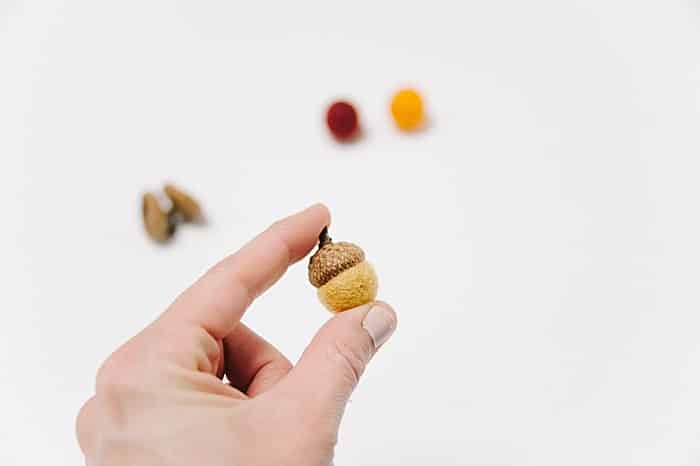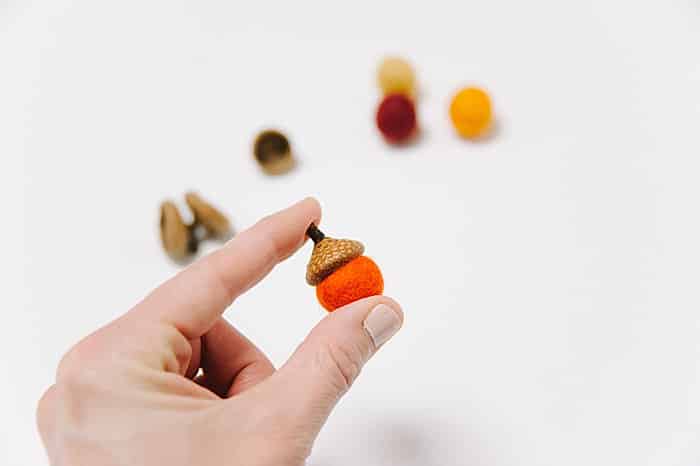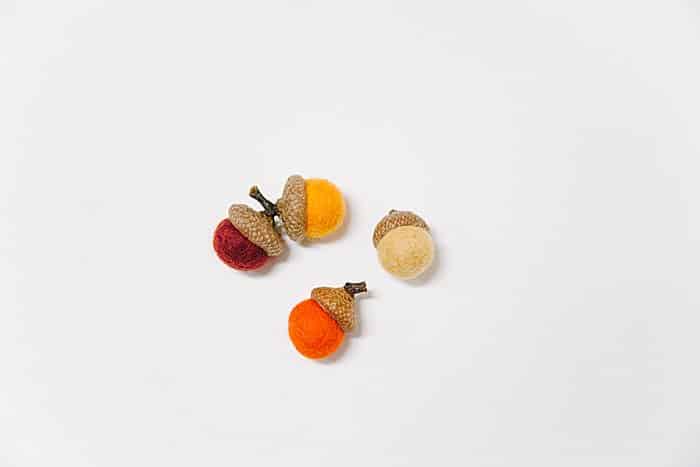 Step 4. Repeat for additional acorns.
Continue the process of applying hot glue into an acorn cap, and then pressing a felt ball into the cap and letting dry for a few seconds.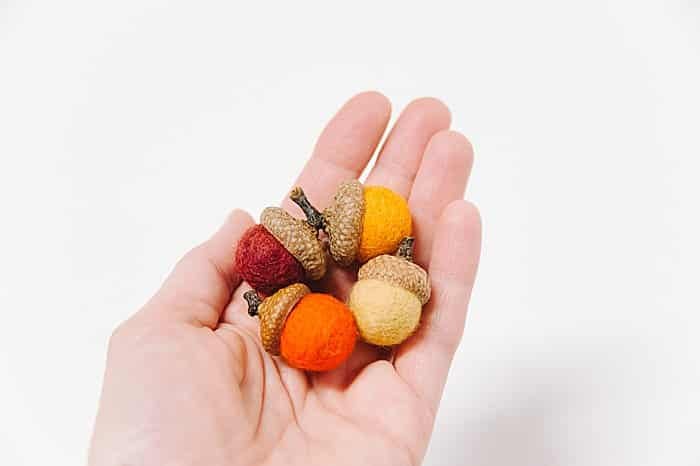 It's as simple as that!
Truthfully, I'm shocked how much I love these little felt ball acorns. I'm hooked.
They are so fast and easy to make, I made all of these in just a few minutes.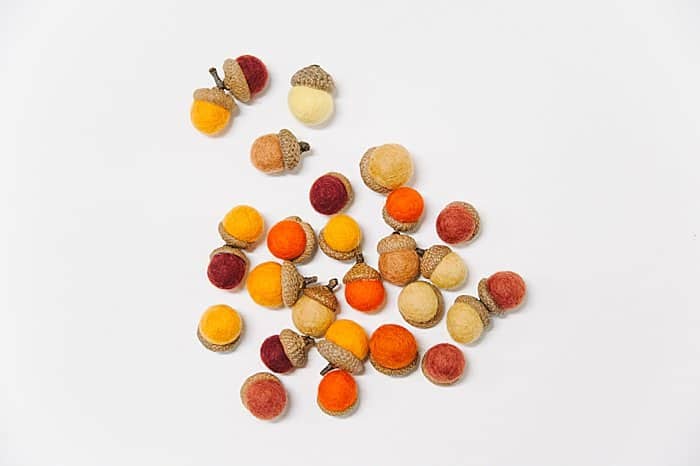 They can be used in a bunch of different ways, from scattered on a tablescape, to displayed in a jar or even used in a garland or as embellishments on gifts!
Plus, they can be made in varying colors for different seasons. I'm already thinking of a fun multi-colored garland for the Christmas tree!
Save the idea for later by pinning the photo below to Pinterest!