**These posts often contain affiliate links. Please see our disclosure policy for details.**
Here in Minnesota, fall means colorful trees, piles of leaves, and yards scattered with acorns that have fallen to the ground.
It doesn't matter where you go, it's almost a guarantee you will be crunching over acorns wherever you walk.
Some people overlook them, but for a craft lover like me? I can't help but notice. All I see is craft potential!
I shared how I clean acorns for craft projects, as well as how I paint acorns in preparation for projects, or just to use in home decor.
But probably my favorite thing to make with acorns is felt ball acorns! All it takes is acorn caps, felt balls, and a hot glue gun.
In just a few minutes, you can make dozens of little felt acorns in whatever colors you choose.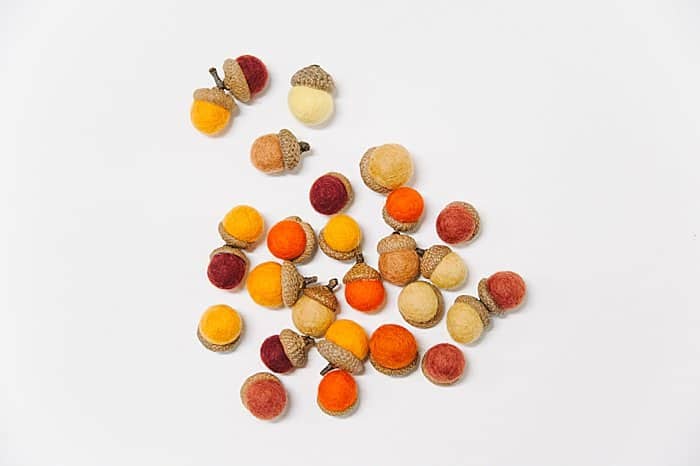 Now that you've made a bunch of felt acorns, what do you do with them?
Here are 5 awesome ways to use felt ball acorns in your home decor and craft projects.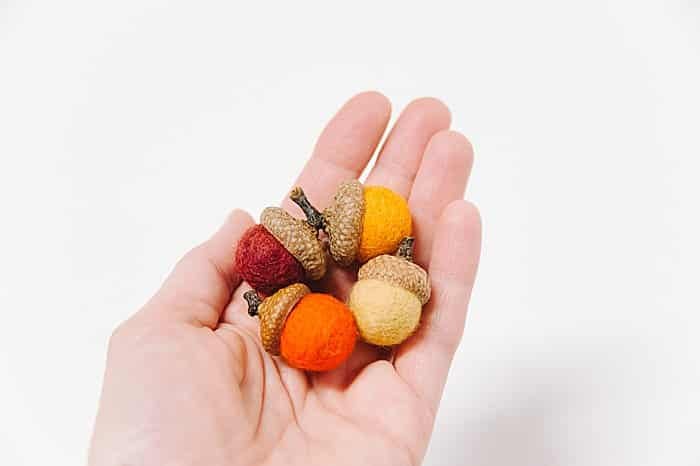 5 Ways to Use Felt Ball Acorns
DISPLAY IN A BOWL OR DISH
Felt acorns can be displayed easily in a pretty bowl, dish, or tray.
This works as a table centerpiece, on the mantel, or on a shelf.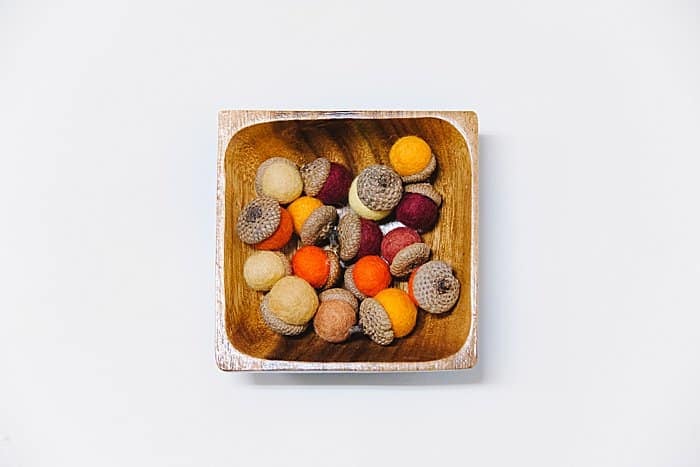 DISPLAY IN A JAR
Put felt ball acorns into a jar to display them.
The jar doesn't have to be fancy. The jar below is a repurposed one that was headed for the recycling bin.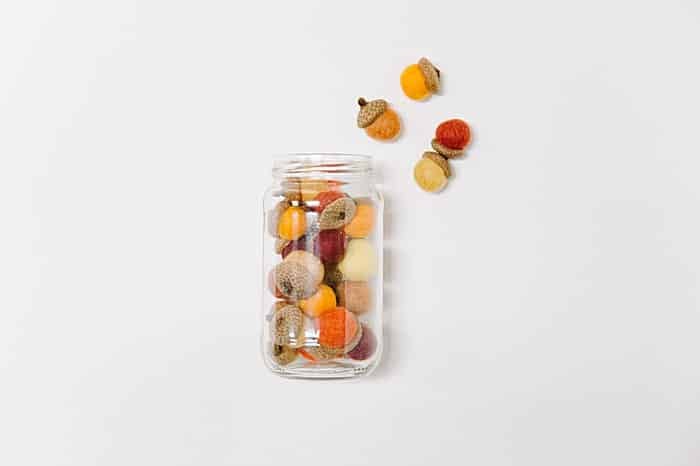 Tinted glass jars like a blue mason jar make a gorgeous display option for lots of things, including felt acorns.
I love the color combo of the blue with the autumn hues.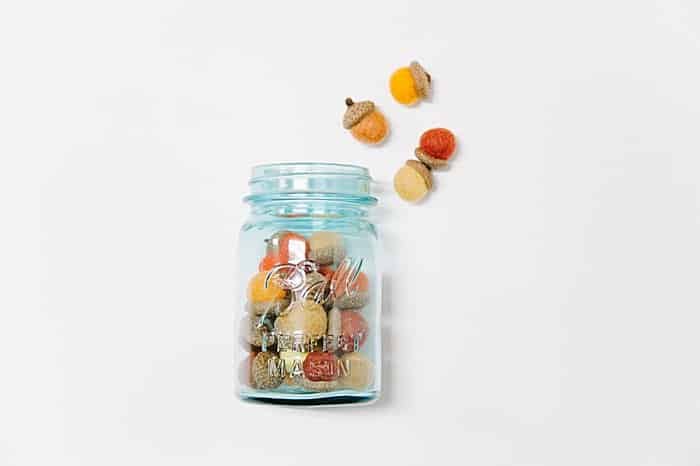 EMBELLISH GIFT WRAP
Felt ball acorns can be used to embellish gifts too.
A dab of hot glue secures an acorn to a twine gift bow and is guaranteed to make people comment!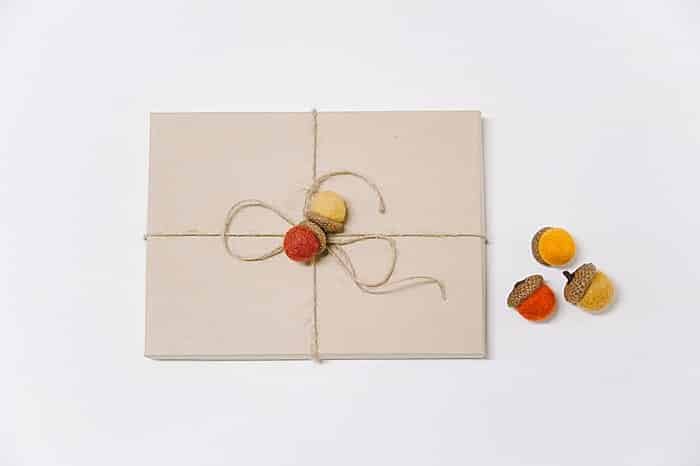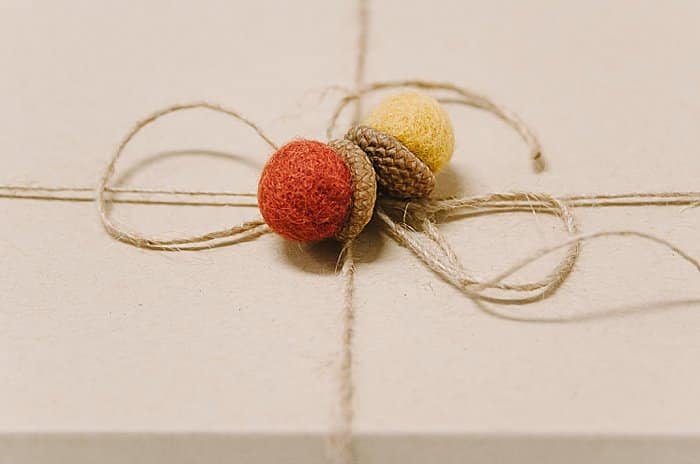 USE AS A NAPKIN HOLDER
Felt acorns can also be glued to twine to make a decorative fall napkin ring.
Even cheap paper napkins like this red one from the dollar store look fancy when they're tied with twine and have a felted acorn stuck in them!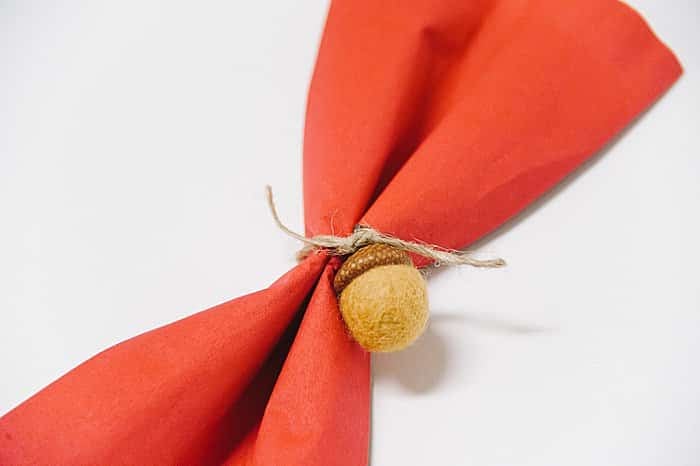 THANKSGIVING TABLE SETTING
Add the napkin to a place setting when you're setting the Thanksgiving table, and add some felt acorns and pine cones to the tablescape.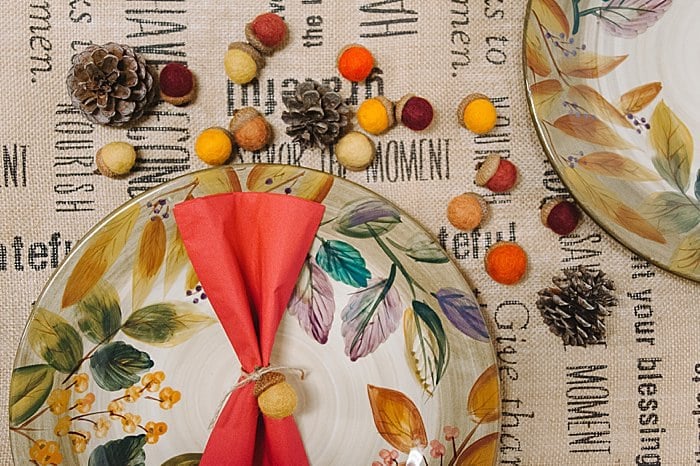 DISPLAY WITH GOURDS AND PUMPKINS
You can take fall decor up a notch by combining the acorns with painted pumpkins and gourds for a beautiful fall display.
This works on a table top, mantel or bookshelf.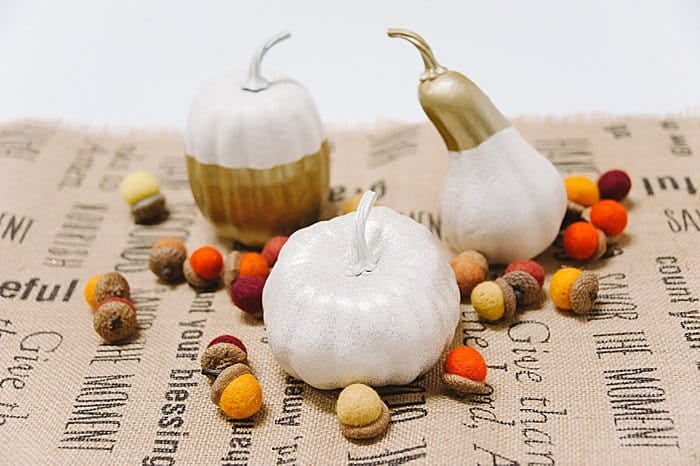 MAKE A FALL GARLAND
Last but not least, my favorite way to use felt ball acorns…
Make a fall acorn garland!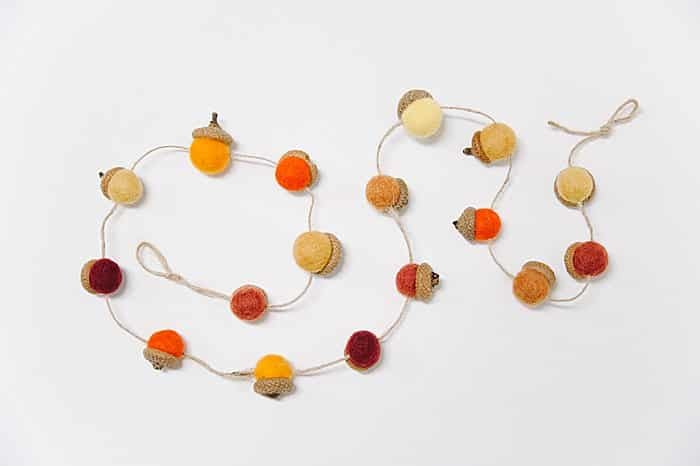 String the felted acorns onto thin twine following the felt ball garland tutorial I outlined here, and you'll have a felt acorn garland in no time.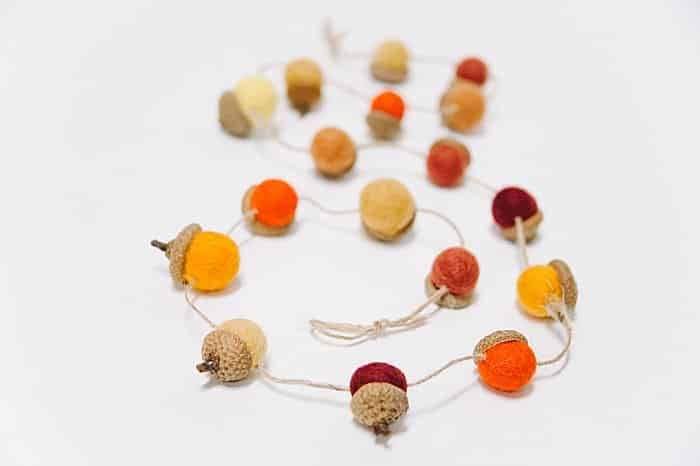 This garland is so beautiful and super easy to make.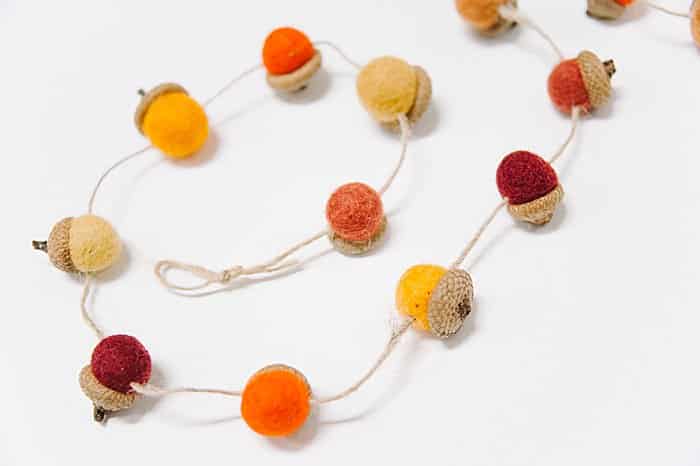 There are so many other ways felt ball acorns can be used; this list only skims the surface.
I am also thinking mobiles, ornaments, and wall hangings to name a few. Once you make some felt acorns, I guarantee you'll be hooked and want to make a hundred more.
Then figuring out what to do with them is the fun part.
I'm excited to make more felt acorns with different colored felt balls as the seasons and holidays change, too.
But for now, fall is where it's at, and these autumn-inspired felt acorns are helping me get into the spirit!
Save the idea for later by pinning the photo below to Pinterest!