**These posts often contain affiliate links. Please see our disclosure policy for details.**
An easy tutorial showing how to make DIY fall pumpkins and gourds! They're the perfect fall decorations, made from dollar store buys & spray paint. Use them in fall table decor, fall mantle decor and more!

Last week, I was looking through the JoAnn Fabrics mailer and saw a photo of Fall decor pumpkins they are selling this season. There were a variety of options from burlap and fabric to painted and glitter. I'm not much for Halloween decor, so I like the idea of having classy Fall decor like these painted pumpkins or yarn balls to display through Thanksgiving. My favorite were the white and gold ones.
I decided to try to DIY my own and looked at the dollar store for pumpkins to paint. I didn't know what kind of selection they would have, but I was hoping I could find some plastic pumpkins to spray paint.
They didn't have large plastic pumpkins, but they did have medium sized styrofoam pumpkins that said they was carve-able. They also had a variety of small plastic gourds.
I spent $5 on pumpkins and gourds at the dollar store, and another few dollars on spray paint at Menards: white primer and an off-white shade called Heirloom White. I already had gold spray paint and gold glitter at home.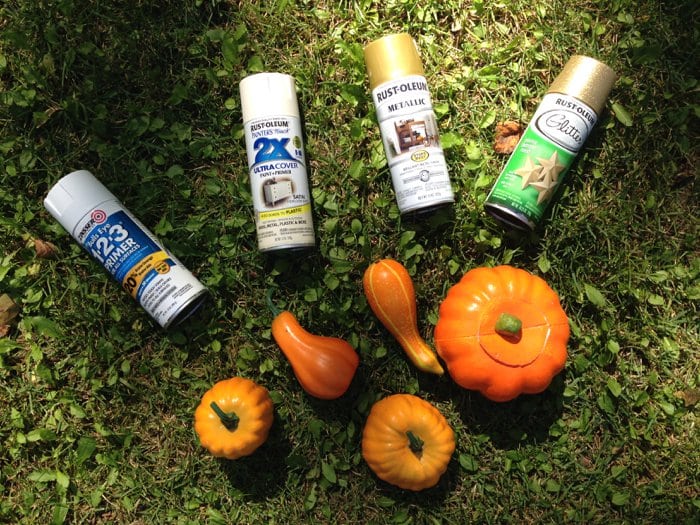 Thankfully, Raleigh decided to nap longer than his usual 42 minutes, so I was able to take advantage of the free time and work on this project.
How to Make DIY Fall Pumpkins and Gourds:
Materials:
Plastic pumpkins and gourds — I bought mine at the dollar store but you can buy them anywhere.
Spray paint: I used white primer, Heirloom White, gold and gold glitter.
Painters Tape
Paper Towels
Additional optional materials: rubber gloves, respirator
Step 1. Prime the pumpkins.
It might not be necessary to prime the plastic or styrofoam pumpkins, depending on the type of spray paint you buy. The kind I bought says that it's 2X Ultra Cover and is a paint and primer in one, so I maybe didn't need to do this step.
However, I didn't know if the paint would stick to this type of plastic, and I was trying to turn bright orange gourds into pretty white and gold ones. I wanted to make sure the orange was covered and wouldn't show through, so I decided to prime them first.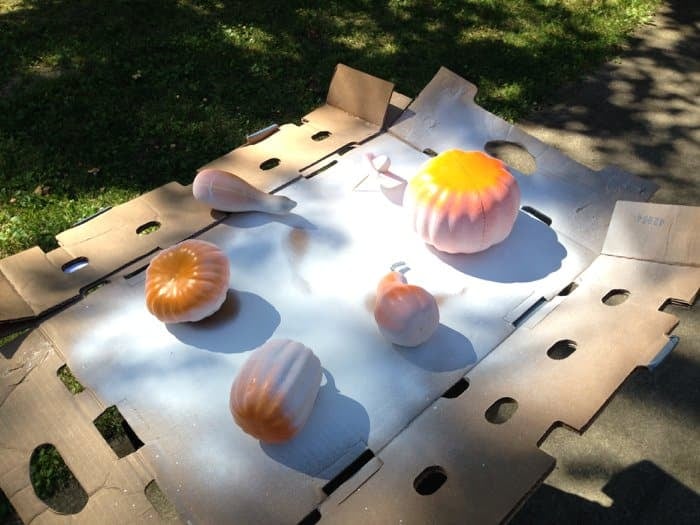 Step 2. Paint the pumpkins white.
Four of them were going to have white on them. One was going to be all white with glitter, and the rest would be two-toned.
So, I started by spraying the heirloom white paint on all four of them.
I did several coats, letting it dry in between.
Does anyone else find that to be the most annoying part about projects with spray paint; waiting for it to dry before reapplying? I usually go too heavy and get drips, or try to reapply too fast, and get smudges. I don't have a lot of craft patience!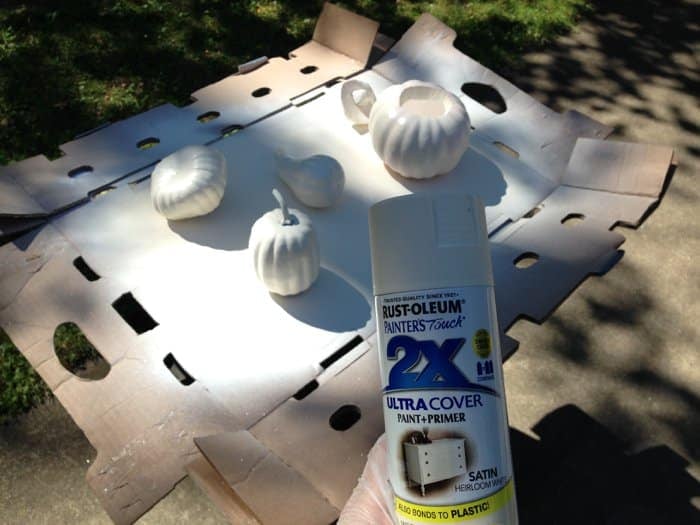 Step 3. Paint the last gourd gold.
One of the gourds was going to be solid gold with glitter, so I painted that while waiting for the white ones to dry.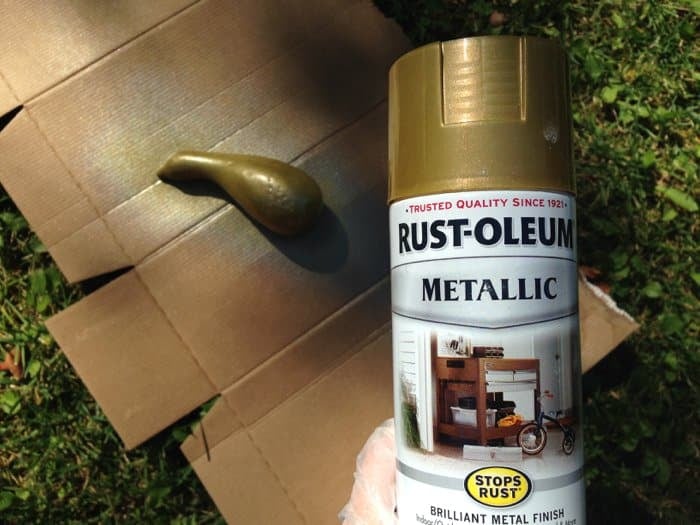 Step 4. Add glitter.
Once the solid white and solid gold gourds were fully painted and dry enough, I coated them each with glitter.

Step 5. Mask off parts in preparation for the second color.
On the three that I wanted to be two-toned, I decided what parts I wanted gold.
Then I took painters tape, and taped along the long edge of a paper towel. I stuck the tape to the pumpkin and gourds, and used the paper towels to cover up the parts that I wanted to remain white.
*NOTE – I was using old painters tape that wasn't very sticky anymore because it's all I had at home. I was afraid that regular masking tape might be too sticky and wreck the very fragile styrofoam or flimsy plastic. [These are not sturdy, high quality pumpkins, ya'll!] It's best to use painters tape that is sufficiently sticky, I learned. Explanation below.

Step 6. Spray gold on exposed areas.
Next, I spray painted gold on the exposed areas of the pumpkin and gourds.
I did several coats, making sure it was all well coated and even.

*That above photo on the right is a gourd, sitting in the gold cap of the spray paint, to keep it upright.
Step 7. Remove the tape and paper towels.
This is where I realized it's important that the painters tape be sufficiently sticky.
I tried to press the tape into each groove of the pumpkin and gourds, but it didn't stick very well. As you can see in the left photo above, there were gaps between the tape and the pumpkin when I was spraying on the gold.
You can see in the photo below how the gold bled into those gaps.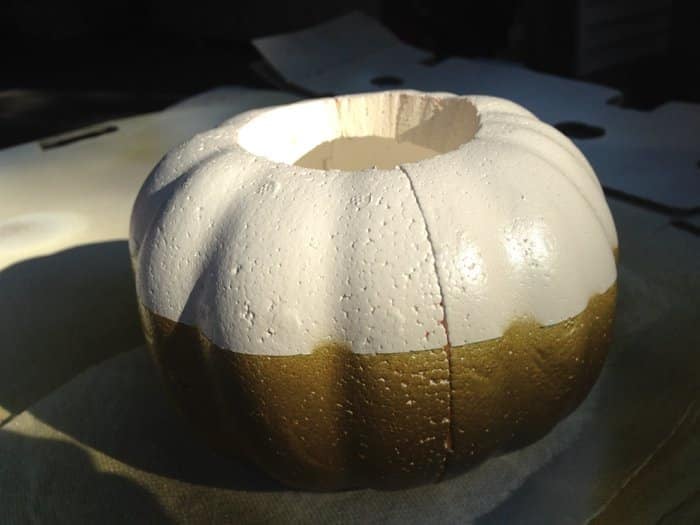 I would be much more careful next time and use stickier tape. I would also make sure the tape isn't pulled too tight, but instead follows all those bumps and grooves of the pumpkin. This way, I would get a clean edge.
Step 8. Coat with glitter.
The other side of the pumpkin turned out better.
I decided to coat the whole pumpkin in glitter to help camouflage some of those gap areas.
Isn't this a strange pumpkin? It's styrofoam, but hollow in the middle. So I cut the top off just like a regular pumpkin, with a kitchen knife, so that I could put rocks inside to weight it down on my front porch. Maybe these are made for kids whose parents don't like carving real pumpkins?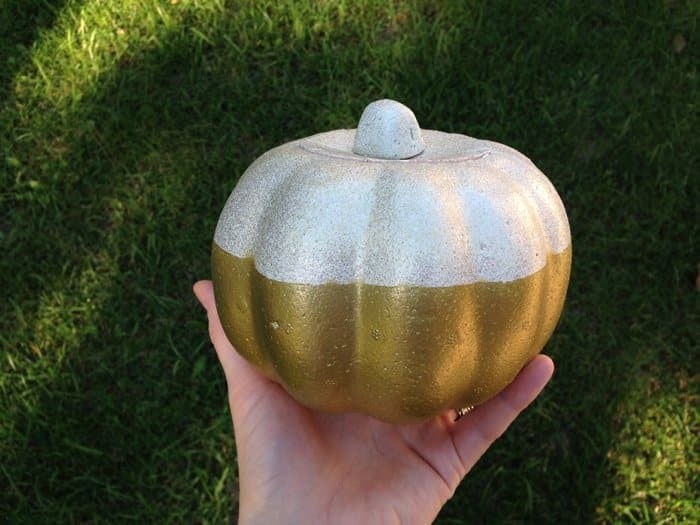 The left-hand photo below shows another small bleed spots where the paint seeped below the tape. That gourd was hard to tape off because of the angle of the thin, curved neck.
The taller pumpkin-gourd turned out great; I must have done a better job masking it off. The grooves were shallower, and the tape went straight around the circumference of it.

Step 9. Admire your handiwork and decide where to put them!
I really love how all of the diy pumpkins and gourds turned out!
Like I said, they are not sturdy. They are made of cheap, thin material, but that is expected when I bought them all for $5 total at the dollar store.
But the paint went on easily, stuck well, and I love the color combinations. Gold + glitter, white + glitter, two-toned + glitter, and two-toned by itself.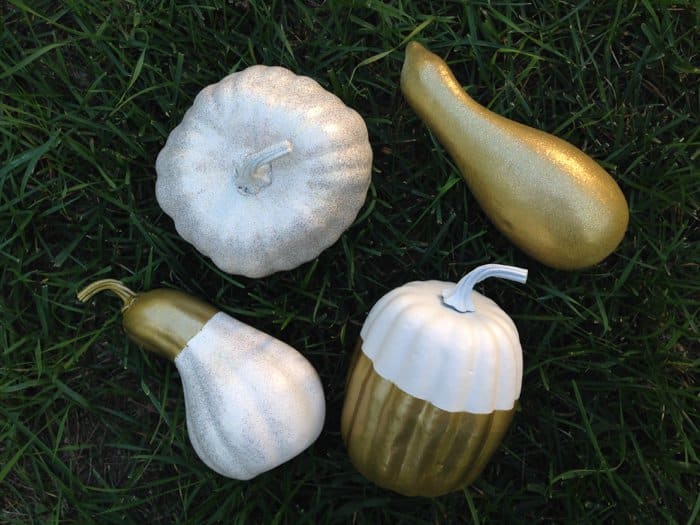 The two-toned styrofoam pumpkin with glitter welcomes people at the front door of our house.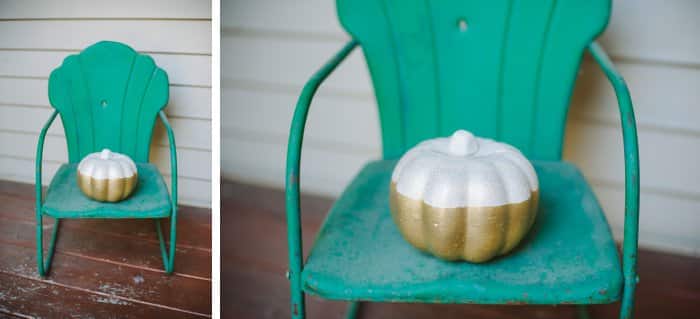 I'm tempted to make these a permanent part of my home's decor…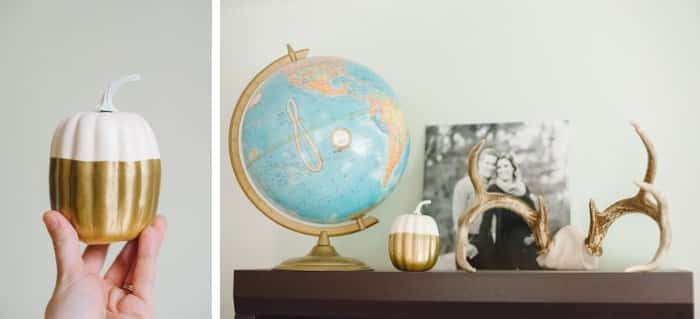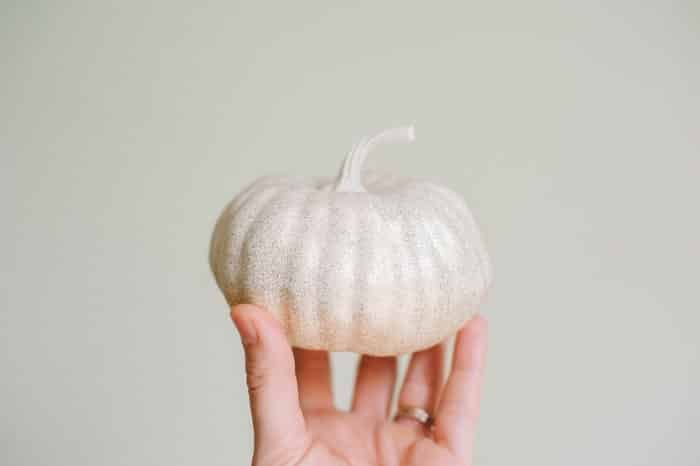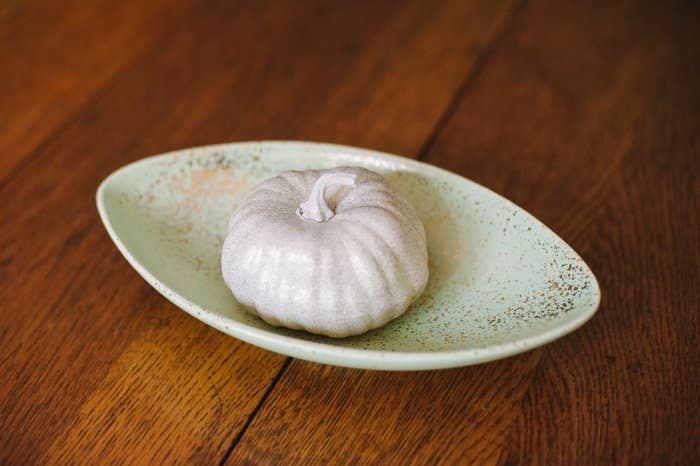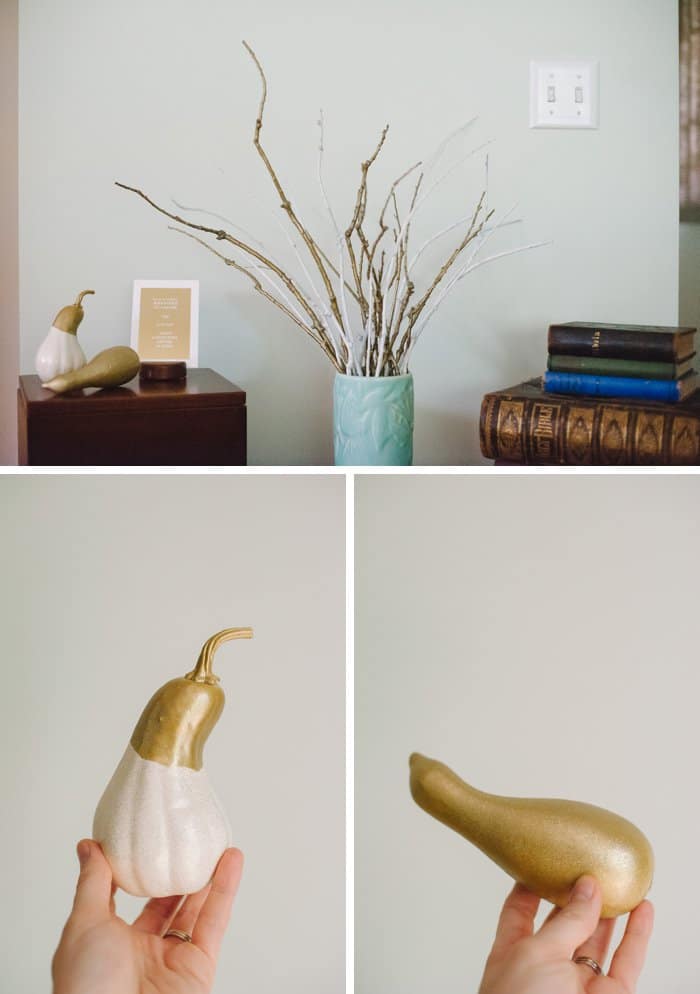 The photo below of our front porch shows the styrofoam pumpkin sitting on a little green chair that used to belong to my dad as a kid.
The styrofoam pumpkin weighs next to nothing on its own, so that's why I cut the top off and put rocks inside it. That way, it's weighted down so it won't blow away in the wind.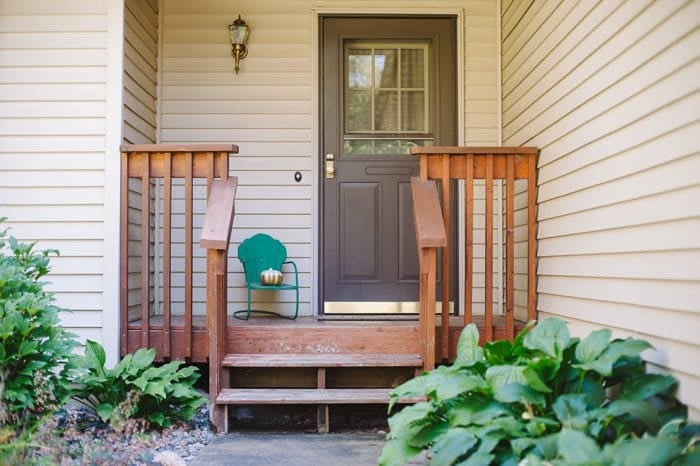 Sometimes DIY projects are a little bit of a gamble, not knowing if they're going to turn out or not. I especially feel that way with spray paint projects because I usually goof them up by being too impatient.
However, this time, I'm so happy with how the DIY fall pumpkins and gourds turned out!
Not bad for $5 at the dollar store, plus paint and a napping baby to let me craft!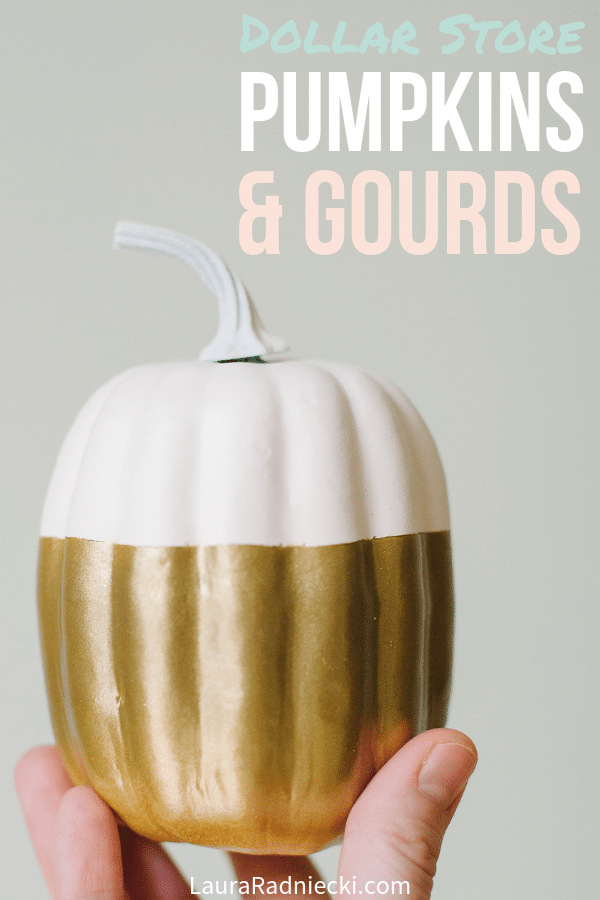 – If you liked this post, I would love if you would share it on Pinterest or Facebook. Thanks & xo! –