**These posts often contain affiliate links. Please see our disclosure policy for details.**
Decorate your front porch on a budget with these painted $1 plastic pumpkins! They are the perfect cheap fall porch decor idea, for both Halloween and Thanksgiving!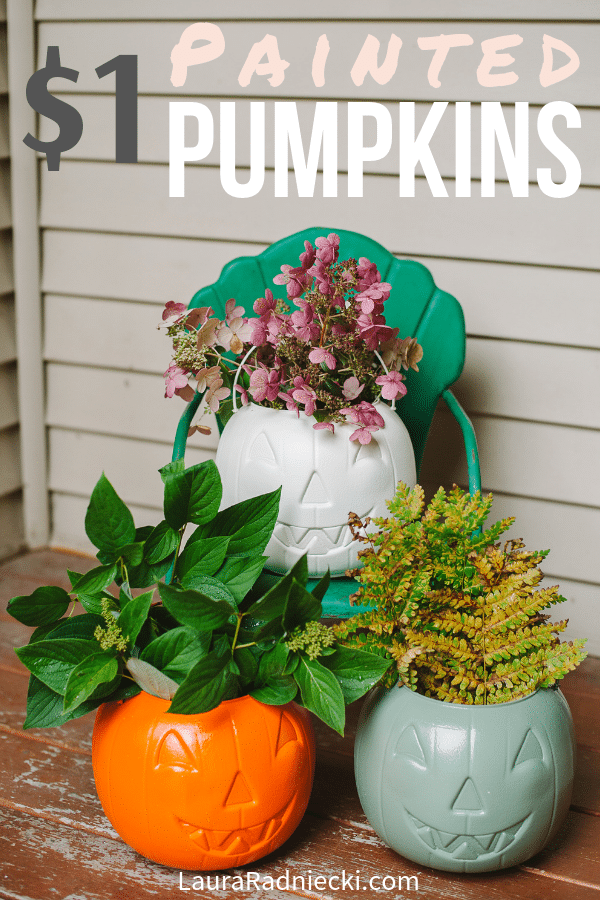 There is a lot of variety when it comes to Halloween decor; it can vary from cute to downright creepy and gross. Some people adore Halloween and love everything scary and gory about the holiday. The more horrible, the better.
I, on the other hand, am not a fan of the blood and guts of Halloween. Any decorations I put out have to be cute, not scary.
Recently, I was walking through the Halloween costume section in Target, and I saw their $1 plastic pumpkin treat buckets. In our store, they had the usual orange pumpkins, but they also had black ones too.
All of the fall decor we have is displayed inside our house. I have seen some cute porch decoration ideas for fall online, so I decided to buy a couple plastic treat buckets and see if I could make something cute with them, for our (bare) front porch!
(Note: these types of $1 buckets are available at places like Walmart and Dollar Stores too.)
Cheap Fall Porch Decor Idea – Painted $1 Plastic Pumpkins
Supplies:
3 Plastic Pumpkins ($1 each at Target during the Halloween season, or at places like Walmart or Dollar Stores. Available (at a higher price) on Amazon throughout the year.)
Spray Paint Primer
Spray Paint in desired colors
Sticks, branches, ferns, flowers, straw, weeds, newspaper etc.
Step 1: Prep Plastic Pumpkins
Make sure all of the stickers are removed, and the pumpkins are clean. I wiped mine down with a paper towel.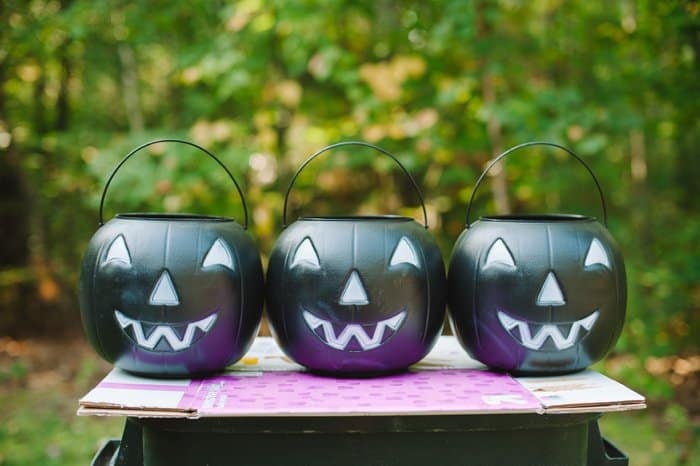 Step 2: Spray paint pumpkins with a primer designed for plastic.
Plastic can sometimes be tricky to work with; the paint may have a tendency to flake off. I decided to use a primer to make sure the colored paint would stick well, and also because I was using light paint colors so I didn't want the black pumpkin to show through.
My spray painting technique for these pumpkins involved turning them upside down and painting the bottom and lower sides first.
Once they were dry enough to turn over, I flipped the treat buckets over and then painted the sides, top edge and handle.
Let them dry.
**PRO TIP: In the days since finishing my pumpkins, I realized that even with primer, the paint did not stick to the handle of my pumpkin buckets at all. I'm guessing it's because the handle is flexible, so it puts pressure on the paint and it chips and flakes right off. Next time, I would cut them off so they're gone completely before beginning painting. If you need a handle, you could use twine and create a handle using the existing holes in the pumpkin.**
Step 3: Spray paint pumpkins with chosen colors.
Repeat the spray paint process with the three colors you chose.
Let dry completely.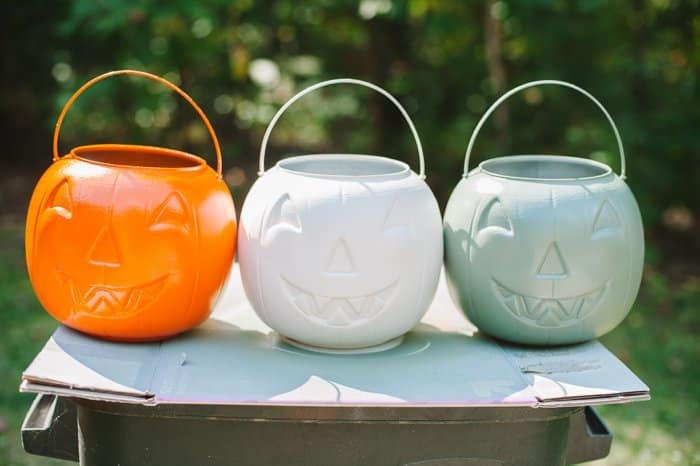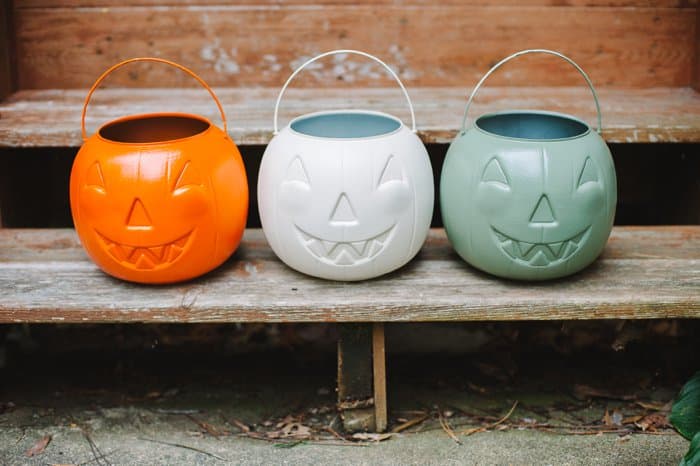 Step 4: Fill plastic pumpkins and arrange as cheap fall porch decor.
You can fill the plastic pumpkins with just about anything. Sticks, weeds, plants, branches, ferns, flowers, straw, fabric, newspaper… the sky is the limit.
I used some clippings from my landscaping to fill the buckets.
For halloween, the pumpkins could be arranged with the jack-o-lantern faces visible. I think this makes for a fun, cute decoration, while still looking tasteful and classy.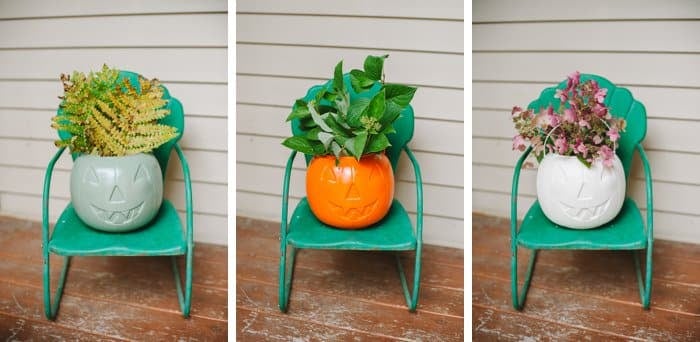 Once Halloween passes and you want Fall or Thanksgiving decor instead, simply turn the pumpkins around and use the smooth back sides!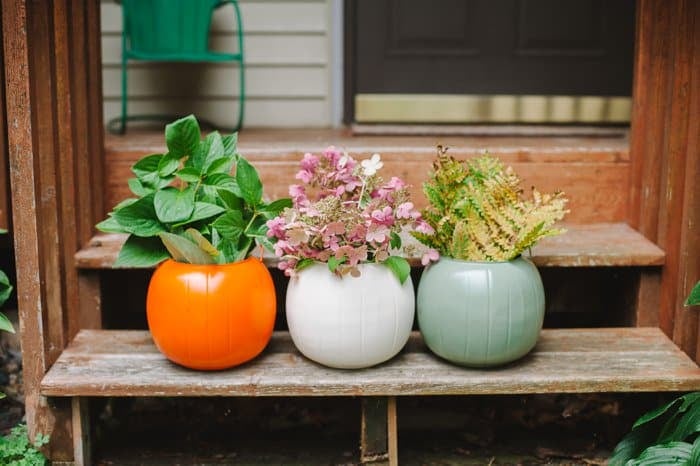 With cheap plastic pumpkins, a little spray paint and a few handfuls of nature clippings from around the yard, you can transform your front porch into a beautiful, Fall-inspired scene that's truly done on a budget!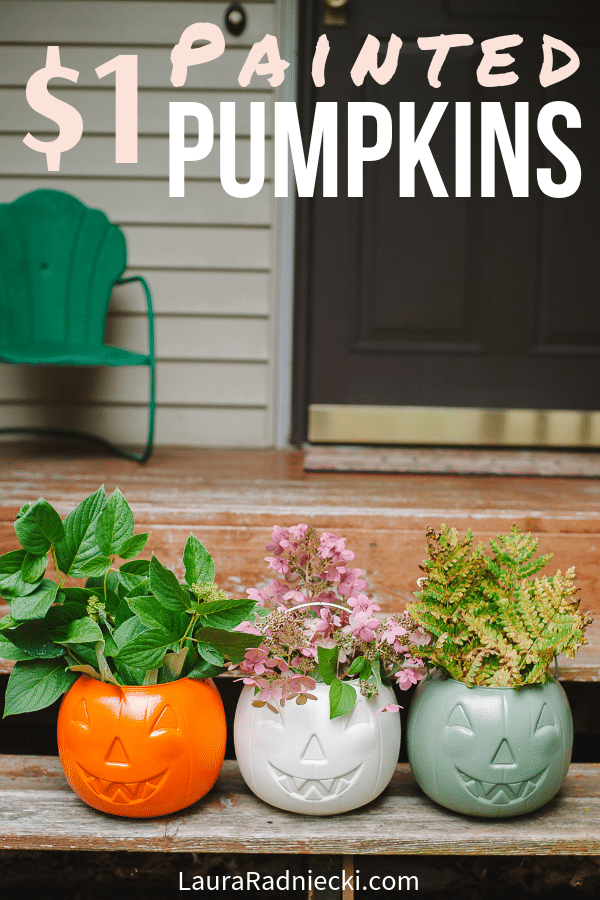 – If you liked this post, I would love if you would share it on Pinterest or Facebook. Thanks & xo! –