**These posts often contain affiliate links. Please see our disclosure policy for details.**
The BEST part of fall (in my opinion, anyway) isn't the pumpkins, boots, scarves, or pumpkin spice lattes… It's the colorful leaves that make the trees look like they're on fire.
In Minnesota, the spectacular fall leaf color is enough to make me stop and stare, all while knowing how precious and fleeting it is. The leaves sure are gorgeous, but in a blink on an eye, they're on the ground, and snowflakes are swirling in the air instead.
In an effort to hang on to the beauty of fall, I decided to preserve fall leaves with Mod Podge.
There are many methods of preserving leaves, but in my opinion, Mod Podge is the easiest and fastest way.
Here's how to use Mod Podge to preserve fall leaves to use in home decor and fall craft projects.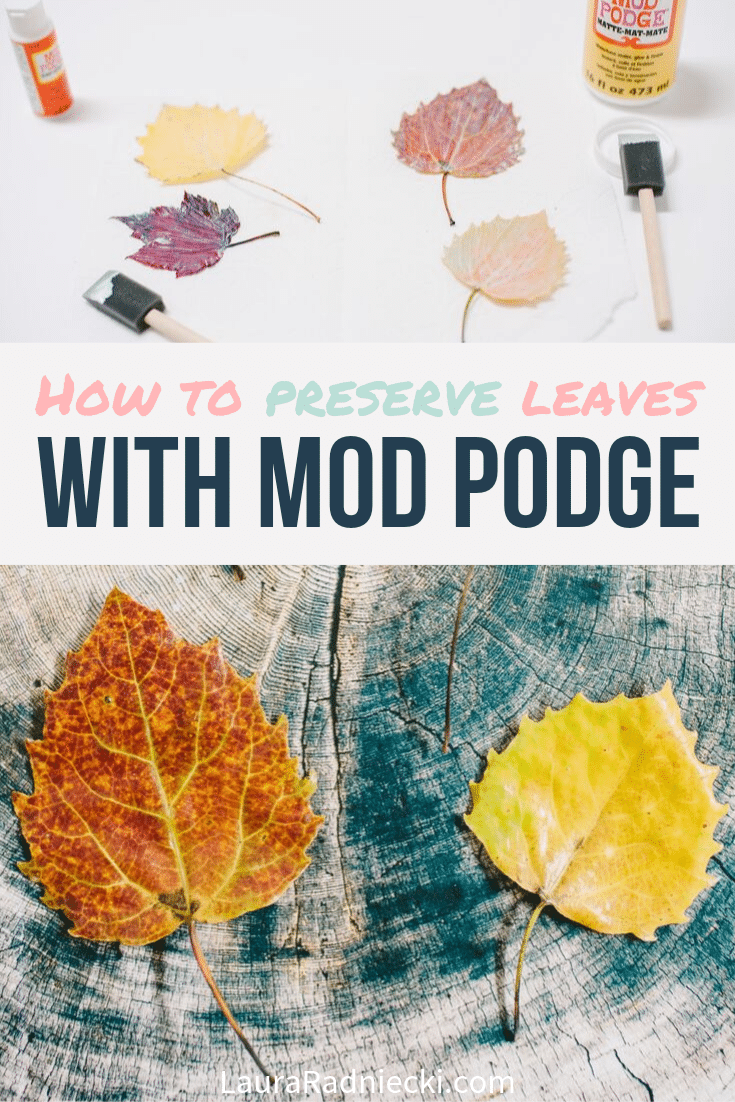 How to Make DIY Mod Podge Leaves
Step 1. Gather Supplies
Supplies Needed:
Leaves
Mod Podge (I used both Gloss and Matte; two leaves for each type. The Matte looks more like a Satin or Semi-Gloss finish. For these leaves, I prefer the Gloss finish.)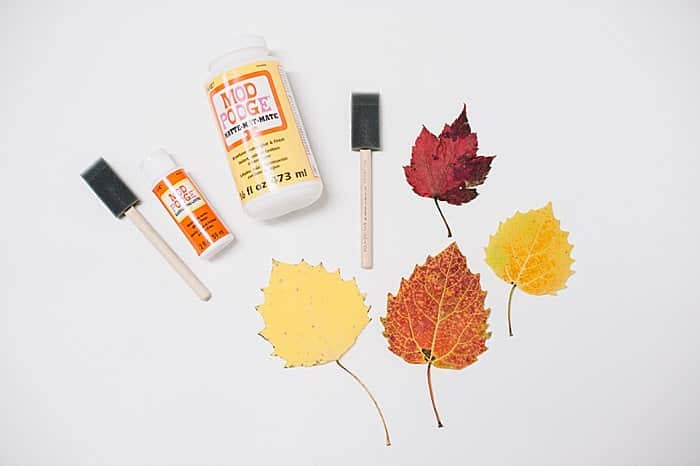 Step 2. Prepare leaves for Mod Podge
I collected my leaves off of the ground, so they were wet and dirty when I brought them inside.
I rinsed off the dirt and bugs, laid them out on a paper towel, put another paper towel on top, and then put a heavy object on top to help press the leaves flat.
I left them like this for a while to fully dry out and flatten before I started the Mod Podge step.
Step 3. Paint on a layer of Mod Podge
Using the paint brush (I love foam brushes for Mod Podge, but any brush will work), brush on a layer of Mod Podge.
Use enough to fully coat the leaf. Let dry.
PRO TIP: Through trial and error, I learned that my preference is to Mod Podge the BACK of the leaf (or whatever object I'm working on) FIRST. That way, the back is finished, and I can concentrate on the front side from then on, without risking messing the front up by flipping it back and forth.
In the photos below, I didn't do it this way, but have since discovered this is the easiest method for me to use Mod Podge. Do the BACK SIDE FIRST, and then concentrate on the front side.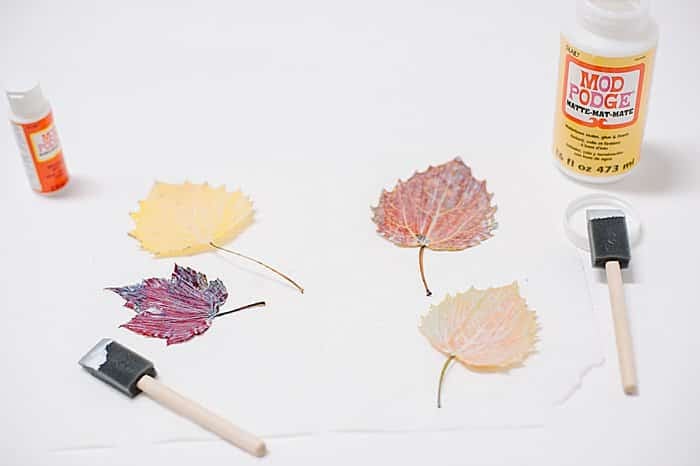 Step 4. Flip leaves over and brush a Mod Podge coat on the other side.
Once the Mod Podge layer is dry, flip the leaves over.
Brush a layer of Mod Podge on the other side of the leaves.
Let dry.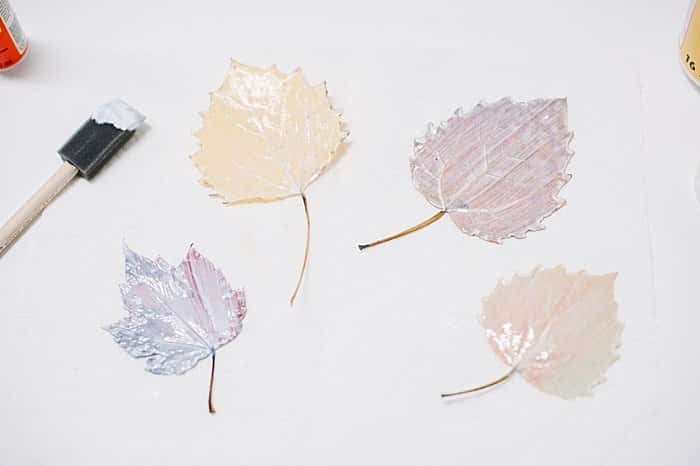 Step 5. Add a second coat of Mod Podge to the front of the leaves.
I added a second coat of Mod Podge to the front of the leaves in an effort to protect them further.
A single layer is probably fine, but I figured a second coat was even better!
Let dry.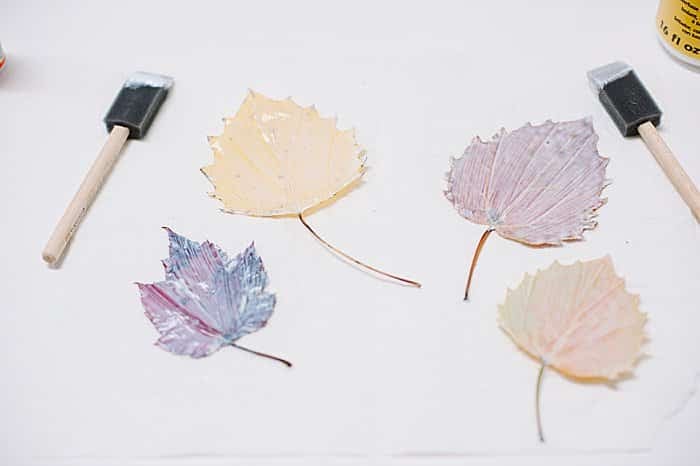 Step 6. Hang, Display, Enjoy!
Once the Mod Podge leaves are fully dry, you can use them!
You can use them in projects like a leaf wall hanging, a diy leaf garland, or leaf monster crafts for kids.
Or you can display them in mason jars, scattered on a mantle or tabletop, or even just use washi tape and tape them to the wall.
Simple, beautiful fall decor for your home that hardly costs a penny!
– – – – –
IMPORTANT P.S. I don't know know how long this Mod Podge method will preserve the leaves for. It's possible the leaves may still turn brown over time, and eventually decay to the point of needing to be thrown away.
At the time of this writing, it's been 3+ weeks since I Mod Podge'd mine, and they still look great. They haven't curled or dried out any further (that I can see) and the colors are still vibrant. But I don't know what they will look like in 3 months etc.
However, compared to bare, un-Mod Podge'd leaves which dry out in mere days, these preserved leaves are a great way to decorate for fall, and make fall leaf crafts that will last more than just a few days.
Save the idea for later by pinning the photo below to Pinterest!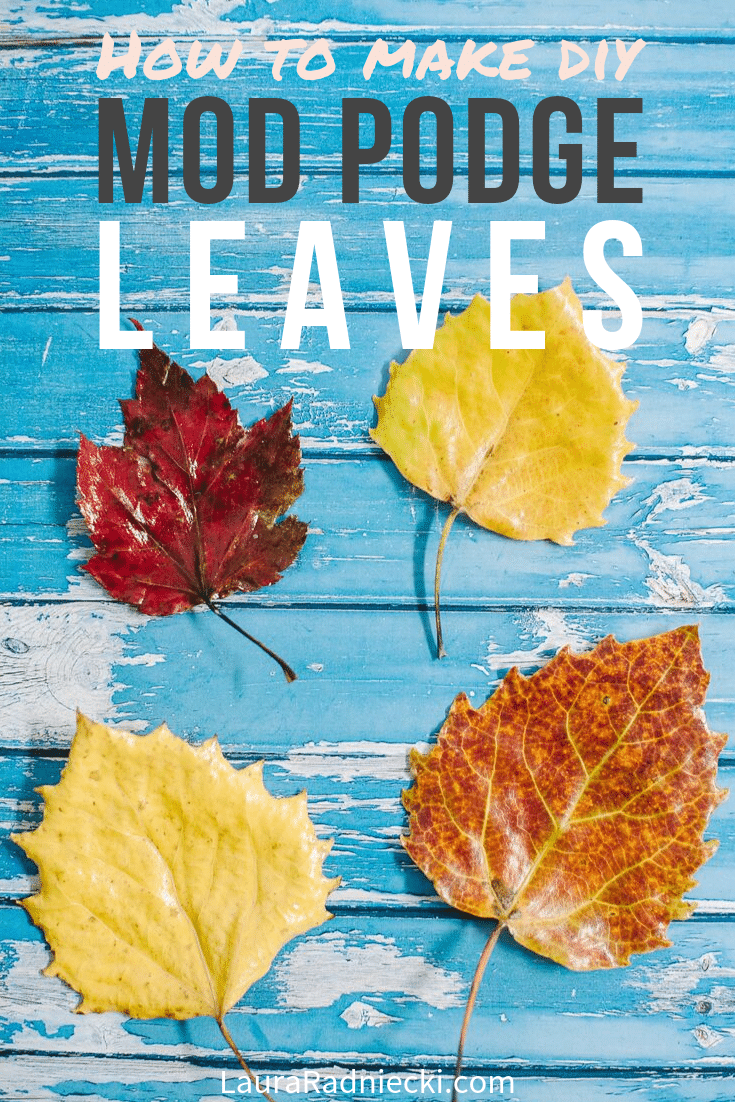 – – – – –
Making crafts is my love language. Is it yours too??
Come get FREE printable craft patterns, project checklists, and other resources made just for you inside the Mama Makers Club Free Resource Library!