**These posts often contain affiliate links. Please see our disclosure policy for details.**
The leaves are changing colors and falling to the ground. That obviously means winter is coming (at least it does here in Minnesota), but it also means it's time for fall leaf crafts!
After collecting leaves from the ground in our yard and prepping them for crafts, we've recently made a DIY fall leaf garland as well as leaf monsters for kids.
I've got another simple fall craft idea using leaves: a DIY leaf wall hanging! Here's how I made it.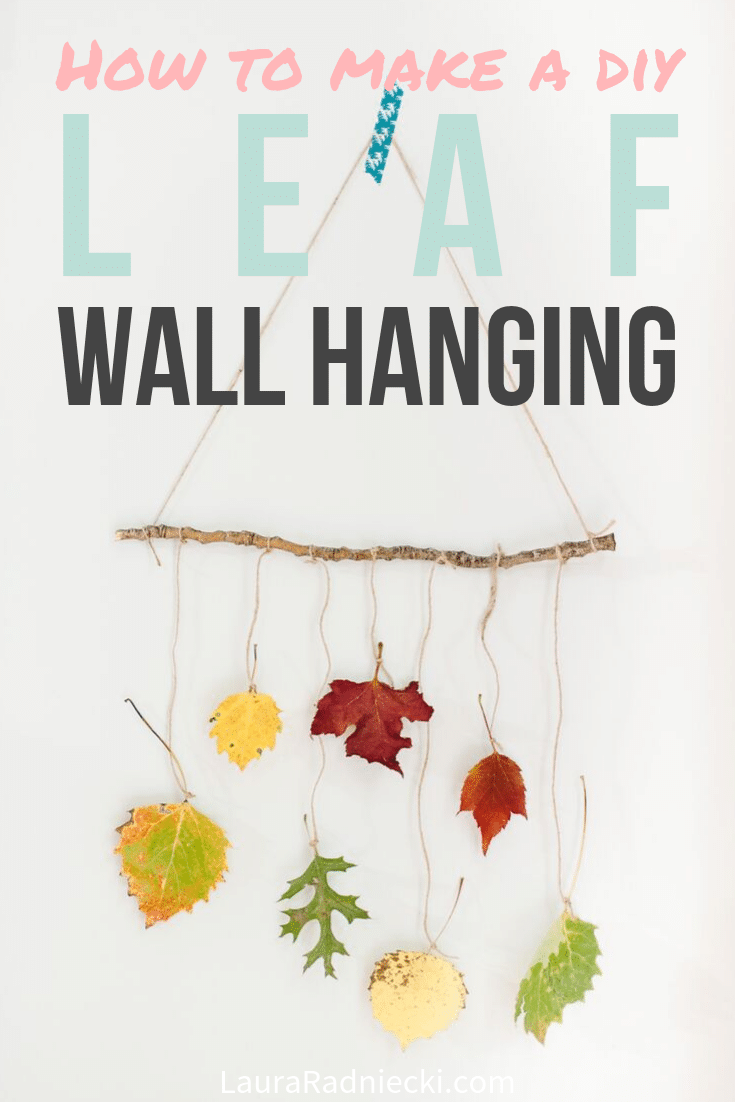 How to Make a DIY Leaf Wall Hanging
Step 1. Gather Supplies
Supplies Needed: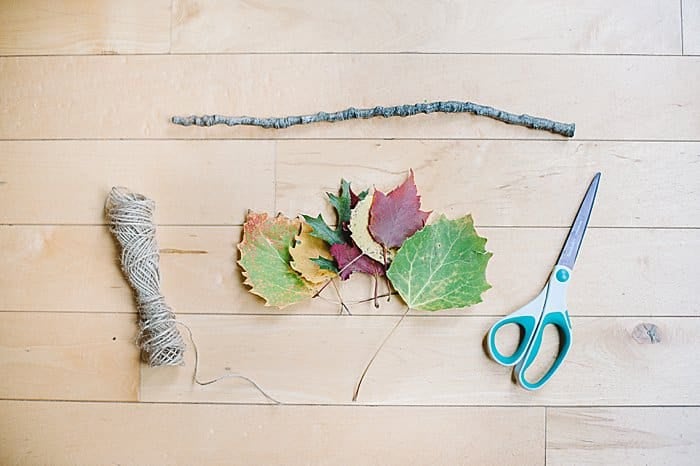 Step 2. Decide on leaf arrangement.
Experiment with the layout of the leaves, and decide what order you'd like them to be in.
I liked the staggered high and low arrangement for mine.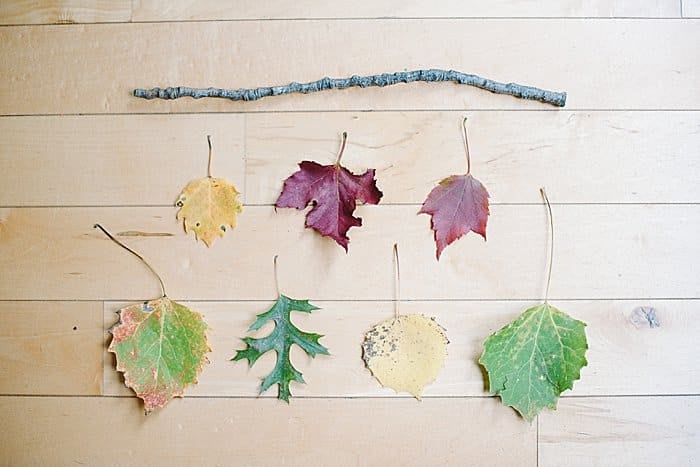 Step 3. Tie twine around leaves.
Cut sections of twine, one for each leaf.
Cut them longer than you think you'll need, because you can always shorten the twine later.
Tie twine around the base of each leaf's stem, in a knot.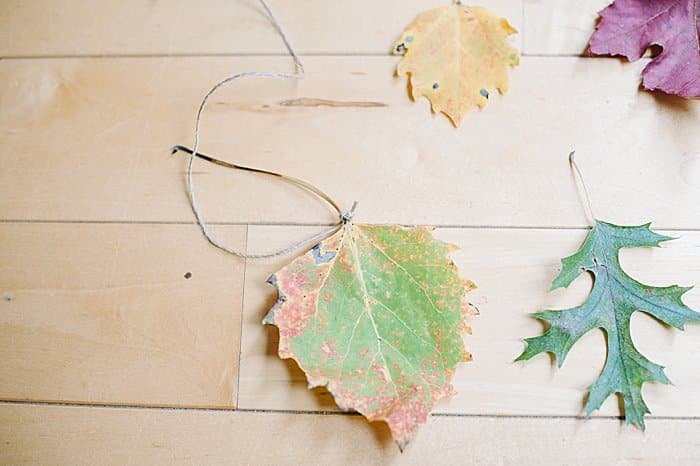 Continue for all of the leaves in your fall wall hanging.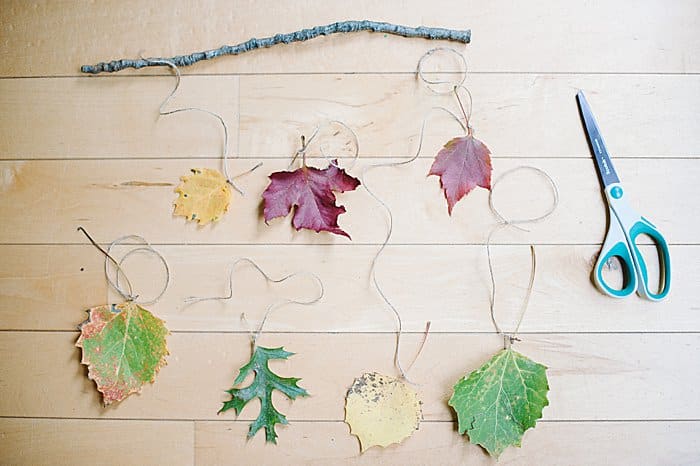 Step 4. Tie leaves onto stick.
Tie the other end of the twine to the stick. Knot it to secure.
Continue until all of the leaves are attached in the order you chose.
Pay attention to how the wall hanging is looking. You can modify the length of the leaves by controlling how long the twine pieces are.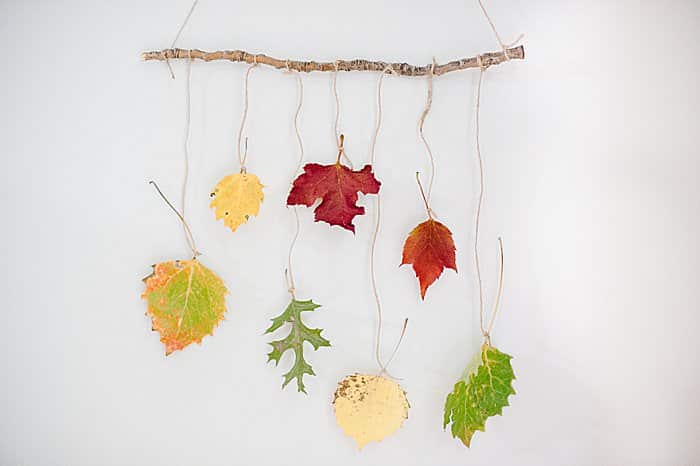 Step 5. Fine tune spacing and trim up twine.
Fine tune the spacing of the twine and leaves so everything is balanced.
Using a scissors, trim any long pieces to clean things up.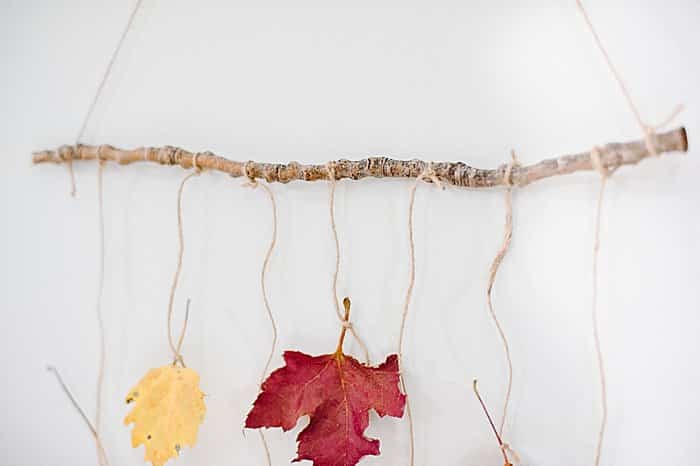 Step 6. Hang and enjoy!
Hang up your DIY fall wall hanging with tape or Christmas light Command Hooks, and enjoy!
That's all there is to it!
This is probably one of the easiest fall crafts I've ever done, and I love it so much.
Besides the leaves and stick, the only supplies are string and scissors which makes it so easy to get started. You have everything you need!
Plus, you can make it as big or as small as you want, depending on the length of stick you choose and how many leaves you add.
It's fully customizable for your space and home!
– – – – –
Save the idea for later by pinning the photo below to Pinterest!