**These posts often contain affiliate links. Please see our disclosure policy for details.**
Whether you've got a mantle to decorate or just a wall with some command hooks (like me!), a garland or banner is the perfect, simple way to decorate for any holiday in a simple, stress-free way.
I love displaying banners for all holidays. Patriotic ones for the 4th of July, a cute felt ball acorn garland for fall, and a Christmas tassel garland for the Christmas holiday… Easy and fast to make; banners are a craft favorite of mine.
Today, I'm combining my love of old book pages with stencils to make a beautiful Valentine's Day garland perfect for any mantle or wall!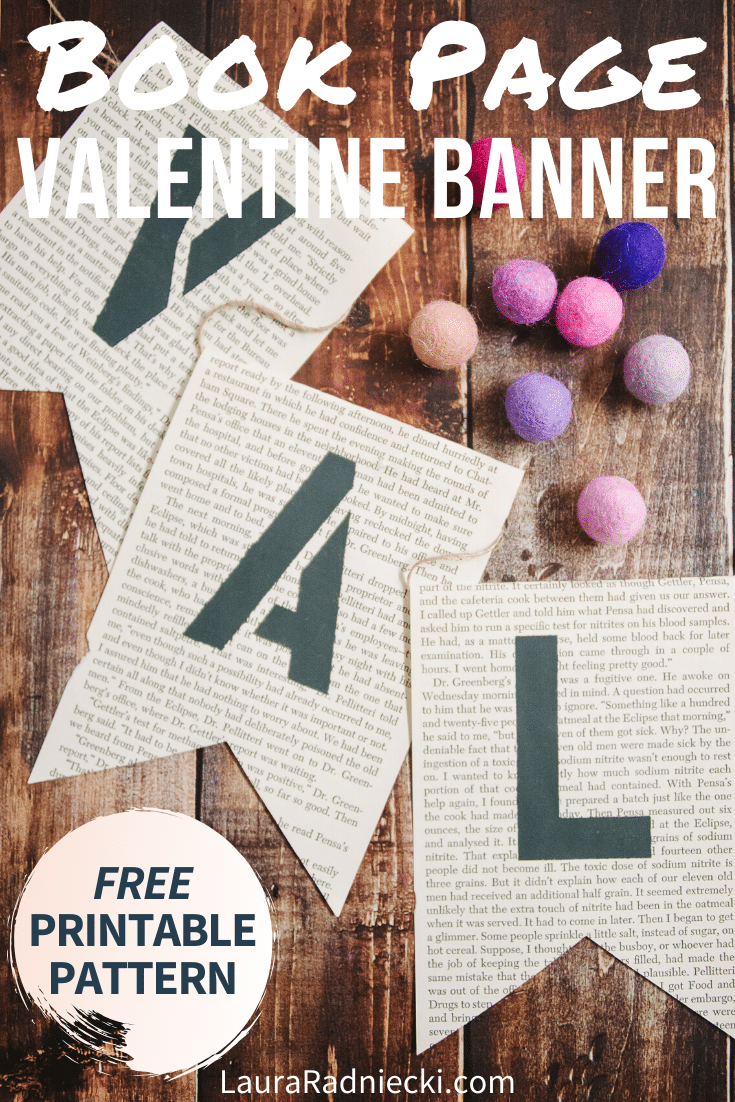 How to Make a DIY Book Page Valentine Banner
Step 1. Gather Supplies.
Supplies Needed:
Book Pages
Acrylic Paint
Stencil Brush
Twine
Scotch Tape
Vinyl (or Cardstock)
Scissors
Paper Trimmer (optional but worth every penny!)
Banner Flag and Heart Shape Templates (available free in The Resource Library!)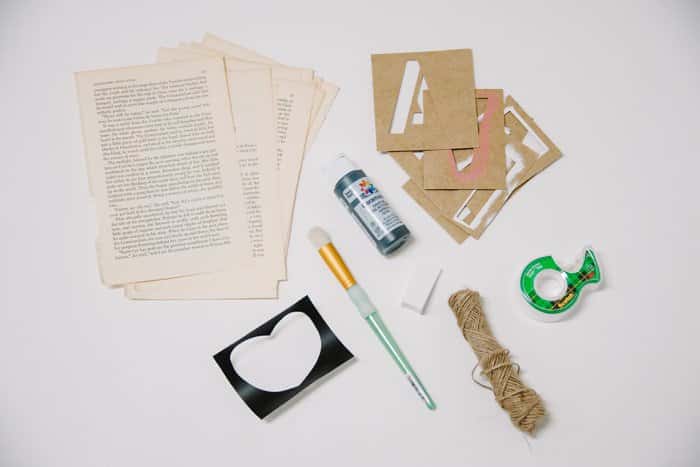 Step 2. Cut book pages into flag shapes.
Print and cut out the banner flag template from the resource library.
Tear pages from an old book.
Using scissors or a paper trimmer, cut the book pages into flag shapes.
You can do all of it with a scissors, but I cut the paper into rectangles first with my paper trimmer (SO worth the purchase for the saved time and increased accuracy; I LOVE mine.)
Then, I used a scissors to cut the notch in the bottom of each flag.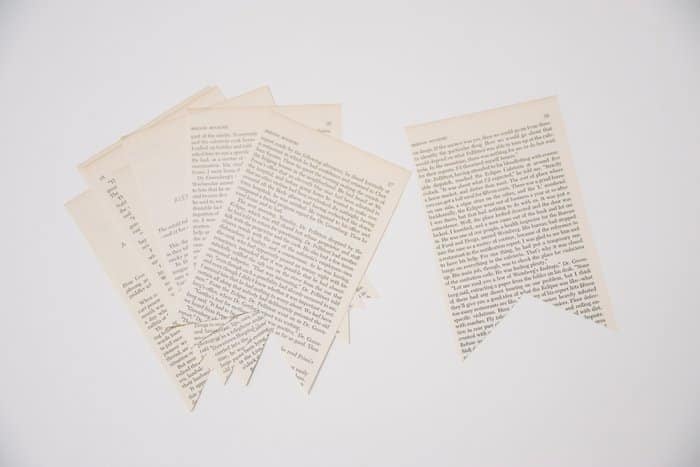 Count how many paper flags you will need to make your valentine banner. I needed 11 flags total in order to spell VALENTINE with two hearts, one on either side of the word.
Step 3. Stencil letters onto the book pages.
Using the how to stencil method I explore here, stencil your letters onto the book page flags.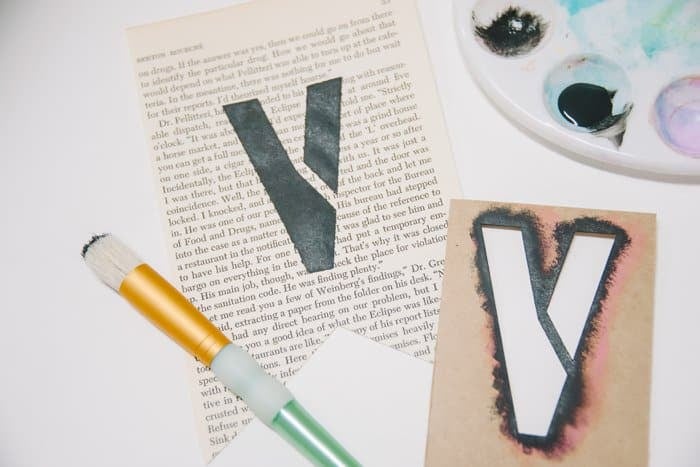 Step 4. Cut out a heart from vinyl (or cardstock etc) using the heart shape template, and stencil it.
I used adhesive vinyl to make the heart stencil, as shown below. However, I couldn't use the sticky part of the vinyl on the paper otherwise there'd be no way to remove the stencil when I'm done without ripping the paper.
Instead, I used washi tape to secure the stencil to the paper, and pressed it lightly to hold the heart in place. Even so, it still ripped a little of the paper flag off when I removed the tape and stencil.
In hindsight, using cardstock or even paper to make the heart stencil would likely have worked the same or better, because as you can see in the photo below, my vinyl curled which made it hard to keep the stencil flat.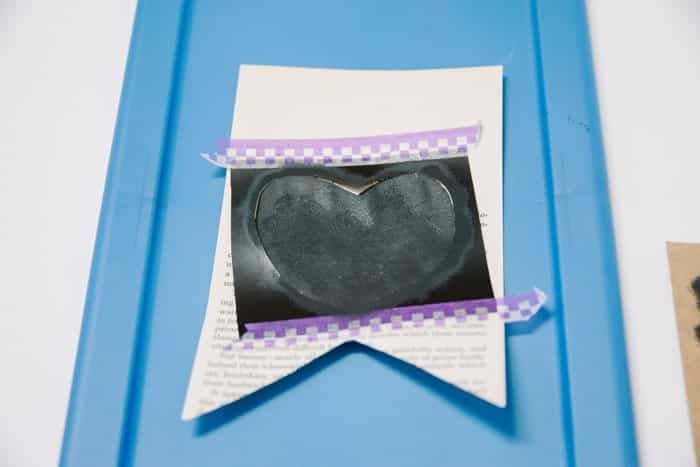 Repeat stenciling for all letters and shapes.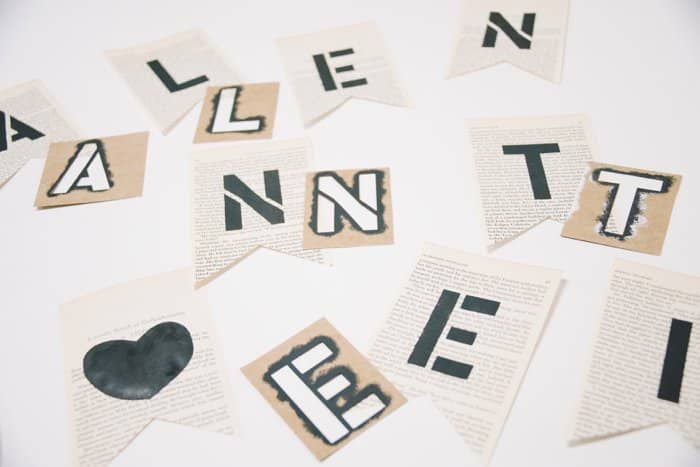 Step 5. Cut a piece of twine for the length of the banner.
Determine how long you want your finished valentine banner to be and cut a length of twine.
Step 6. Fold over and tape paper flags onto the twine banner.
When I made a book page banner in the past, I used a glue stick to attach the flags to the twine, before reinforcing them with scotch tape.
This time, I wanted the freedom to move the flags around in order to adjust the spacing depending on where I am hanging it, so I decided to skip the glue this time.
Instead, I folded the top of each paper flag over about a half inch and taped it down over the twine.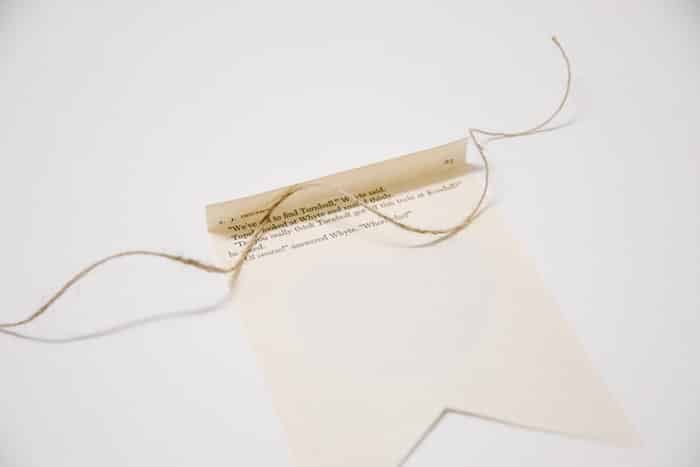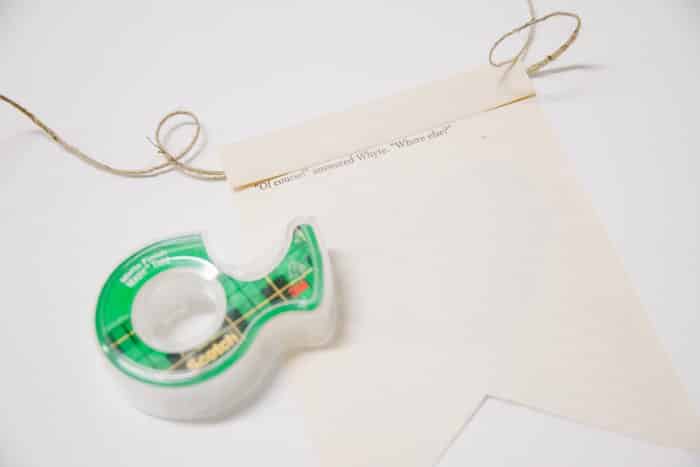 Repeat for all of the flags.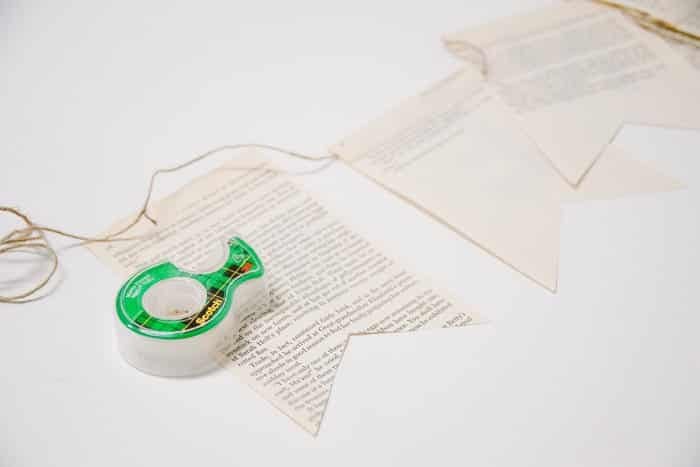 PRO TIP: Make sure you have the flags and letters in the right order. I finished taping all of my flags over the twine and turned my garland over, only to realize I had spelled V-E-L-A-N-T-I-N-E… Oops. I had to try to cut the tape to release the two flags so I could switch them to the proper place, without tearing anything.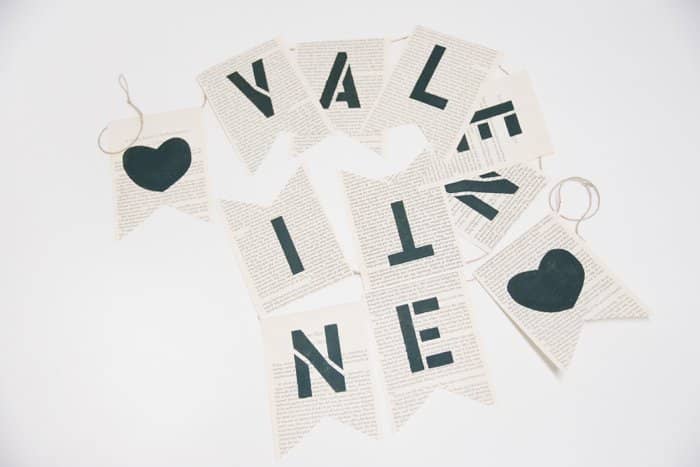 Step 7. Tie loops at the ends of the twine and hang!
Determine where you want to hang your Valentine's Day banner.
Fine tune the spacing of the flags, and trim off any excess twine.
Hang it up and enjoy it!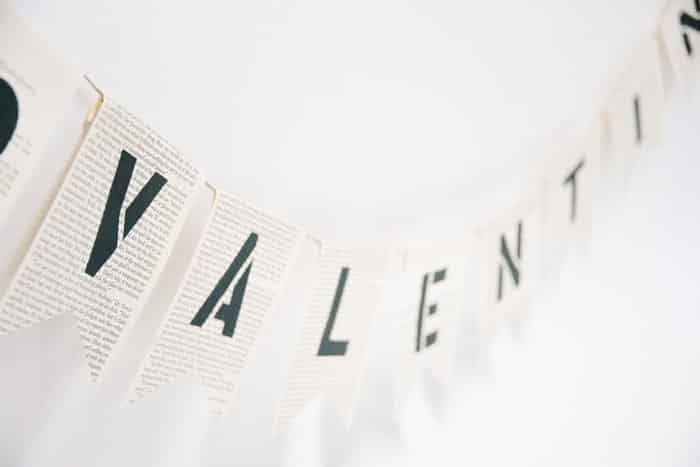 Valentine's Day is a fun opportunity to get creative and add some color to an otherwise long, dreary winter. (At least it's long and dreary here in Minnesota!)
This stenciled Valentine's Day garland made with old book pages is the perfect Valentine decor idea. You can use supplies you already have and customize it as you like!
–
Save this idea for later by pinning the photo below to Pinterest!