**These posts often contain affiliate links. Please see our disclosure policy for details.**
Learning how to stencil seemed like a piece of cake to me. And then I tried it…
My first attempt at stenciling was a complete failure. So bad in fact, that I am not going to show you any photos.
What went wrong?
I used spray paint, applied it WAY too thick, and didn't let it dry in between coats. Yikes. Lesson learned.
I decided to try again using a stencil brush and acrylic paint, and I'm happy to report my results were MUCH better.
If you want to learn how to stencil, I'll save you the headaches and project failures. I'm here to teach you the right (and best) way to stencil! Let's do it!
How to Stencil the RIGHT Way
Step 1. Gather your supplies.
Supplies needed:
A Stencil – Stencil Revolution has a TON of options at awesome prices. That's where most of mine come from.
Tape (washi, masking or painters tape)
A surface to stencil on: paper, canvas, wood, tile, fabric, etc etc etc…
Paper towel or paper plate to dab excess paint off of your brush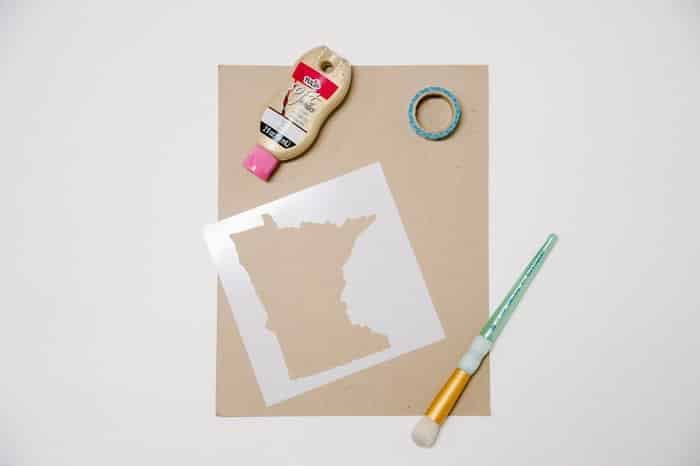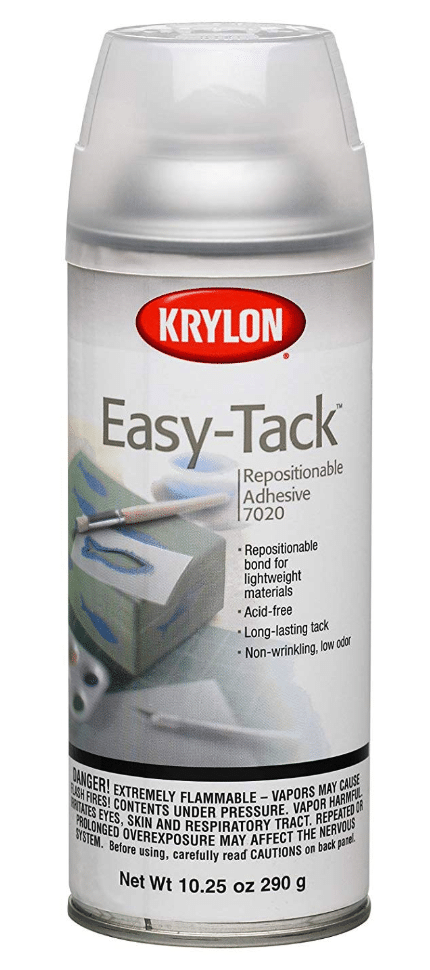 (Optional but recommended) – Repositionable Stencil Spray Adhesive. If you are able to use an adhesive (you have a ventilated space to spray or can go outside to do it), it makes things a lot easier and will give cleaner edges to your project.

Full disclosure – I periodically skip this step because I often don't have the ability to spray it in a ventilated area, and it adds more time to the project. My results are good enough without it for most projects. (Type B crafter!) BUT, if I am doing something where I want things to be as clean and crisp as possible, like a gift or something specific for my wall, I will use it. It's a great thing to use when you are learning how to stencil and just getting used to it.
Step 2. Anchor your stencil to your surface.
Using repositionable spray adhesive or tape, decide where you want to place your stencil and anchor it.
You don't want it to move around while you're stenciling.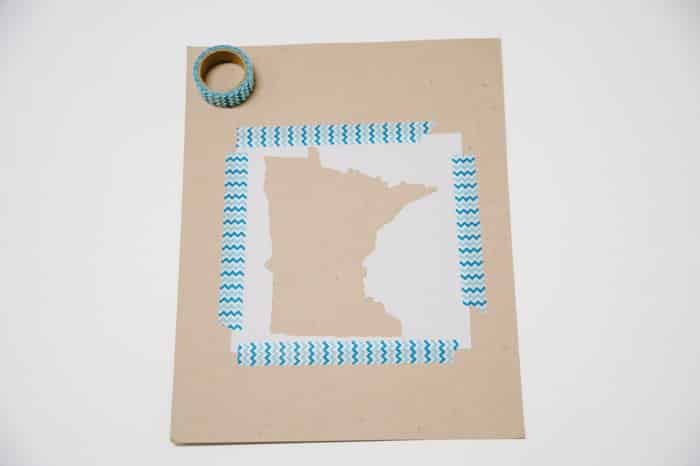 Step 3. Add a small amount of paint to your stencil brush.
This is the KEY to stenciling, and makes the difference between a successful or failed project.
You do NOT want to use too much paint at one time. Too much paint will cause it to seep and bleed underneath the stencil.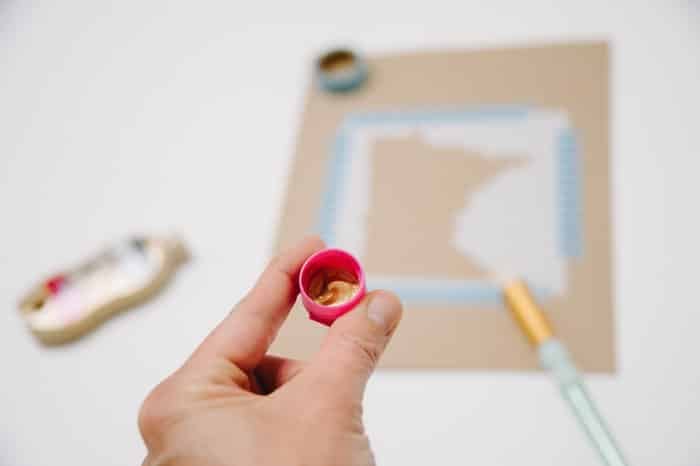 Put a LITTLE bit of paint onto the tip of your brush, and then use a paper plate or paper towel to dab off the excess.
It's much better to err on the side of LESS paint than too much.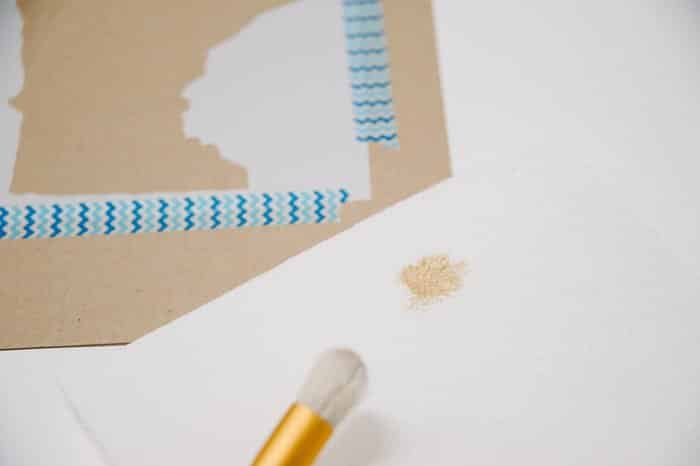 Step 4. Dab paint into stencil area.
Once you've dabbed any excess paint from your brush off onto a paper towel or paper plate, it's time to stencil.
Using an up-and-down vertical dabbing motion, you want to dab paint into the stencil area.
Go slow, reapplying paint to your brush as needed. Every time you add new paint to your brush, dab it onto the paper plate or paper towel before you touch it to the surface you are stenciling.
Make SURE you are dabbing in an up-and-down vertical motion, NOT sweeping side to side. You don't want to push any paint underneath the edge.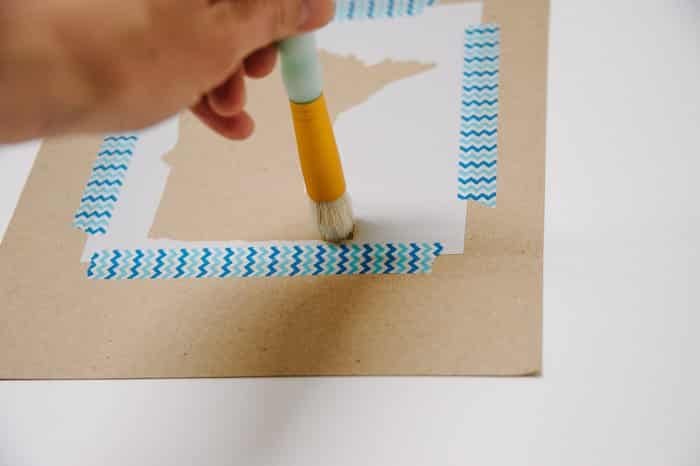 Continue to reapply paint to your brush, dab off the excess, and then dab the brush vertically onto your surface until it's all covered.
Let it dry.
PRO TIP: As you go around the stencil's edges, it helps to push down on the plastic stencil edge with your finger so paint doesn't go underneath as you are dabbing. This isn't as crucial if you use an adhesive spray. But if you use tape, pressing down on the edge as you go will help you get a clean, crisp edge line.
(In the photo below from a different project, see how on the left, the "A" and "w" from "Awaits" are not flat to the canvas. But when I press on it with my finger on the right, they are now flat on the canvas and ready for me to stencil. As I go along, I press on each section's edges as I work.)

Step 5. Repeat with additional coats of paint.
Depending on the color of paint you are using and the surface you are stenciling, you will need to do multiple coats. You should be stenciling with very little paint at once, so you will have to do multiple coats to cover everything well.
Be SURE you resist the urge to put too much paint on at one time, in order to go faster. I made this mistake in the beginning as I llearned and my end result looked really sloppy because I had a ton of paint seep underneath the stencil.
The KEY to a great stencil is to use VERY LITTLE paint at once, and do MULTIPLE coats to build up to the look you want.
I often end up doing three coats of paint, letting them dry in between.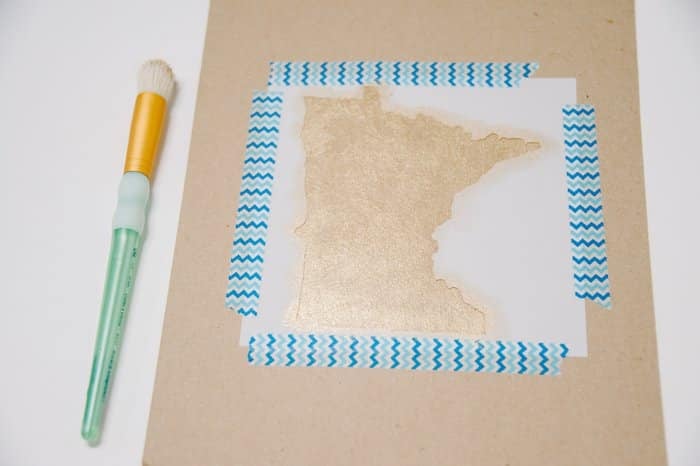 Step 6. After it's completely dry, remove stencil.
Make sure you let it dry completely. You want the paint to set before you remove anything.
Peel off the tape, and remove your stencil.
If you used adhesive spray, carefully peel the stencil off. If any adhesive remains on the surface, you can remove it with your finger or with tape to help pull up the sticky residue.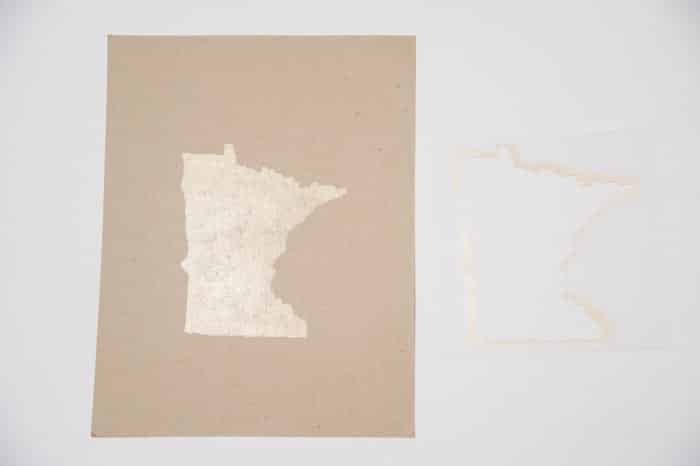 Woohoo! There it is!
You can layer stencils on top of each other, once they are dry. Here's a black feather on top of the gold Minnesota state.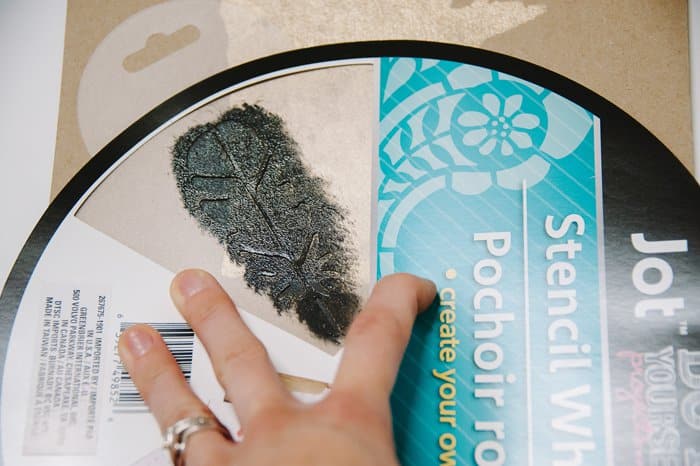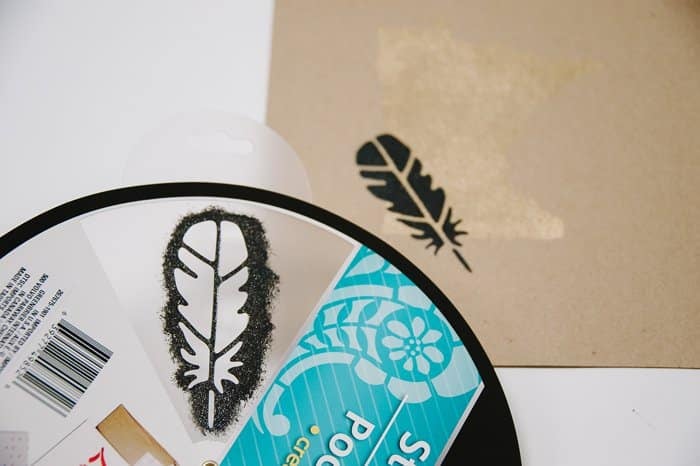 Stenciling is such a fun way to experiment and customize a variety of items.
Once you try it, I guarantee you'll be thinking, "Hmmm… what else can I stencil on now??"
The important steps to remember as you learn are to anchor your stencil, use only a LITTLE bit of paint at a time, dab in a vertical up-and-down motion, and do multiple coats to build up your color.
A whole range of crafts just opened up to you!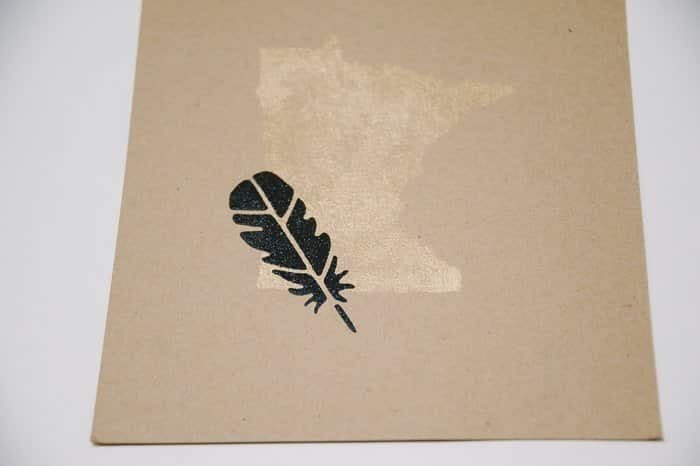 A very important P.S. note about stenciling: Like everything we do here, perfection is not required. Your project is handmade, not made by a machine. So please don't expect it to be as precise as something machine-made.
My expectations were way too high when I first started stenciling, and every tiny imperfection made me feel like a failure.
But remember: first, it's handmade! And second, you are going to be looking at your project from far away, NOT from 3 inches away. Embrace the fact this is a HANDMADE project and perfection is NOT the goal. Look at your projects from a normal distance and I guarantee you they'll look great.
Don't let the pursuit of perfection steal the fun of the project! Let's be Type B crafters together!