**These posts often contain affiliate links. Please see our disclosure policy for details.**
LEARN HOW TO MAKE 4TH OF JULY YARN-WRAPPED PINE CONES IN THIS EASY STEP BY STEP TUTORIAL; JUST PICK RED, WHITE, AND BLUE YARN AND GET WRAPPING!
Awhile back, we talked about how to make DIY yarn-wrapped pine cones using clean, prepped pine cones and yarn in bright, springtime colors.
They were a huge hit because they are so fun and easy to make.
Today, we're using red, white and blue yarn to create 4th of July yarn-wrapped pine cones, perfect for table decor on Independence Day!
Here's how to make them!
NOTE: This 4th of July tutorial is an abbreviated version of the complete tutorial showing how to make yarn-wrapped pine cones here.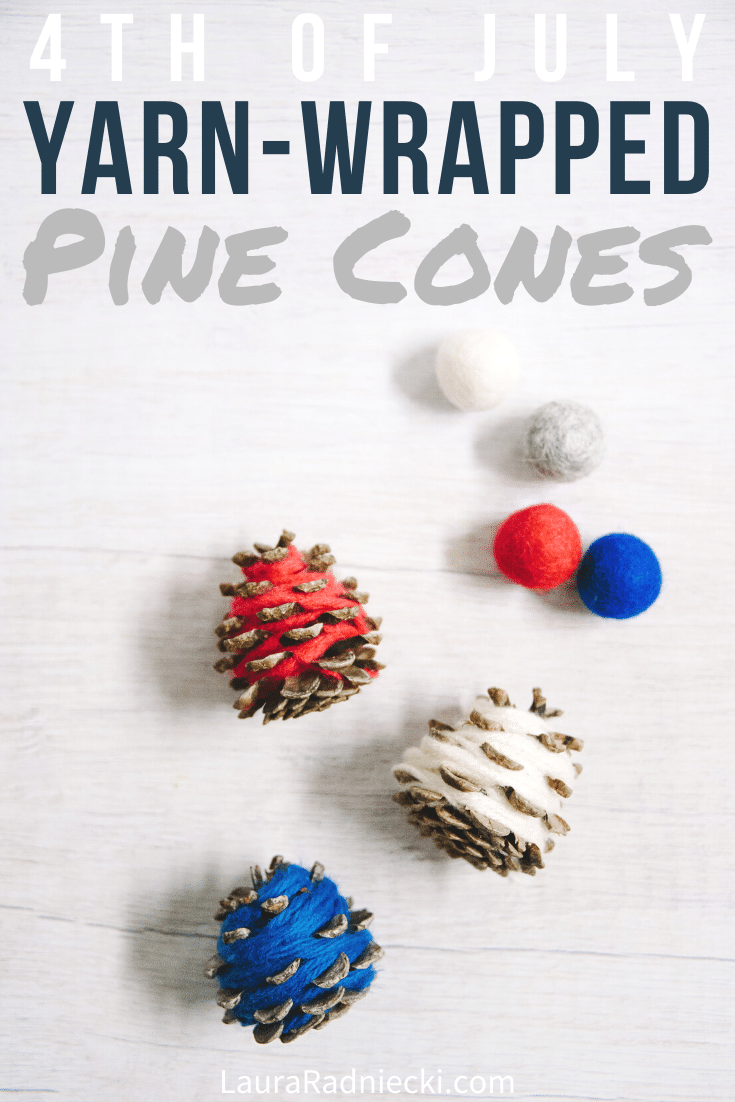 How to Make 4th of July Yarn-Wrapped Pine Cones
Step 1. Gather Supplies.
Supplies Needed:
Yarn or string in 4th of July colors
Step 2. Tuck one end of the yarn into pine cone.
Tuck one end of yarn into one of the cracks in the pine cone near the base, and start slowly wrapping around the pine cone.
As you continue to wrap, the additional layers of yarn will secure the yarn end and nothing will unravel.
Step 3. Wrap yarn around pine cone.
Once you secure your yarn, keep wrapping!
Carefully wrap yarn around the pine cone, between the rows of prongs, so that you are filling the crevices.
Move from the base of the pine cone, up to the top, and back toward the base.
You want to secure the second end of the yarn at the base.
PRO TIP: The more you wrap, the fuller the pine cones will get and the better they will look, as shown in this photo from the original yarn-wrapping tutorial below.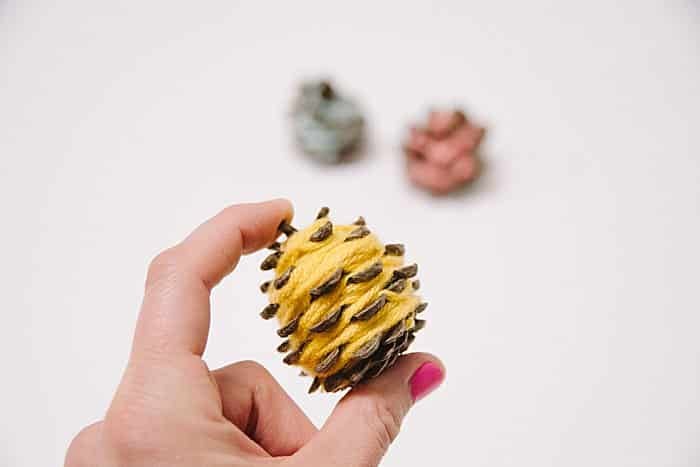 Step 4. Secure yarn end at the base of pine cone.
Once you're finished wrapped yarn all over your pine cone and you are satisfied with how the pine cone looks, it's time to secure the end of your yarn.
You can either slide the end of the yarn into one of the tight spaces between unopened prongs at the base of your pine cone, or use a small dab of glue to secure the yarn.
Step 5. Continue wrapping the rest of your pine cones, and enjoy!
Continue wrapping each of your pine cones with yarn.
Once they're all finished, they're ready to be display!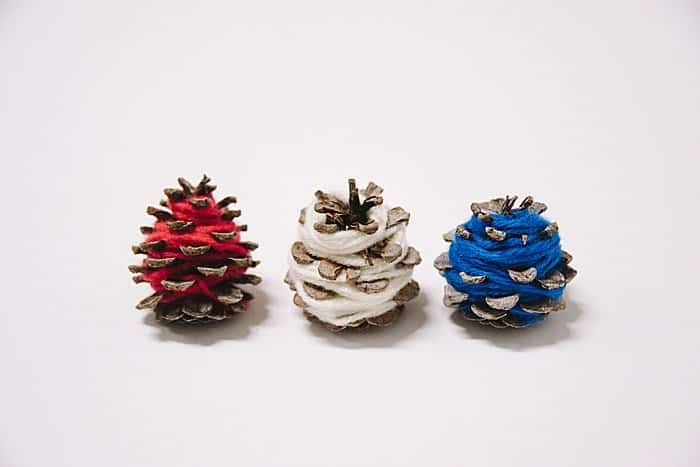 This is a craft project that can be customized for any color scheme, theme, or holiday.
By using patriotic colors, we're able to turn what is traditionally an autumn or holiday item into a 4th of July decor masterpiece!
Bring on the fireworks!
– – –
Save the idea for later by pinning the photo below to Pinterest!