**These posts often contain affiliate links. Please see our disclosure policy for more information.**
An embroidery floss tassel garland is popular in home and party decor, and for good reason. It is fast, easy to make, and can be customized to fit any party or color scheme. Plus, it requires only a few supplies and can be made inexpensively.
Using embroidery thread, you can make a fast and easy DIY tassel garland that looks way more complicated than it actually is, and elevates any mantel, wall, or party decorations to a new level.
Here's how to make a DIY tassel garland using embroidery floss.
How to Make an Embroidery Floss Tassel Garland
Step 1. Gather supplies.
Supplies Needed:
Step 2. Cut a 10" piece of embroidery floss.
Take one bundle of embroidery floss and remove the paper tags. Cut one 10″ section of floss off of the bundle. Set this piece aside.
Step 3. Lay out a long length of twine.
This twine (or other string type) will become the base of your garland. However long you want your garland to be, that's the length you want your twine to be too.
Step 4. Fold the embroidery floss in half, around the twine.
I found it's easier to make the tassels actually around the twine than it is to make the tassels separately and then try to put them onto twine later.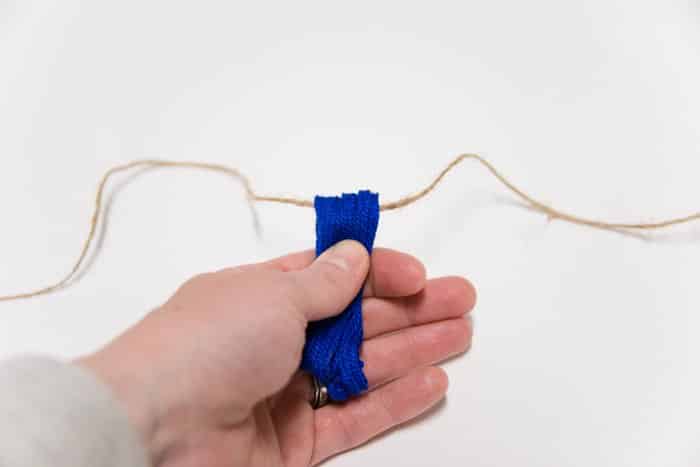 Step 5. Slide the 10" piece of floss underneath the folded embroidery floss bundle, about ½" from the top.
Step 6. Tie the 10" strand in a knot around the embroidery floss bundle.
Step 7. Wrap one end of the 10" strand around the embroidery floss tassel.
Leave about 1.5-2 inches free. Repeat on the other side.
Step 8. Take the two free ends of the floss and knot them together at the back of the tassel.
Trim the ends. This has now secured the tassel.
Step 9. Cut the floss bundle at the bottom of the tassel so all the strands are now free.
Give it a little shake to free all of the ends and give it some shape.
Step 10. Trim up any uneven strands on the bottom to clean it up.
Step 11. Repeat for each additional tassel.
Step 12. Tie knots in ends of twine, inspect and hang up your embroidery floss tassel garland!
The finished product has each tassel being about 3 inches long.
These embroidery floss tassel garlands are easy to make and beautiful to decorate your home or party with.
We used red, white and blue to get in the patriotic 4th of July spirit. Combine them with another fourth of July garland and your decor is done!
Or, you can customize the colors and make one for every season and holiday!