**These posts often contain affiliate links. Please see our disclosure policy for details.**
There's little better than getting kids out in nature and letting them explore.
Chances are, they'll soon have a pocket full of treasures they collected; things that caught their attention and delighted them in some way.
Today, we're combining recycled cardboard with collected treasures from nature to make fun nature crowns for kids!
Here's how to make them!
How to Make a DIY Nature Crown for Kids
Step 1. Gather Supplies.
Supplies Needed:
Flexible Cardboard
Nature Items: pine cones, acorns, leaves, bark, twigs, pine needles etc.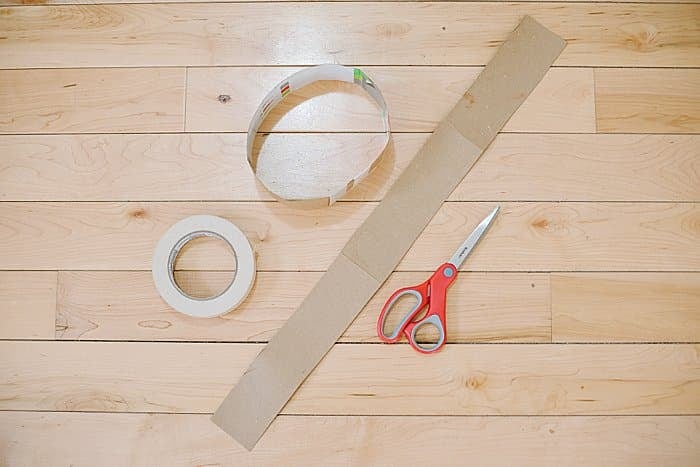 Step 2. Measure head size, cut cardboard strip, tape into circle crown shape.
A) Measure the circumference of your child's head to see how long your piece of cardboard needs to be.
B) I used the cardboard from a case of pop for my nature crowns. I collapsed the box and cut two long strips of cardboard there were each 2″ tall.
C) Then, I taped the strips into a circle shape with masking tape.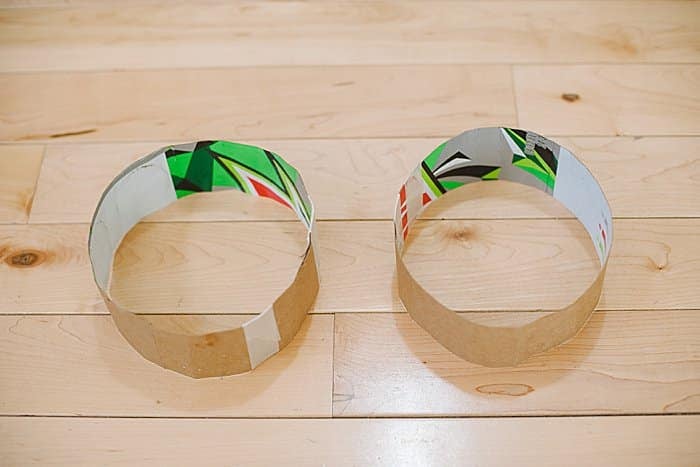 PRO TIP: My crowns fit them great when they were just cardboard, but once the nature items were glued on and added weight to the crowns, they ended up a little bit too big.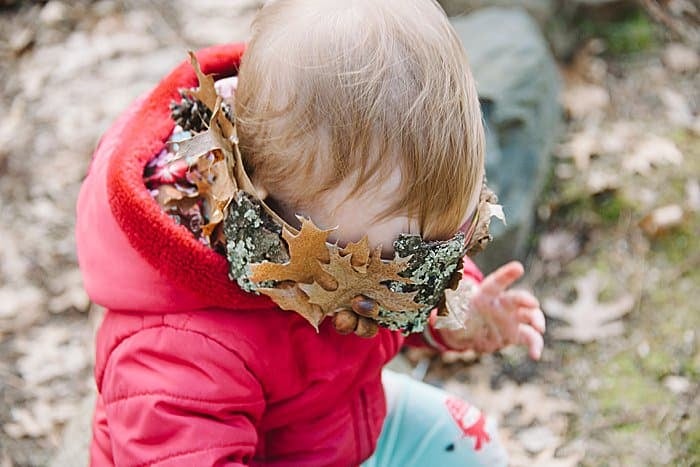 So it's best to err slightly on a tighter fit for the crowns, so it doesn't end up sliding down over their faces once the weight of the nature treasures are added.
Step 3. Collect nature items!
The kids and I went out exploring and collected a bucket full of nature items.
Among our treasures were leaves, bark, pine cones, acorns, twigs, and pine needles.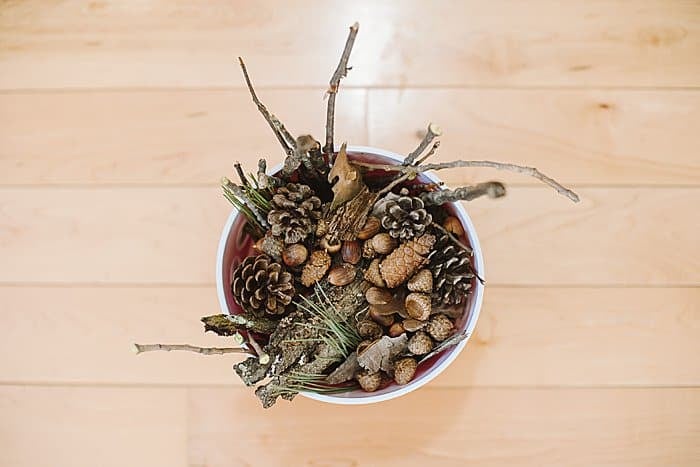 Step 4. Hot glue nature items around crown.
Let the hot glue gun heat up and carefully glue items around the perimeter of the cardboard crown.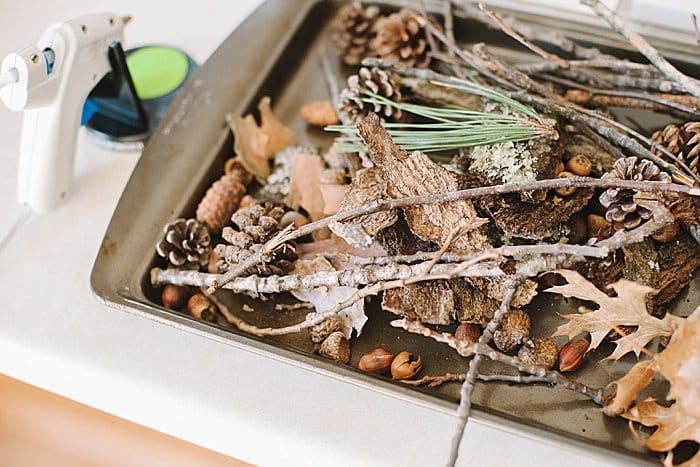 Depending on the age of your child, they could help place the items on the crown.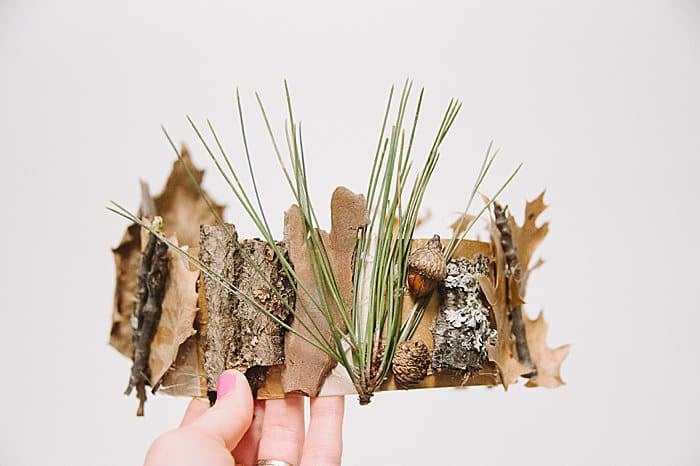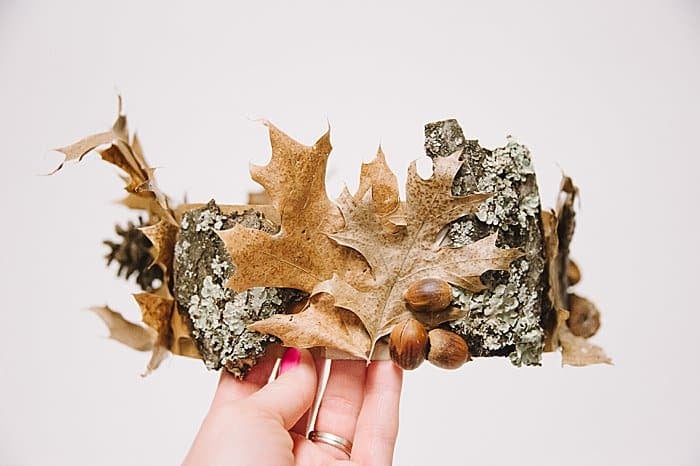 Step 5. Wear the crowns!
Once everything is glued on, the crown is ready to be worn!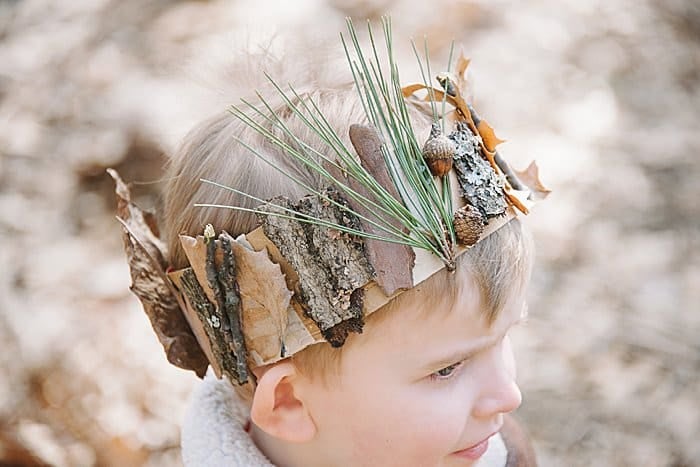 Keep in mind: these crowns are fragile. My son dropped his on the ground and two pieces of bark popped off right away.
But that's to be expected with crafts like this. They're meant to be worn and enjoyed! (And destroyed!)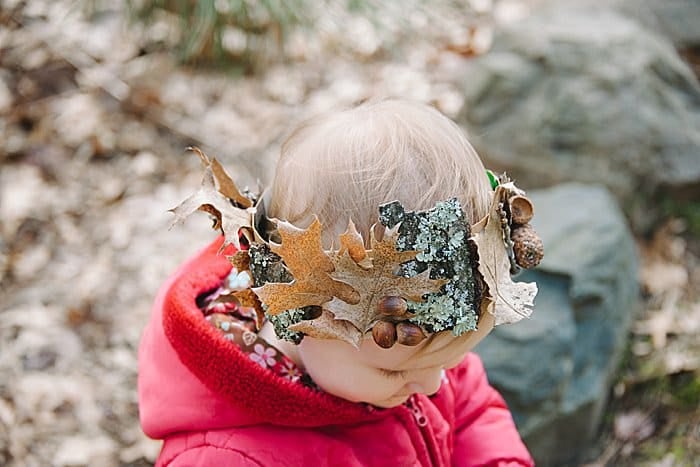 This nature activity for kids is an all around winner!
It lets kids explore outside and collect treasures, it uses recycled materials for the nature crown base, and it gives kids a masterpiece to play with when they're finished.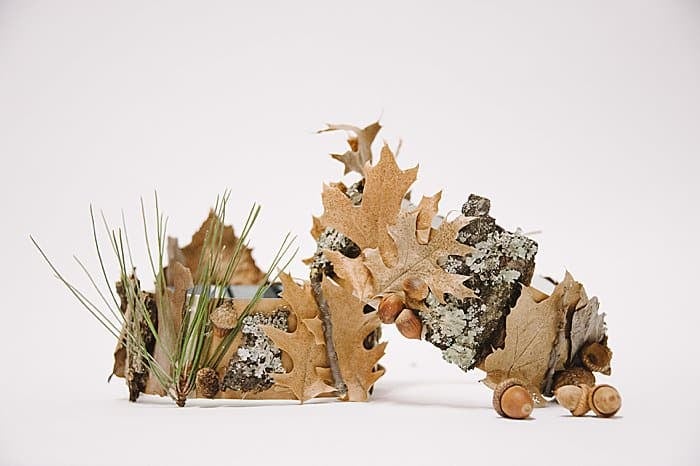 Let those imaginations run wild!
– – –
Save the idea for later by pinning the photo below to Pinterest!