**These posts often contain affiliate links. Please see our disclosure policy for details.**
HERE'S AN IDEA FOR AN EASY NATURE CRAFT FOR KIDS: DIY YARN WRAPPED STICKS! ALL YOU NEED ARE STICKS, YARN AND HOT GLUE; LET YOUR IMAGINATION RUN WILD!
Nature gives us some amazing craft supplies, like pine cones and acorns to name a few.
Whenever I'm outside, I'm always on the lookout for things I could use in craft projects, and I'm always thinking up new projects to make.
Today, we're going to use another item from nature: STICKS!
We're going to use sticks and combine them with yarn and hot glue to make DIY yarn wrapped sticks and awesome magic nature wands!
Here's how to do it!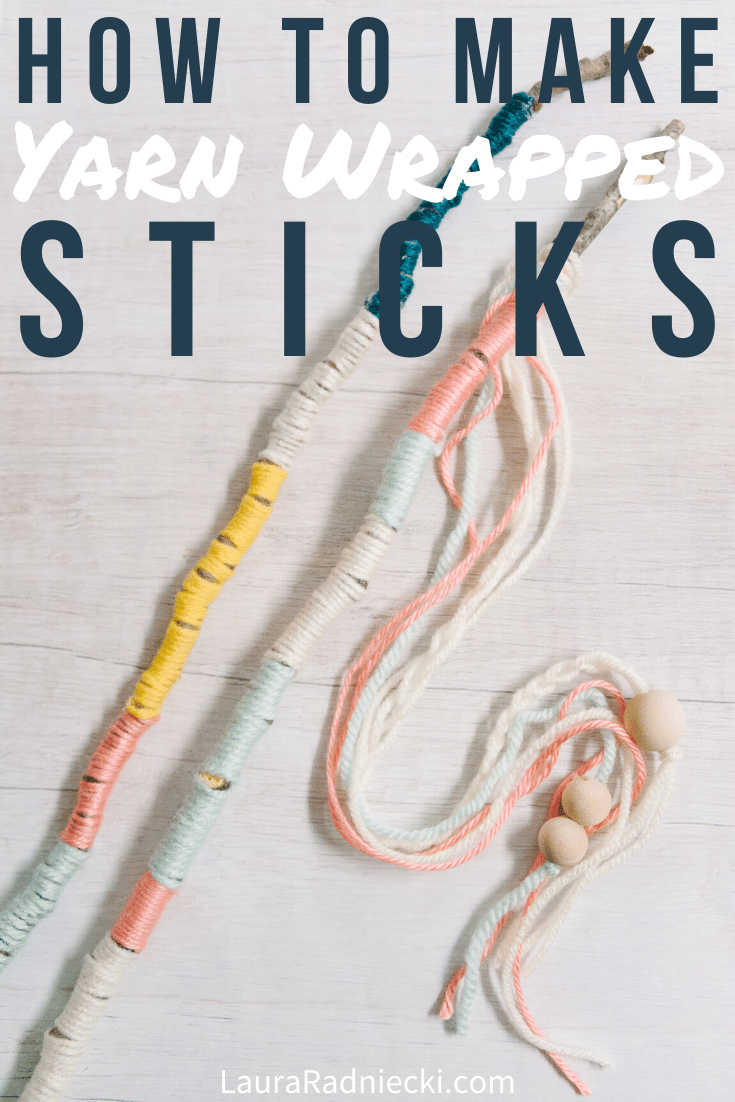 DIY Yarn Wrapped Sticks | Easy Nature Craft for Kids
Step 1. Gather Supplies.
Supplies Needed: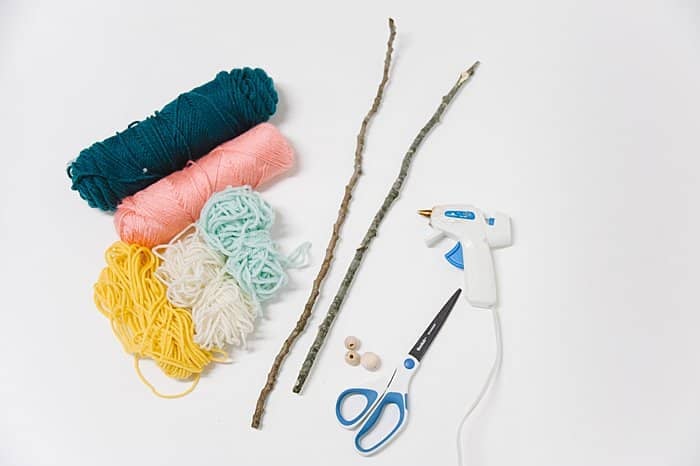 Step 2. Apply hot glue to stick a couple of inches from one end. Begin wrapping first color of yarn.
Starting a few inches from one end of the stick, apply a dab of hot glue.
Add the end of your first color of yarn and hold it into the glue until it dries.
Add more glue along the stick and start wrapping the yarn tightly around the stick.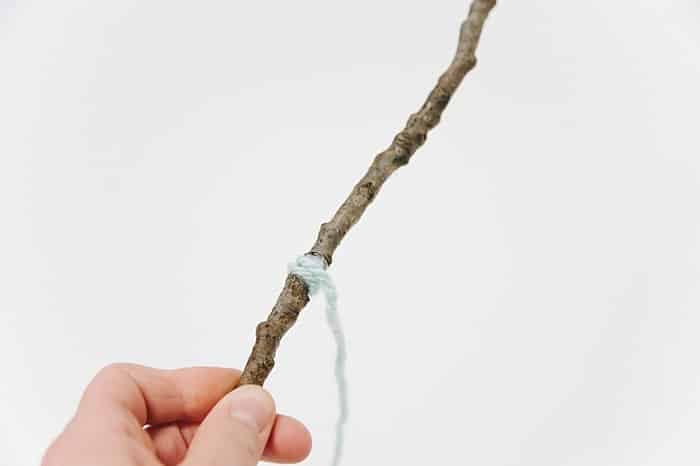 Step 3. Continue gluing and wrapping yarn tightly around the stick, changing colors as desired.
Continue adding hot glue along the stick, and wrapping the yarn tightly around the stick.
You won't be able to prevent gaps completely because the stick isn't perfectly straight or smooth, but try to make your wraps as close together as possible.
Change colors as desired, and continue until the whole stick is covered except for a few inches at the other end.
Secure the end of the yarn in glue and clip any excess.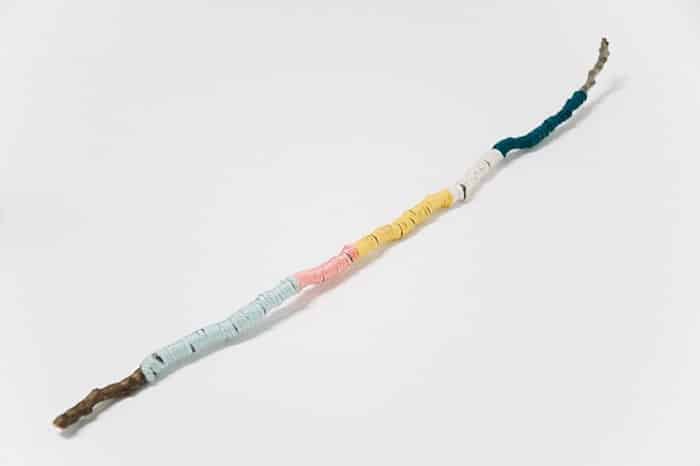 That's it!
You have made a simple DIY yarn wrapped stick!
You can use any colors of yarn and wrap them in any pattern you want.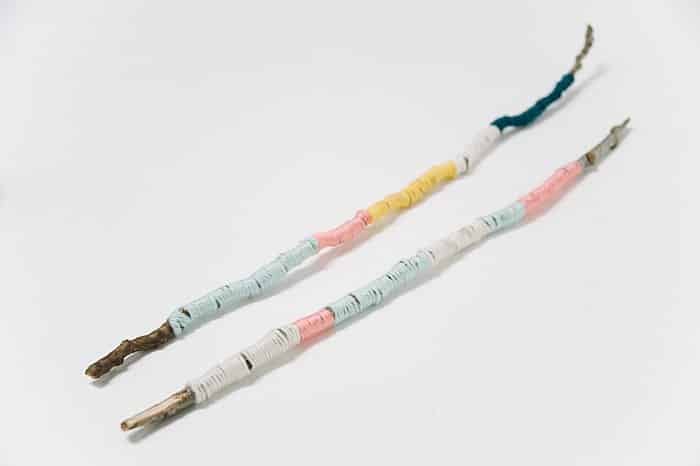 Step 4. Add yarn tails and optional beads to the end of the stick to make a wand.
If you want to take your DIY yarn wrapped stick up a notch and turn it into a magic wand from nature, you can tie some strands of yarn to one end.
I went even further and added a few wooden beads (threaded on using an embroidery needle), knotting them so they stayed in place.
Viola! A magic nature wand using a yarn wrapped stick!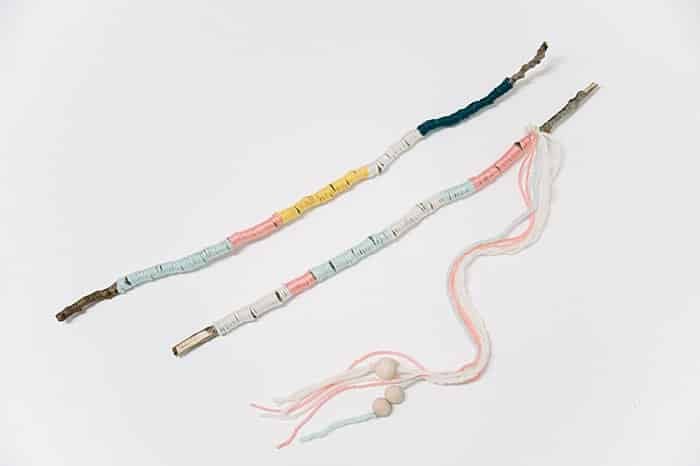 This is a fun craft for kids to do, but the hot glue part can be left to the adults (or older kids.)
Let your kids pick the yarn colors, determine the order to wrap the colors, and add any yarn tails and beads.
They now have magic nature wands that are ready for their imagination!
– – –
Save the idea for later by pinning the photo below to Pinterest!