**These posts often contain affiliate links. Please see our disclosure policy for details.**
FAUX POTTED CACTI ARE TRENDING IN HOME DECOR. LEARN HOW TO MAKE EASY DIY FAUX CACTUS WITH YARN POM POMS!
They say some things are just better when they're tiny, and when it comes to clay pots, I couldn't agree more!
When I saw these mini terracotta clay pots, I had to have them.
I used them to make faux potted plants with paper flowers made from recycled toilet paper rolls, and I love how they turned out.
Today, we're using mini clay pots and pairing them with yarn pom poms to make adorable DIY faux cactus plants!
Here's how we do it!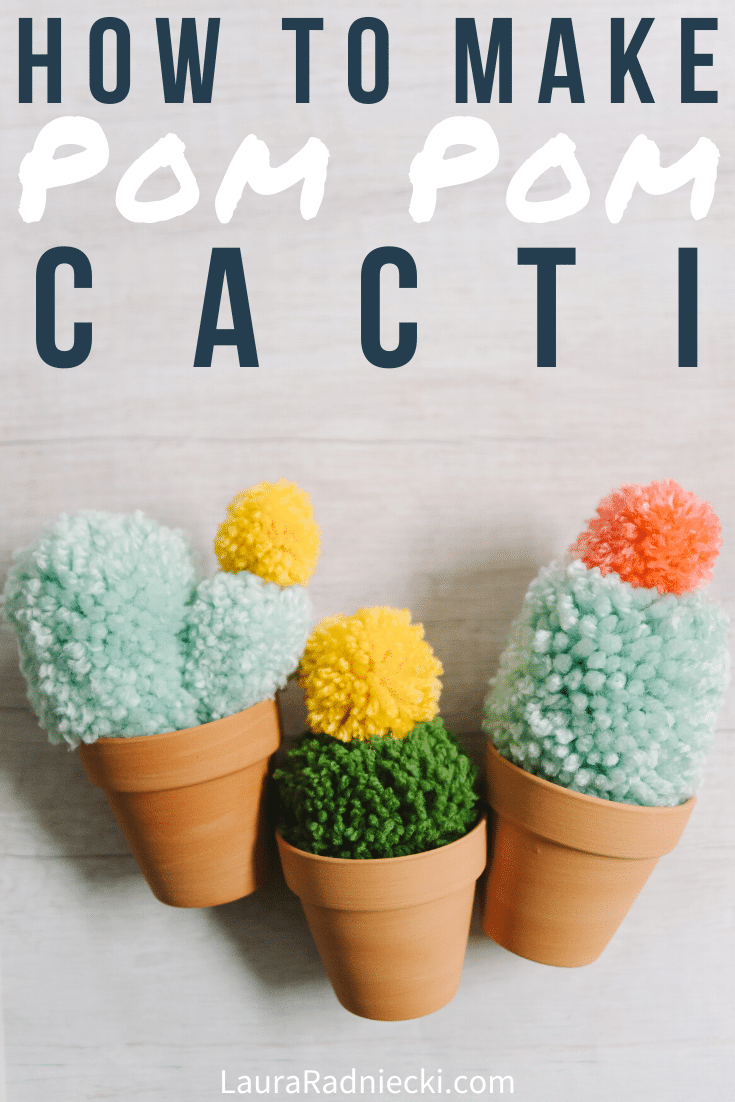 DIY Faux Cactus made with Yarn Pom Poms | Faux Potted Cacti
Step 1. Gather Supplies.
Supplies Needed:
Yarn
Scissors
Hot Glue Gun and Glue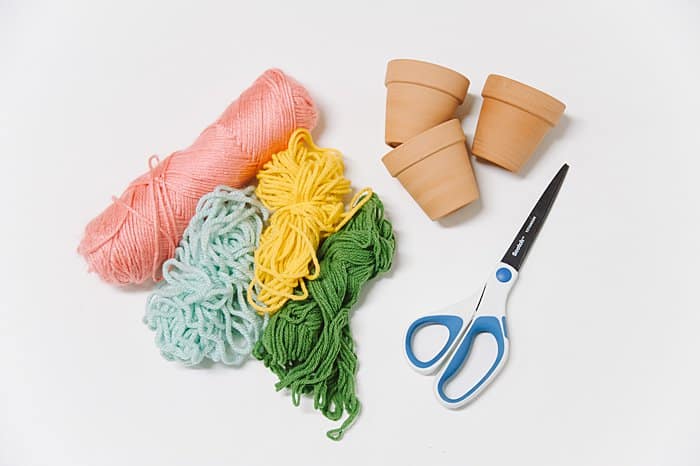 Step 2. Make the pom poms that will make up the cacti.
Using my handmade yarn pom pom tutorial, make pom poms in the colors of your choice.
For the main body of my cacti, I used green yarn and made BIG pom poms (wrapping 200 times on 4 fingers, as the pom pom tutorial describes.)
(The photo below illustrates how yarn thickness impacts how big the pom poms will end up being. The light aqua yarn on the LEFT is much thicker than the army green yarn on the RIGHT. Both bundles are made by wrapping yarn around 4 fingers 200 times.)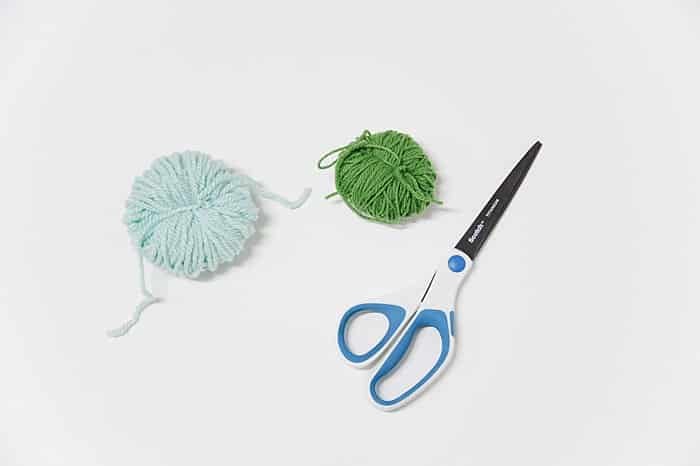 Don't trim them into perfect balls yet.
You can leave the pom poms scraggly for now.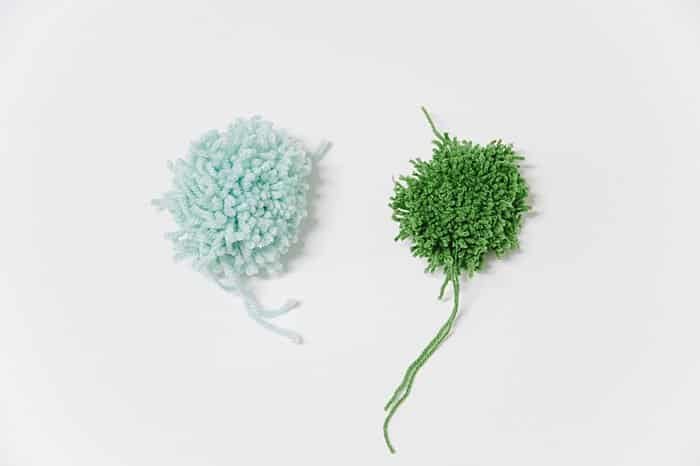 I also made smaller pom poms to use as flowers on top of the cactus plants.
In the photo below, the yellow bundle on the LEFT is a pom pom made using 2 fingers, wrapping 50 times as outlined in my handmade pom pom post.
The yellow bundle on the RIGHT is using the fork method for making pom poms, and wrapping 50 times.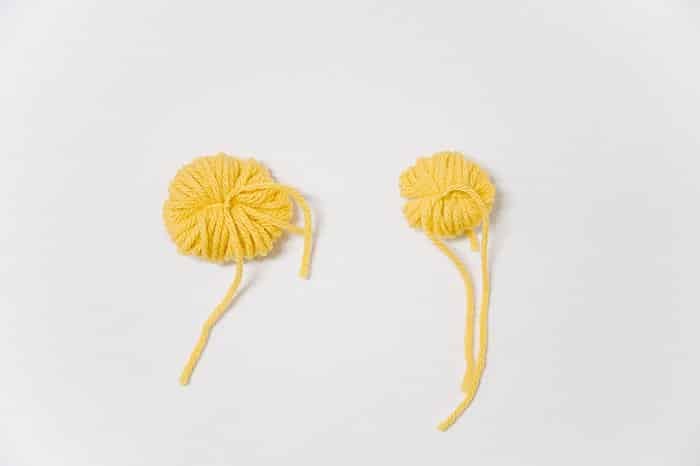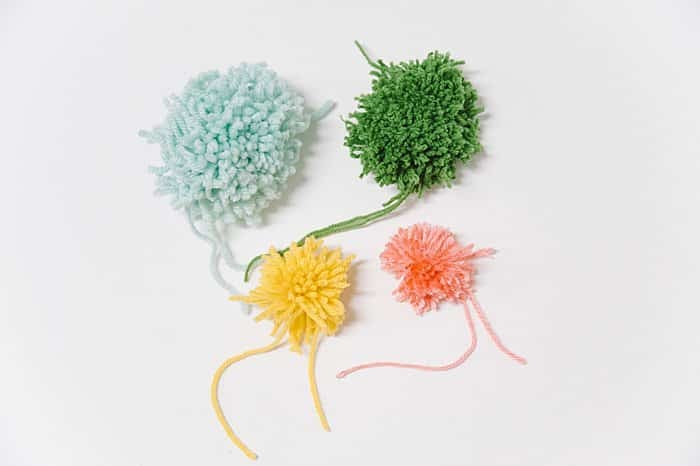 Step 3. Continue making the pom poms you'll use to make up the cacti.
I decided to also try a cactus that would require two big pom poms to make it.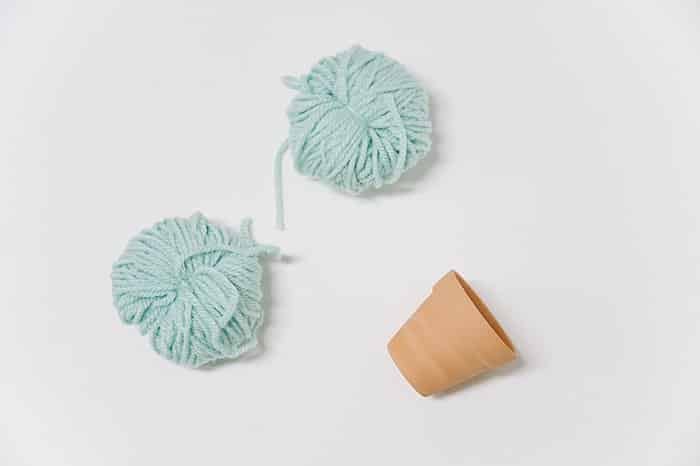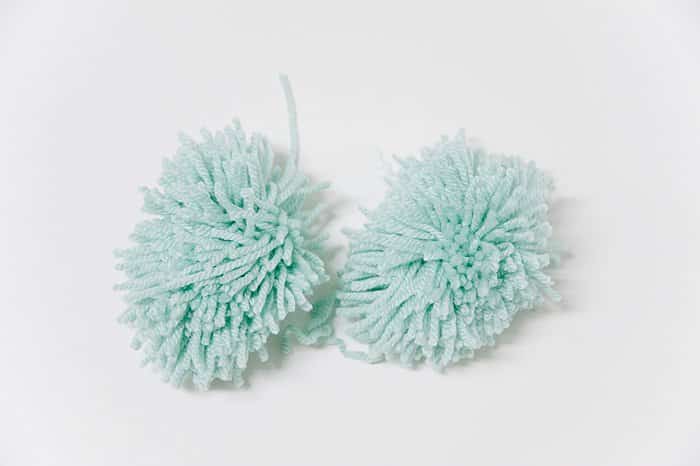 Step 4. Tentatively assemble potted cactus plants, trimming as you go.
Start with one cactus and put the body pom pom into a pot.
You can begin to trim it into it's desired shape, watching it transform as you go.
Add the "flower" poms too, to get an idea of what they'll look like when they're done.
Do NOT glue yet; this is just the testing step.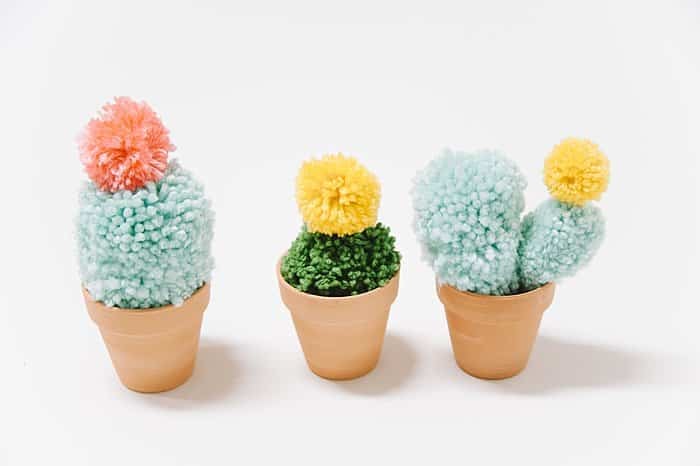 Step 5. Once they are trimmed and ready to go, glue pom poms into pots and "flowers" onto cacti.
Once everything is trimmed and ready to go, add hot glue to the inside of the clay pot.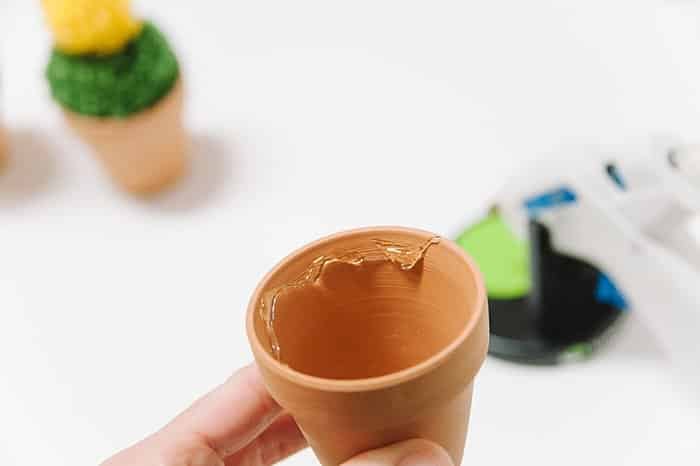 Insert the pom pom and hold it in place while the glue dries.
If you are doing a two-bundle cactus like the one pictures below, glue a second pom pom section in.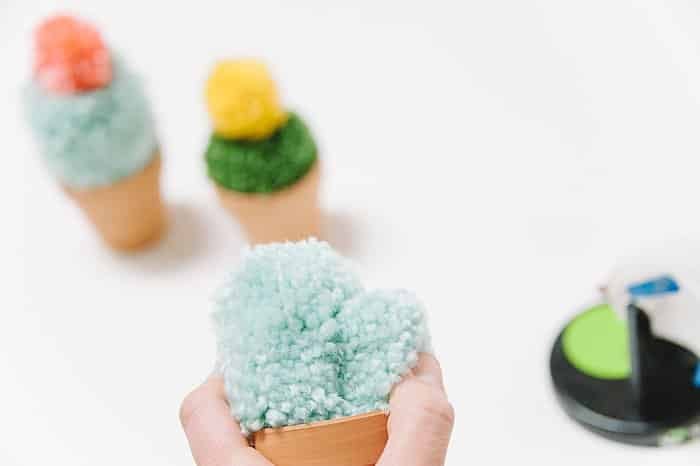 Once the main section(s) of cacti are glued into the pots, hot glue the flowers onto the top of the cacti.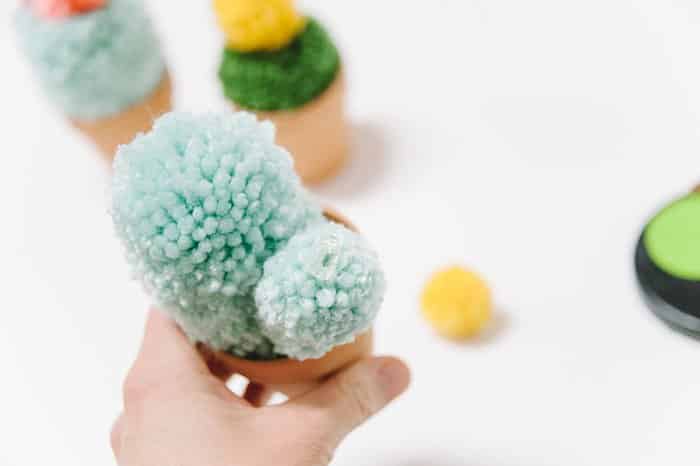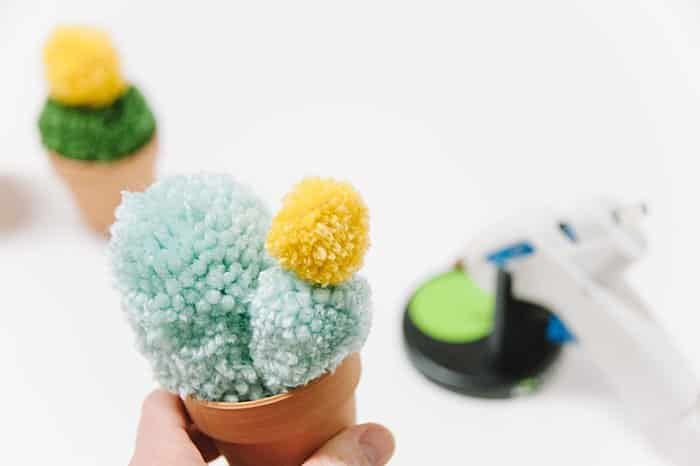 Wait until the glue dries, and give the poms a gentle pull.
Add more glue to secure if necessary.
Step 6. Inspect and trim any rogue pieces.
Once you've hot glued all of the cactus sections into their clay pots and added all of the smaller "flower" pom poms to the top of the cacti, you can see if anything needs to be trimmed one last time.
Finish any last minute trims and you are DONE!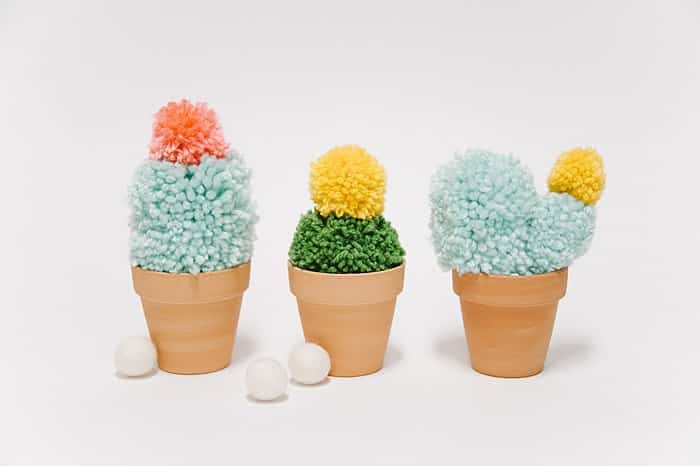 These tiny little clay pots are so cute, I had to have them when I saw them.
I used them to make faux potted flowers with paper flowers made from toilet paper rolls, and they were a huge hit.
Since we're on a yarn pom pom craze right now, it's only fitting that we try to figure out a fun project that uses yarn pom poms and these little clay pots.
What better than to turn them into faux cacti; they're trendy, happy, and oh so cute!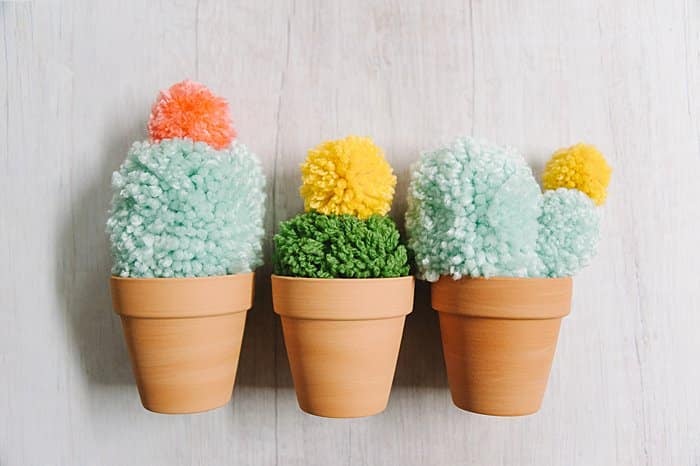 – – –
Save the idea for later by pinning the photo below to Pinterest!