**These posts often contain affiliate links. Please see our disclosure policy for details.**
FIND OUT WHAT IS THE BEST YARN FOR MAKING DIY POM POMS WITH THIS LOOK AT YARN VARIATIONS AND THE RESULTING POM POMS THEY MAKE.
Making pom poms by hand is quick and easy; you can determine how big or small to make them by changing how many fingers you use and how many times you wrap the yarn.
Pom poms are great to use in garlands, pom pom hair accessories, faux flowers, and more.
Today, we're taking a look at different types of yarn, and the pom poms that each of them make.
Let's get to it!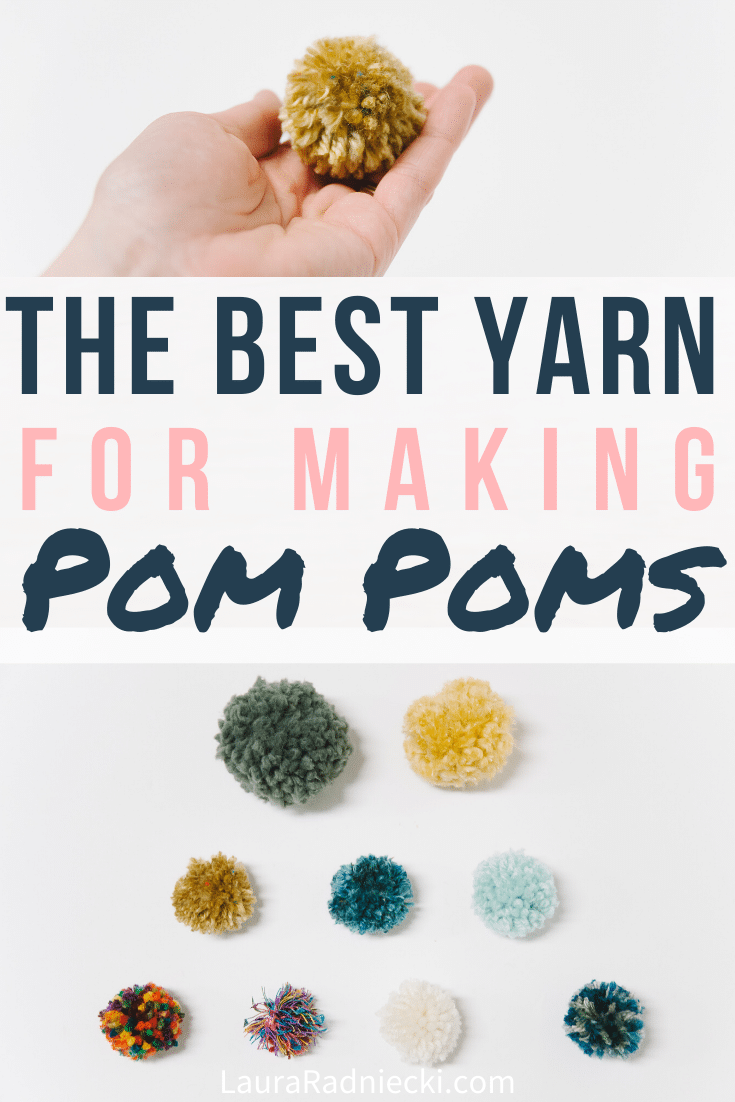 HOW TO MAKE POM POMS:
Use the handmade yarn pom pom method I explain in detail here. For all of the pom poms in this post, I use two fingers and wrap the yarn 50 times. That way, we can see the difference in pom pom size depending on the type of yarn we use.
The yellow pom pom in the photo below is made with average, inexpensive, medium-weight yarn. This is my favorite type of yarn to use in all of my pom pom projects because it's cheap, durable, and comes in many different colors.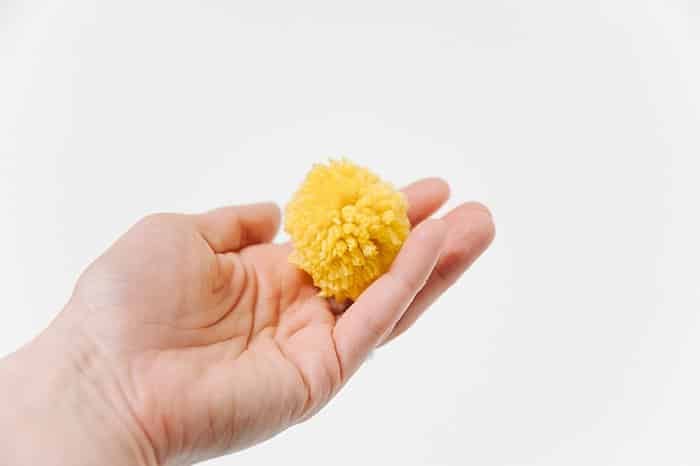 What is the Best Yarn for Making DIY Pom Poms?
Step 1. Gather Supplies.
Supplies Needed: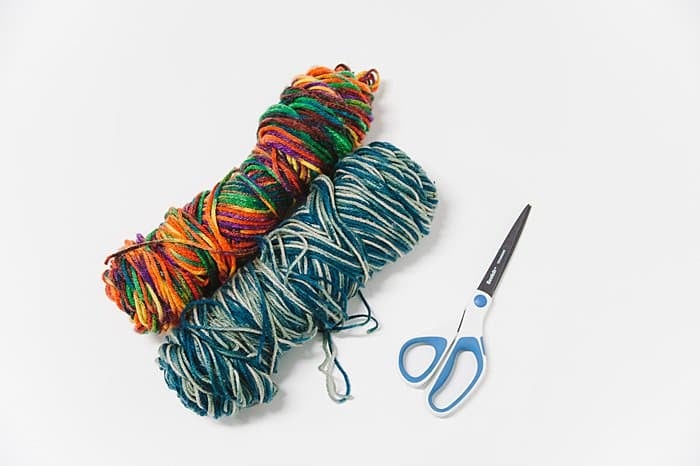 MULTI-COLORED YARN:
This multi-colored yarn is medium-weight, and makes pom poms that are similar to the yellow one pictured above.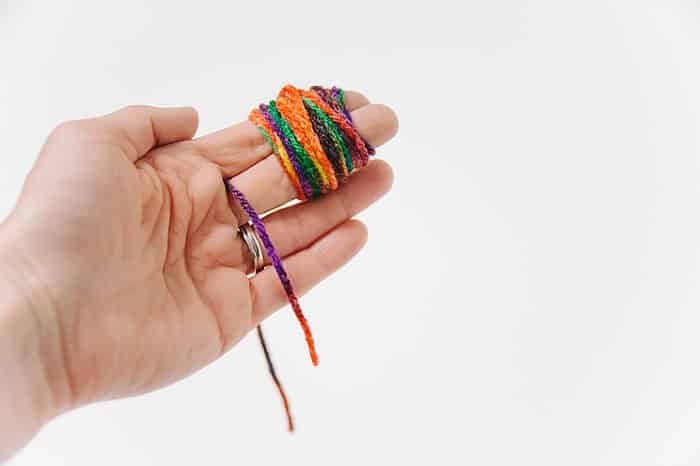 The yarn is multi-colored, so it makes a pom pom that is multi-colored as well.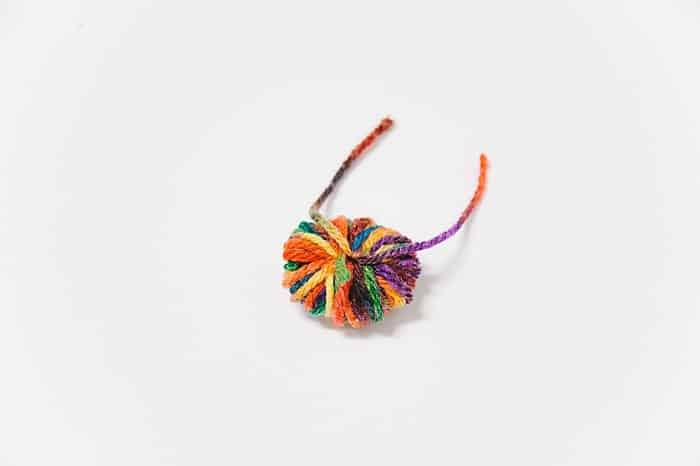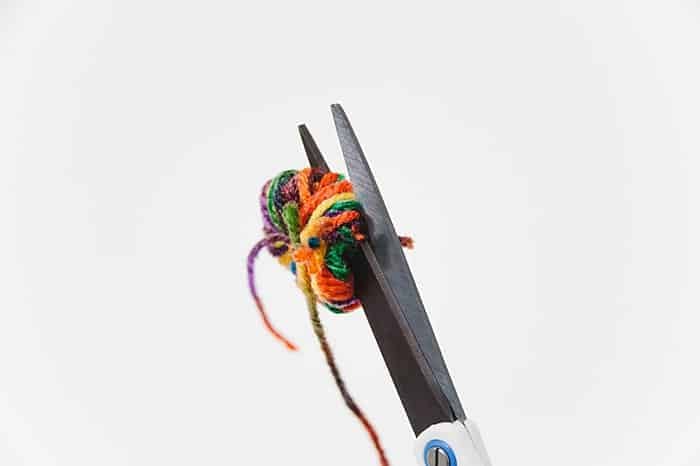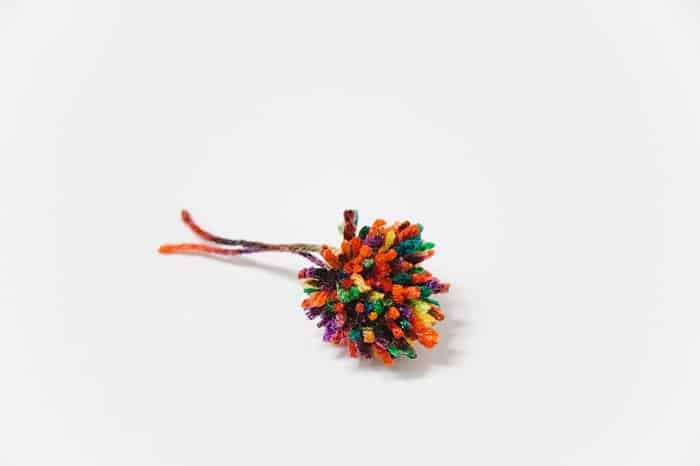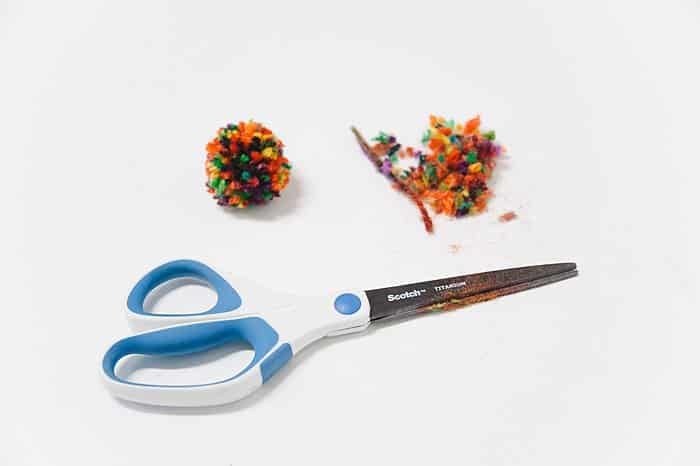 This type of yarn makes awesome pom poms that look like they're made with a bunch of different colors of yarn.
Here's another pom pom using multi-colored yarn; this time with a more monochromatic color scheme.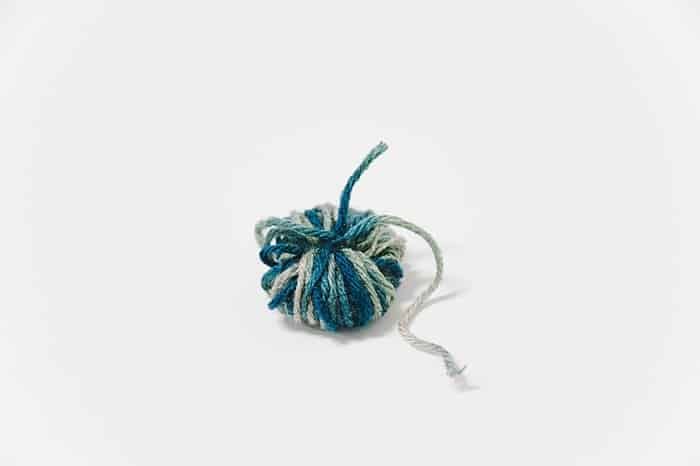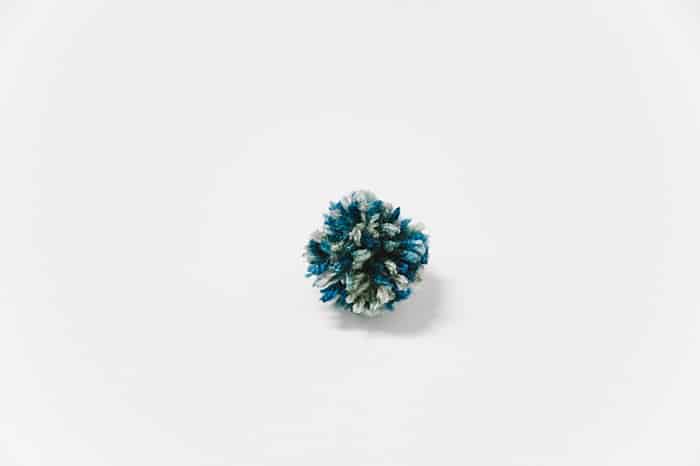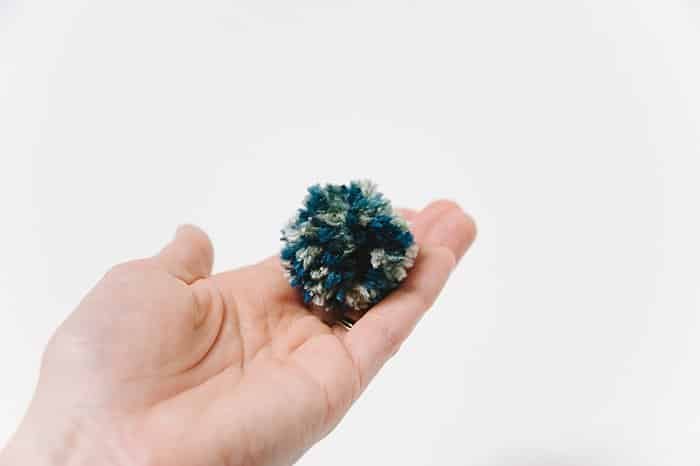 YARN WITH COLOR FLECKS:
This yarn is single-colored but it has flecks of other colors in it.
It's medium-weight yarn that is slightly more fluffy and soft than my standard yarn choice.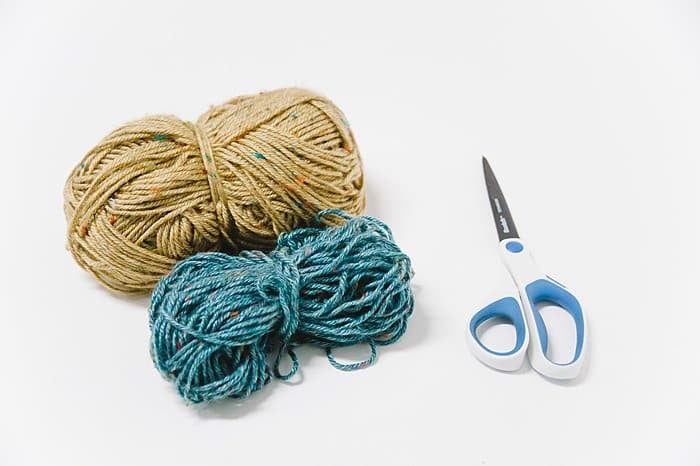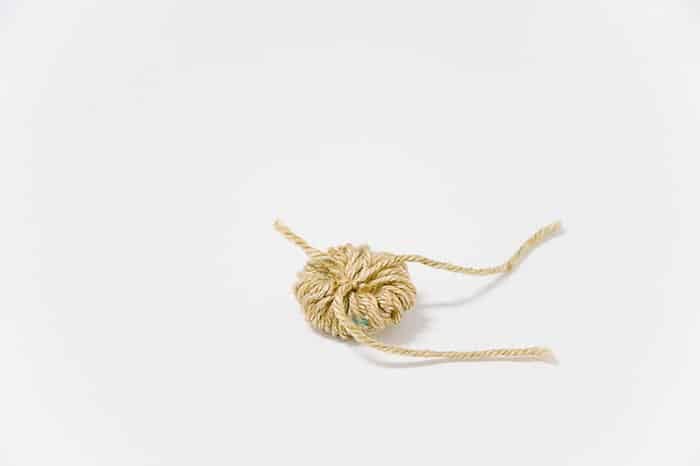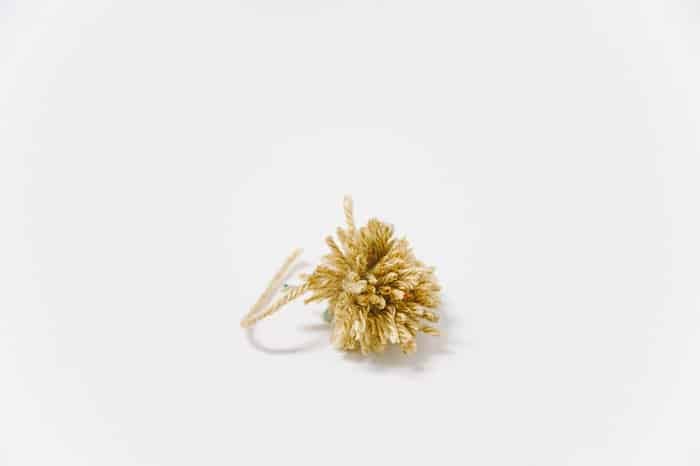 It makes nice pom poms that have interesting color flecks in them.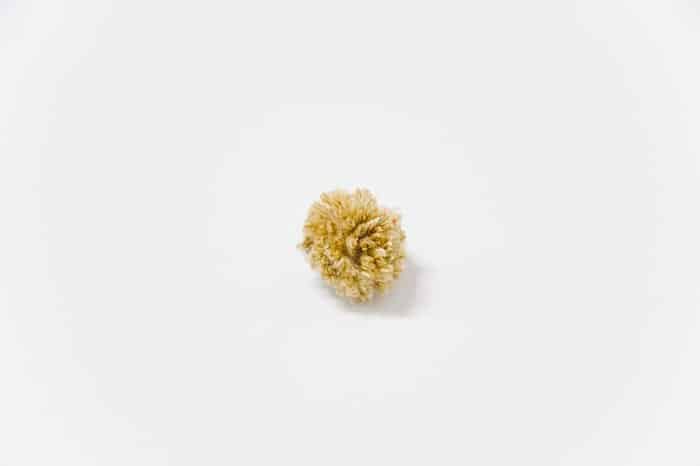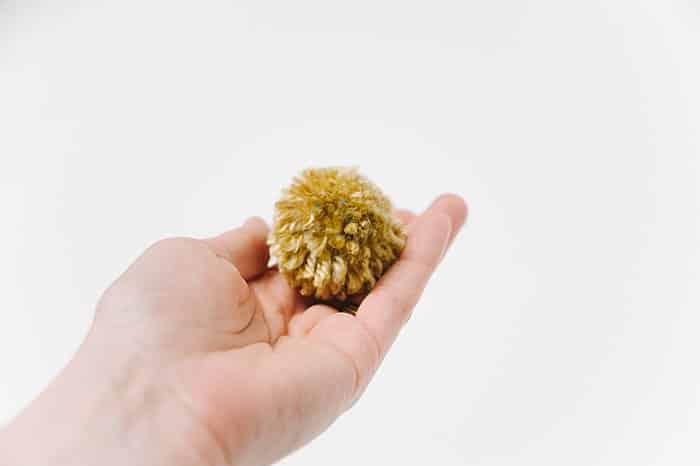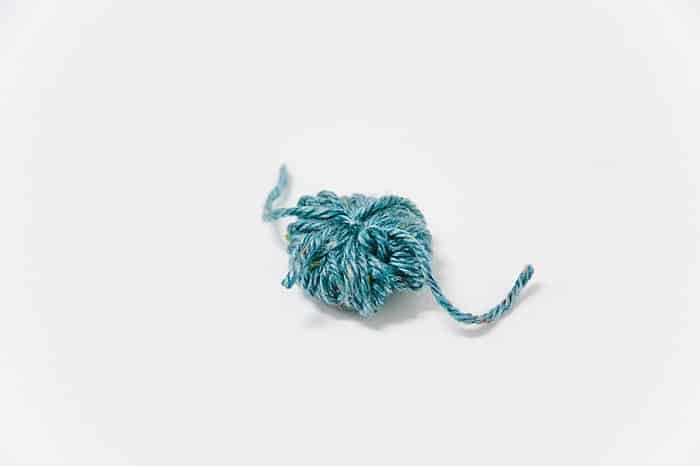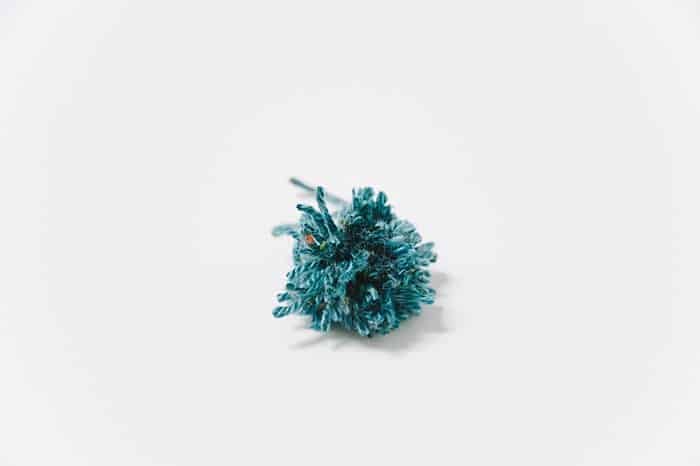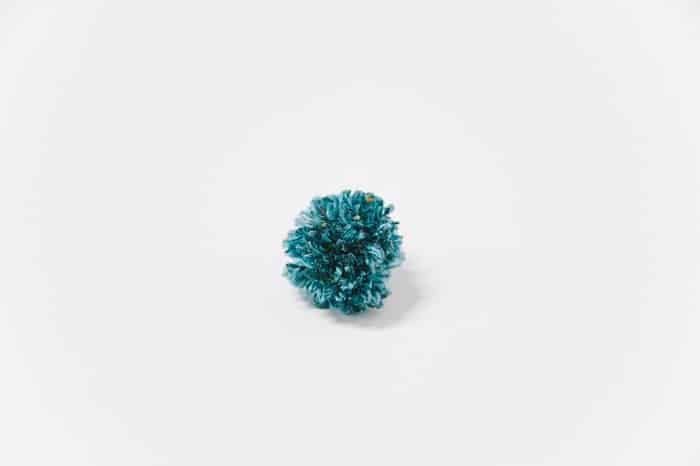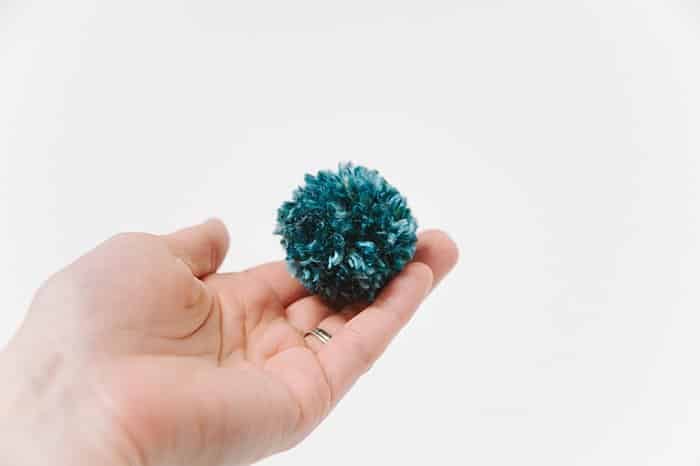 ZIG-ZAG FLUFFY YARN:
Next, I wanted to test what kind of pom pom I could make with this thick, fluffy zig-zag yarn.
I made a scarf with this yarn a long time ago, and had some left over.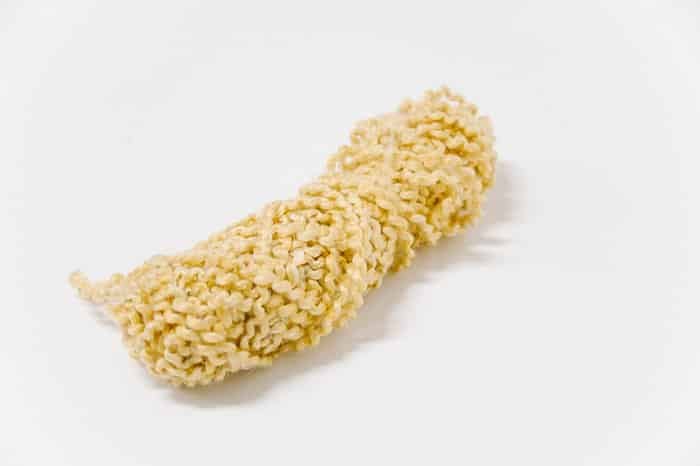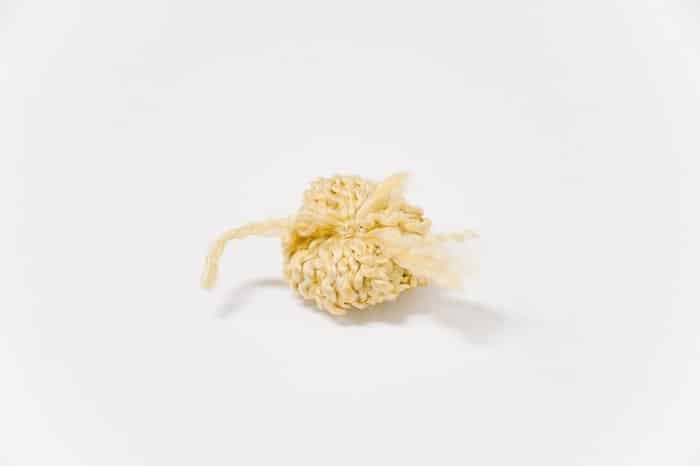 The yarn is very fluffy. As soon as I cut the loops free, it started to get fuzzy.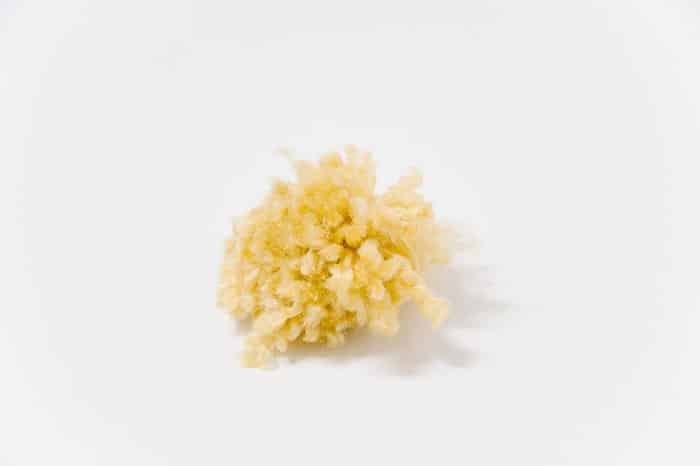 It made a very fuzzy pom pom that shed a lot.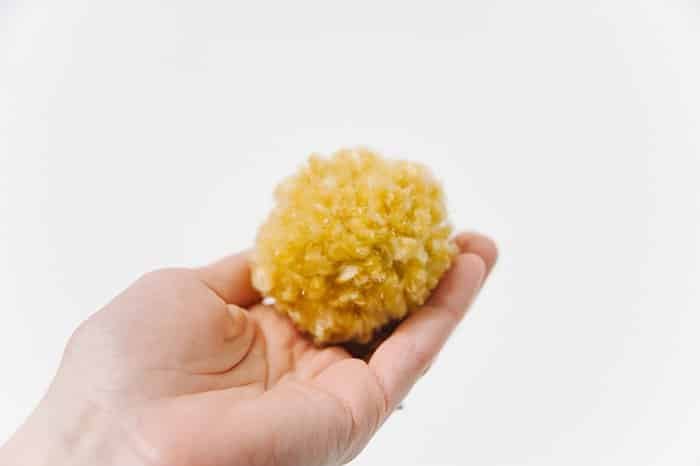 The yarn is thick, so even though I wrapped the same 50 times using two fingers (just like I did for the pom poms above), the resulting pom pom is much larger.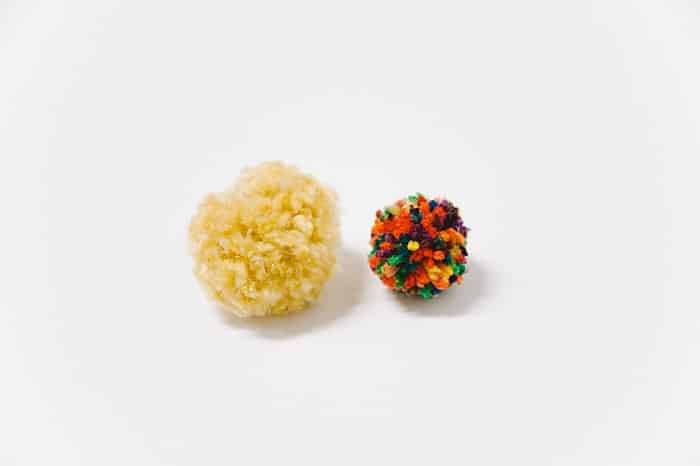 THICK, CHUNKY YARN:
Next, I wanted to use the thickest yarn I had.
This gray yarn is even thicker than the zig-zag yellow yarn.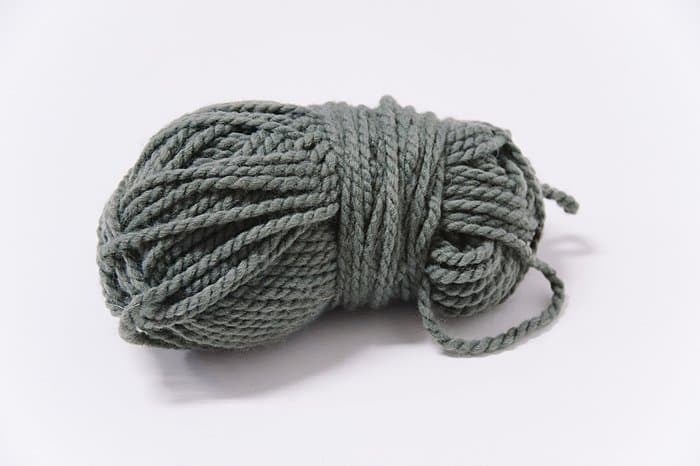 I wrapped the same 50 times around my two fingers but I could immediately tell the difference in thickness.
The bundle almost slipped off of my fingers as I was tying it.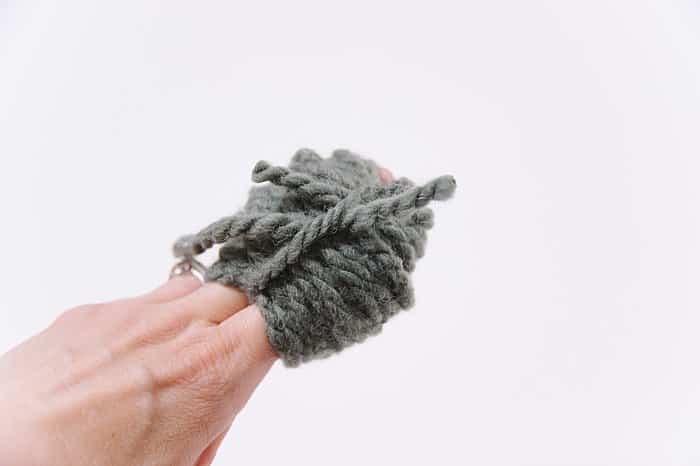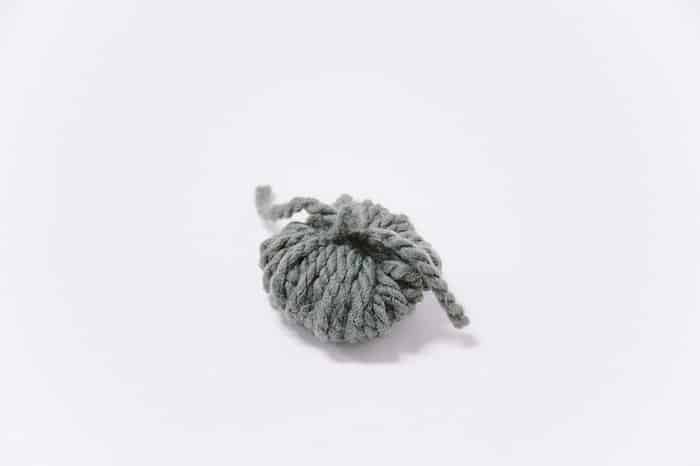 The yarn was so thick and fuzzy at the ends, it made it difficult to trim into a perfect ball.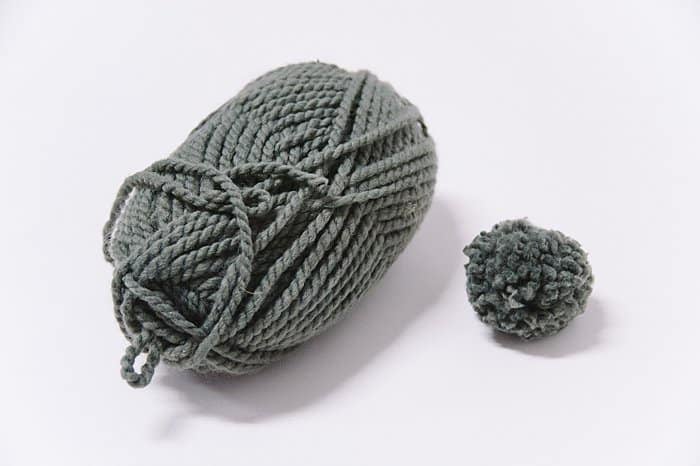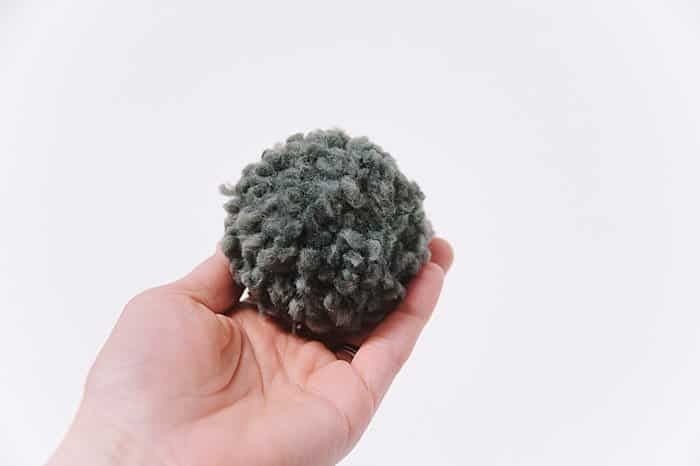 The photo below shows the size difference in pom poms, depending on the type of yarn used.
All three pom poms were made using two fingers and wrapping the yarn 50 times.
The left is medium-weight yarn, the middle is the fluffy zig-zag yarn, and the right is very thick yarn.
All wrapped 50 times using two fingers.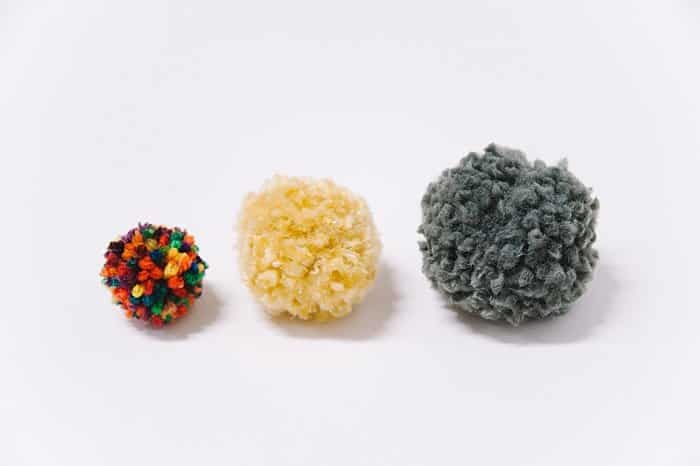 The photo below shows the 50-wrap-two-finger thick gray yarn pom pom next to a 200-wrap-four-finger medium-weight blue yarn pom pom.
The thickness of the yarn makes a HUGE difference!
LEFT: 50-wrap-two-finger thick gray yarn pom pom. RIGHT: 200-wrap-four-finger medium-weight blue yarn pom pom.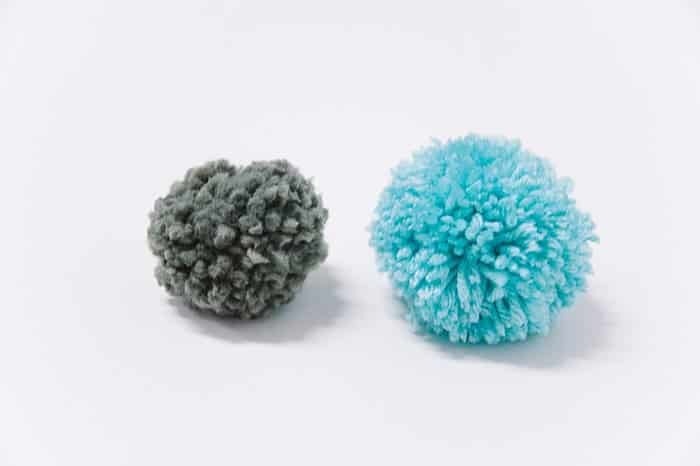 DECORATIVE YARN:
Lastly, I wanted to see what type of pom pom I could make with decorative yarn.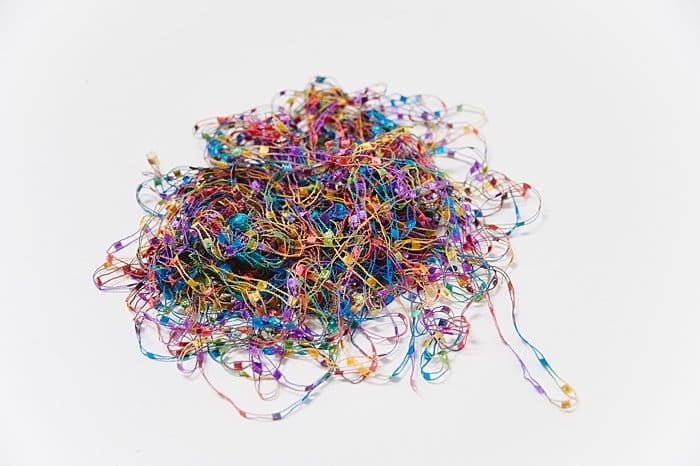 I followed the same method of wrapping, tying the bundle, and cutting the loops.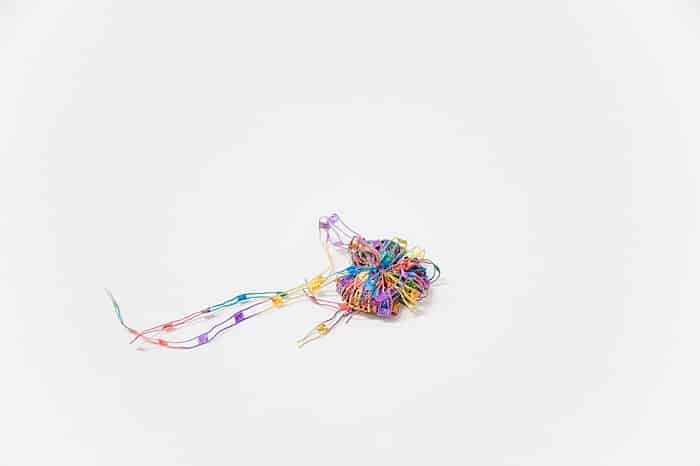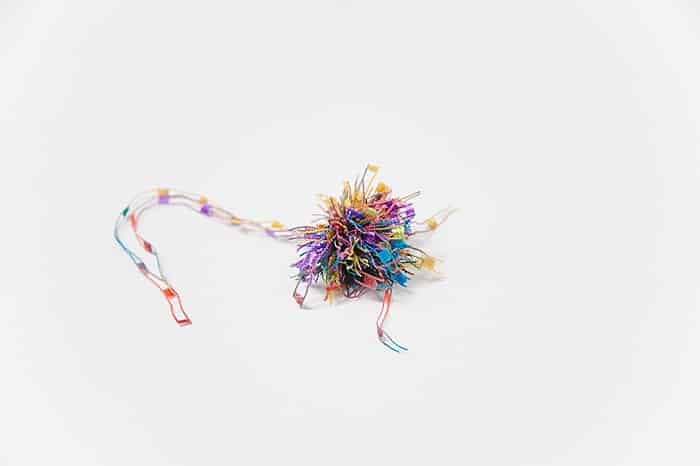 And then trimming the pom pom to make it into a ball shape.
But this yarn did not make a very good pom pom.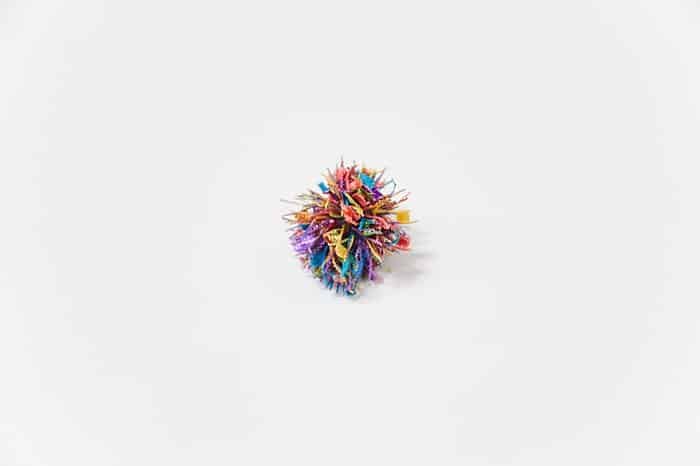 It was less ball shaped and more like just a clump.
Different decorative yarns might work better but in this case, it was a pom pom fail.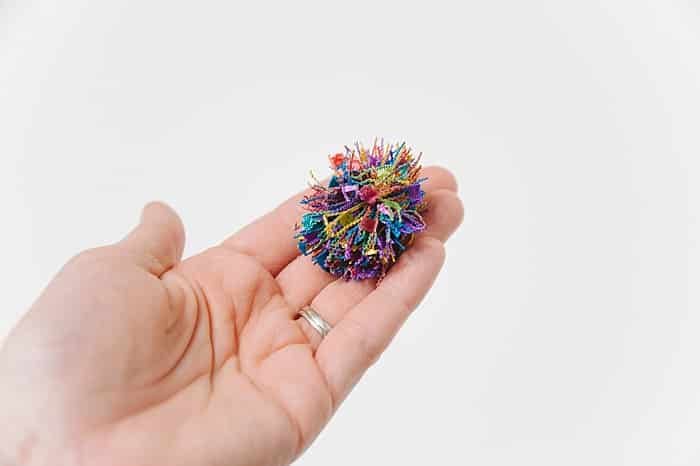 The type of yarn used to make a pom pom has a big impact on what the pom pom will look like.
Medium-weight yarn is my favorite and makes the best looking pom poms. Bonus: it's usually the cheapest too!
You can make pom poms with thick yarn as well; you'll just end up with bigger poms because of the thicker yarn.
By carefully choosing your yarn type and altering the way you make the poms, you can control how big (or small) the pom poms will be.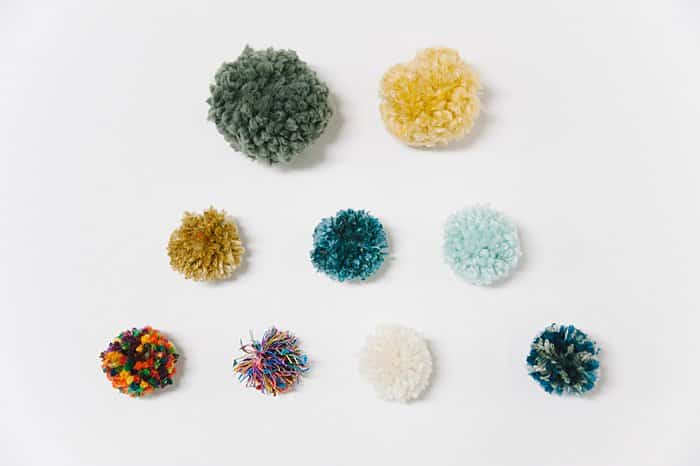 – – –
Save the idea for later by pinning the photo below to Pinterest!