**These posts often contain affiliate links. Please see our disclosure policy for details.**
LEARN HOW TO MAKE A SUPER CUTE ICE CREAM POM POM GARLAND USING YARN POM POMS AND CONES MADE FROM RECYCLED TOILET PAPER ROLLS!
Toilet paper crafts are fun, easy, and use a supply we all have tons of at home.
By combining toilet paper rolls with some craft room staples like scissors, hot glue, and yarn, we've been able to make some fantastic, fun toilet paper crafts like pom pom ice cream cones!
Today, we're going to string the yarn pom pom ice cream cones (with cones made from toilet paper tubes!) onto fishing line to make a cute ice cream pom pom garland!
(Mine is hanging in my house right now!)
You're going to love it!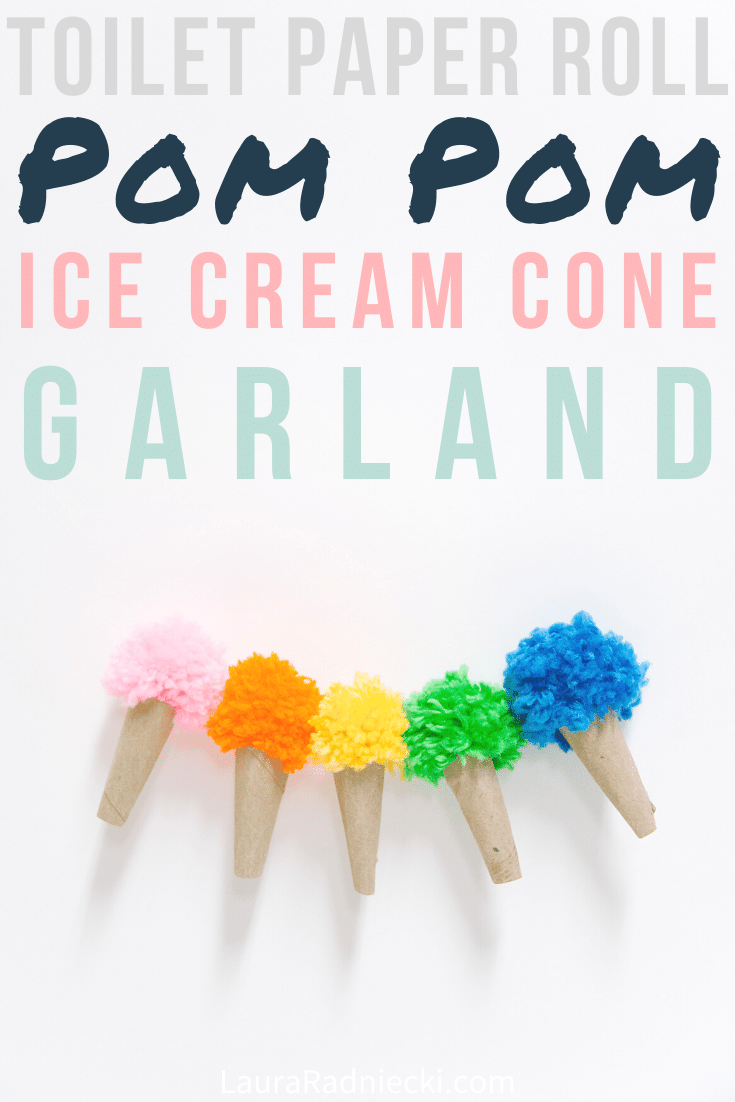 Ice Cream Pom Pom Garland Made with Yarn and Toilet Paper Rolls
Step 1. Gather Supplies.
Supplies Needed: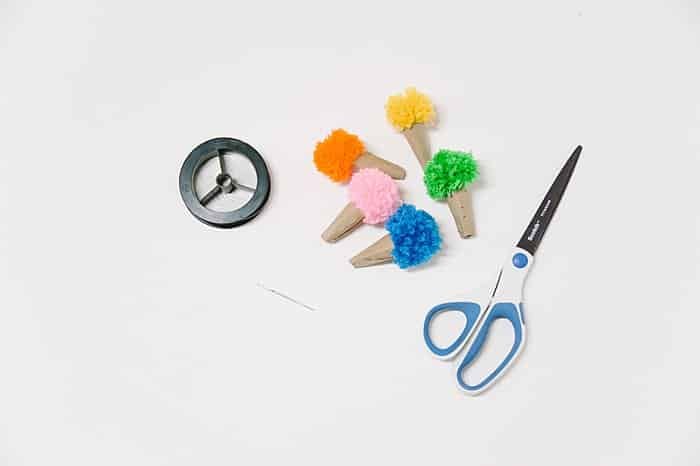 Step 2. Determine how long you want your garland and cut fishing line to length.
First, figure out how big of a garland you want to make.
Then cut a section of fishing line that is a little bit longer, with room to tie loops at both ends.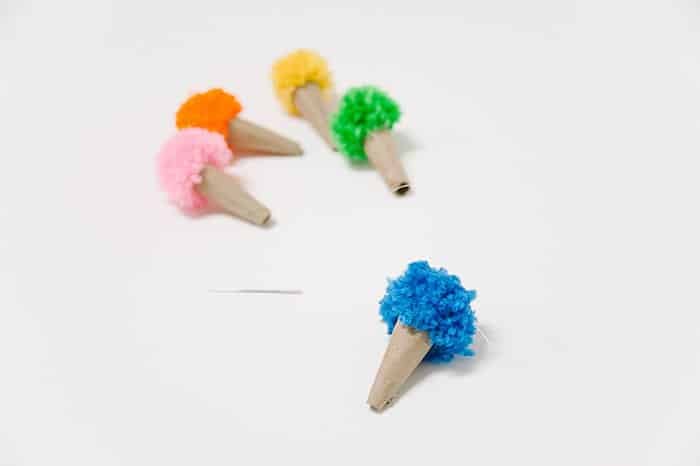 Step 3. Thread needle with fishing line, and string the pom pom cones onto fishing line one by one.
Thread your embroidery needle with the fishing line.
Determine the order you want the ice cream cones to be in, and thread them onto the needle and fishing line one by one.
Stick the needle into the center of each yarn pom pom top and feed it through.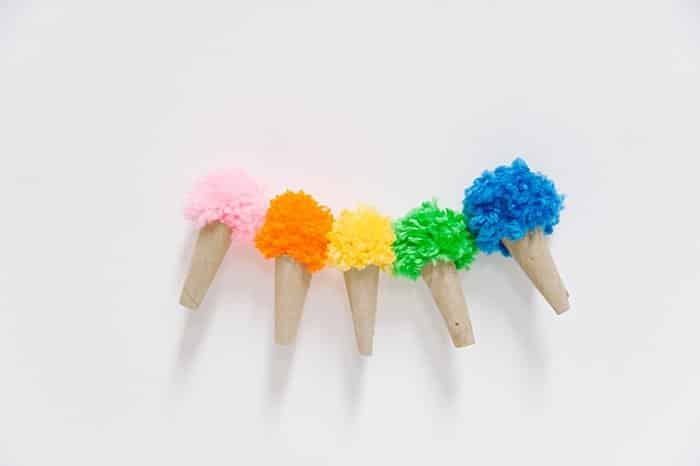 Step 4. Tie loops at each end of the garland, hang, determine desired spacing of cones, and enjoy!
Tie loops in each end of the fishing line for easy hanging.
Hang up your garland and determine how far apart you want the ice cream cones.
You can easily move them around to test out different spacing options.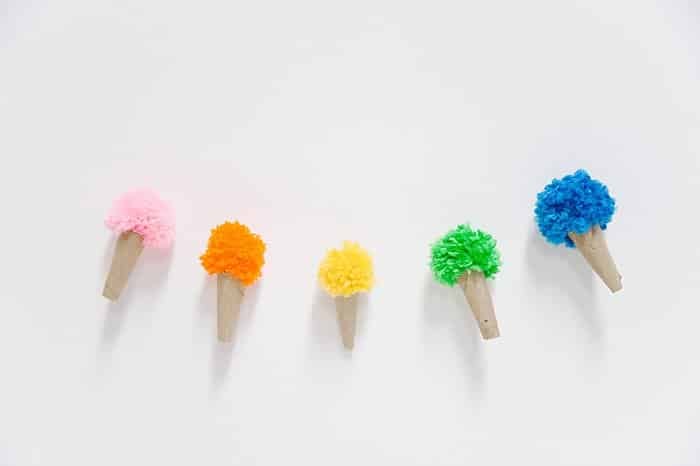 When you've found what you like best, you're done!
You can make a rainbow ice cream cone garland like I did, or choose different colored yarn for your ice cream pom poms.
The ice cream cones can even be made double (or triple!) decker, by hot gluing two or three pom poms on top of each other to add more variety.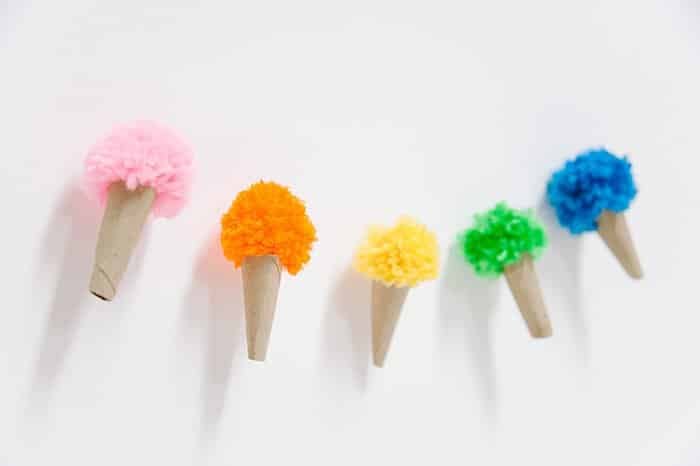 Everything is better turned into a garland. (We LOVE garlands around here.)
We've made everything from a book page banner to tassel garlands, felt ball garlands and more.
Today, we threaded pom pom ice cream cones into fishing line to create one of my favorite garlands yet: an ice cream pompom garland.
And the best part?
It's made with yarn (one of the most common craft supplies ever) and recycled toilet paper rolls (something all of us have in abundance.)
Could this cute garland craft get any easier?!
– – –
Save the idea for later by pinning the photo below to Pinterest!