**These posts often contain affiliate links. Please see our disclosure policy for details.**
LEARN HOW TO MAKE FAUX POTTED FLOWERS USING DIY PAPER FLOWERS MADE FROM RECYCLED TOILET PAPER ROLLS!
Toilet paper rolls are a craft supply we all have in abundance, so why not make things with them?!
We've been exploring toilet paper roll crafts, and most recently created three versions of DIY paper flowers made with recycled toilet paper tubes.
Now, we will be combining them with real sticks and mini pots to create the sweetest little faux potted flowers.
No one will believe they're made from recycled toilet paper rolls!
Here's how we do it!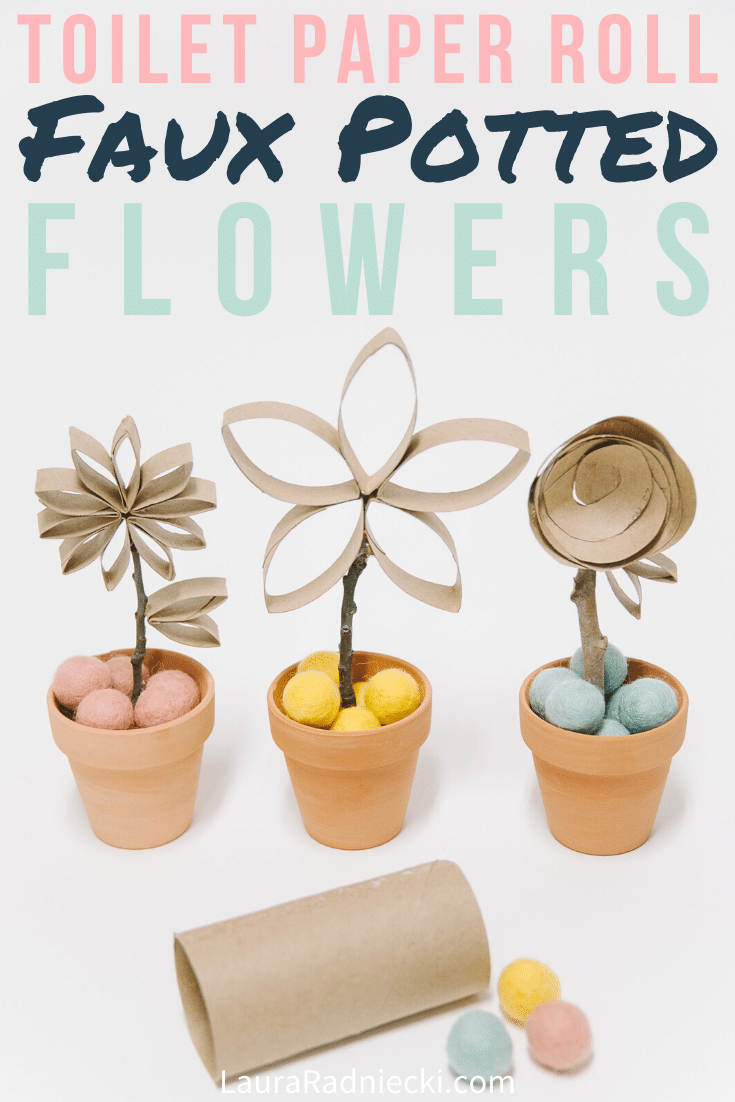 Faux Potted Flowers Made From Recycled Toilet Paper Rolls
Step 1. Gather Supplies.
Supplies Needed:
DIY Paper Flowers (made out of recycled toilet paper rolls)
Sticks
Hot Glue Gun and Glue
Mini Terracotta Pots (I used 2″ clay pots.)
Felt Balls, Small Rocks etc.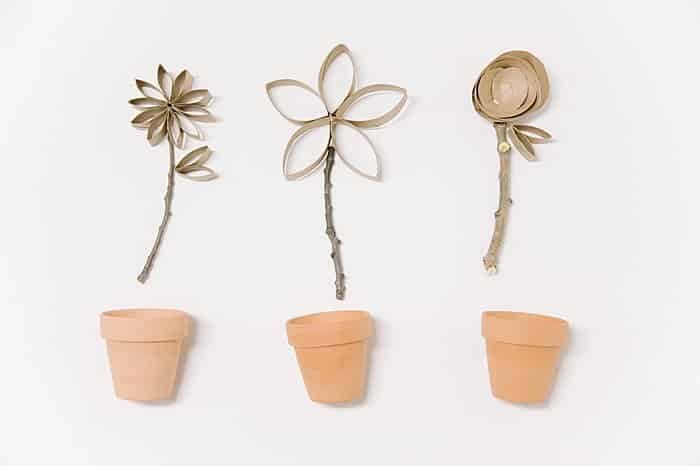 Step 2. Hot glue paper flowers onto tops of small sticks to make "stems."
Use hot glue to attach paper flowers to the top of small sticks.
Hold firmly in place while the glue dries completely.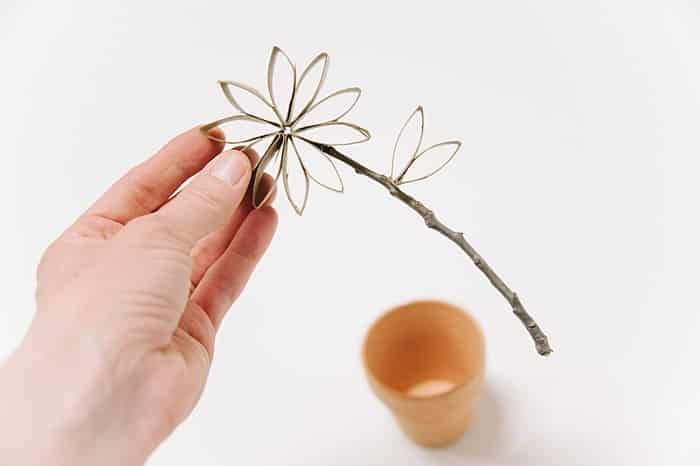 Step 3. Hot glue double-leaves onto sticks as "leaves."
Determine where you want to attach the leaves.
Either onto the flower base like I did with the rosette or on the stem as with the mini petal flower.
Hold firmly in place until glue dries completely.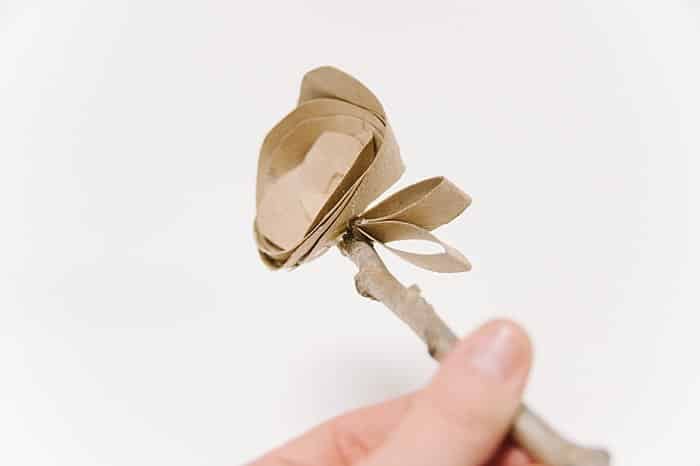 Step 4. Hot glue the base of the stick into bottom of a mini clay pot.
Determine where the stick needs to be glued into the base of the pot so that the flower stands upright.
If your stick is straight, you can glue it in the center of the bottom of the pot.
If your stick isn't straight (like the photo below), you might need to glue it off center in order for your flower to stand upright.
Hot glue the stick to the base of the clay pot; let dry.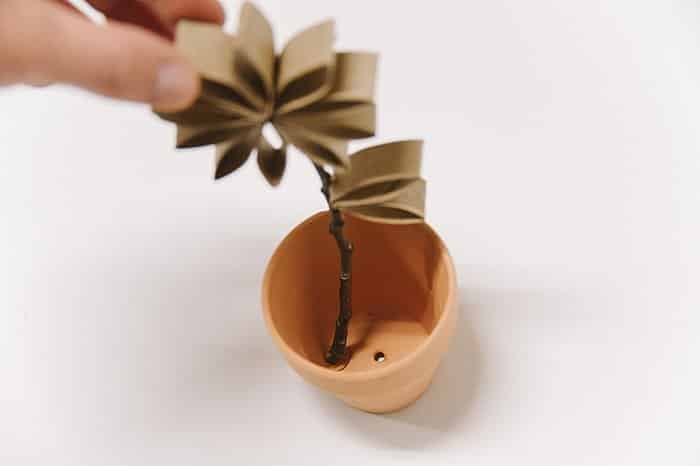 Step 5. Fill clay pots with felt balls, small rocks etc.
You can leave the pot empty if you want.
Or fill it up with colorful felt balls (my preference!), small rocks etc.
You could even make a fun juxtaposition by adding real dirt to the pots.
Step 6. Display or give them as gifts!
That's it! Once you're done with that, the faux potted flowers are ready to go!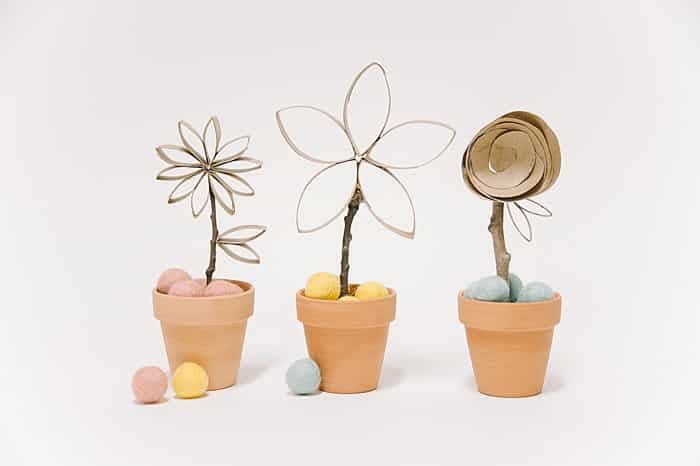 Whether you give these faux potted flowers as gifts to the women in your life for Mother's Day, or keep them for yourself, they are a guaranteed hit.
They are rustic chic, and the perfect blend of sweet and natural.
They will be a spring favorite, for sure.
– – –
Save the idea for later by pinning the photo below to Pinterest!