**These posts often contain affiliate links. Please see our disclosure policy for details.**
A tutorial showing how to make a baby bib. Included are photos and instructions on how to sew a DIY baby food bib and a how to make a bandana drool bib.

I was visiting my sister before Christmas and during breakfast, my niece had on a super cute bib with a fun printed front.
I took a closer look at the bib and it appeared to be handmade, probably bought for my sister at a craft fair. I figured I could probably make one too, so I decided to try to make a few for our boy!
Using hers as a pattern, I traced it on a piece of paper before coming home.
There are lots of tutorials online that include free printable patterns you can use. If you have a bib that you love, you can also use that as a template and model your new bibs off of the shape of that one like I did with Leighton's.
Let's walk through the basic steps of how to make a simple baby bib!
I'll show step by step instructions on how I made the regular bibs, and then show a couple of photos of the drool bandana bibs I made, as well as link to a tutorial where you can find a pattern for making those as well.
– – – – –
Looking for a comprehensive baby bib guide and bib pattern? Check out THE UNBEATABLE BABY BIB in the Laura Radniecki SHOP!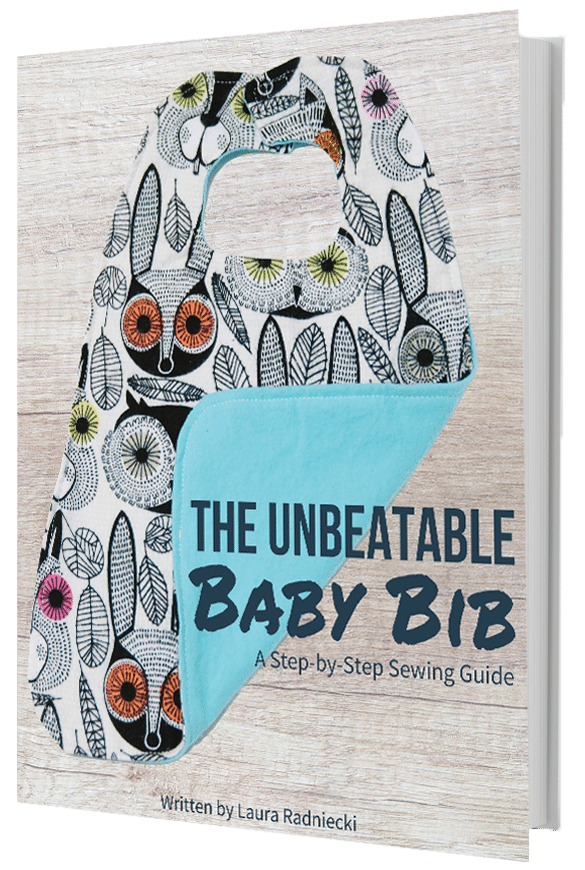 – – – – –
Supplies you'll need to make a baby bib:
Fabric for the bibs: You have freedom when it comes to choosing fabric, and deciding how many layers you want your bibs to have. The majority of my regular food bibs that I'll show below are three layers of flannel fabric. A print for the front, a solid color for the back, and another layer of solid colored flannel in the middle to add extra absorbency. I also made some variations with terry cloth fabric for the front and then one layer of flannel for the back, so those were only two-layer bibs.
Pattern for your bib
Coordinating thread
Velcro or snaps for the bib closure: The snaps that I used can be found here, and you need a small tool to attach them, found here. You use those tools and a hammer to attach the snaps. Some craft stores will sell a package of snaps AND the tools as a starter kit which is what I bought, so that's an option for you too. A reader had some trouble attaching her snaps with the hand tool and hammer method, so these pliers are an option if you'd rather go that route to attach your snaps.
Scissors, rotary cutter, cutting mat, pins
Sewing machine, iron
How to Make a Baby Bib | Baby Bibs DIY
1. Cut the fabric for your bib layers.
I was making a bunch of these bibs, and I wanted to go as fast as I could, so I adopted a quicker and more freestyle way of cutting the fabric. If I wanted to be more precise, I would have probably pinned the pattern down and cut around it with scissors.
Instead, I laid the pattern down on my fabric [I folded the fabric up if possible to be able to cut several layers at the same time], and I used my rotary cutter to generally outline the pattern, with an additional 1/2 inch or so of fabric for sewing room.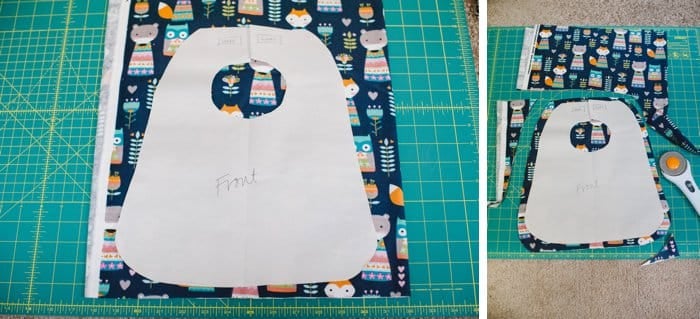 I cut out the circle for the neck hole as well.
This process was repeated for each layer of the bib.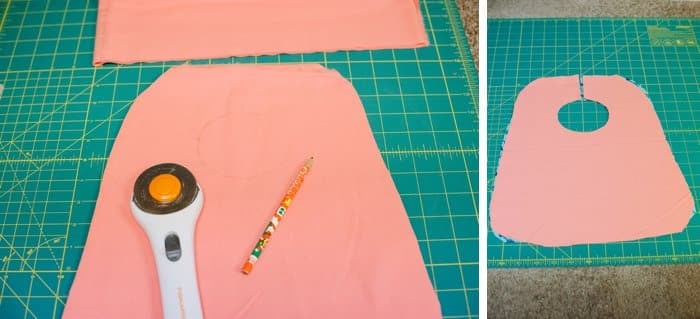 2. Stack layers, and trim excess from the edges.
When I had all the layers I needed cut, I laid them on top of each other.
The order that you lay them matters, because you're essentially sewing them inside out right now, and then you'll turn them once you sew around the outside.
For the three-layer bibs, I did:
Layer 1 – Front patterned fabric piece, right side up *[Teal arrow print in photos above]
Layer 2 – Back solid color piece, right side down *[Coral fabric in photos above]
Layer 3 – Middle solid color piece, right side up *[Gray fabric in photos below]
If you're making a two-layer bib, then you're pieces would be like this:
Layer 1 – Front patterned fabric piece, right side up
Layer 2 – Back fabric piece, right side down
This allows you to sew the pieces together, leaving a gap to turn them inside out, and then you'll have your bib with the correct sides facing out when you're finished.
Once I had the fabric layers stacked correctly, I pinned them together, and then trimmed off any excess from the outside, so that my layers all matched up.
The photos below show the gray fabric on top, which is Layer 3 mentioned above [my middle, absorbent layer.]

I flipped the stack over to make sure all the edges matched up correctly from the other side, in the photo below, which shows Layer 1 now on top, the backside of the printed front fabric piece.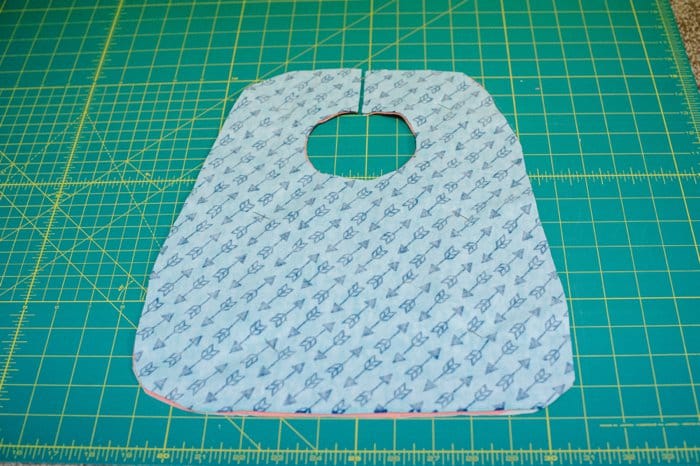 3. Sew around bib, leaving a 3″ gap on the bottom to turn bib right side out.
Once I had all the fabric trimmed correctly, and pinned together, it was time to sew!
I used roughly a 3/8″ seam allowance, but it really doesn't matter what you use.
Sew around the whole bib, leaving a 3 inch gap open to turn the bib right side out.
I started sewing at the bottom of the bib because it was the flattest, straightest section, and that worked well for me.
Make sure to backstitch when you start and stop sewing.
*The photos below are of a different bib than the ones above. The patterned front piece of this bib below is a geometric navy flannel print.*

The photo below shows the opening I didn't sew; my hole to turn the bib right side out through.

4. Flip the bib right side out, through the hole you left open.
You want to turn it right side out so that your patterned piece is facing out on the front, and your back piece is in the back, with the absorbent layer in the middle on the inside.
I used a knitting needle to help me turn it right side out.
Be careful that you do this gently though, because I have accidentally poked the tip of the needle through the fabric when I was pushing a little too forcefully.
The bib starts to take shape as you flip it right side out.

5. Iron the bib to flatten it out.
This helps you see the shape the finished bib will take, and allows you to get ready to top stitch around the bib. [See the left photo below.]
6. Find the hole you left open, and pin it closed in preparation for top stitching.
You want to turn the edges of the opening in, and pin it so that it looks like the rest of the bib edges.
When you top sew over it, it'll make that opening disappear. I pinned it so that I knew where it was as I was sewing around the edges.

7. Top stitch around the edge of the bib.
At this point, I made sure my main thread color blended in with the patterned top fabric, and I picked a bobbin color that would blend in with the back fabric color.
In these photos, that meant navy for the main top thread, and orange [I didn't have coral, but orange blended in well enough] for the bobbin color.
Once I had the correct thread colors ready, I top sewed using a 3.5 stitch length around the bib edge, about 1/4″ from the edge.
This gives it a finished look.
When I got close to the opening at the bottom of the bib, I moved a little bit closer to the edge so that I closed up the hole more securely.
Backstitch and then it's all sewn!

8. Add your fastener.
My sister's bib had velcro closures, so I made one that had velcro too. Velcro is a cheap option and easy to sew on.
I also tried snaps and like the finished, classy look the snaps give the bibs.

And that's it!
Once the fastener is attached, they're ready to be washed and worn!
I made a whole bunch of variations with different fabric combinations.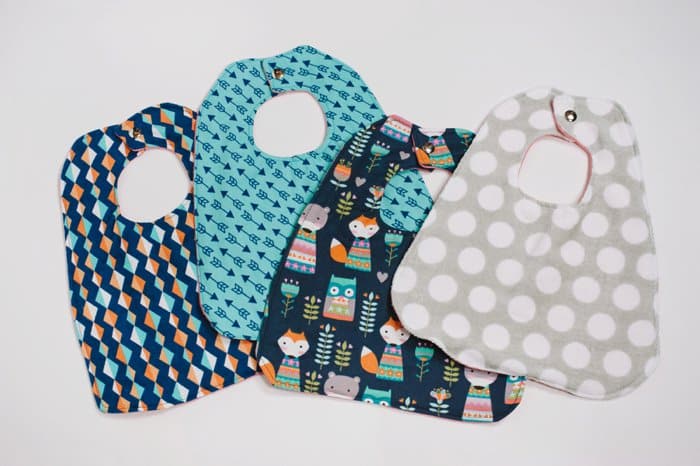 I found them kind of addicting to make. And there are so many amazingly cute patterns at the fabric store; I had to limit myself to just a few.
These bibs can also be reversible if you'd like!
I could use mine that way if I wanted, although my snaps aren't truly reversible because I used the regular front and back snaps. You can see this in the coral back of the bib shown in the bottom right photo below.
However, if I wanted to make true reversible bibs, the snap package tells how to use the smooth snap top for both the front and back of the bib so that it could be worn interchangeably and look nice both ways.
Velcro would be inherently reversible if you went that route, allowing you to choose which side of the bib you used as the front, if you wanted to have options.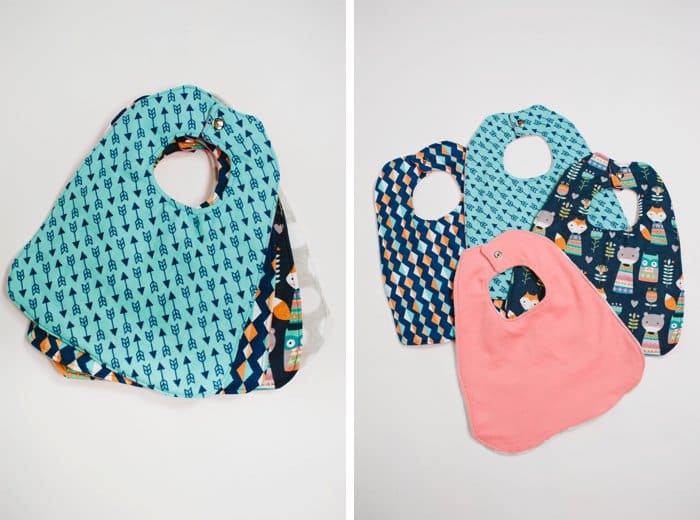 How to Make Bandana Drool Bibs
The bibs I made and show below can be used as food bibs if you'd like.
But I made them to be used mostly as drool bibs, to protect baby's clothes from getting soaked when he starts to teeth and drool.
We got some bandana drool bibs for Christmas and I modeled these after them. I whipped them up real quick so I used the ones we had as a template and made them as simple as possible.
These bibs use only two layers of fabric; a soft cotton patterned front and a white flannel for the back.
I wanted them to be light and flexible since they'll be worn as part of our boy's wardrobe during drool days rather than just when he's eating.
The process for making these bibs was almost identical to the steps outlined above.
I just used a different template in Step 1, and I used only 2 layers of fabric.
I also used a different type of snap for these ones; one that is a little smaller and cheaper.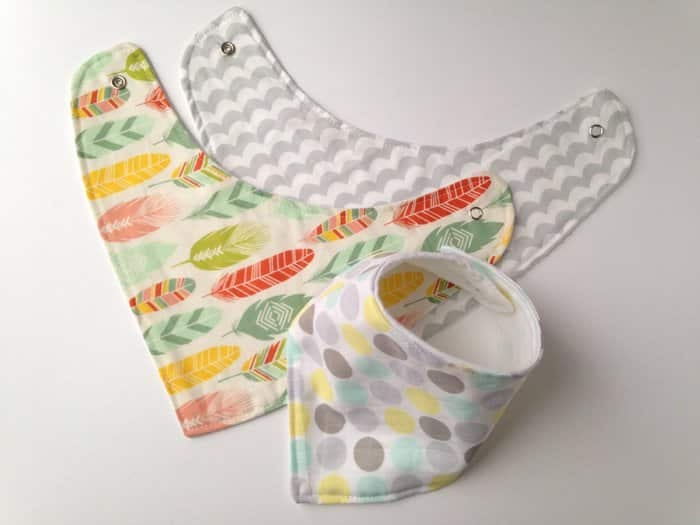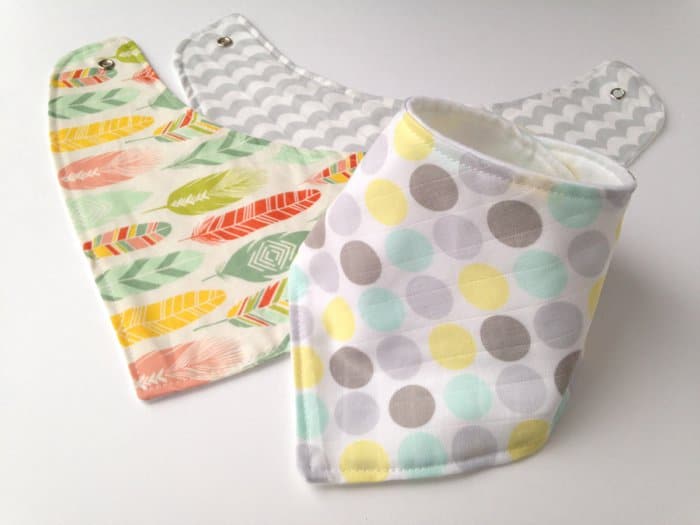 This tutorial shows the official way to make these drool bibs, which results in a little extra neck coverage in the front of the bib to catch more drool. The front piece of the pattern in that tutorial is a different shape than the back, which creates the extra coverage.
Because I was making these up quickly, I used the general shape of the bib we got as a gift as the pattern for both the front and the back. This makes the neck hole a little larger than the pattern above.
We'll see how these work to catch the drool. If they're too loose in the neck and I need to make another batch using that pattern above so they have the additional fabric to catch extra drool, I happily will!
[Yay, more fabric shopping!]
– – – – –
I am glad I have a good stockpile of food and drool bibs on hand in anticipation of teething and when baby boy starts to eat solid foods.
I wanted to have enough to frequently throw them into the wash without running out.
The challenge is not making 100 more once you know how to make a baby bib!
These bibs are also great to add to a handmade baby gift basket along with diy pacifier clips, zipper pouches and teething necklaces!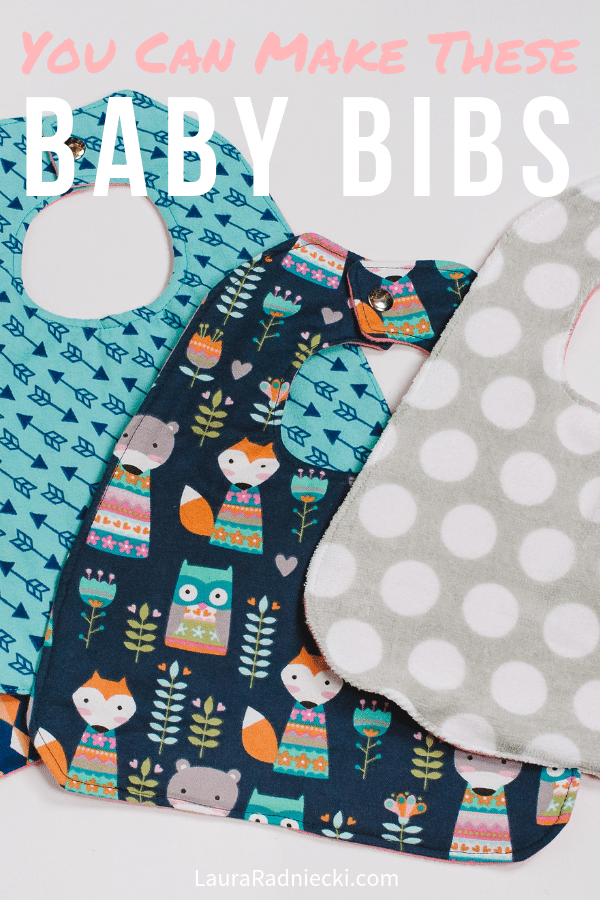 – If you liked this post, I would love if you would share it on Pinterest or Facebook. Thanks & xo! –
P.S. If you're looking for a more comprehensive and detailed walkthrough on how to make these bibs, plus a printable PDF bib pattern, take a look at The Unbeatable Baby Bib Guide sold in the LauraRadniecki.com SHOP!