**These posts often contain affiliate links. Please see our disclosure policy for details.**
Wondering how to sew a zipper pouch to use as a makeup bag or purse organizer? Here's a DIY tutorial showing you how to make a 6-minute zipper pouch.
If you're looking for a place to collect small items, nothing works quite as well as a zipper pouch.
You can use a small zipper pouch to hold makeup, purse supplies, coins, toys, or even dry snacks.
What is better than a great zipper pouch? A diy zipper pouch you make yourself!
Here's how to sew a zipper pouch in less than 6 minutes from start to finish. (I timed it!)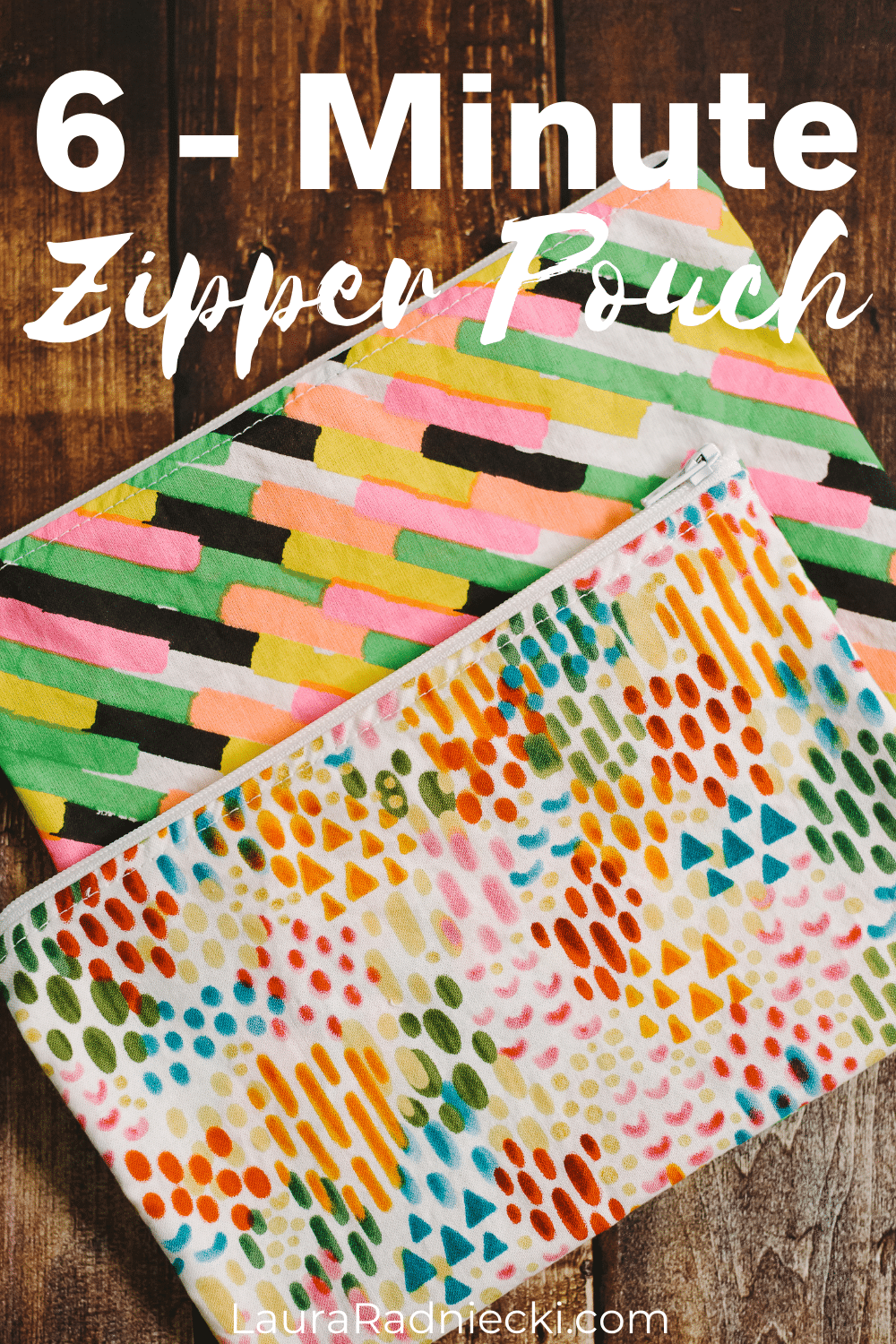 How to Make a DIY Zipper Pouch in 6 Minutes
Step 1: Gather Supplies
Supplies Needed:
9" x 6" pieces of fabric – (2 of them) *You can also use different size fabric pieces to make varying-sized bags. Smaller fabric pieces for coin purses, and longer fabric pieces for pencil holders, etc.
Zipper that measures at least 10" long
Quilt Clips or Pins
Scissors
Sewing Machine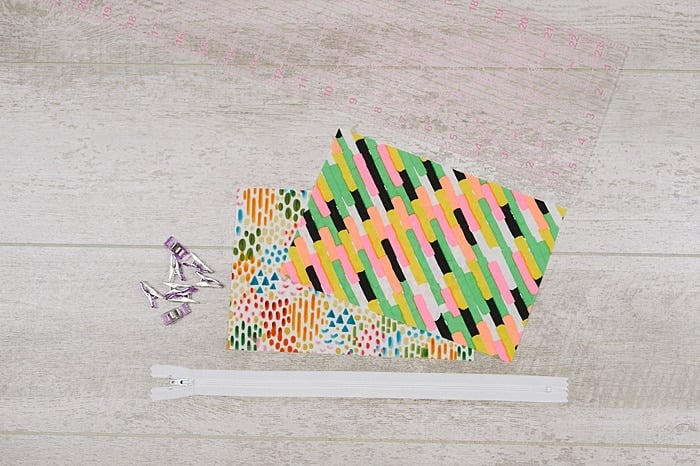 Step 2: Cut your fabric so you have two rectangle pieces of fabric that measure 9" x 6".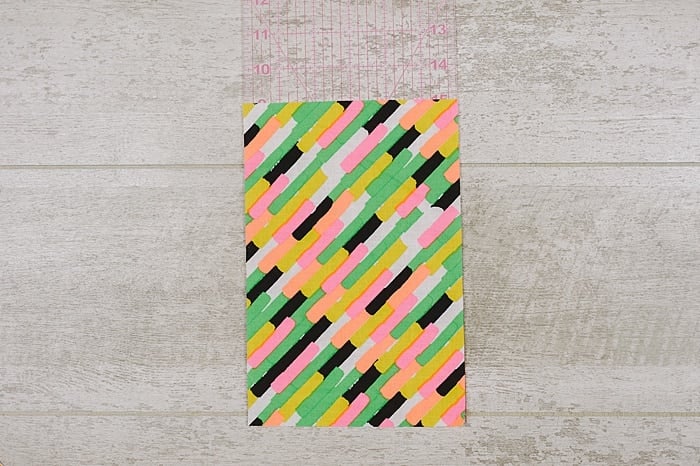 Step 3: Lay one fabric piece down, so the right side is UP.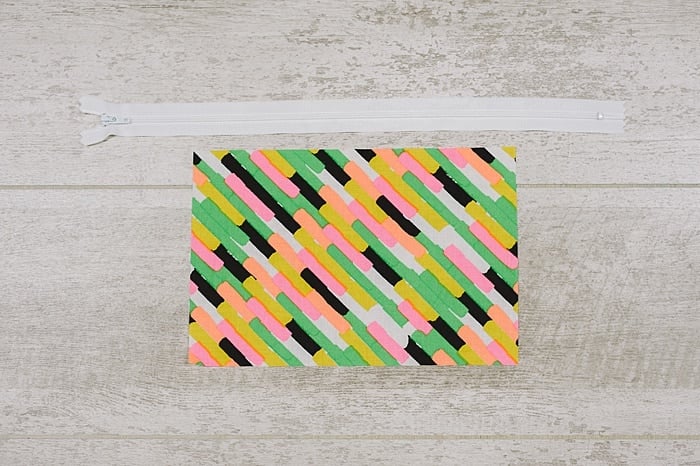 Step 4: Place the zipper on top of the fabric with the right side DOWN, so the top edges line up.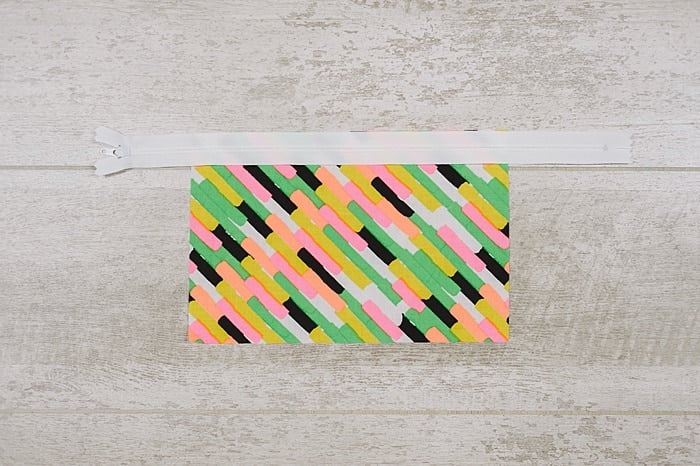 Clip to hold in place.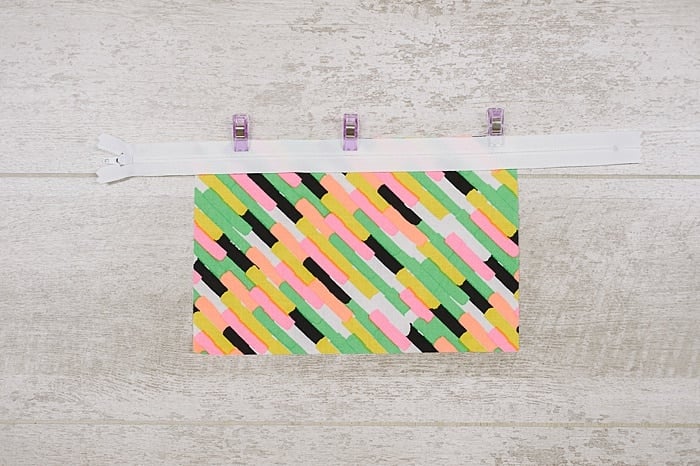 Step 5: Sew along the top edge about ¼" from the edge.
(The stitch line is hard to see because it's white thread, but there's a stitch line where the tip of the scissor is pointing.)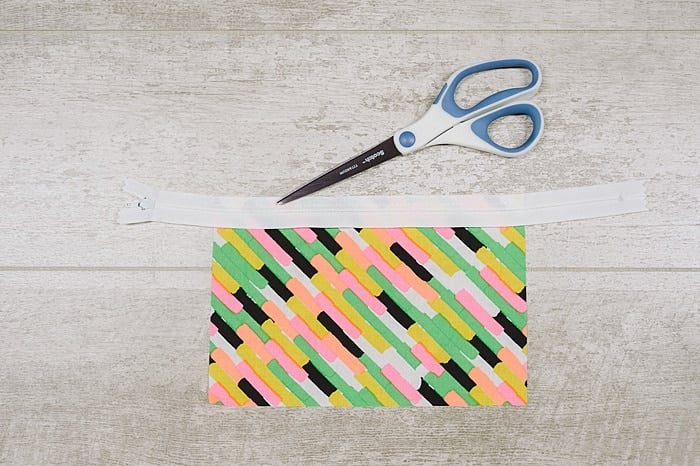 Step 6: Flip the zipper back up, and smooth out with your hands.
This is now one-half of your zipper pouch! Set it aside.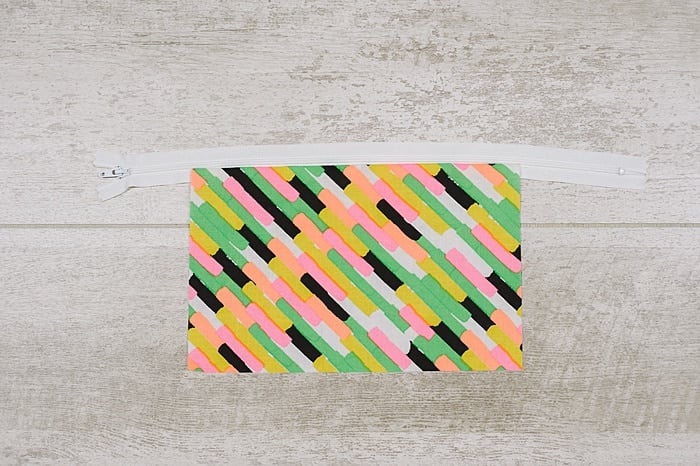 Step 7: Lay the second piece of fabric down, with the right side UP.
Step 8: Place the zipper/fabric piece (side 1 that you just completed) right side DOWN, on top of the fabric, so the top edges line up.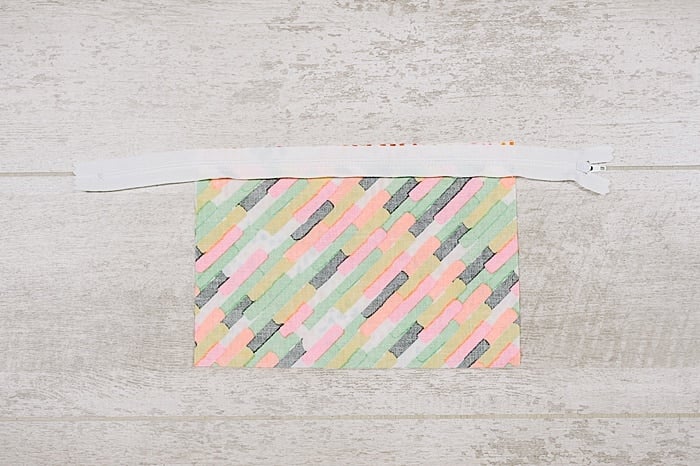 Clip to hold in place.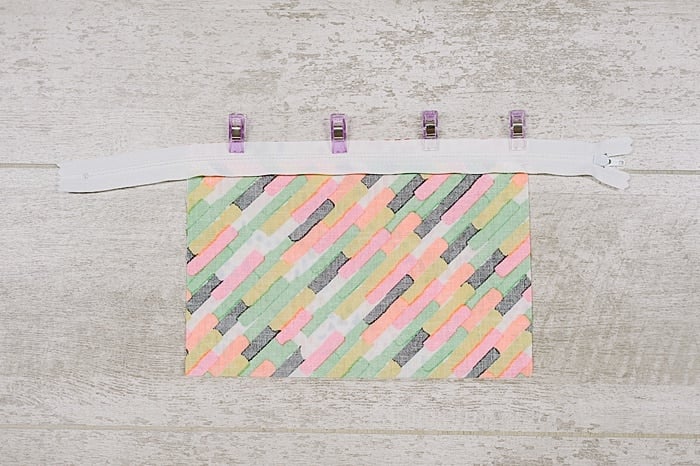 Sew along the edge about ¼" from the edge. (Stitch line is where scissors are pointing.)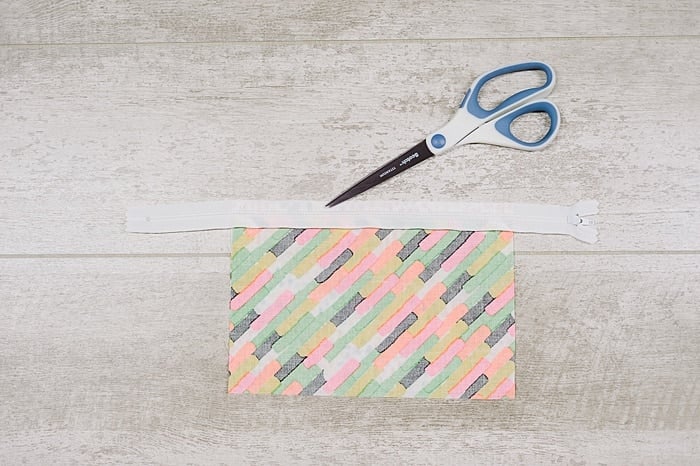 Step 9: Flip the fabric piece open, and smooth with your hands.
You now have all of the parts of your zippered pouch!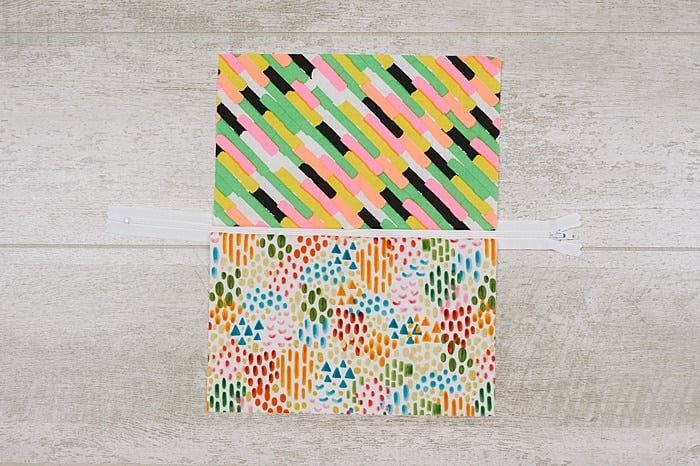 Step 10: To help make the pouch look cleaner and to make the zipper function properly, topstitch down both sides of the zipper, to help the fabric lay flat.
Smooth the fabric with your hands as you go, so it lays flat as you sew.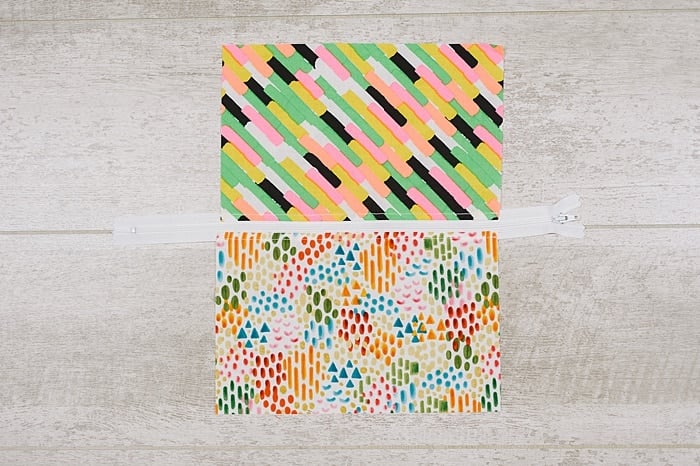 (You can also iron it first to help press the fabric and make it lay flat. But I rarely iron haha.)
Step 11: VERY IMPORTANT STEP – Open your zipper halfway.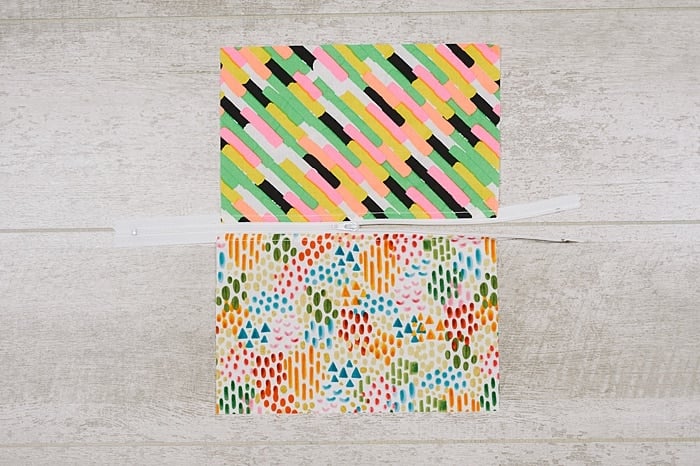 If you don't do this step, you won't be able to turn your pouch right-side-out later.
Step 12: Fold the two sides of the zipper pouch together so the right sides touch and all of the edges and zipper sections line up.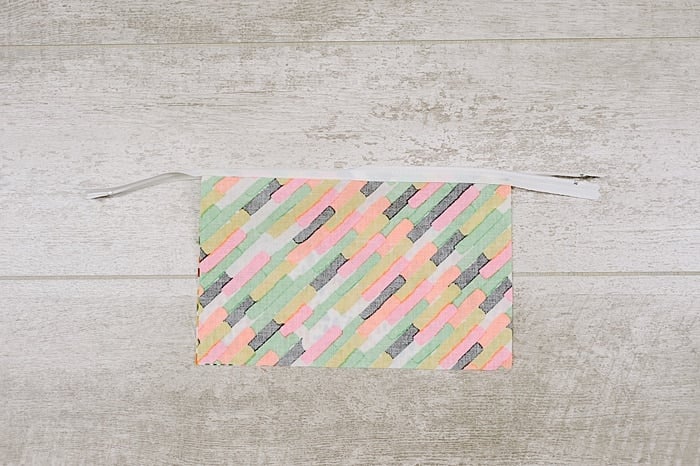 Clip in place.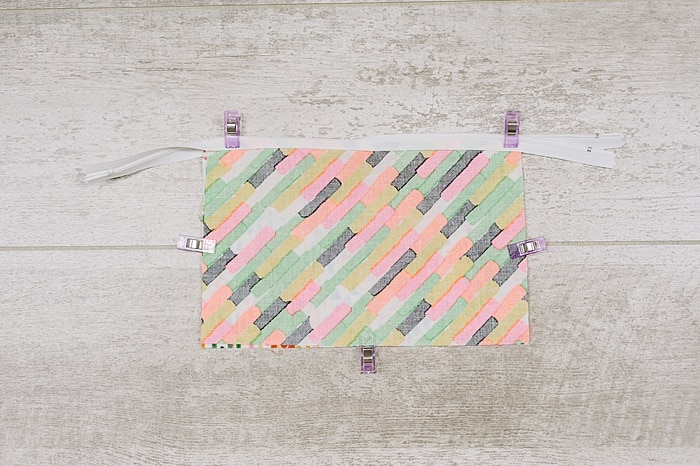 Step 13: Sew around the 3 sides of the pouch (NOT along the top where the zipper is).
Make sure you reinforce where you start and stop, on the two zipper sections, by going forward and backward a few times to add strength.
Use a ⅜" to ½" seam allowance, and a small stitch length to help make it durable.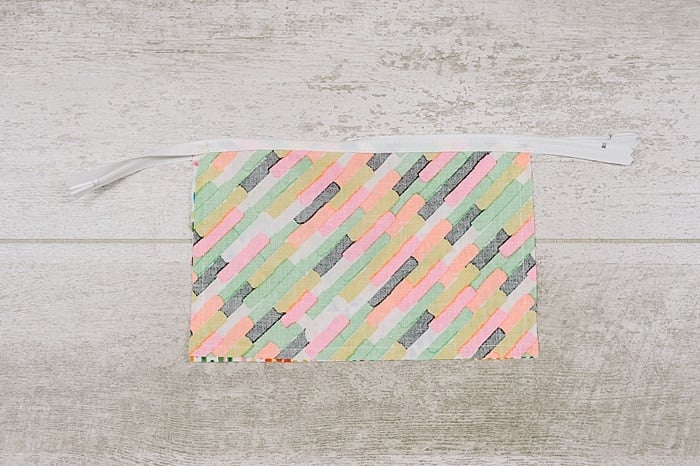 Step 14: Trim off the zipper overhang, and the corners.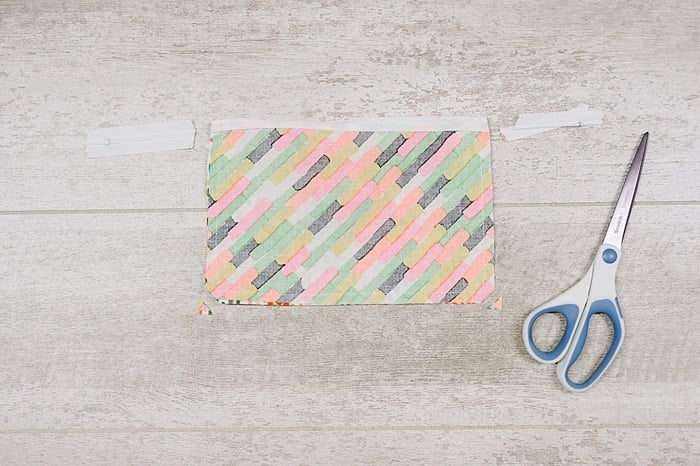 Step 15: Turn the pouch right side out, through the open zipper hole.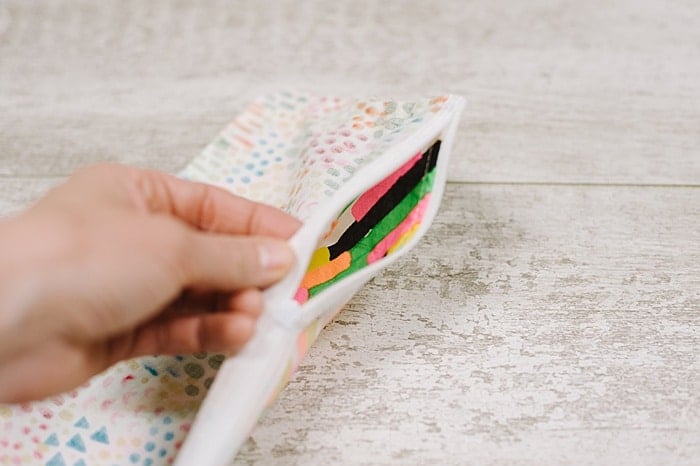 Push the corners out with your fingers, and smooth with your hands as you go.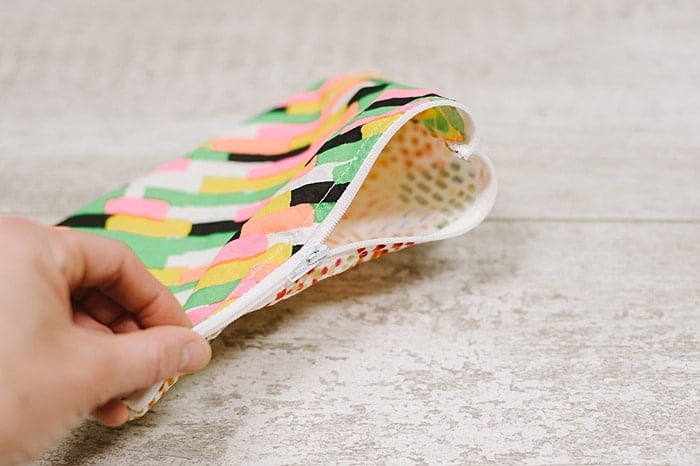 Step 16: Your zipper pouch is done!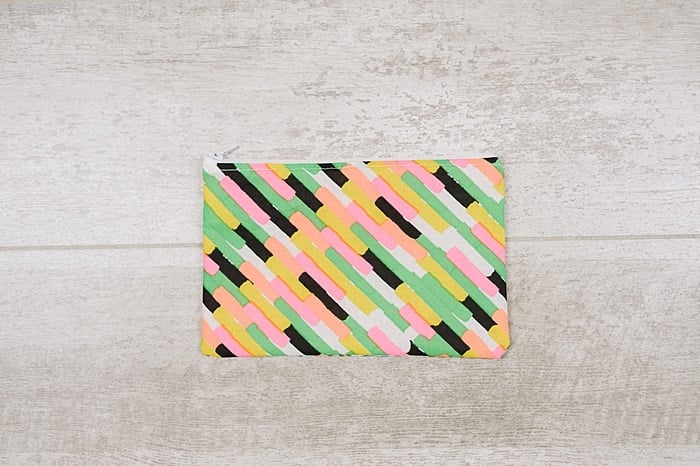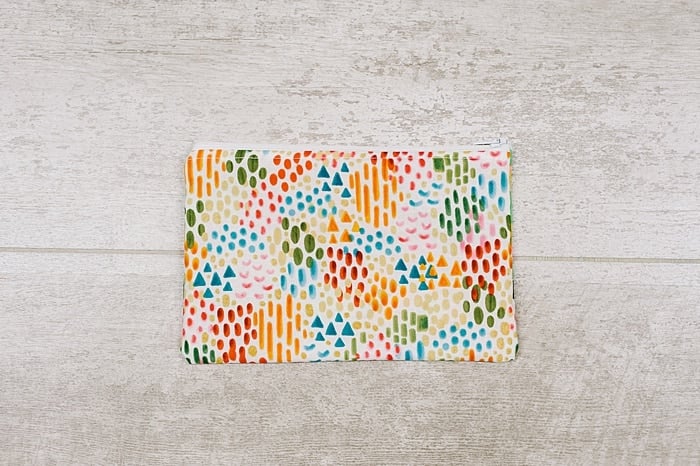 —
This pouch does not have a second inner liner layer.
It's a single-layer pouch.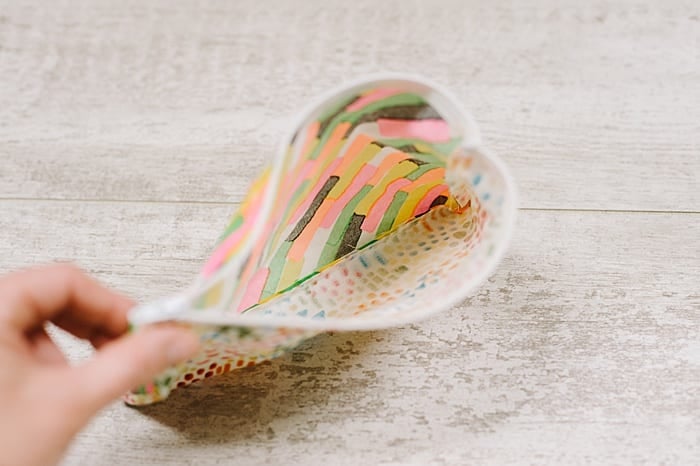 But in my experience, a pouch liner doesn't add a ton of functionality (I've made and used both types.) But it does add a lot of time to the project.
I prefer to whip up a single-layer pouch like this in less than 6 minutes because they function almost the same as a double-layer pouch.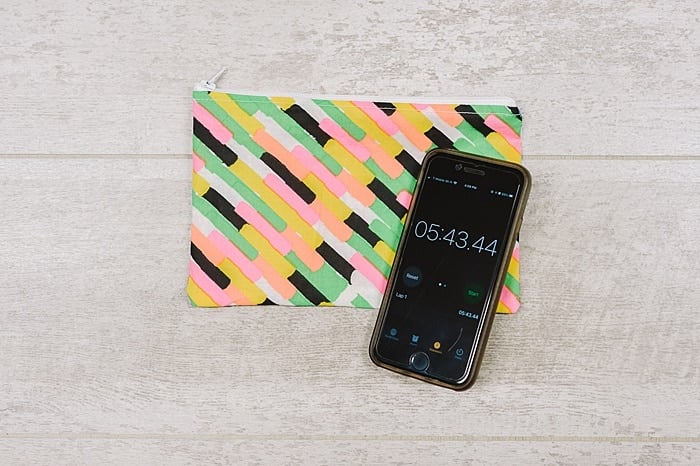 They're very multi-functional and can be used for everything from makeup bags and purse organizers, to toy bags and even snack pouches.