**These posts often contain affiliate links. Please see our disclosure policy for details.**
LEARN HOW TO MAKE A YARN POM POM FLOWER; AN EASY FAUX POTTED FLOWER IDEA THAT MAKES THE PERFECT TEACHER'S GIFT OR HANDMADE GIFT FOR MOTHER'S DAY!
Pom poms are a type of craft that require very minimal supplies.
All you need is yarn, a pair of scissors, and your hand, and you can make beautiful pom poms in a variety of sizes.
We've been diving into pom pom craft ideas lately, exploring how to make perfect pom poms by hand or with the pom pom fork method, and we've made everything from a pom pom ice cream cone garland, pom pom Christmas ornament, pom pom hair accessories, pom pom cork trees, and probably my favorite of all, pom pom faux cacti plants!
Today, we're continuing our pom pom craze; we're combining yarn pom poms, a stick, and a mini clay pot to make a potted DIY yarn pom pom flower!
Here's how to make one!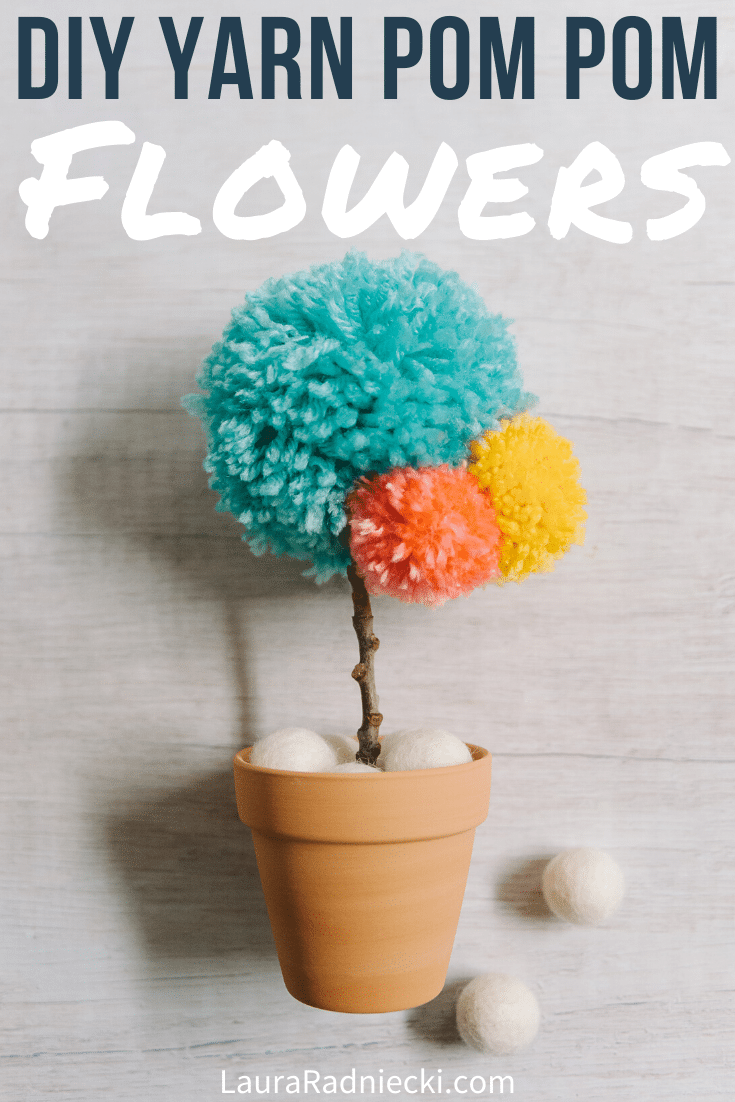 DIY Yarn Pom Pom Flower | Faux Potted Flower Idea
Step 1. Gather Supplies.
Supplies Needed: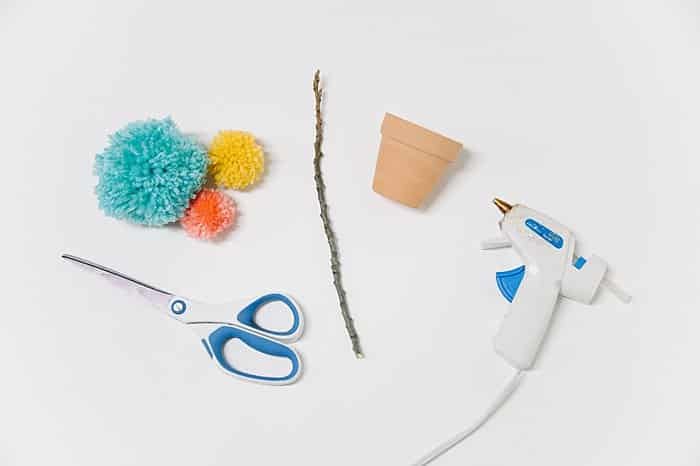 Step 2. Use yarn and make pom poms of various sizes using my handmade pom pom method.
Using the handmade pom pom method I outline in this tutorial here, use the yarn colors of your choice and make pom poms of various sizes.
I decided to make one big pom pom and two smaller poms to add as accents.
Step 3. Determine how long you want the stick "stem" of your potted flower to be.
The next step is to determine how long you want the stick stem of your flower to be.
The photo below shows how tall my flower would have been if I left the stick as is.
It's way too tall and gangly like that.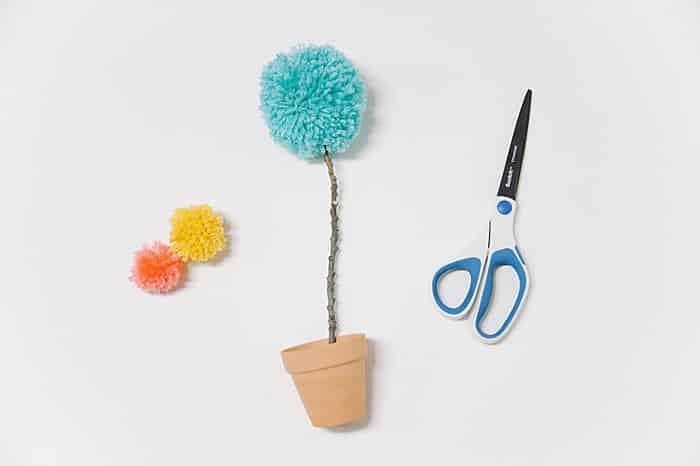 I moved the pot up, covering up some of the stick so I could envision what the flower would look like with a shorter stem.
The photo below shows the pot is a much better position.
I like the look of a shorter stem.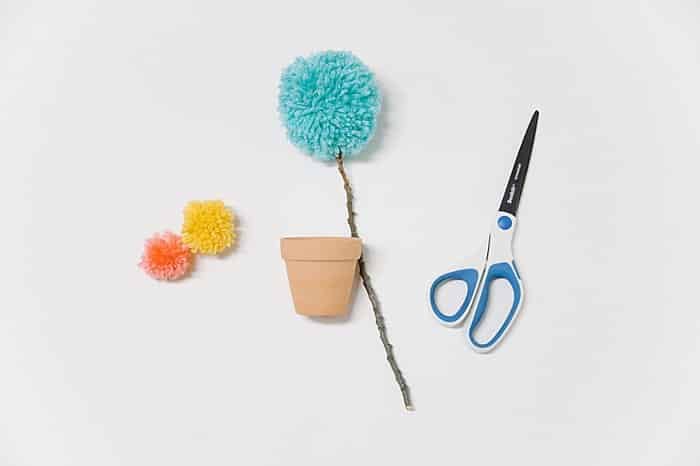 Cut off any excess stick, and determine how you want your pom poms to look.
I laid everything out to test the layout I was going for, so I would know where to glue.
I wanted my finished flower to look something like the photo below.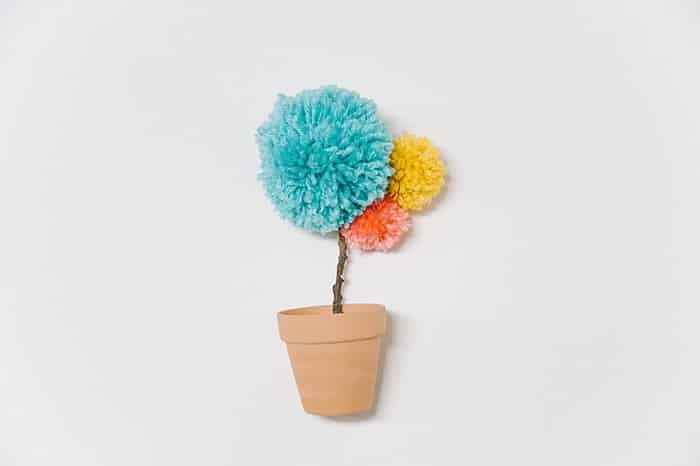 Step 4. Hot glue the big pom pom to the top of the stick, and glue additional poms to big pom pom.
Using hot glue, put glue on the top of the stick, and put the big pom pom on top.
Hold it in place while it dries completely.
Test to see how secure the pom pom is; add more glue to where the stick and pom pom meet if needed.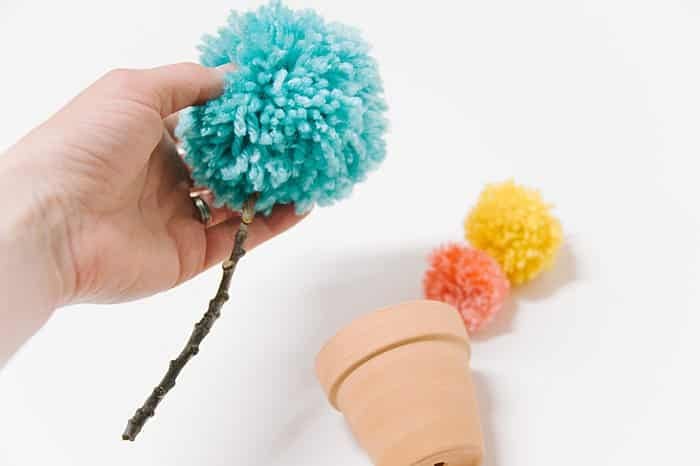 Put hot glue on the outside of the pom pom and add the smaller poms.
Hold in place while the glue dries, and test to see how secure they are. Add more glue if necessary.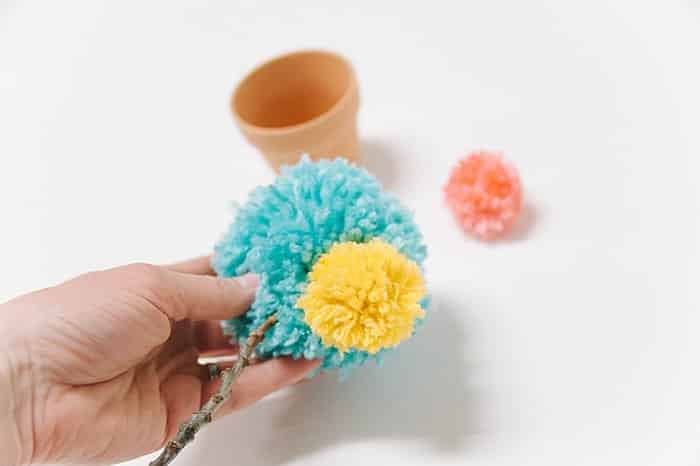 Repeat for all accent pom poms.
Step 5. Hot glue the bottom of the stick to the bottom of the clay pot.
Determine where you need to glue the stick to the bottom of the pot, so that your stem and flower are relatively centered in the pot.
Like I showed in the tutorial for making faux potted paper flowers, if your stick is not straight, you might have to glue it to an off-centered part of the clay pot so the flower is centered once it dries.
Put hot glue in the bottom of the pot and place the stick stem of the flower in the glue.
Hold in place until completely dry.
It took a long time for the glue to dry completely for me. I kept testing to see if the flower would stand on it's own and it would tip over every time.
I propped the flower up with my scissors so it would stay upright until it was fully dry.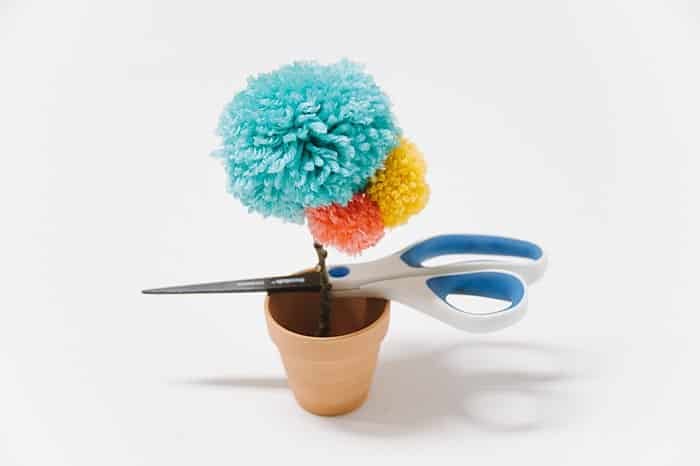 Test how sturdy it is once the glue is completely dry, and add more glue if necessary.
Hold until completely dry, again.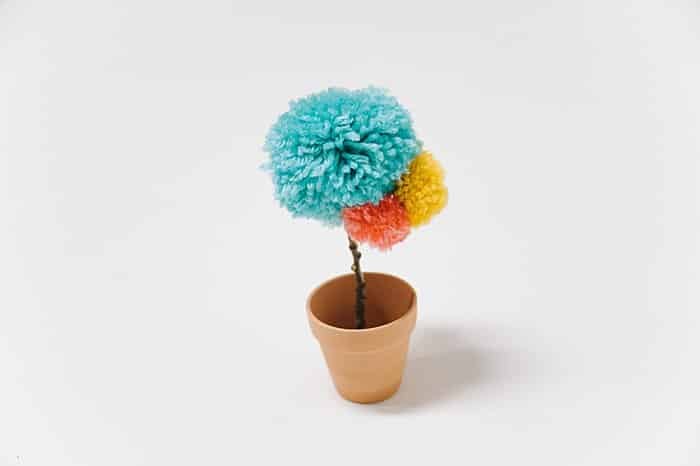 Step 6. Inspect and display the DIY yarn pom pom flower, or give as a gift!
Once the glue is dry and the flower is secure and sturdy on it's own, the project is done!
You could leave the pot empty, or you can fill it up.
The pot could be filled with dirt (that would be a cute juxtaposition between the faux yarn flower and the real dirt in the pot!) or rocks, or something artificial like the felt balls I used in the photo below.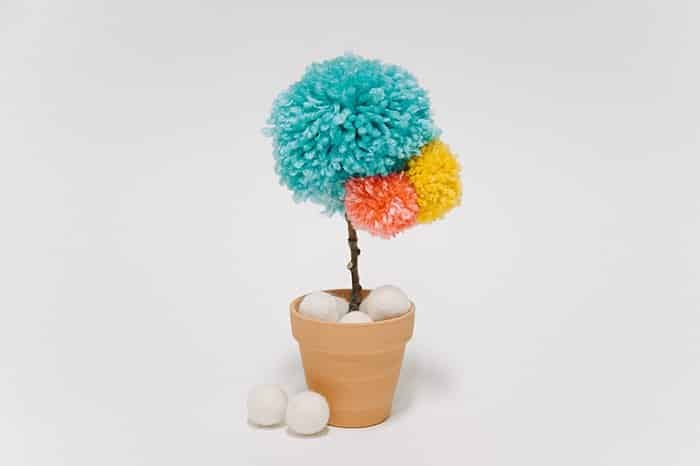 These mini clay pots get the creative juices flowing; they're so cute, they just beg to be used in something fun!
I used them to make faux potted paper flowers (using paper flowers made from recycled toilet paper rolls!) and I loved how those turned out.
After diving into the world of yarn pom poms, I knew I had to make something using pom poms and one of the mini clay pots.
This simple potted pom pom flower is so cute, and SO easy.
You're going to love it!
– – –
Save the idea for later by pinning the photo below to Pinterest!