**These posts often contain affiliate links. Please see our disclosure policy for details.**
It's no secret I am a sucker for wooden objects and shapes to use in my craft projects.
Wooden peg people are the cornerstone of my favorite Nativity Scene craft project, and I have loved using wooden rings in crafts like twine wreath ornaments and felt ball dreamcatcher ornaments.
Wooden eggs sparked my creativity, and I immediately started brainstorming ways to use them in Easter and Spring crafts and decor.
Today, we're taking a simple (and mess-free!) approach to painting wooden Easter eggs. We are going to do the shake and roll paint method!
Here's how we do it!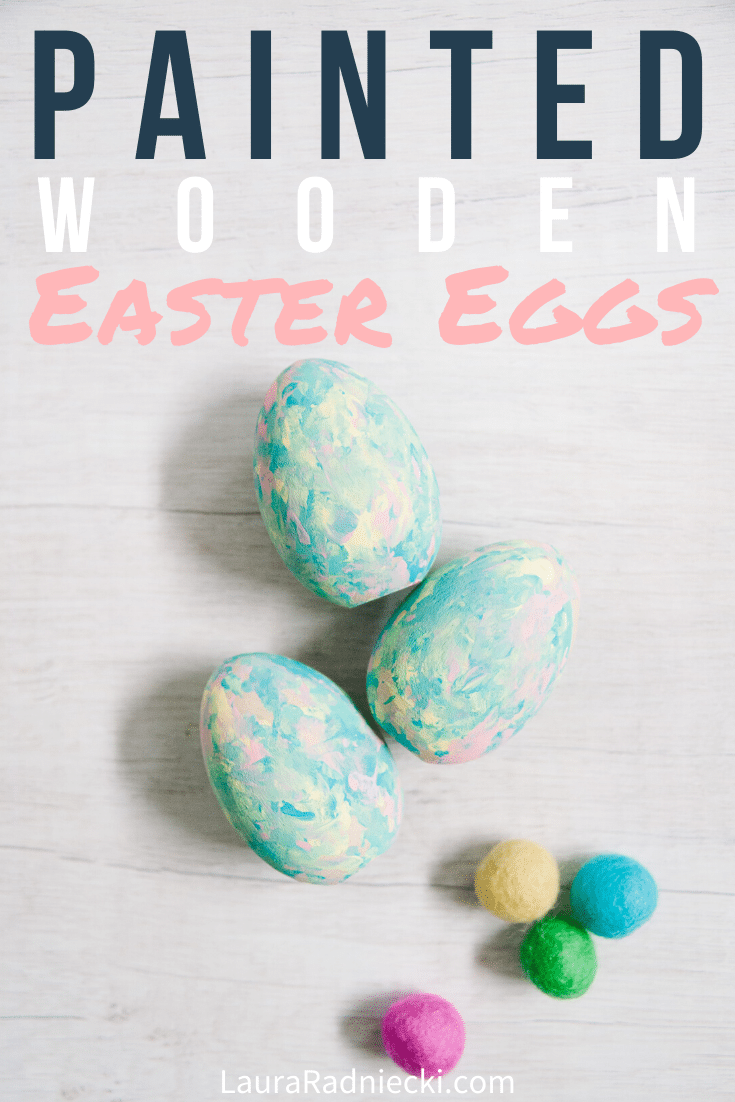 Easy Wooden DIY Painted Easter Eggs | Easter Crafts for Kids
Step 1. Gather Supplies.
Supplies Needed:
Paint (I'm using acrylic paint in pastel spring colors)
Container with a lid
Turn them into cute egg buddies with:
Step 2. Put paint inside container.
Open the container and set the lid aside.
Add paint in your desired colors.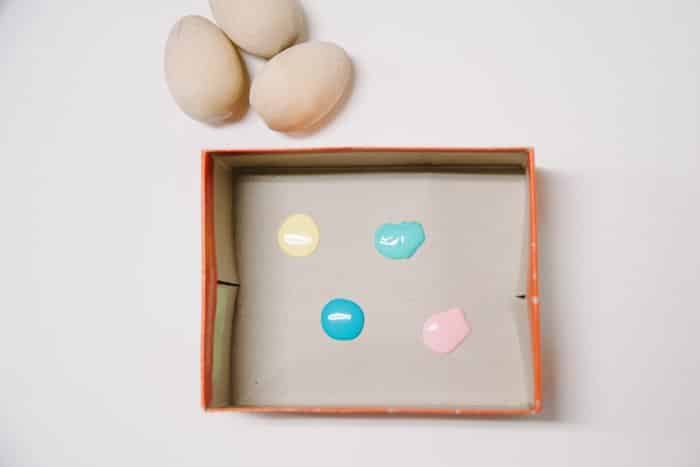 Step 3. Add eggs to container.
Place the eggs inside the container, and put the lid on.
Step 4. Shake and roll!
Holding the lid in place, roll and shake the eggs around, inside the container.
I rolled them around for 10 seconds and then removed the lid to check on them.
When I looked at the eggs after the first 10 seconds, there were still several large sections where the wood showed through.
I put the lid back on the container and continued to roll the eggs around for another 5-10 seconds.
The eggs were much more evenly coated after the second 5-10 seconds.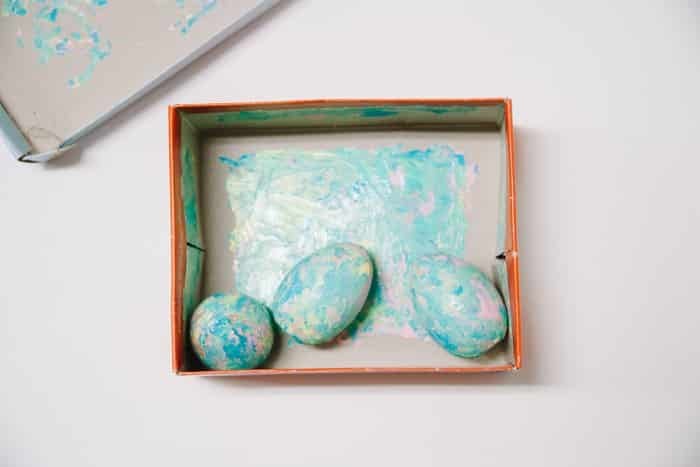 PRO TIP: You do NOT want to go overboard with the rolling because the more you mix the colors, the higher chance you'll get green-brownish colored eggs instead of the marbled multi-colored look we are going for.
Step 5. Let eggs dry.
I quickly and carefully picked up the eggs and placed them on plastic to dry.
(These wooden eggs have a flat bottom that allows them to stand upright like the picture shows.)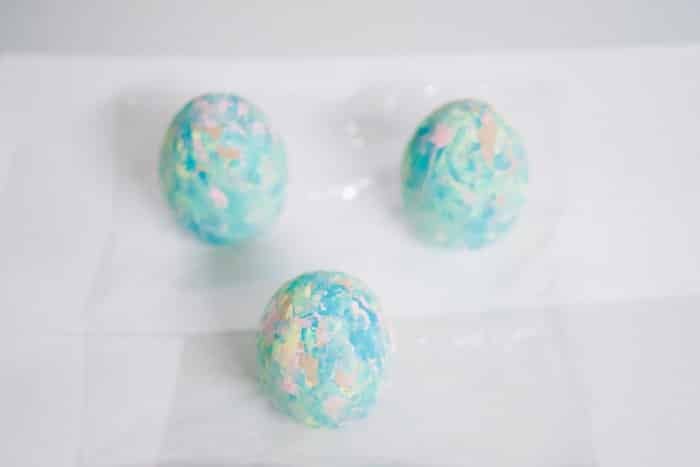 Once they are dry, you could coat them in Clear Acrylic Sealer to add a layer of protection.
Step 6. Display the beautiful eggs!
Once the eggs are dry, they are ready for display!
The eggs look beautiful and elegant with the swirled, marbled paint.
They can be placed in a basket, bowl, or displayed on their own.
Optional Step 7. Add Googly eyes to make Egg Buddies!
This step is a kid-favorite, and takes the eggs from elegant home decor to goofy kid's toy.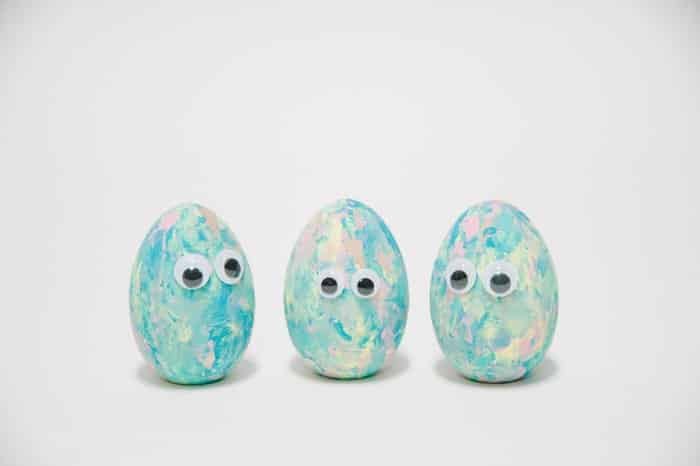 Use a glue stick and googly eyes to add some eyeballs to the painted eggs.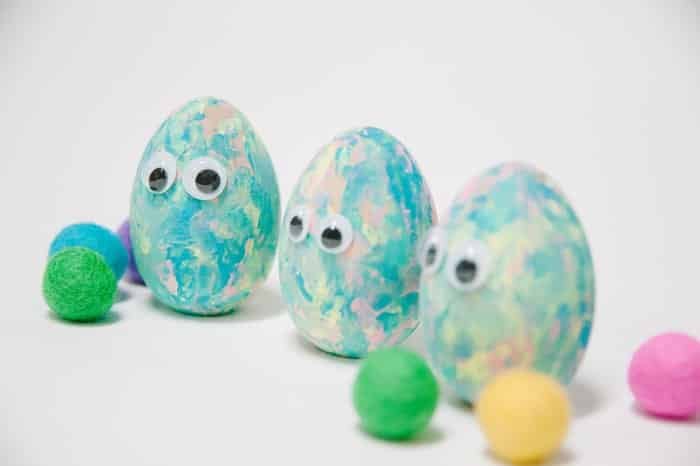 Once they dry, they are now fun Easter Egg Buddies, just waiting to be played with!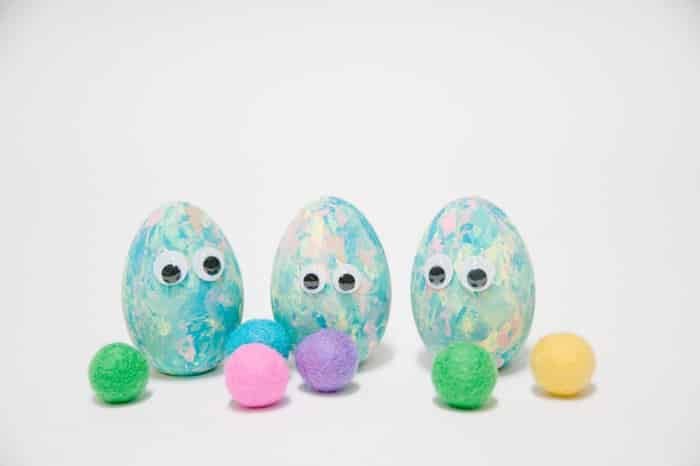 This process could be replicated with plastic easter eggs as well.
Try different color combinations for your DIY painted Easter eggs (using clean containers for each color combo) and watch as your Easter decor takes shape!
– – –
Save the idea for later by pinning the photo below to Pinterest!