**These posts often contain affiliate links. Please see our disclosure policy for details.**
Canvas photos are a home staple in everything from gallery walls to book shelves, and for good reason. They're beautiful! But what's even better? A simple DIY photo canvas that you can make with your own two hands!
Going the DIY route for canvas photos checks all the boxes; they're fun, fast, easy to make, affordable, and can be customized in a ton of different ways.
With a photo and a canvas, plus a couple other supplies (including a free checklist I made to help!), you can make a DIY canvas photo of your own in hardly any time at all. Here's how!
How to Make a Simple DIY Photo Canvas
Step 1. Gather Supplies
Supplies needed:
Canvas (If you are repurposing an existing canvas, paint it white or another color that coordinates with your photo.)
Photo
Scissors or Paper Cutter
Foam Brush
Hot glue & twine (optional)
DIY Photo Canvas Checklist (it's free in my resource library!)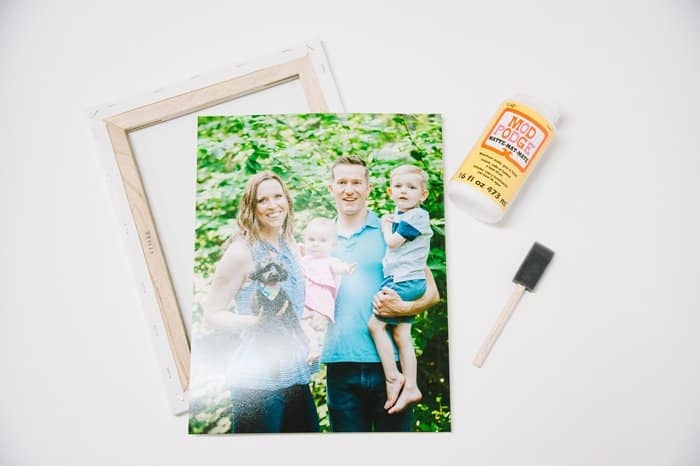 Step 2. Trim photo to fit canvas size.
Using scissors or better yet, a paper cutter, trim your photo so it's just slightly smaller than the canvas size. You want a little bit of canvas to show around the edge of your photo; about 1/8″ or even a little bit less.
Step 3. Apply layer of Mod Podge to blank canvas.
Using the foam brush, apply a layer of Mod Podge to the canvas. This is the "glue" that you'll stick your photo to.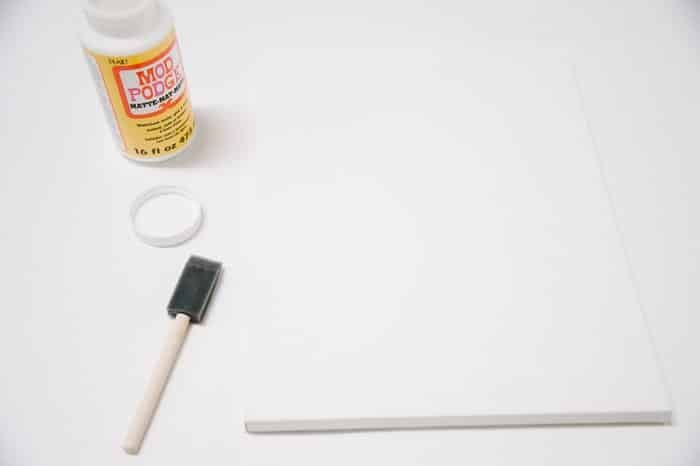 Step 4. Lay your photo on canvas. Let dry.
Step 5. Brush a layer of Mod Podge on top of photo.
Once the glue layer of Mod Podge is dry and your photo is adhered to the canvas, brush a layer of Mod Podge on top of the photo.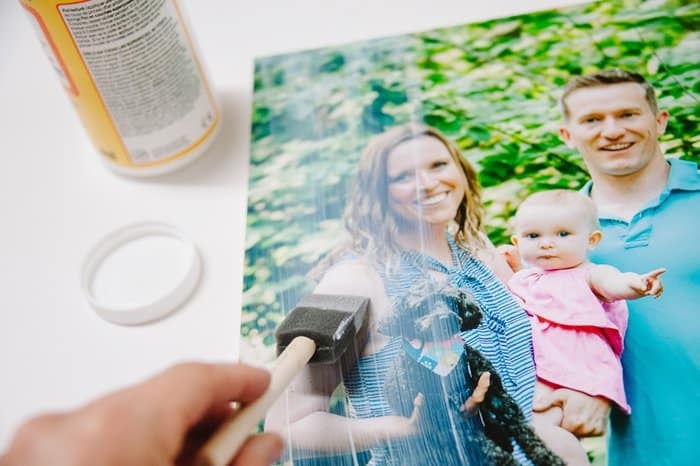 The photo below shows how I trimmed the photo to be just slightly smaller than the canvas, leaving a small white edge all around. I think this looks nice, but more importantly, it helps ensure the photo's edges will be completely adhered to the canvas.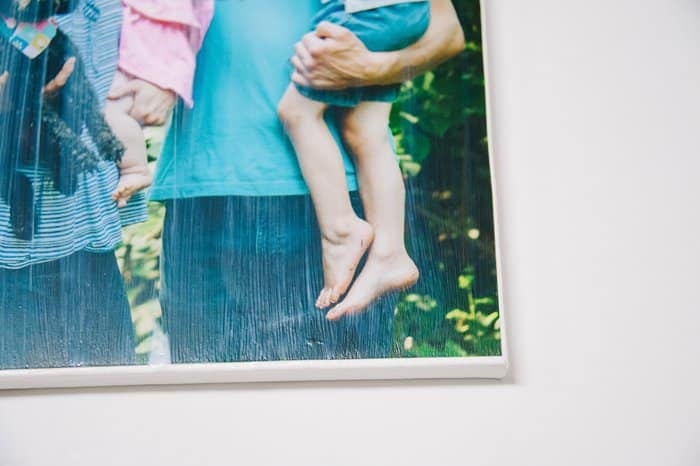 Step 6. Repeat Mod Podge layer, going in the opposite direction.
Using the foam brush, add another layer of Mod Podge to the surface of the photo.
I like to alternate directions, meaning my first layer is vertical strokes. Then my second layer will be horizontal strokes.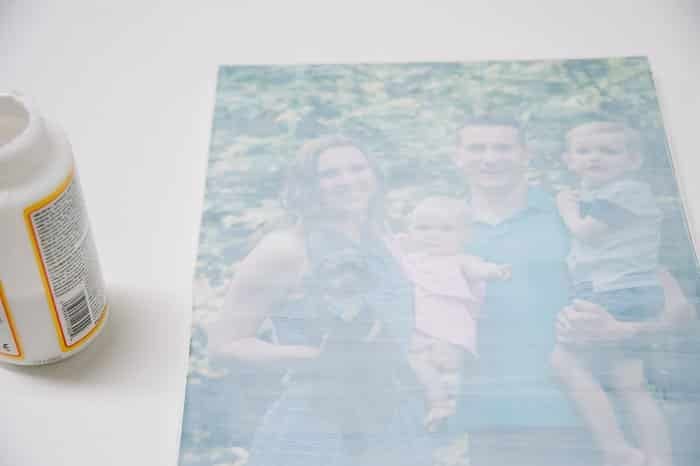 Step 7. Repeat once more with Mod Podge layer in the opposite direction.
Two layers of Mod Podge may be sufficient, but I like to make sure things are really adhered well, and I want it to have a thick layer of Mod Podge on top of the canvas for durability.
I painted a third layer of Mod Podge onto the canvas, again changing directions. Vertical strokes again for this layer.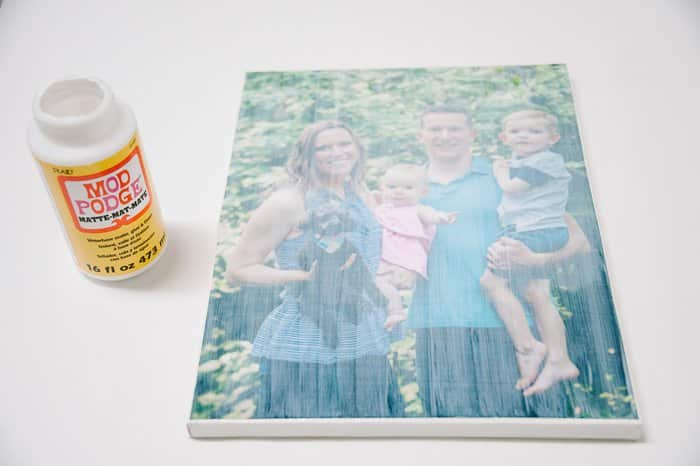 Step 8. Let dry. Then spray with Clear Acrylic Sealer.
Let the Mod Podge dry fully.
When it's dry, spray the canvas (front and sides) with clear acrylic sealer.
This helps to seal and protect everything, and helps remove some of the tackiness that Mod Podge can leave behind.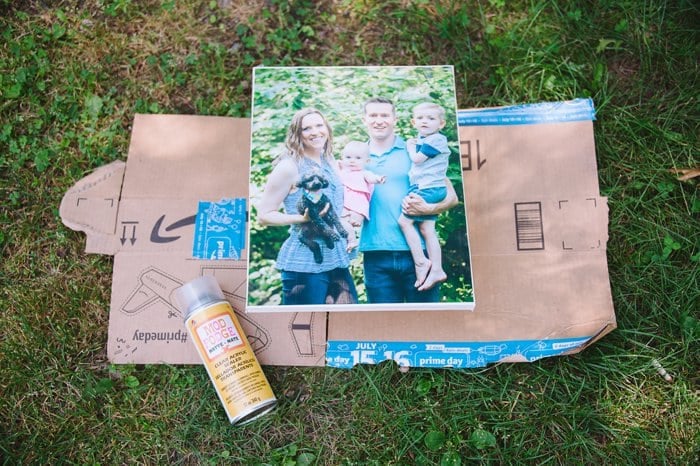 Step 9. Let dry and display!
Once everything is dry, it's ready to hang!
Or, continue to step 10.
Step 10. (Optional) Hot glue twine to back of canvas as an easy hanger.
Depending on how you are going to hang your DIY canvas print, you may be able to simply hang the canvas as-is without adding anything to the back.
My preferred method of hanging things is with Command Hooks and I particularly love the Christmas Light hooks for objects that aren't heavy, because they're so cheap!
So, in order to create a hanging method that would work with that type of Command Hook, I took a section of twine, knotted it at both ends, and hot glued it to the back of the canvas.
This became a hanger and I looped it over a hook and it's hung!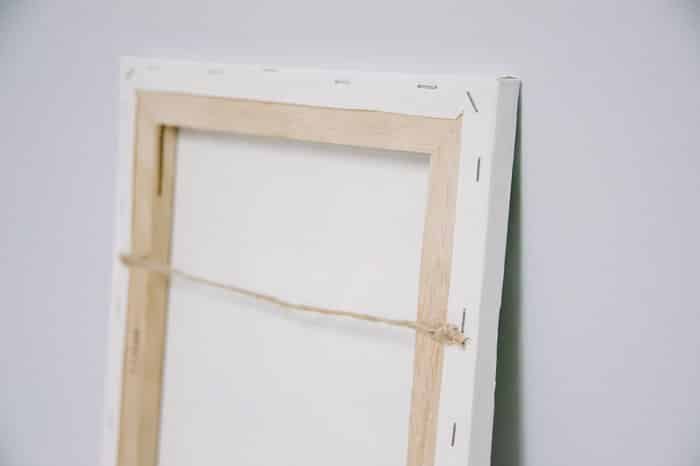 There are other methods on how to make your own canvas prints, like wrapping the photo around the edges to simulate professional gallery wraps. I'll try that next.
But as far as the fastest and easiest way to make a DIY photo canvas? This method is the winner.
It's perfect for repurposing a canvas you don't love anymore (or one you find at a thrift store!) and makes a great personalized gift idea for the holidays or a birthday too.
– – – – –
Save the idea for later by pinning the photo below to Pinterest!