**These posts often contain affiliate links. Please see our disclosure policy for details.**
Here's how to make a DIY photo memory match game out of photos and wooden circles. It makes an awesome kids gift, and handmade Christmas gift too!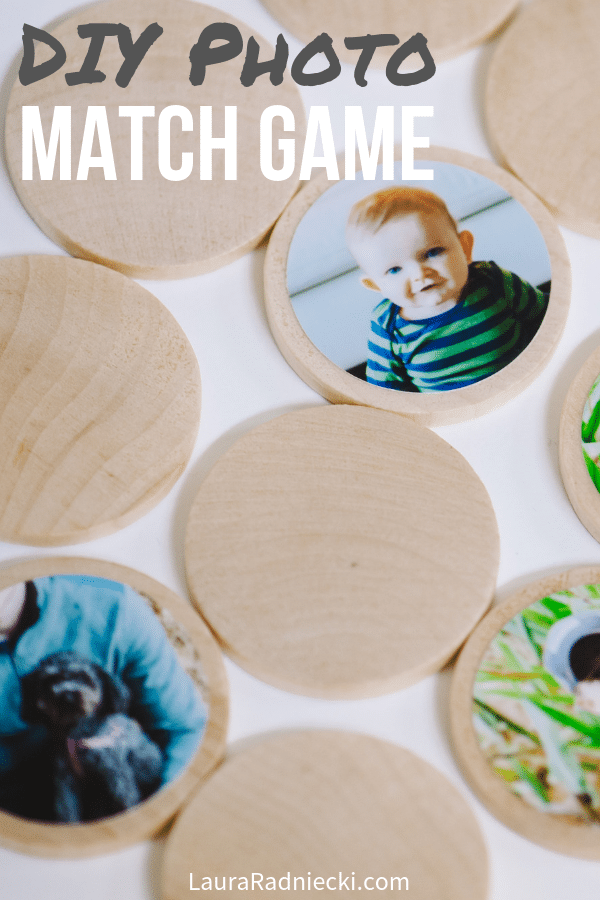 My sister and I loved playing "Match" when we were younger.
You know, the memory game where you flip over the cards, trying to match two of the same thing. If you pick two cards that don't match, you turn them back over and again on your next turn.
Playing that game is one of the core memories from my childhood.
When I was brainstorming Christmas ideas for my nieces, I thought it would be fun to make some type of memory game using photos for them. I tossed around several different ideas.
Then, I was shopping online for supplies for another Christmas gift project, and I came across the cutest wooden circles. I fell in love!
I thought they would be perfect for a cute DIY match game, so I bought them and got to work!
How to Make a DIY Photo Memory Match Game
Supplies:
Wooden circles – I bought 1-3/4″ circles from Woodworks Ltd but Amazon sells 1-1/2″ or 2″ circles.
Small photos – two of each [you could also use different colored or patterned paper if you wanted to]
A circle paper punch that makes circles slightly smaller than your wooden discs.
Mod Podge – I used matte
Foam paintbrush – I learned the hard way that the cheap black foam ones left bits of foam in my project. The denser gray ones work much better and didn't leave foam residue in the Mod Podge as I was brushing it on.
Clear acrylic sealer – I used matte
A drawstring bag to store the match game
Fabric paint to customize the bag [optional]
Step 1. Print photos.
You want to keep in mind the size of circles you'll be cutting out, so you want the faces in your photos to be small.
You can print wallet-sized photos so they are smaller to begin with.
Step 2. Cut photos into circles using paper punch.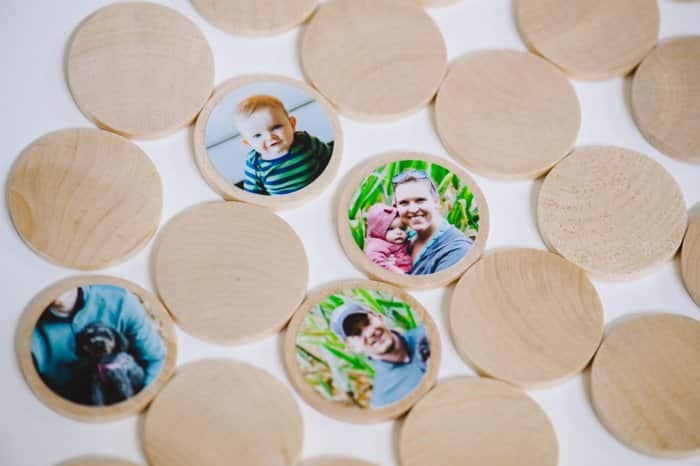 Step 3. Use Mod Podge to attach photos to the wooden discs.
I brushed a layer of Mod Podge on the wooden circle first, and then laid the photo circle on top. This acted as a glue to stick the photo to the wood.
Once that dried, I brushed another layer on top of the photo.
Later, I did a second coat on top of the photo to make it extra durable.
I also mod podged the sides and back of the wooden circles to protect them too.
Step 4. Seal with clear acrylic sealer.
The downside to using Mod Podge is that it can cause things to stick together.
A solution I read about online is to spray them with Clear Acrylic Sealer. This stops them from being tacky and sticking together.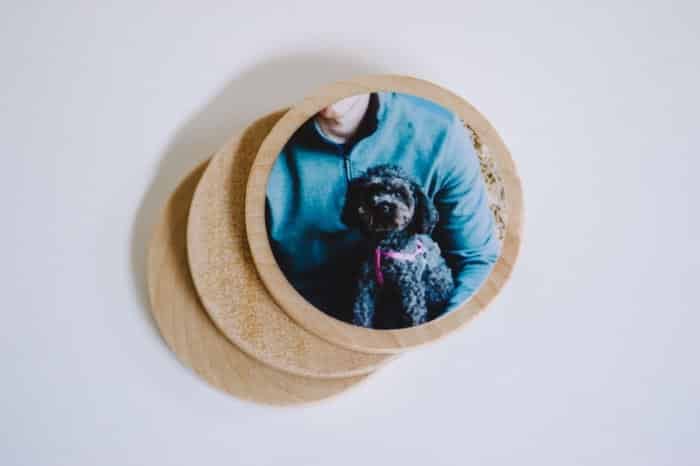 Step 5. Put dry circles in a drawstring bag and you're done!
To hold the game for my nieces, I used gold fabric paint and wrote "Match" on the front of a drawstring bag.
I also painted gold polka dots on the front and back of the bag to make it fun.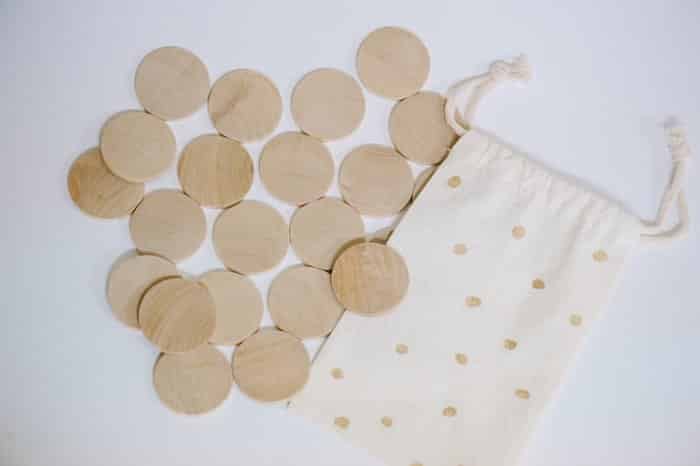 A plain drawstring bag would work fine, as would a cute zippered pouch, like the ones I made for Christmas presents last year!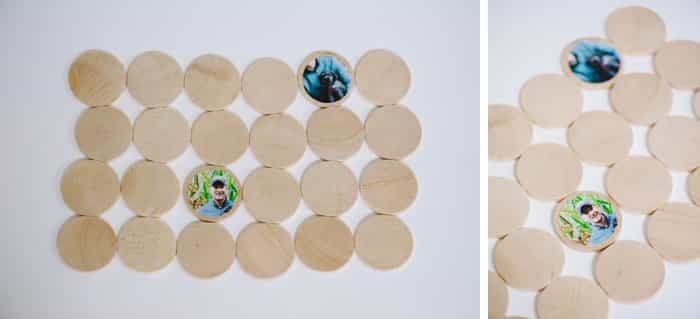 I LOVE how this game turned out.
I used 12 sets of 2 identical photos; everyone in our immediate family.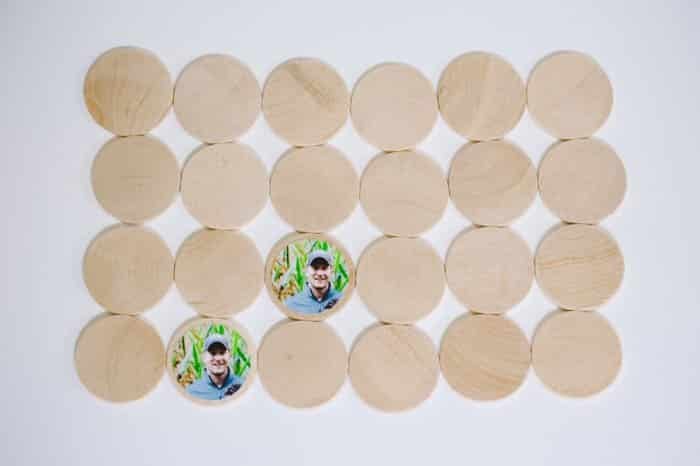 The only possible change I'd consider next time would be to cut identical circles of paper for the back sides to make them all the same.
It's possible that the varying wood grain could be memorized so that you know the one with the dot is grandma, and the one with the horizontal darker band is grandpa etc.
The kids might not pick up on this but the adults might. A solution would be to cut discs out of solid colored paper or maybe even brown kraft paper so the wood grain is mostly covered up, and less identifiable.
You could also paint the back side to make them all the same, too.
I'm undecided on whether I'd change anything though, because I really like the natural look and feel of the wood!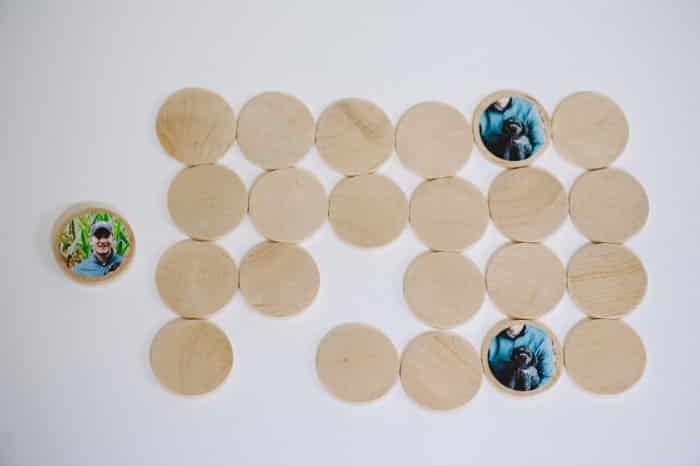 This homemade memory game could also be customized in a variety of ways besides using photos. Colored paper could be used to help kids learn and practice their colors, or patterned paper to teach colors and patterns.
Colored paper could even be cut into different shapes so kids could practice shapes and colors too while they play.
The sky is the limit!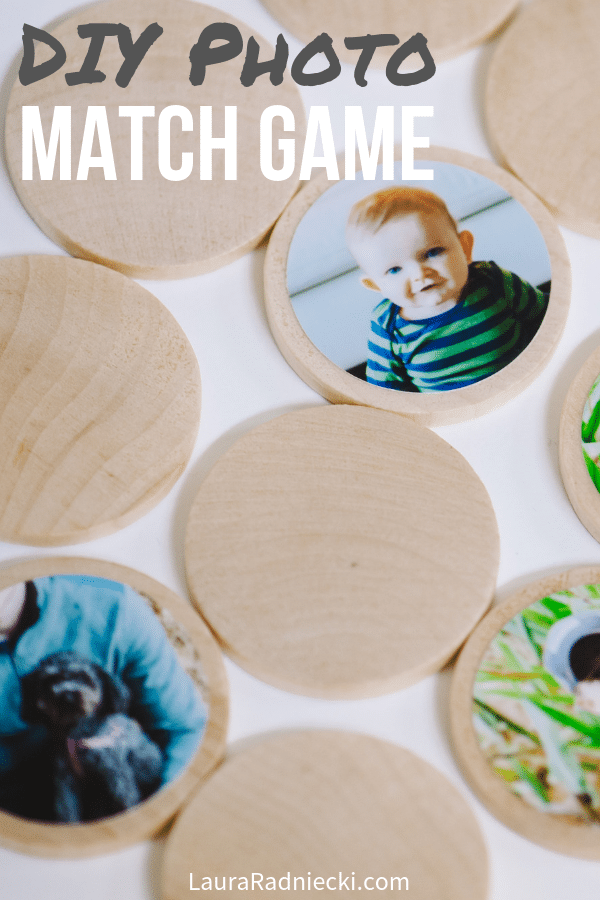 – If you liked this post, I would love if you would share it on Pinterest or Facebook. Thanks & xo! –