**These posts often contain affiliate links. Please see our disclosure policy for details.**
This post is sponsored by the Twin Cities Habitat for Humanity ReStore.
Repurpose with the help of the Habitat for Humanity ReStore in honor of Earth Day, and create amazing DIY projects by reusing materials others have donated!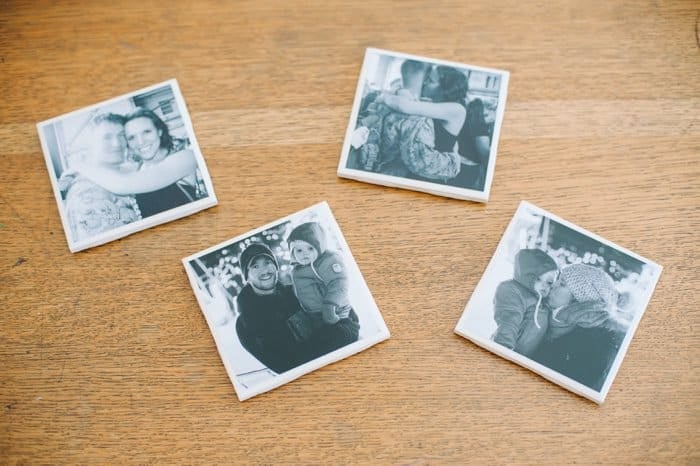 Earth Day is almost upon us, and with it comes an increased awareness of our planet as a whole.
It only takes a few minutes watching a Netflix nature documentary to be completely awestruck by the beauty of Earth, and heartbroken about the changes that are happening to our beloved planet.
What can we do?
As the movement to "go green" has grown and society has become more environmentally conscious, recycling is simply a way of life for most people.
But, what else can we do?
That's where repurposing comes in; either reusing existing items or using them to make something new.
The Habitat for Humanity ReStore is one place where reusing and repurposing is at the forefront.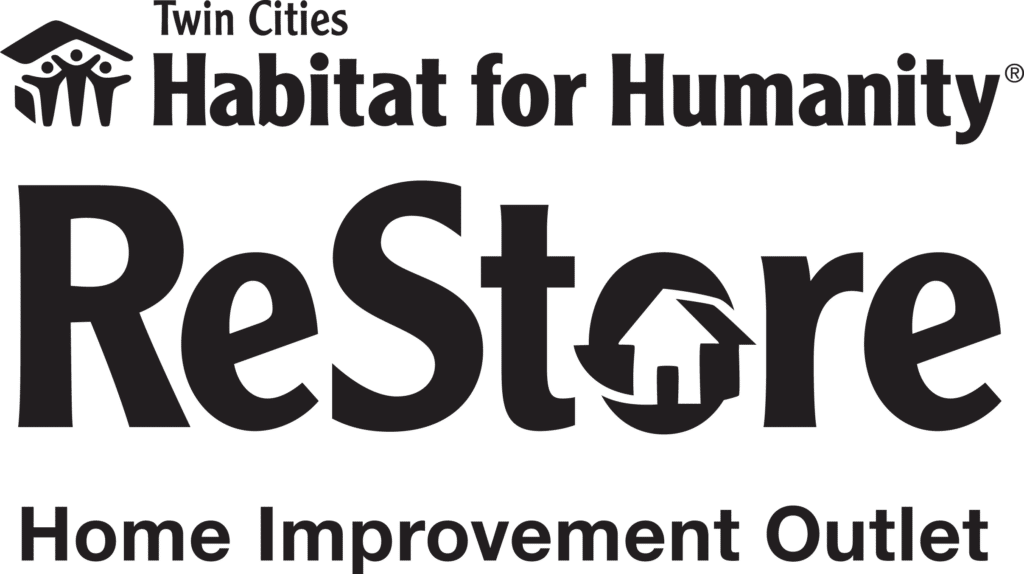 Everything in the store has been donated by individuals or businesses, and can be purchased by someone else looking to furnish a home, build something new, or repurpose an item and give it new life.
In honor of Earth Day, the Twin Cities ReStore (which has two locations; one in Minneapolis and one in New Brighton) has partnered with me to show you three up-cycle craft projects that can be done by repurposing materials available at the ReStore.

They are perfect for creating home decor while using existing building materials to do it!
Reuse and Repurpose with the Habitat for Humanity ReStore on Earth Day
Habitat ReStores have a variety of building materials available, ranging from small hardware and paint all the way up to doors, windows and flooring. They also sell furniture as well.
As I walked through the aisles, I found a few supplies that I bought with three different projects in mind.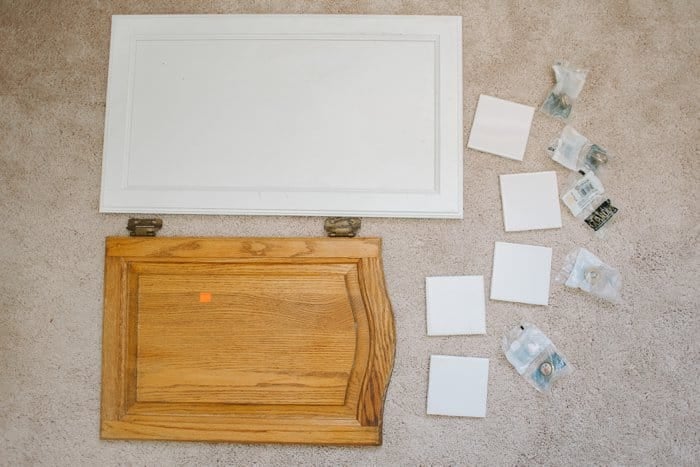 Quote Wall Sign using a Cabinet Door
I picked out a pretty white cabinet door that was in great shape; just needing a little cleaning with a Magic Eraser and a final wipe with a paper towel.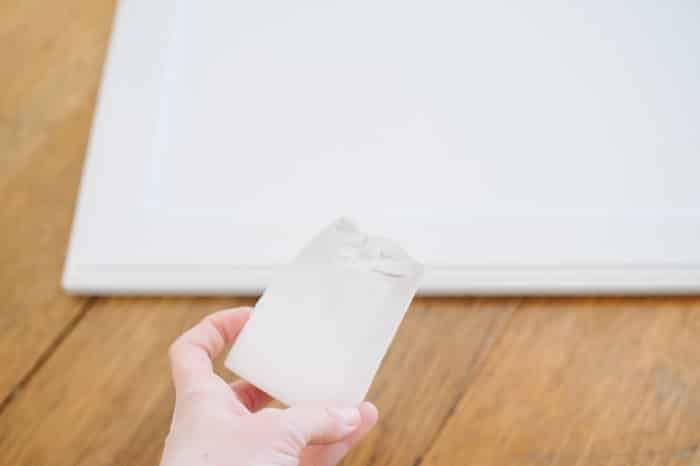 It could easily be made into a wall sign by using black paint and stencils (or freehand if you have nice handwriting) to add a quote to it.
Ideas of Quotes for a White Wall Sign:
Bless This Mess
Be Kind & Love Well
In this house, we will serve the Lord
It could either be hung with strong Command Strips or by using hanging hardware drilled into the back.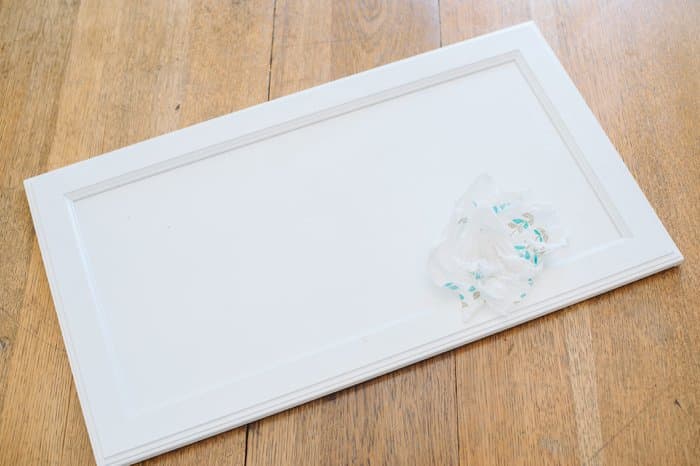 Jewelry Holder using a Cabinet Door and Decorative Knobs
Next, I found a small wooden cabinet door that had potential to be made into something fun.
I also found five drawer knobs with a sweet floral design on them that had a retro but pretty feel.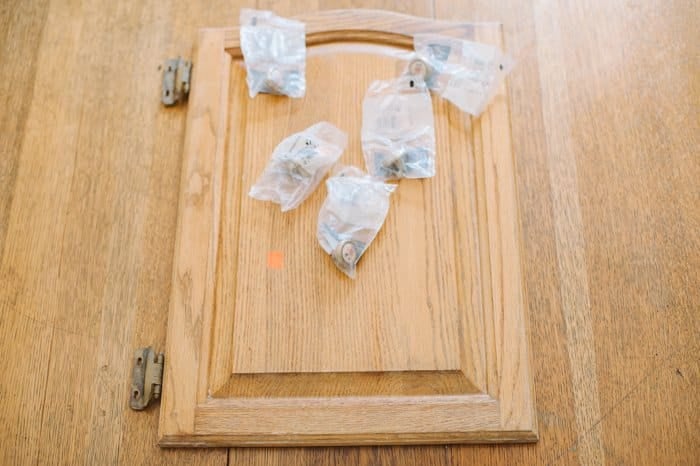 This project would involve removing the hinges from the cabinet door, cleaning it up and either restaining it or painting it. I like the idea of painting the cabinet white or maybe a light mint or teal color, and then distressing the paint by sanding the edges and surface a bit.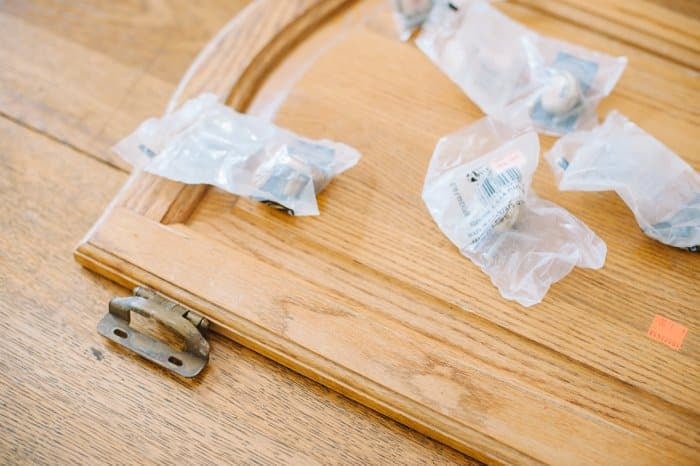 From there, I'd drill and screw in the 5 floral door knobs in a staggered pattern, to make a jewelry holder to hang necklaces and bracelets on.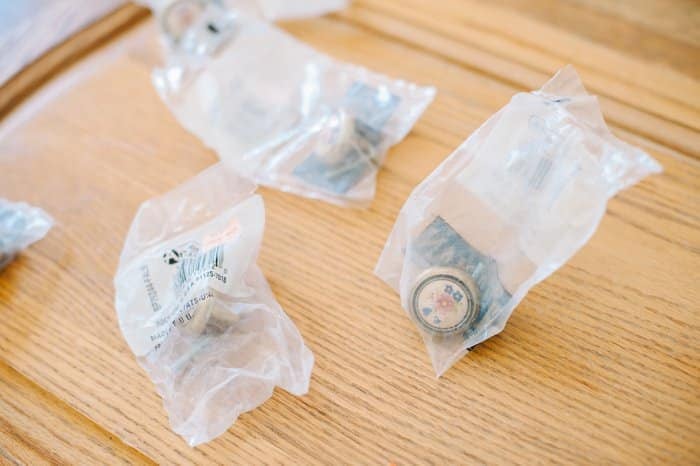 The finished piece could be hung up on a wall or leaned up against a wall on the top of a dresser as well (although if it's not secured, it might tip over.)
Mod Podge Photo Coasters with Square Tiles
The last idea I had was to use small white square tiles to make photo coasters, using Mod Podge.
It's a popular craft, and one that I have both received as a gift and given as a gift before.
My son dropped my beloved coasters and cracked them, so I decided it was time to make a new set.
How to Make DIY Mod Podge Photo Coasters Using Square Tiles
1. Gather supplies.
At the ReStore, small white square tiles are plentiful and cheap. They make the perfect base for the coaster.
You'll need:
Square white tiles
Photos (or old maps, bible pages, hymnal music, etc)
Mod Podge (I used matte)
Clear Acrylic Sealer
Glue
Felt
Scissors (or rotary cutter and cutting mat)
Paper Cutter (optional)
Small foam paint brush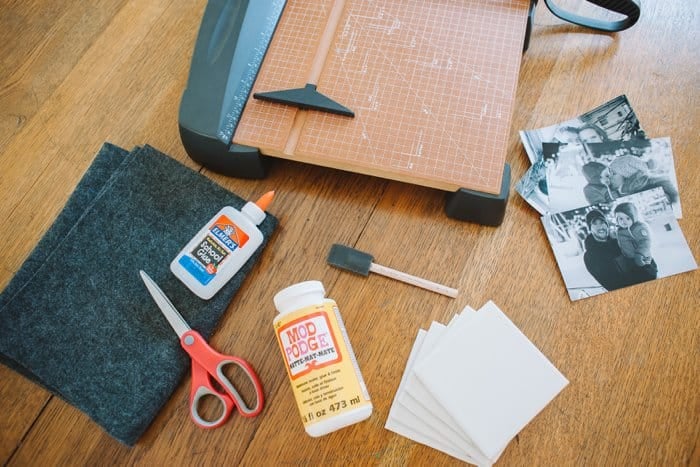 2. Clean tiles to remove any dirt or dust.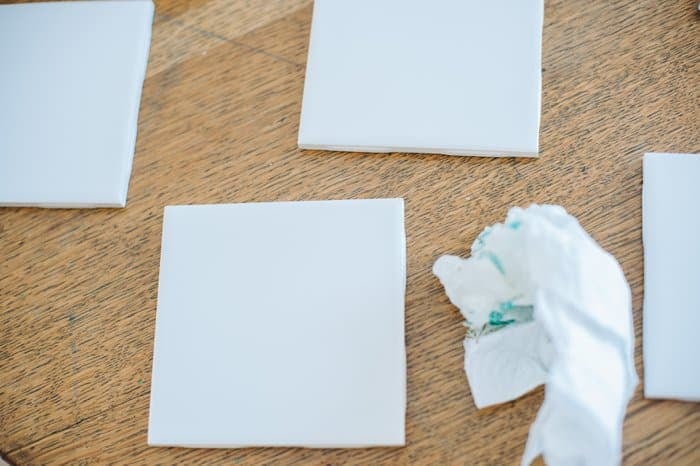 3. Cut photos to size using paper cutter or scissors.
You want the square photo to be slightly smaller than the tile, so that when it's all finished, you will see the edge of the tile as a frame around the photo.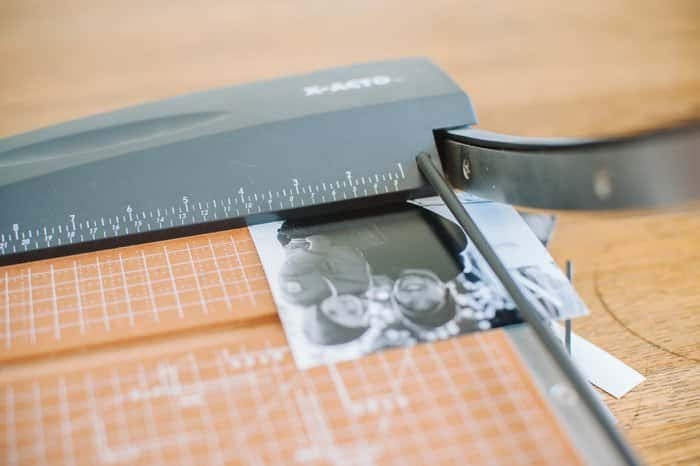 4. Brush Mod Podge onto a bare tile. Lay photo on top and let dry.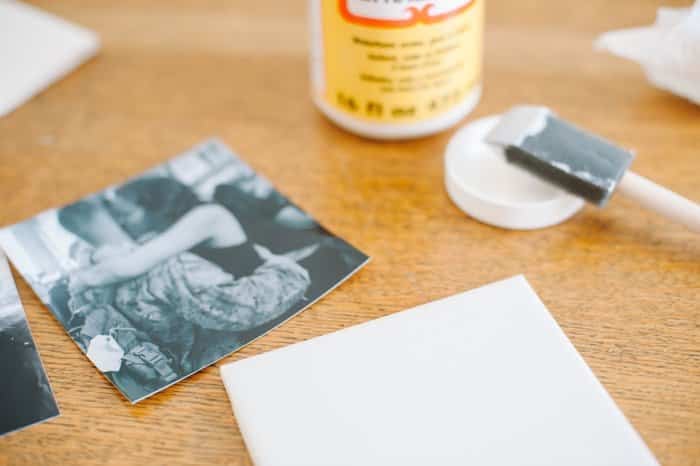 5. Paint another Mod Podge layer on the top of the photo. Let dry.
Optional: you can paint a second Mod Podge layer on top of the photo as an added layer of protection if you want. I did two coats of Mod Podge on top of each photo, letting them dry in between.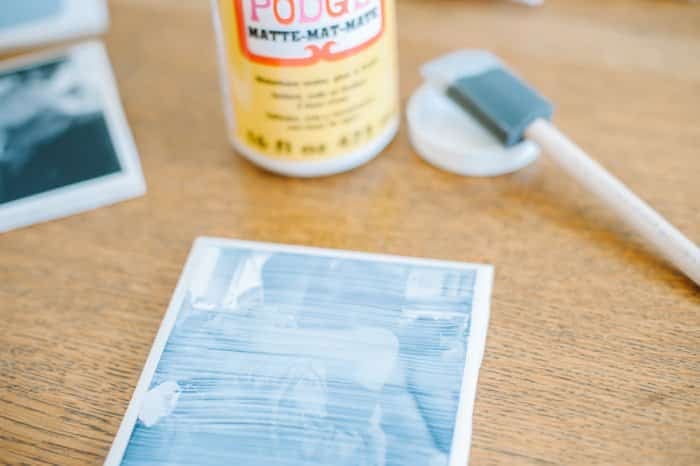 6. Spray photo surface with Clear Acrylic Sealer and let dry.
Mod Podge can get a little sticky and make cups stick to the coasters. That's where the Clear Acrylic Sealer comes in.
Once the coasters are sprayed with the Sealer, they will no longer be tacky.
7. Cut felt and glue on bottom of tile.
Cut the felt squares to a similar size as the photos you cut for the top of the coasters.
You can use scissors, or a rotary cutter and cutting mat like I did.
Glue the felt to the bottom of the tiles with glue and let dry.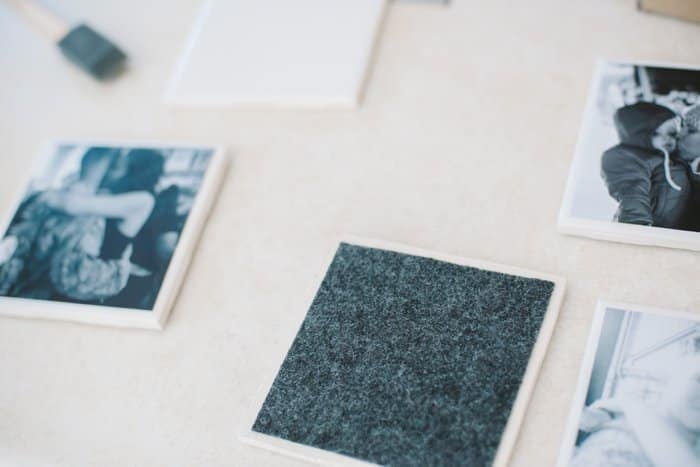 8. Repeat for all of the coasters.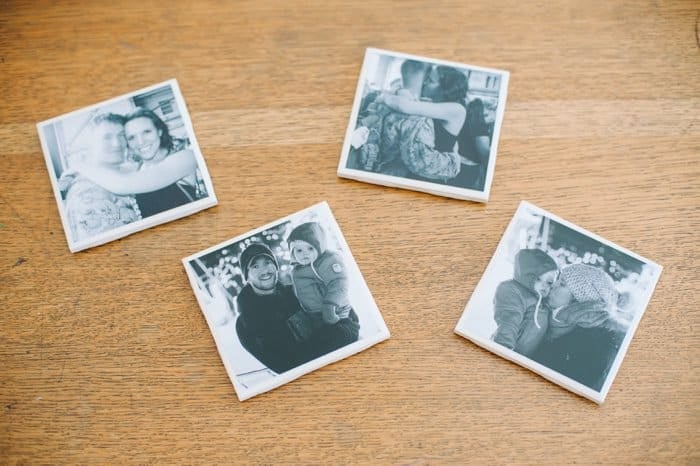 The finished products are beautiful, sentimental coasters that are not only easy (and cheap!) to make but functional too.
– – – – –
Earth Day helps us remember that it's up to all of us to do our part to take care of our planet, for ourselves and for future generations.
Whether that be making more mindful lifestyle choices, trying to up our recycling game, or keeping things out of the landfills by donating our unwanted goods rather than throwing them away, we all need to help take care of our planet.
The Habitat for Humanity ReStore offers a place to donate unwanted furniture and building supplies, and it offers an amazing resource for buying supplies at a discounted rate as well.
Whether you're building or remodeling a home, or simply taking on a DIY or upcycle project – looking to give something new life, the ReStore is a one stop shop for supplies and inspiration.