**These posts often contain affiliate links. Please see our disclosure policy for details.**
MOD PODGE CRAFTS ARE PERFECT TO MAKE AS HANDMADE GIFTS. IF YOU'RE LOOKING FOR MOD PODGE IDEAS, HERE'S HOW TO MAKE A DIY MOD PODGE FAMILY PHOTO ORNAMENT FOR YOUR CHRISTMAS TREE!
Mod Podge is a cornerstone of the craft world for good reason; the uses are nearly endless!
From Mod Podge coasters to DIY photo canvases and beyond, the craft possibilities abound.
We're on Day 12 of The 30 Days of Ornaments Project, where we are making 30 handmade ornaments in 30 days.
Today, we are using Mod Podge to turn photos and wooden discs into a beautiful DIY family photo ornament!
Here's how to make it!
Day 12: How to Make a Mod Podge Family Photo Ornament
DIY Mod Podge Photo Christmas Ornament
Step 1. Gather supplies.
Supplies needed: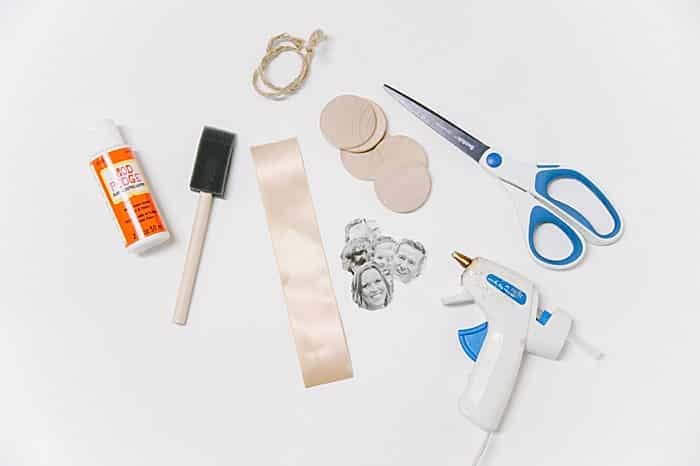 Step 2. Cut 12″ of twine for a hanging string. Set aside.
Step 3. Mod Podge photos onto wooden disc circles with foam brush. (1 base coat. Add photo, let dry. Layer of Mod Podge on top of photo. Let dry. Repeat one more coat on top of photo. Let dry.)
Step 4. Cut ribbon to desired length, to accommodate wooden circles.
Step 5. Hot glue wooden circles onto ribbon.
Step 6. Fold hanging string in half, knot two ends together.
Step 7. Hot glue hanging string to the top of the back of the ornament.
Step 8. Inspect and hang up the Mod Podge ornament!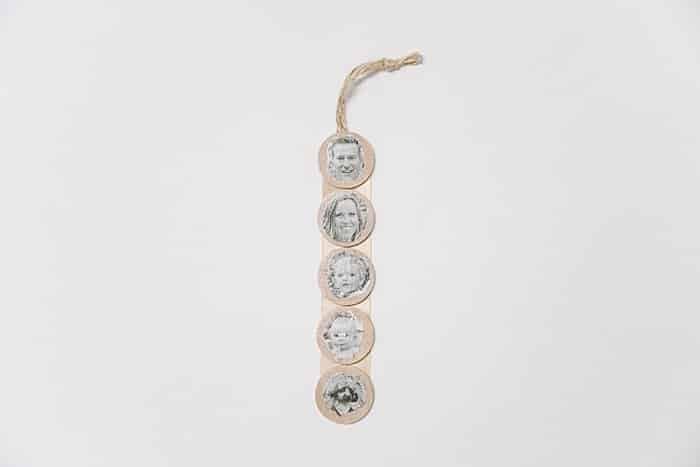 Using ribbon, wooden discs, photos, and Mod Podge, we made a sentimental family photo ornament that resembles a family tree.
I love this ornament for my own Christmas tree, but I also think this idea would make a wonderful handmade gift idea for a loved one too!
Save the idea for later by pinning the photo below to Pinterest!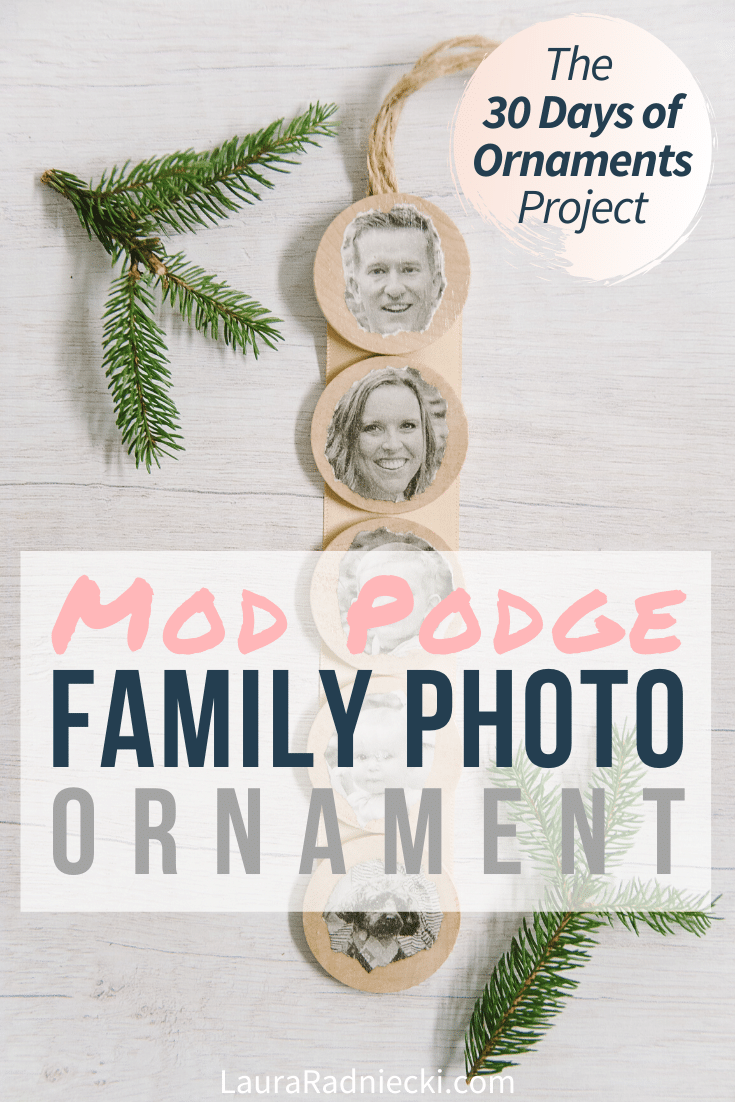 . . . . . . .