**These posts often contain affiliate links. Please see our disclosure policy for details.**
LEARN HOW TO MAKE YOUR OWN HAIR ACCESSORIES WITH THIS EASY TUTORIAL SHOWING HOW TO MAKE DIY POM POM PONYTAIL HOLDERS WITH YARN POMS!
Pom poms are addicting to make; all you need is yarn, scissors, and either your hand or a fork.
Once you make one, you'll be inspired to make a dozen and there's no stopping from there!
We've been using pom poms in everything from garlands and ornaments to faux cacti and cork trees.
Today, we're taking a look at how to make DIY pom pom ponytail holders.
It looks WAY more complicated than it really is!
Here's how to do it!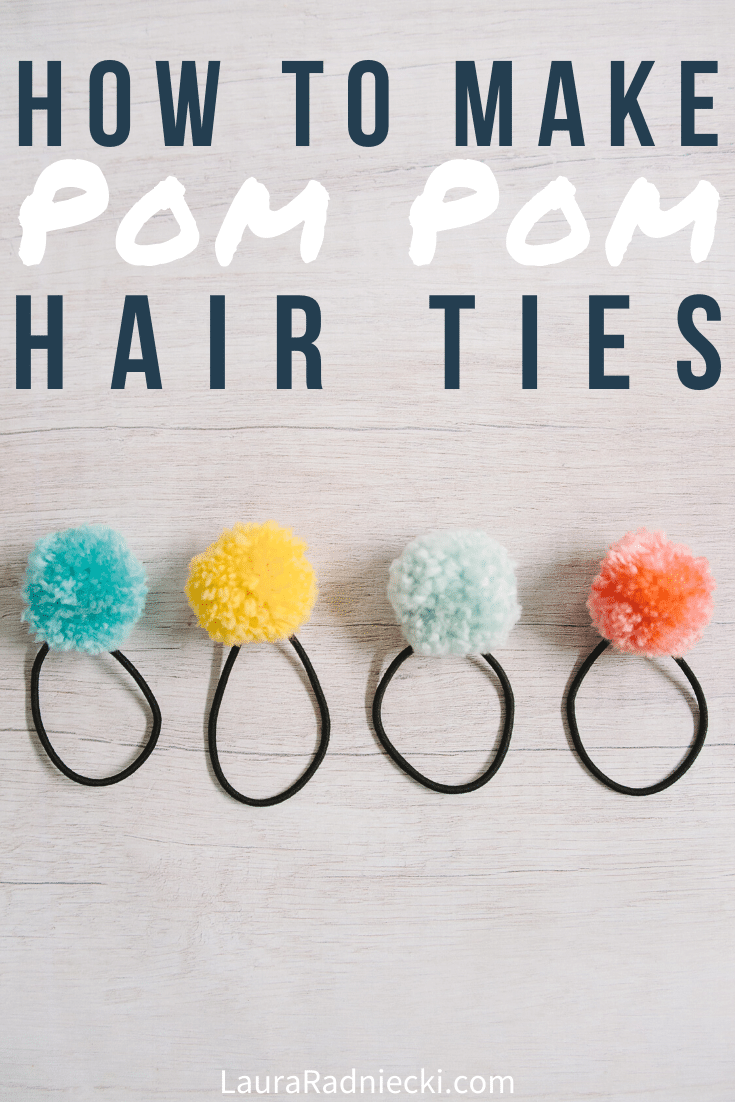 How to Make DIY Pom Pom Ponytail Holders | Easy Pom Pom Hair Ties
Step 1. Gather Supplies.
Supplies Needed:
Step 2. Make yarn pom poms, leaving the tie strings long.
Using the yarn colors of your choice, make pom poms in varying sizes.
You can make pom poms using the two finger method, and then make smaller versions using the fork method of making pom poms.
LEFT: two fingers, wrapping 50 times. RIGHT: fork, wrapping 50 times.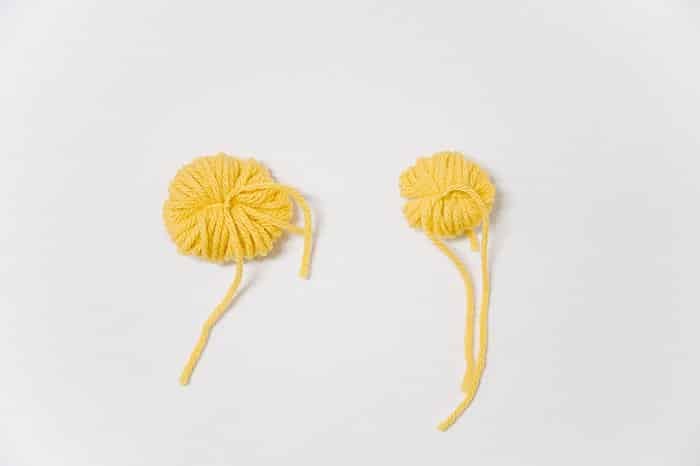 Make sure to leave the tie strings long, because this is how you will secure the pom poms to the elastic hair tie.
Step 3. Trim pom pom into ball (DON'T TRIM TIE STRINGS) and knot onto elastic hair tie with the long tie strings.
Once you've trimmed the pom poms into round balls and left the tie strings long, it's time to tie them onto the hair ties!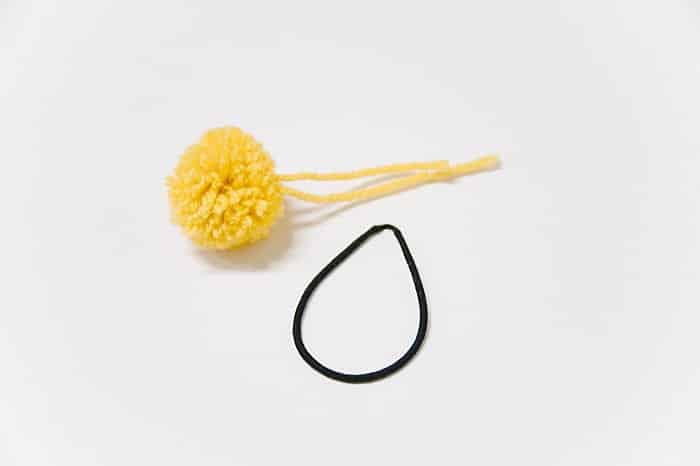 Tie the long tie strings around the elastic, and knot to secure.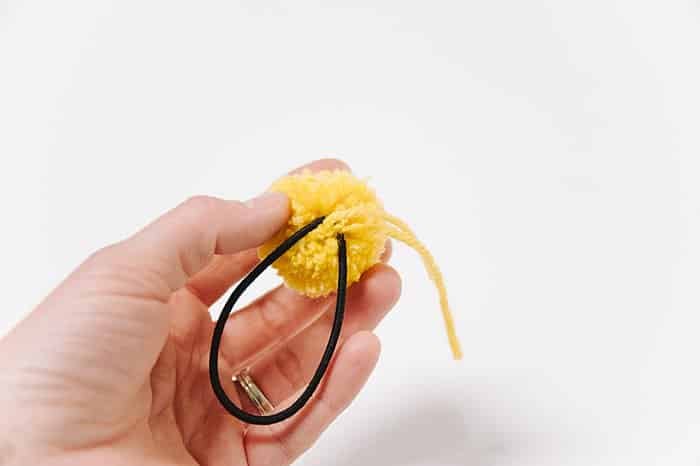 Trim off tie strings once pom pom is secure.
That's it!
You've made a simple pom pom hair tie!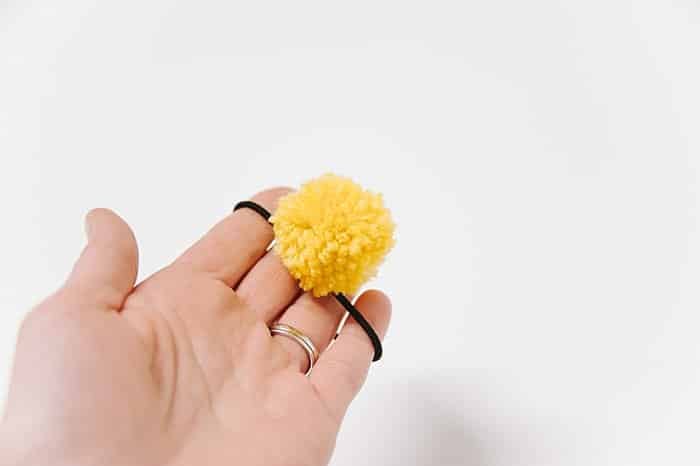 Step 4. Add another pom pom to elastic hair tie using the same method.
You can add another pom pom to your hair tie by repeating the same method with another pom.
I chose to tie on a smaller pom pom in a different color as an accent.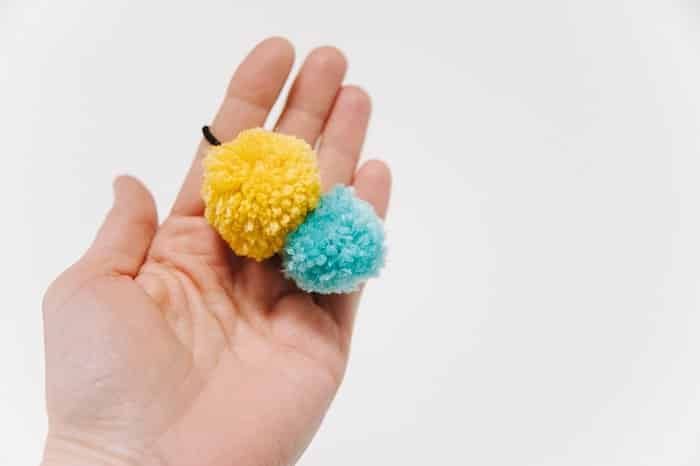 Once it's knotted to the hair tie, trim the tie strings and it's done!
Step 5. Continue adding pom poms if desired.
If you want to go one step further, you can tie on a third (or fourth etc) pom pom to the elastic hair tie.
Knot tight and trim tie strings.
That's all it takes to make cute pom pom hair ties!
The long tie strings are perfect for attaching the pom pom to a hair tie.
This same method of tying and knotting pom poms to elastic can be used to attach pom poms to a headband or even to make a pom pom crown.
Once you make one pom pom hair tie, you'll be looking around to see what else you can add pom poms to!
– – –
Save the idea for later by pinning the photo below to Pinterest!