**These posts often contain affiliate links. Please see our disclosure policy for details.**
A Time Capsule for Baby's First Birthday is a project where letters are written to a baby as they turn one, and the letters will be opened later on the child's 18th birthday. A sentimental way to celebrate a 1st birthday and prepare for a meaningful 18th birthday as well!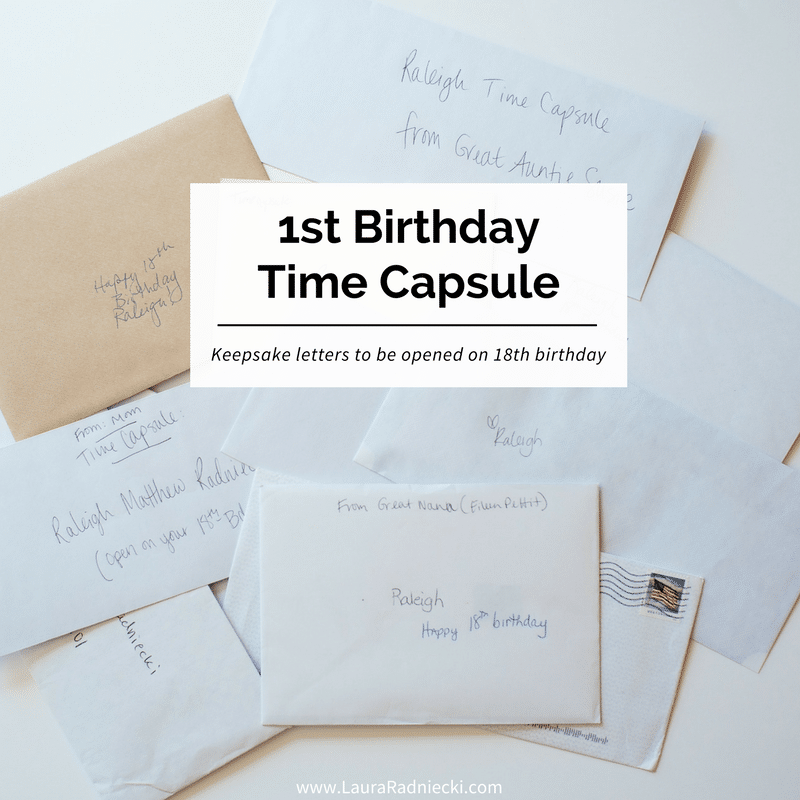 The concept of a Time Capsule is a familiar one to me. When my high school friends and I came back to town for Thanksgiving break our freshman year of college, we all gathered together in the basement of my parent's house, and created a Time Capsule of our own. We filled out questionnaires that asked things like: "Where do you think you'll be in X years" and "What career do you think you'll have?"
Then, we sealed them in a box, and I tucked it away in the back of my closet. Now, almost 13 years later, the box and the papers inside remain tucked into a corner in my craft room, in the basement of my current house.
Which reminds me, high school girlfriends – maybe we need to plan a get-together so we can read through those papers! We never really made firm plans for when we would open it up and read through them.
There's something fun, intriguing, and empowering too, about looking forward, and predicting how things will turn out in the future. There's also something powerful about looking back when you get to the future, and seeing whether your predictions turned out to be accurate or not.
A Time Capsule for Baby's First Birthday
Last fall, my sister in law sent me a link to a video that was circling on Facebook. It was a video of a girl who was turned 18, and she was given a Time Capsule of letters from family members as part of her birthday present. The letters were written to her on her first birthday, and now here she was, reading them 17 years later.
The video was emotional; several of the letters were written by people who had passed away over the last 17 years between her first and 18th birthdays.
I immediately loved the idea, and sent an email out to our friends and family, asking for help in creating a Time Capsule for Raleigh.
A few months ago he turned one, and on his birthday, family and friends gave me letters to put into a Time Capsule for him.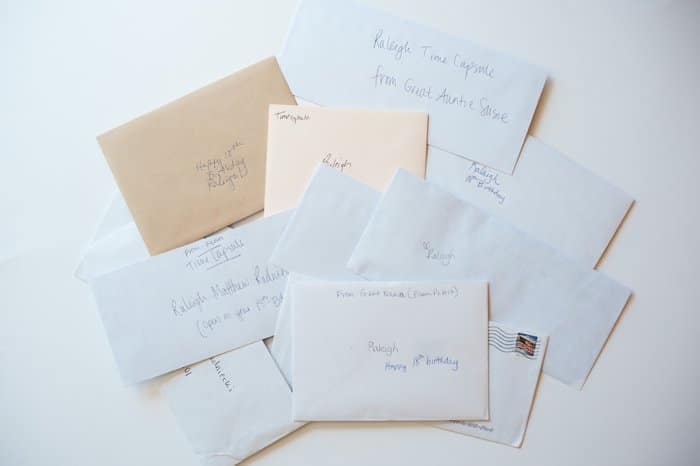 The letters are to be opened by him on his 18th birthday. For now, I will keep them together and safe. 
I know that sometimes, boys aren't as sentimental and emotional as girls. I should I know; I'm married to a very stoic man.
However, I hope and pray that Raleigh appreciates the words of encouragement and love that were written to him by the people who love him most. I hope that when he reads them in 17 years, they will speak life and hope into his heart, and show him that he was loved deeply, right from the start.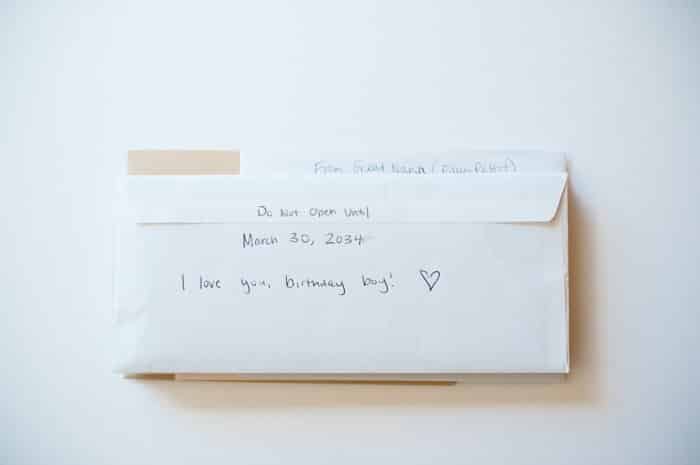 I am appreciative of all of the letters, but one stands out the most to me. It's sealed, so I don't know what it says, but it's from my Grandma Pettit who passed away at the end of last year. With the help of my mom, Grandma was able to include thoughts for Raleigh to be included in the Time Capsule. The thought of Raleigh opening a letter from her in 17 years squeezes my heart and brings tears to my eyes already. His Great Nana loved him dearly, and I hope he will be able to feel that.
(And yes, I'm looking for a keepsake box worthy of holding such precious letters.)

– – – – –
A Time Capsule, filled with letters from family and friends written on a baby's first birthday, designated to be opened with they turn 18, is a unique gift that will only become more significant as time goes on.
I am looking forward to the day when Raleigh is able to read the heartfelt words in those letters that were written just for him.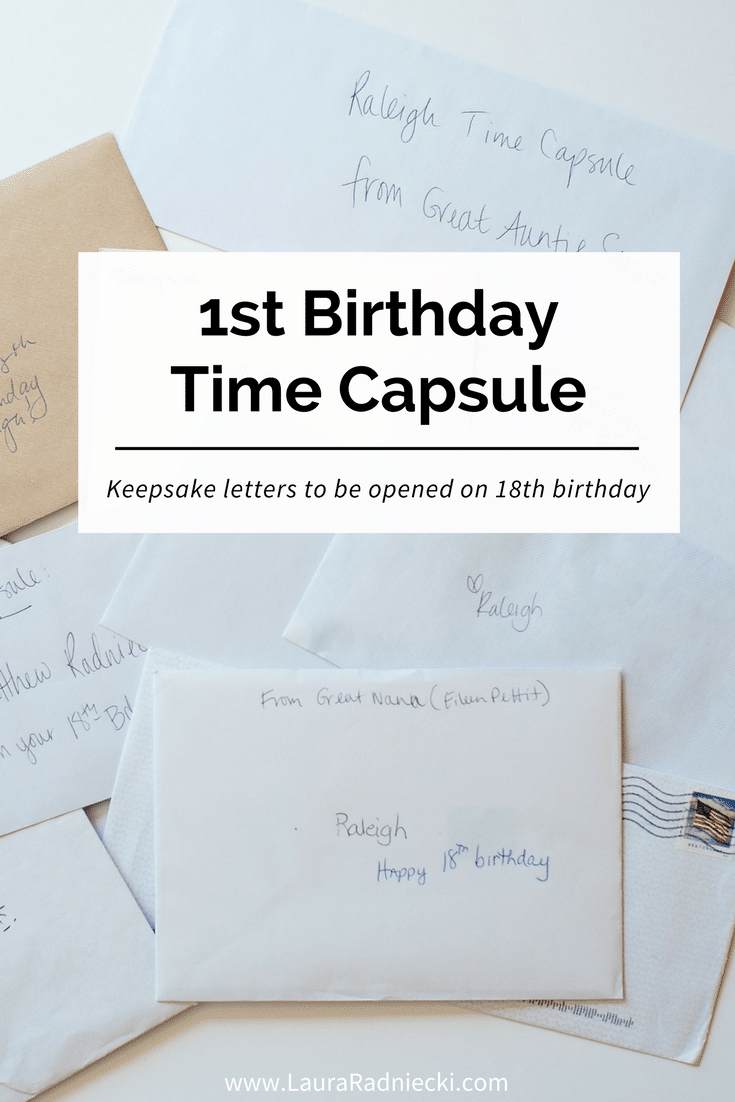 – If you liked this post, I would love if you would share it on Pinterest or Facebook. Thanks & xo! –