**These posts often contain affiliate links. Please see our disclosure policy for details.**
The Ultimate Toddler Art Gift Guide includes gift ideas for toddlers who love art, so they can start creating kids crafts and artwork, and foster creativity from a young age.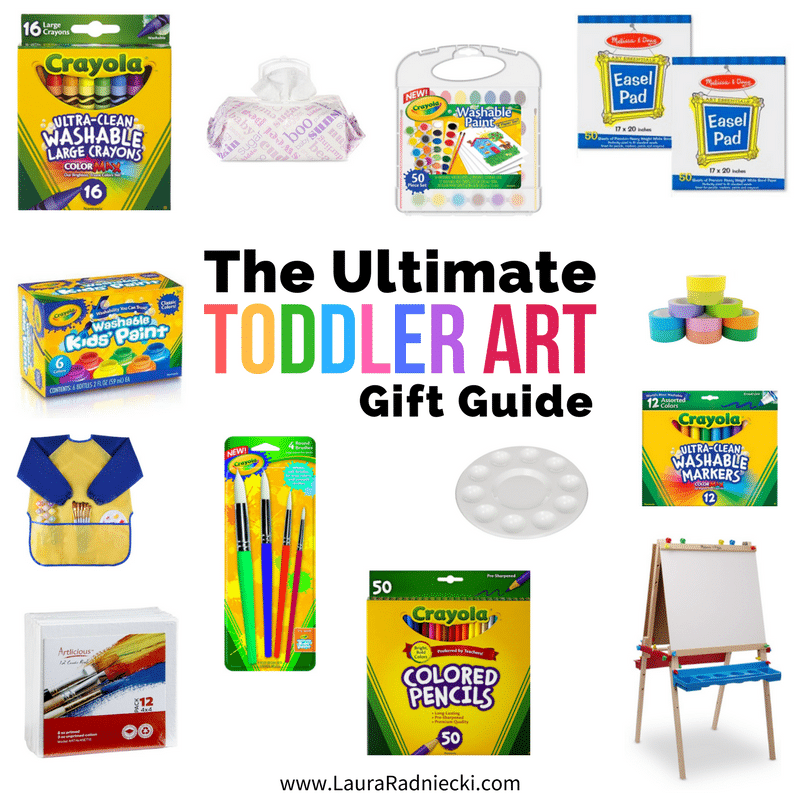 I've been an arts & crafts lover for as long as I can remember.
I have vivid memories of making party favor bags for my 2nd grade birthday party, and my whole bedroom floor was covered with supplies except for a 1 foot square for me to sit.
I've dreamt about making art projects with my future kids my entire life. I have art supplies from the 90's, and every time I thought about throwing anything away, I said to myself, "Yeah, but maybe I'll make something with this when I have kids." I always wanted to raise creative kids.
In the early days of becoming a mom, crafts were the furthest thing from my mind. The adjustment to motherhood was tough for me, but as I settled in and found my groove, my desire for creativity returned. When my son Raleigh was an infant, I introduced him to crayons, and we've been creating ever since.
In more recent months as he's entered into toddlerhood, we've embraced a broader range of art projects and he is now initiating the creating instead of the other way around. It warms my heart to hear "Paint!" and "Markers!" multiple times a day.
I want to raise kids who enjoy art and creating things. I don't care what their art looks like; I just want them to enjoy the process.
I've gathered a list of gift ideas for the toddler artist in your life to help you foster their creativity and desire to create!
The Ultimate Toddler Art Gift Guide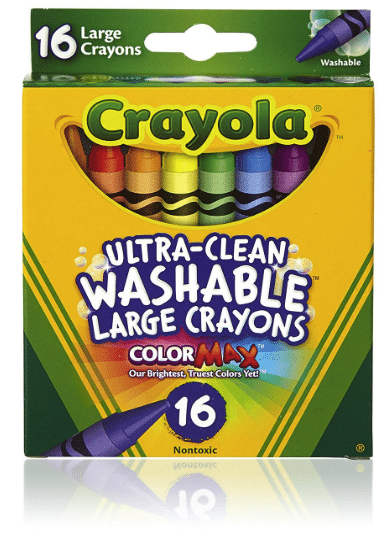 Large Washable Crayons: Crayons are a great place to start for a kid at any age. We started with the Jumbo sized crayons when Raleigh was an infant because they are the most sturdy, but now that he's a toddler, the Large size would be perfect.
***A bonus must-have to go with crayons are Magic Erasers. Kids inevitably color on things they're not supposed to, like toys, furniture and walls. Magic Erasers really are magic and do the trick every time.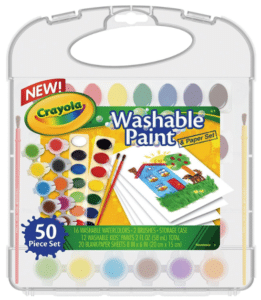 Watercolor Paints: Watercolor paints are the perfect introduction to painting for a toddler. They're cheap to buy, easy to use, and the best part – easy to clean up! Raleigh is obsessed with watercolor paints. He asks to paint at least once every single day.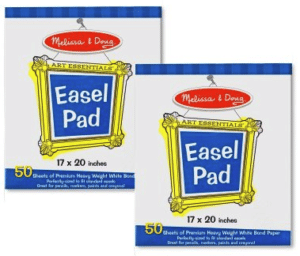 Large Paper Pad: We started using scrap paper for our drawing and painting art projects, but it was hard for Raleigh to stick within the small sheet of paper. One day, I picked up a large pad of white paper and he loved it. It gives him a huge surface to create on, and it helps contain the mess. We use both sides of the paper so it lasts longer.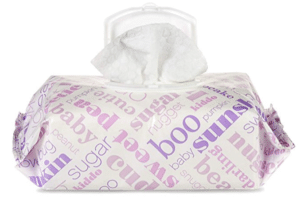 Baby Wipes: Art is messy, especially with a toddler. Once you embrace the mess, then you can allow them the freedom to create. This was hard for me to accept at first, especially with watercolor paints. Those are very messy, especially if your kid insists on painting his hands and arms like mine does. But my trick for easy cleanup (and to keep my sanity) is baby wipes! They work like magic for cleanup, especially with watercolor paints. They work for skin, furniture and floors. They're a must have for toddler art in my book!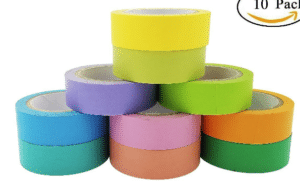 Washi Tape: I like to display the art Raleigh creates, and the easiest way to do that is with washi tape. One little strip hangs up a masterpiece for us all to enjoy, and when we're ready for something new, it's as simple as peeling it off and hanging up something new with a new piece of tape.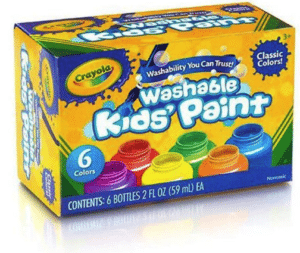 Washable Kids Paint: This paint is washable, safe for kids, colorful and fun to use. It's perfect for handprint or footprint artwork, as well as for freehand painting. I make sure this is a closely supervised painting activity though because it makes a bigger mess than watercolors do.
***It's worth noting, however, that this paint is smelly. I am very sensitive to smells and often get headaches from strong smells (even good smelling things like perfumes or lotions). I got a headache from this paint because the smell is so strong. I asked my husband to smell them and he said, "They smell like paint." So it didn't bother him.
Next time I need to buy kids paint, I am going to try this brand which claims to have no smell at all. If you are sensitive to smell like me, or you want to ensure there's no scent around your little painter, the Magicdo paints might be a better option.

Paintbrushes: A variety of paint brush sizes allows your little artist to try different things and see what they like best. These will work with watercolors as well as washable kids paint.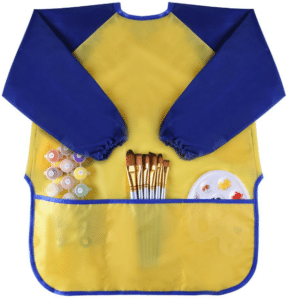 Paint Smock: This is a handy item to have on hand for washable kids paint for sure. I use a regular bib when Raleigh paints with watercolors, but for the kids paint, a smock helps protect clothing and arms/legs from a huge mess. The smock easily wipes clean, and has pockets if your artist feels like putting supplies in them like a pro.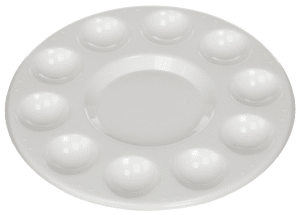 Paint Tray: Some people use paper plates or empty egg cartons which is one alternative, but a plastic paint try is a great option as well. They're easy to clean and allows for lots of paint colors to be available at once to your little artist.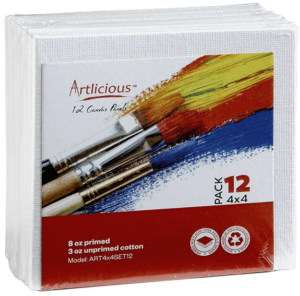 4×4 Canvases: Sold in packs of 12, these cute little canvases are perfect for making mini masterpieces. They can be used for grandparent gifts with freehand painting or handprint art, or turned into ornaments, just to name a few ideas. There are larger canvases available too, for bigger artwork.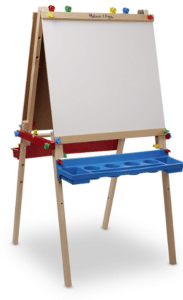 Art Easel: Once your toddler is old enough to know that painting requires staying put in a certain spot (to avoid paint all over the carpet/couches etc) and will obey those rules, an art easel can make things even more fun. Kids can stand at the easel and paint or draw to their hearts' content!
Washable Markers: My son loves to color with markers, both on paper and on his arms and hands. I think he mostly enjoys taking the caps off and putting them back on, but nevertheless, he loves his pack of markers. Even though they're washable, they don't completely come off skin with a baby wipe. However, soap and water will remove it all.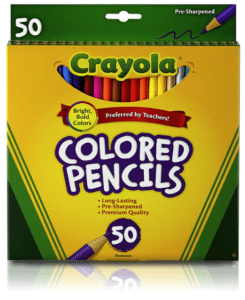 Colored Pencils: Another option for a budding toddler artist, colored pencils are pretty low-risk. They don't stain fabric or skin, and they wipe off walls and furniture easily with a magic eraser. My son particularly enjoys all of the different colors in the box.
– – – – –
Encouraging a little artist is a messy, wonderful experience. By giving toddlers space to learn how to create and make art, we allow them room to spread their creative wings and set them up for a life of artistic expression.
The art supplies in this toddler art gift guide make wonderful gifts for the little art loving toddlers in your life, and help them learn how to embrace and love art from a very young age.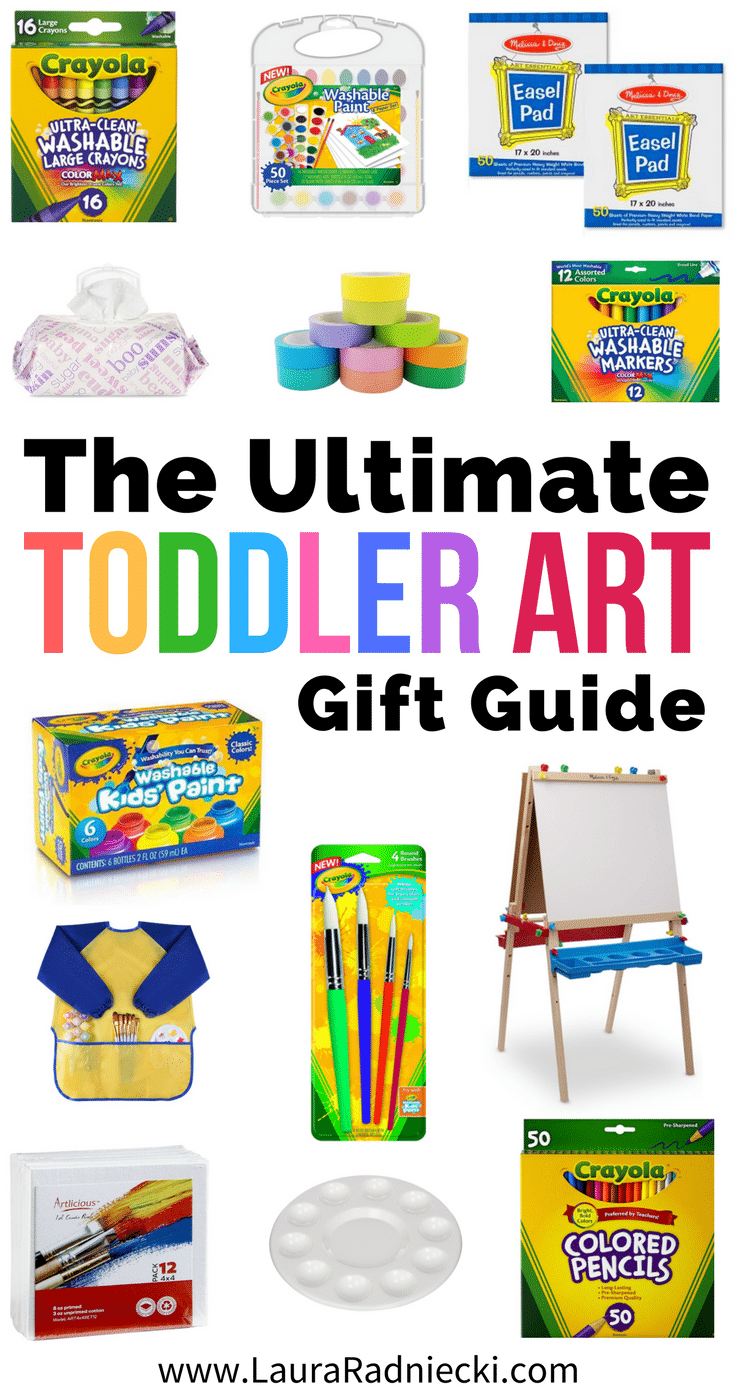 – If you liked this post, I would love if you would share it on Pinterest or Facebook. Thanks & xo! –