**These posts often contain affiliate links. Please see our disclosure policy for details.**
LEARN HOW TO MAKE PET ROCKS FOR KIDS; THE PERFECT EASY KIDS CRAFT. HELP THEM PLAY PRETEND, LEARN EMOTIONS, AND TAKE CARE OF THEIR VERY OWN PET (ROCK)!
What is it about kids that make them determined to pick up and collect every rock they see?
(That's not just my kids, right?)
Today, we're going to combine those rocks your kids collect with one of the best kids' craft supplies: googly eyes!
Googly eyes are worth their weight in gold; they can transform a simple object into something kids will LOVE in no time at all.
We used them to make Easter Buddies, Treat Buddies, and Flower Buddies, plus added them to leaves to make Leaf Monsters.
Today, we're gluing googly eyes onto rocks to make your kids their very own Pet Rocks!
Here's how we do it!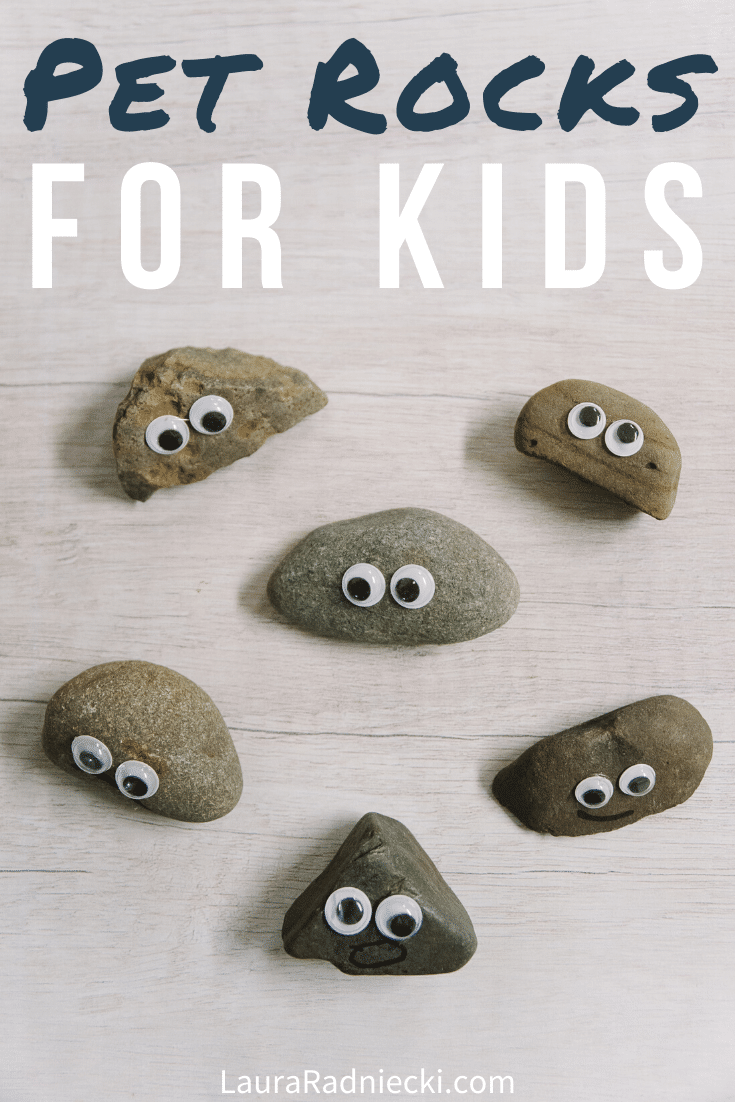 How to Make Pet Rocks for Kids | Easy DIY Kids Crafts
Step 1. Gather Supplies.
Supplies Needed:
Rocks
Hot Glue Gun and Glue
Sharpie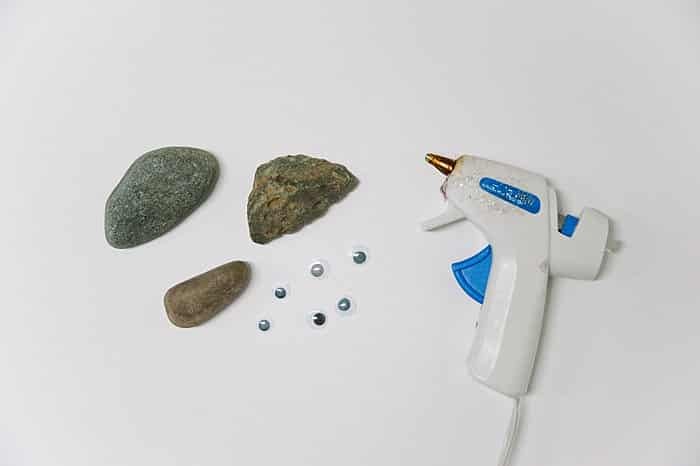 Step 2. Determine which way you want the rock to sit, and where you want to add the eyes.
Depending on the shape of your rock, it might be obvious where the "face" should go.
If it's not, set the rock down and spin it around to see where the best spot to attach the eyes is.
Step 3. Hot glue googly eyes onto rock.
Apply a small dab of hot glue to the back of one googly eye.
Place it on the rock and hold for a second or two.
If you put too much glue on the back of the googly eye, it will ooze out around the edges when you push it into place.
It's better to apply the glue sparingly for this reason.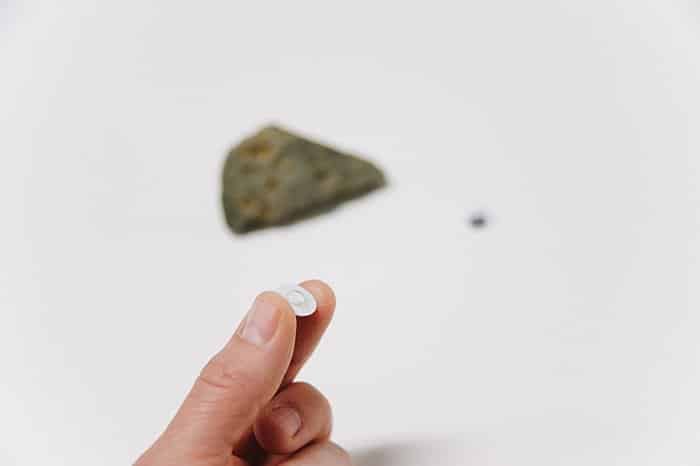 Hot glue the second googly eye in place.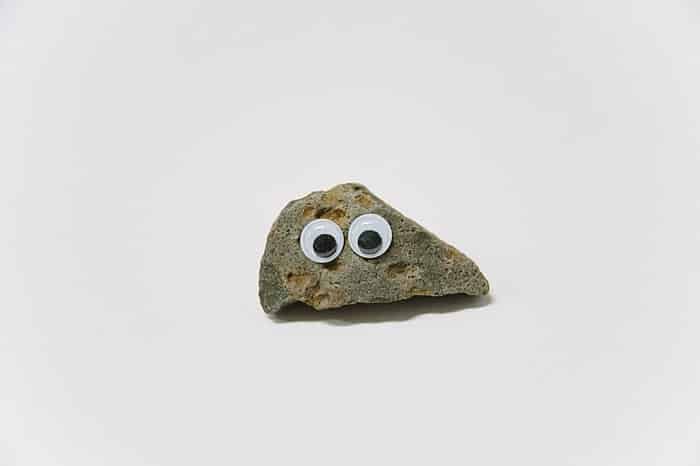 Step 4. Repeat, and glue eyes onto all of your DIY pet rocks.
Continue gluing eyes onto all of your pet rocks.
If you DON'T want to draw mouths onto the pet rocks, you are DONE!
Part of me loves the simplicity of these mouthless pet rocks for kids, and the fact that it allows them to be used in so many more ways than if they were explicitly "happy" or "sad".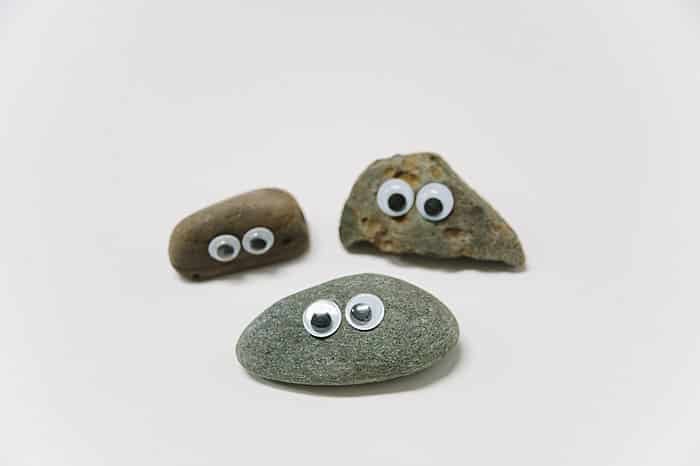 Step 5. Use a Sharpie and add optional mouths to the rocks.
However, if you (or your child!) wants to add mouths to the rocks, use a Sharpie and go for it.
My son wanted to have a happy, a sad, and a surprised pet rock, so that's what we made!
They are SO cute!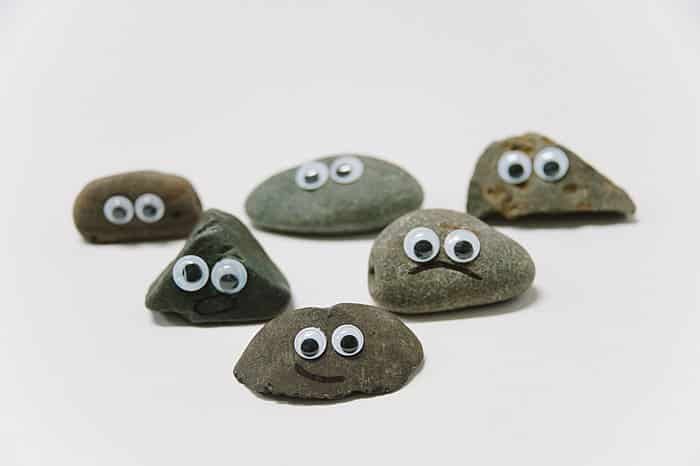 Making pet rocks for kids could not be simpler; it is quite literally one of the easiest kids crafts I've ever made.
All you need are googly eyes, hot glue, and rocks (which I'm sure you have in abundance if you have kids who love collecting rocks everywhere they go), and you can make a whole bunch of pet rocks in minutes.
From there, it's play time for your kids and their new pets!
– – –
Save the idea for later by pinning the photo below to Pinterest!