**These posts often contain affiliate links. Please see our disclosure policy for details.**
Looking for a new hobby, but don't want to spend much money? Embroidery is the ideal new craft hobby for you! With minimal supplies and easy stitches, it's the perfect low-cost option if you're searching for new hobby ideas!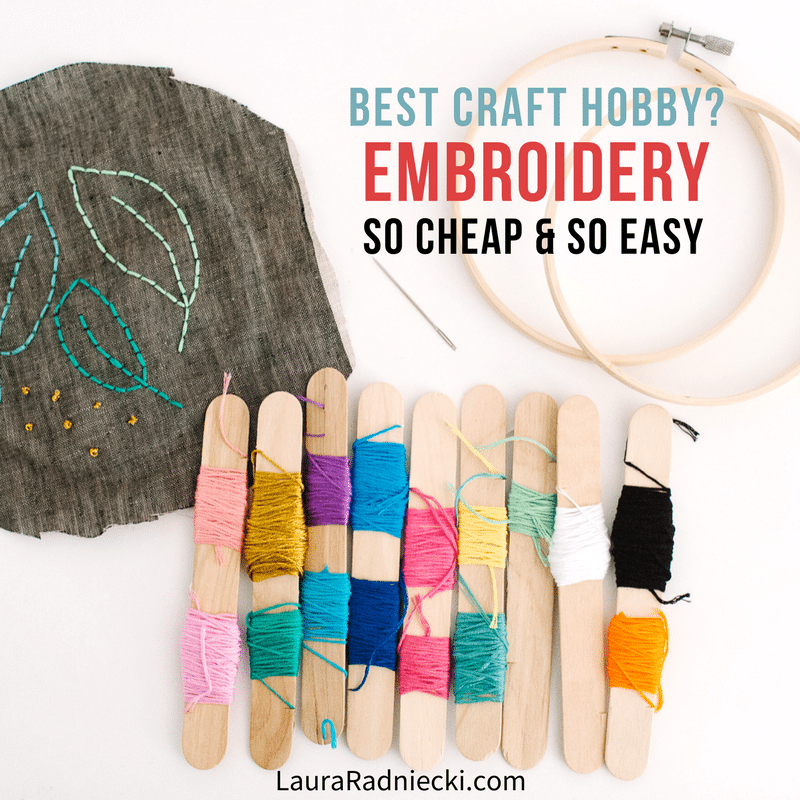 Embroidery is the ideal hobby if you're looking to start something new, and you love crafts.
I stumbled upon embroidery earlier this year, and as I shared in my Minnesota State Embroidery post, I am totally hooked.
I've made and hung three projects in my house so far and made a fourth as a gift. And I've only just begun!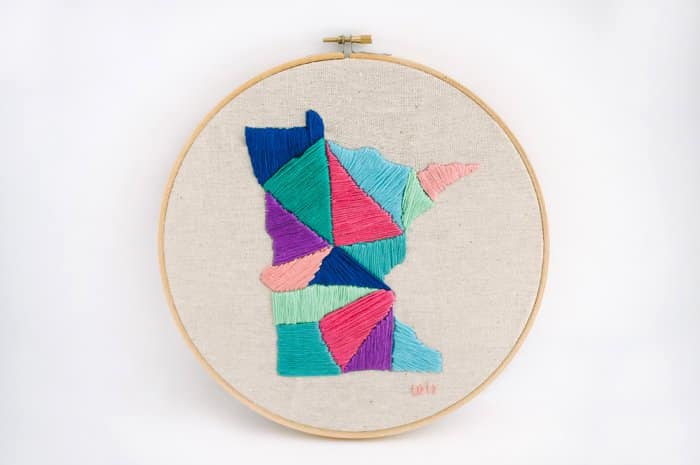 Here's Why Embroidery is the Best New Craft Hobby
1. Embroidery requires a small investment.
Embroidery supplies are cheap. All you need is a small piece of fabric, an embroidery hoop, embroidery floss, an embroidery needle, and scissors, and you can make an awesome project. Depending on the pattern or design you use, you'll likely have embroidery floss left over, so all you would need to buy is another hoop, and you could make a whole new project!
2. It is easy to learn.
You can make awesome artwork using only one stitch. I made my entire Minnesota State art piece using the satin stitch, which is SO easy to do! I also made another piece using only the backstitch.
If you want to get more advanced, you can learn a few more stitches and amp up your artwork options. But you can do a ton of projects with only the satin stitch and backstitch!
3. Embroidery is portable.
The hoop is your biggest supply, so as long as that fits in a tote bag or your purse, you can take your project with you wherever you go! And most projects use a 9″ hoop or smaller, so that's really not very big!
A zipper pouch is perfect for carrying the other supplies you need; you can put your needle in the inner lining fabric of the pouch to keep it safe.
4. It's meditative.
It sounds funny, but there is truly something meditative about embroidery for me.
Especially when I'm simply following a predetermined pattern, using one single stitch. It's a repetitive motion that is creating something. You are watching something be made in front of your eyes! And once you get the hang of the stitches, it's really easy and can be done while watching TV or a movie.
5. Easy to stop and start.
It's easy to put your project down and then pick it up again later.
This is ideal for a busy mom. You can easily stick your needle in the outer fabric edge and put your project down when your crafting time is up. It'll be waiting exactly as you left it, when you're ready to pick it up again.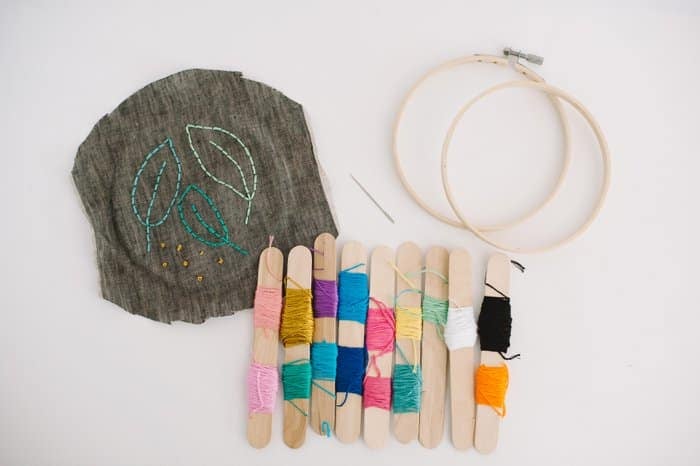 – – – – –
There are tons of hobbies available to us, many of the craft variety. But few hobbies have a low initial investment.
Lots of crafts require a bunch of supplies, many of which are not cheap. Sewing machine, yards of fabric, paint, canvases, yarn, jewelry supplies… It's easy to spend a lot of money trying out a new craft hobby. (Or any hobby, really.)
Embroidery is a great creative hobby for a variety of reasons, one of the biggest being the low investment that's required.
With a fabric remnant, an embroidery hoop, a few packages of embroidery floss, and an embroidery needle, you can create art for your home that you will be proud to display.
And as soon as you get going, you'll be hooked. Don't say I didn't warn you! (And I'll welcome you to the embroidery-obsessed club. I'm the current president!)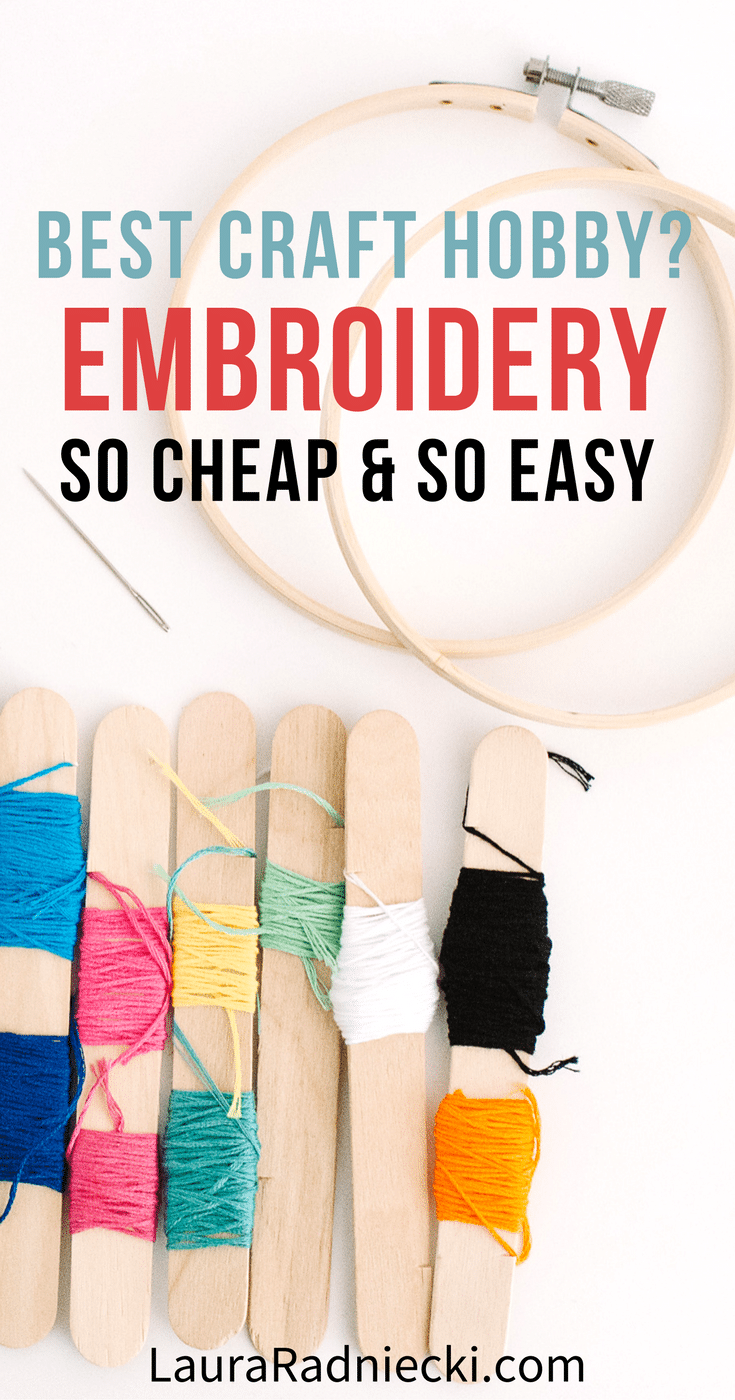 – If you liked this post, I would love if you would share it on Pinterest or Facebook. Thanks & xo! –