**These posts often contain affiliate links. Please see our disclosure policy for details.**
Learn how to embroider in this embroidery FAQ post, including the best embroidery kits for beginners, and other tips for getting started.
Embroidery is a wonderful way to express your creativity and make something beautiful with your own hands.
It is a timeless craft that involves decorating fabric with needle and thread.
Whether you're a beginner or an experienced embroiderer, there are a few embroidery basics that you should know in order to create beautiful designs and improve your skills.
Types of Embroidery Stitches
There are many different types of embroidery stitches, each with its own unique look and function.
Some of the most common embroidery stitches include:
Backstitch: A simple stitch used for outlining or creating straight lines.
Satin stitch: A fill stitch used to cover larger areas with thread.
French knot: A small knot used to create a raised texture on the fabric.
Chain stitch: A looped stitch that can be used for outlining or filling in designs.
Running stitch: A simple stitch used for outlining or creating straight lines.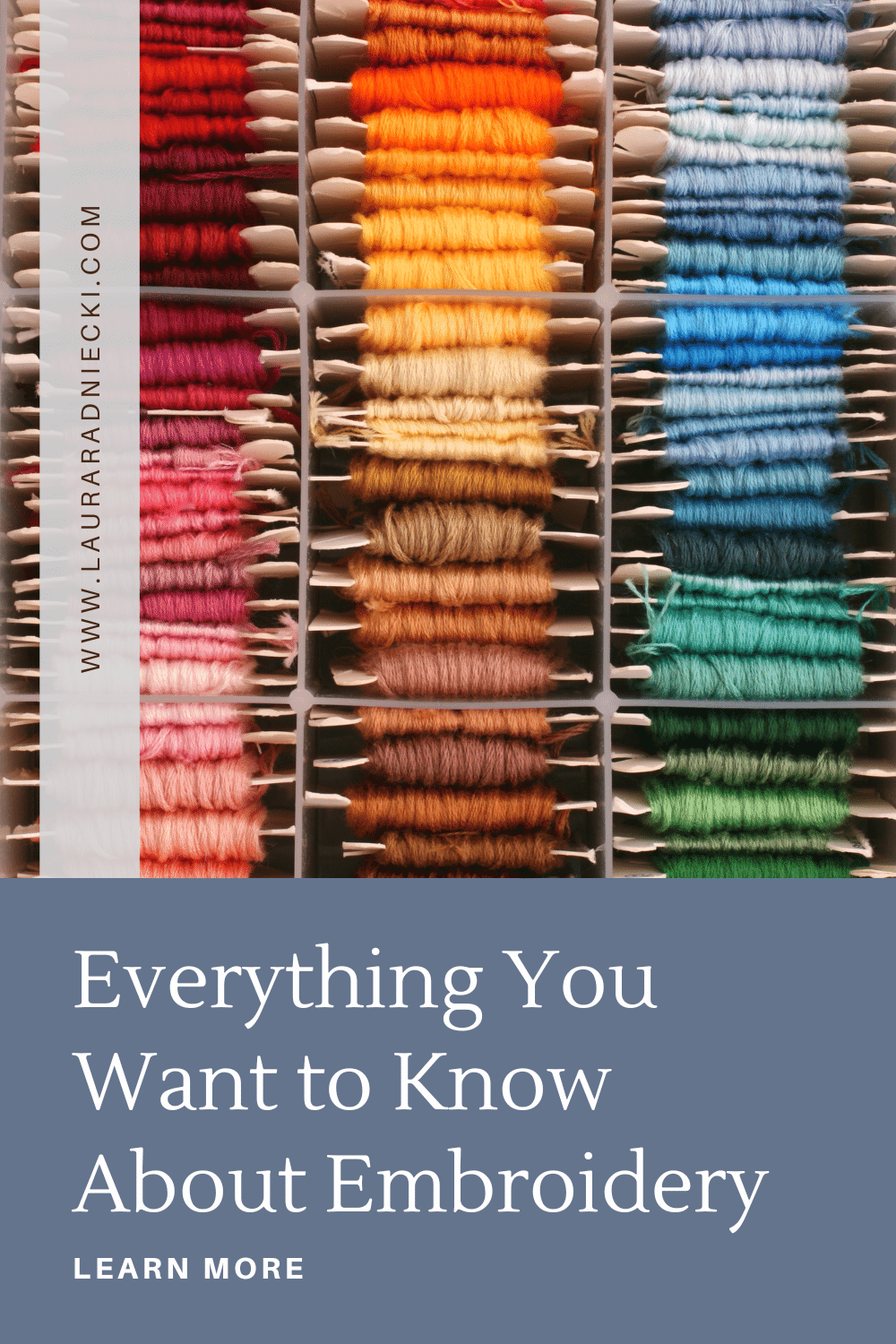 How to Embroider:
To start embroidering, follow these basic steps:
Choose your design and transfer it onto your fabric using a transfer pen or pencil.
Secure your fabric in the embroidery hoop to keep it taut.
Thread your embroidery needle and tie a knot at the end of the thread.
Begin stitching your design, following the lines of the pattern and using the appropriate stitches.
When you're finished stitching, tie off the thread and remove the fabric from the embroidery hoop.
Tips for Embroidery:
Practice your stitches on a scrap piece of fabric before starting on your actual project.
Use the appropriate embroidery needle size and type for your thread and fabric.
Choose colors that complement each other and the fabric you're embroidering on.
Keep your stitches even and consistent to create a clean and professional-looking design.
Take breaks often to avoid eye strain and hand fatigue.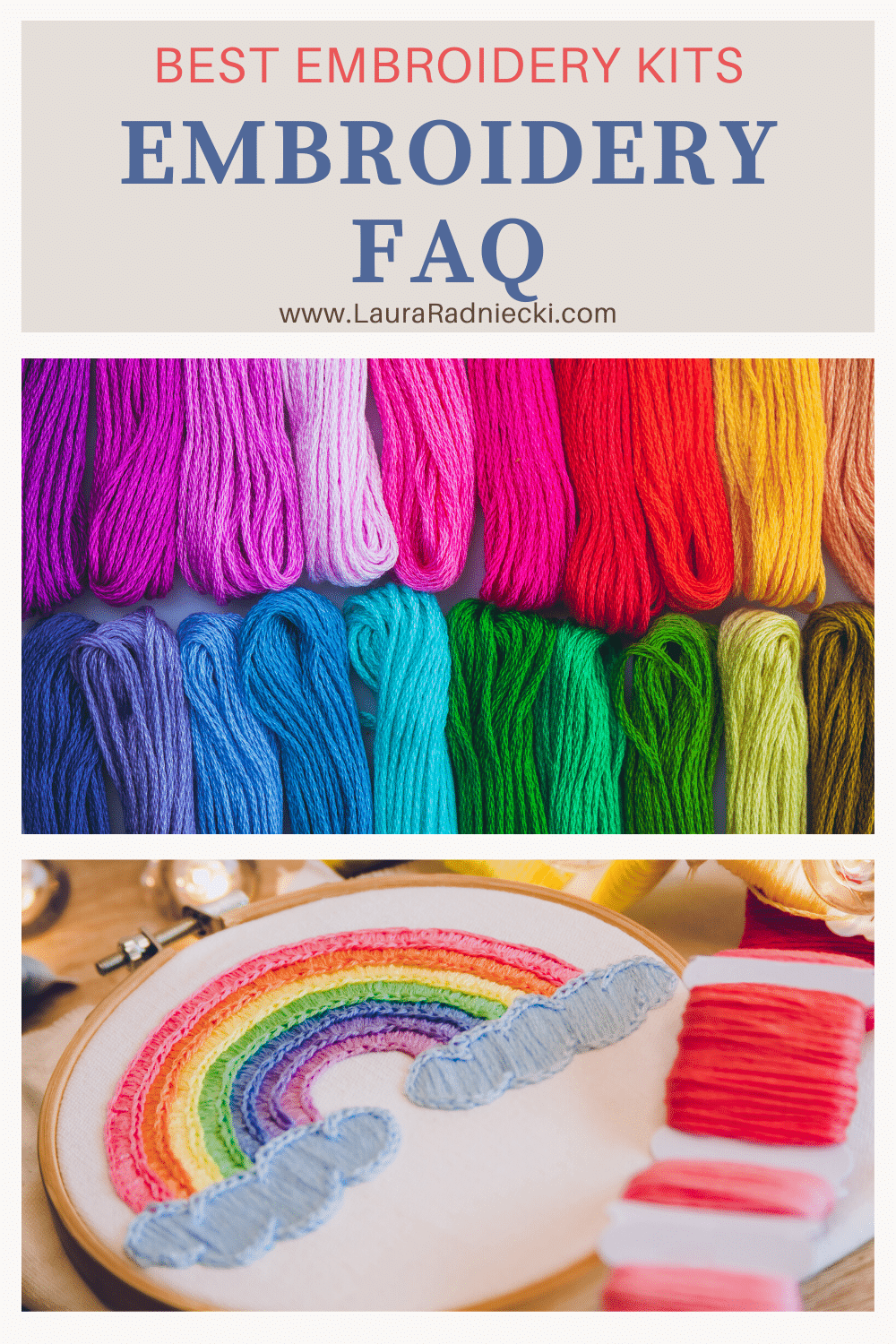 Best Embroidery Kits for Beginners:
I've rounded up a selection of fantastic embroidery kits for beginners that are available on Amazon and other internet sources.
The Santune 4 Pack Embroidery Kit is a great choice for beginners who want to learn the basics of embroidery.
This kit comes with four different patterns featuring plants and cats, along with everything you need to get started.
You'll receive two bamboo embroidery hoops, four pieces of embroidered cloth with patterns, eight embroidery needles, four instructions, a pair of scissors, a threader, and four color threads.
The embroidery frame has an adjustment screw, so you can tighten the fabric if necessary.
The detailed instructions will help you finish your embroidery projects with ease.
Highkick Embroidery Starter Kits
The Highkick Embroidery Starter Kits are perfect for beginners who want to create something beautiful without too much fuss.
This set comes with three different cactus-themed patterns, along with all the materials you'll need to get started.
You'll receive three stamped patterns, embroidery floss, needles, and a hoop.
The stamped patterns make it easy to follow along and create your designs with ease.
Yinder 5 Sets Embroidery Starter Kit
If you're looking for a fun and colorful embroidery kit, the 5 Sets Embroidery Starter Kit with Mushroom Cross Stitch Set is a great option.
This kit comes with five different mushroom-themed patterns, along with embroidery hoops, needles, threads, and instructions.
The patterns are easy to follow and perfect for beginners, and the fun colorful designs are sure to brighten up any room.
The Caydo Embroidery Starter Kit is another great option for beginners.
This kit comes with everything you need to get started, including an embroidery hoop, needles, floss, and a variety of embroidery patterns.
The kit also includes an instruction booklet to help you get started with the basic stitches.
– – – – –
Looking for more tips to kickstart your embroidery journey? Check out our blog post on Embroidery Basics!