**These posts often contain affiliate links. Please see our disclosure policy for details.**
TURN A RECYCLED TOILET PAPER TUBE INTO AN EASY CRAFT FOR KIDS: DIY TOILET PAPER ROLL ANIMALS!
Recently, we used empty toilet paper tubes and turned them into Emotion Buddies to help preschoolers learn how to talk about their feelings in a fun, low stress way.
I loved the simplicity of googly eyes and a sharpie mouth on a recycled toilet paper roll, so I wanted to see what else we could make.
Adding clothes pins for antlers creates an easy deer animal and adding felt balls for ears makes a quick and easy bear (or puppy, as my son calls it.)
Simple, easy crafts that use supplies we all have at home?
That's the best kind!
Here's how to make easy DIY toilet paper roll animals!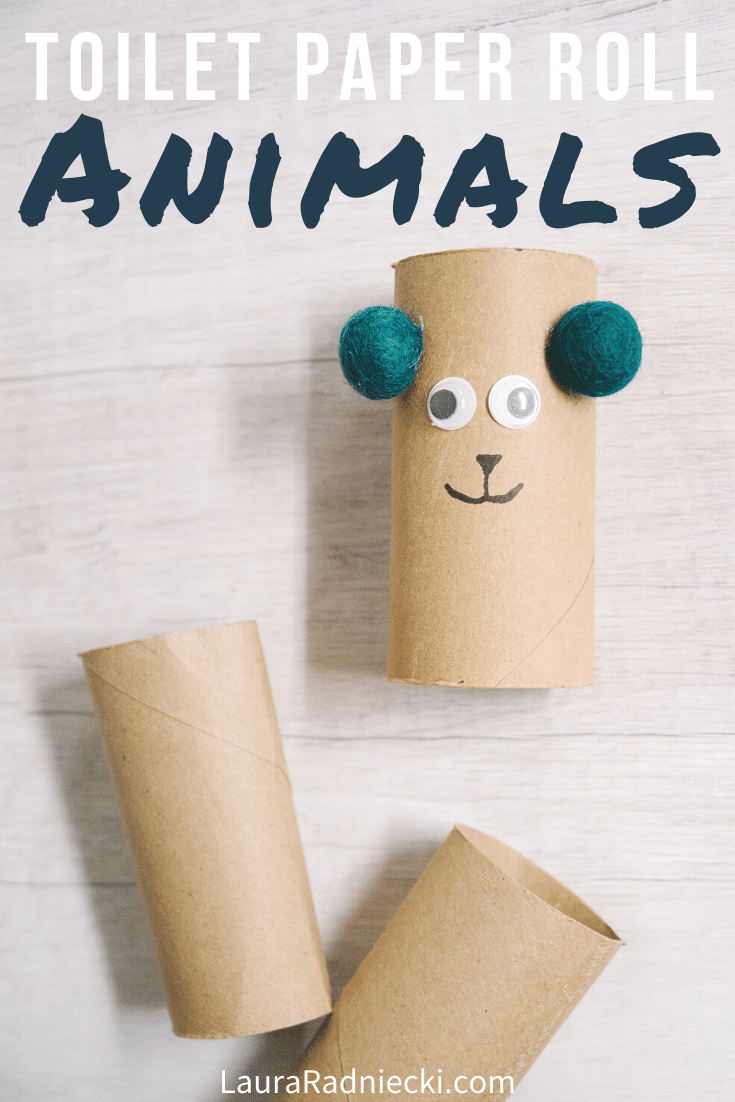 DIY Toilet Paper Roll Animals
Step 1. Gather Supplies.
Supplies Needed:
Toilet Paper Rolls
Glue Stick
Clothes Pins
Sharpie
Felt Balls (not pictured)
Hot Glue Gun and Glue (not pictured)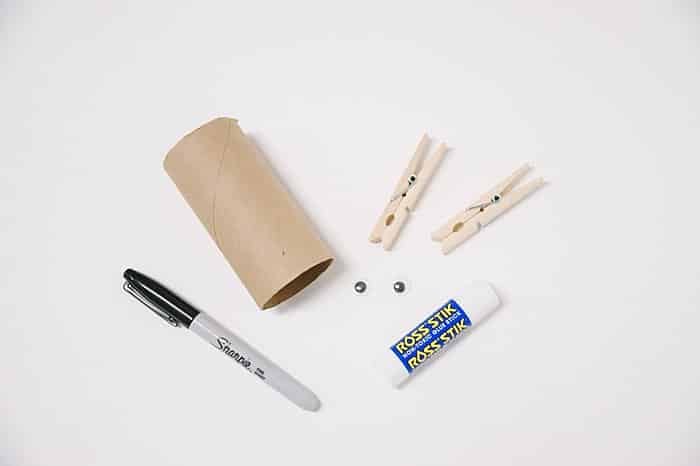 Step 2. Clip clothes pins on to top of toilet paper roll for antlers.
First we're making a cute little deer out of our toilet paper roll.
Clip two clothes pins onto the top of the toilet paper tube to make "antlers."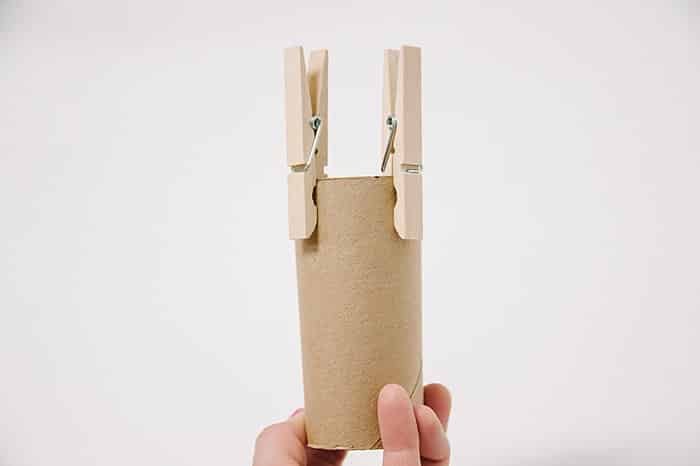 Step 3. Add googly eyes.
Glue two googly eyes (or stick them on using the self-adhesive backing if that's the kind you have), to add eyes to your toilet paper roll animal.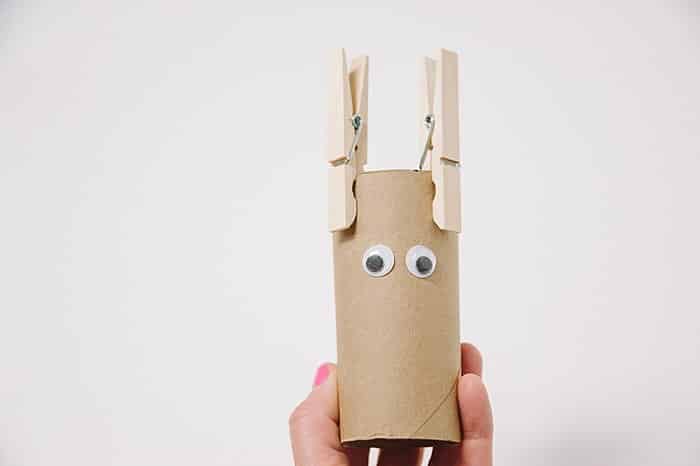 Step 4. Draw the rest of the face with a Sharpie.
Using a sharpie or whatever marker you have, draw a nose and mouth to complete the critter's face.
Your toilet paper roll animal – the deer version – is done!
Step 5. Remove clothes pin antlers to turn it into a bear (or puppy).
Next, I wanted to turn my little toilet paper tube animal into a bear (or a puppy as my son calls it), so I removed the clothes pin antlers.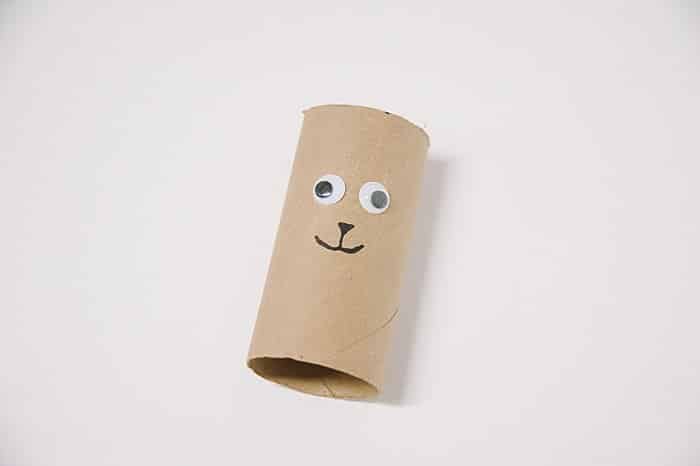 Step 6. Hot glue felt balls on as ears.
Using hot glue so the felt balls are secure, glue the balls onto the sides of the toilet paper tube to add "ears."
Your little bear (or puppy) is done!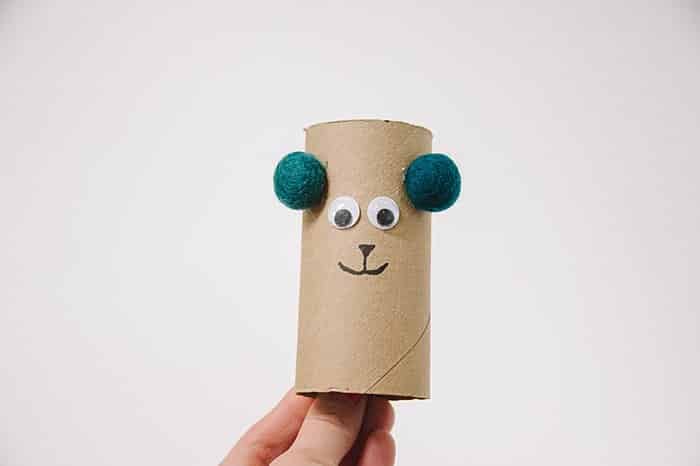 Every house has an abundance of toilet paper rolls, whether you're a crafter or not.
With a little creativity and a few minutes, you'll show your kids the power of repurposing and reusing everyday items when you make these DIY toilet paper roll animals!
And the best part: they'll have something new to play with!
– – –
Save the idea for later by pinning the photo below to Pinterest!