**These posts often contain affiliate links. Please see our disclosure policy for details.**
Rainbow wooden peg dolls for kids are an easy kids craft that helps them learn their colors, and teaches color matching. Plus, they're fun to play with and so SIMPLE to make.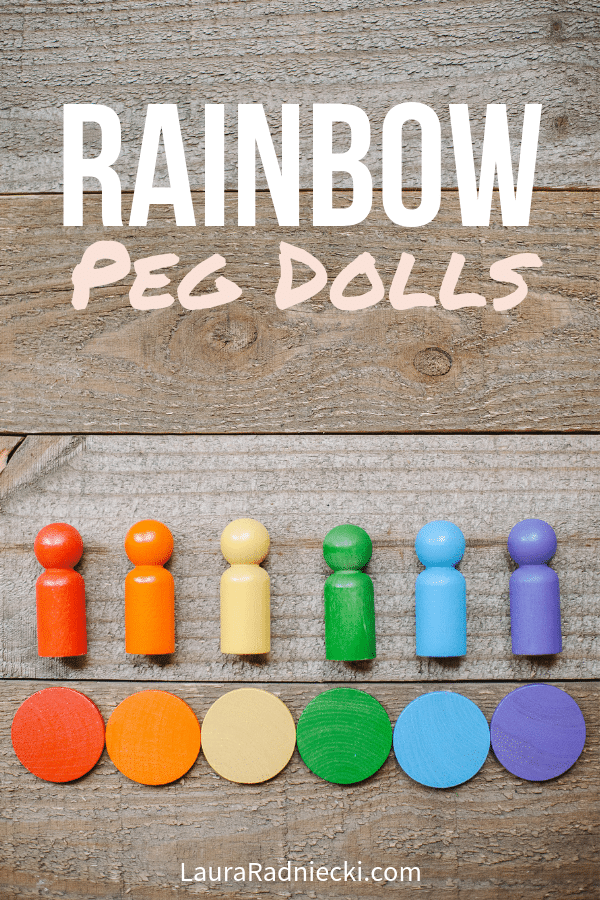 Last year, I bought a set of wooden peg dolls in order to make a DIY wooden nativity set I'd seen online.
The Peg Doll Nativity turned out AMAZING, and I only used a portion of the peg dolls, even though I made several sets to give as Christmas gifts.
I began brainstorming ways to use the remaining peg people, and decided to do something colorful using spray paint!
There are ideas online for painting the peg dolls with clothing and intricate faces. That's fine, but I like the simple look and feel of the peg dolls when they're simple. That's why I left them plain (without faces) when I made the nativity, and that's why I decided to spray paint the entire peg doll, rather than paint designs or faces onto the dolls.
I also decided to turn them into a type of color-matching game by also using wooden discs left over from the diy photo match game I made for my nieces.
Rainbow Wooden Peg Dolls for Kids – A DIY Tutorial
Step 1. Gather Supplies Needed for Rainbow Pegdoll Set:
6 wooden peg dolls – 2 3/8″ size
6 wooden discs
Spray paint in 6 colors (you could use a paintbrush and use acrylic paint if you didn't have spray paint, or wanted to do it a different way.)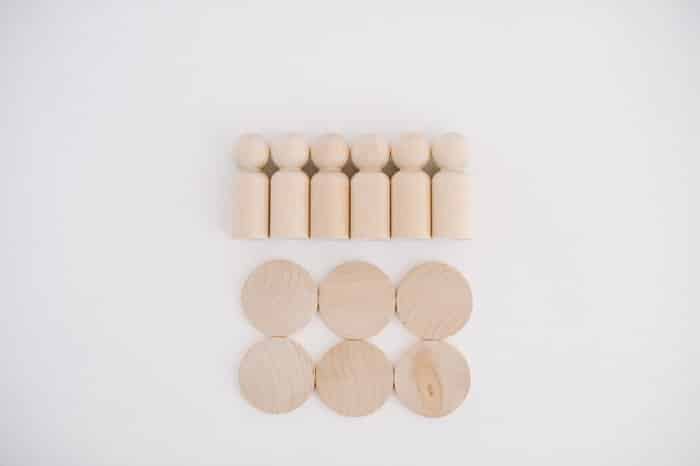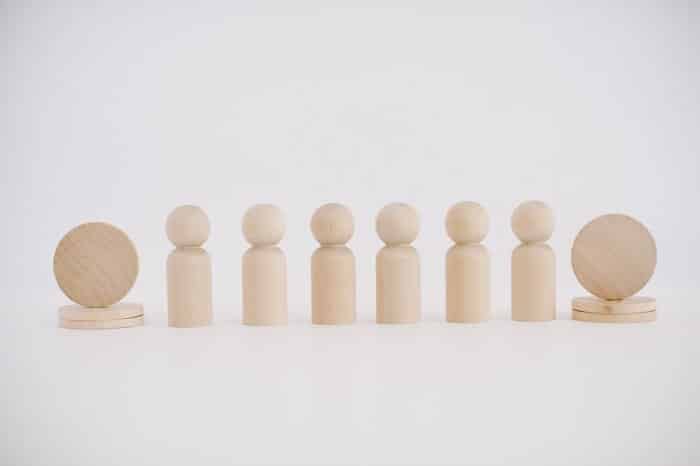 Step 2: Spray paint peg dolls and wooden circles
I made two sets, so that's why the photo below shows two purple peg dolls and two purple circles.
To make one set, you want to paint one peg doll and one wooden circle in each of the 6 colors you choose.
Spray paint the circles, flipping them over once the first side is dry in order to do the other side.
I tried to make sure I got paint up in the "neck" of the wooden peg dolls too since that's a spot that is kind of hard to reach when you're spray painting.
Once you've coated them completely and you're happy with them, let them dry.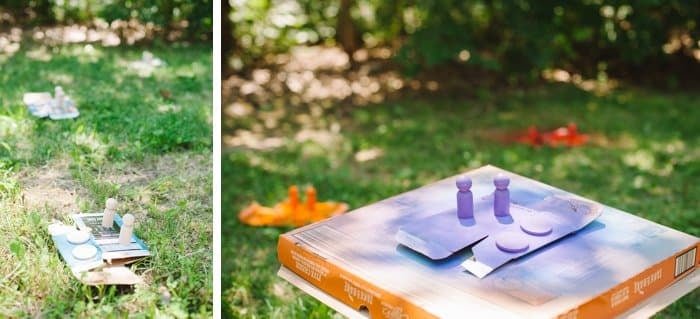 Step 3. Let your kids play with their new peg doll set!
That is it!
It's really one of the easiest crafts ever, and I just think it's the cutest and sweetest little set of toys.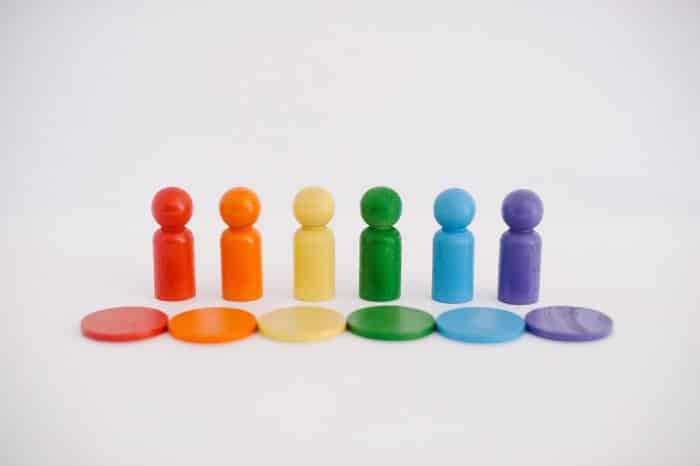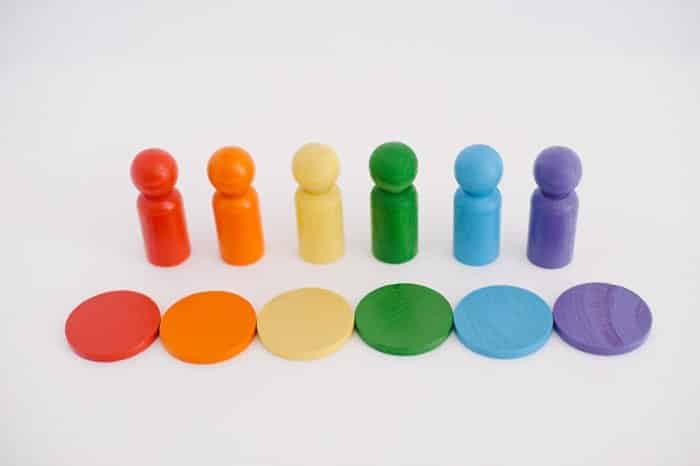 You can use it to teach kids their colors, or the order of the colors of the rainbow.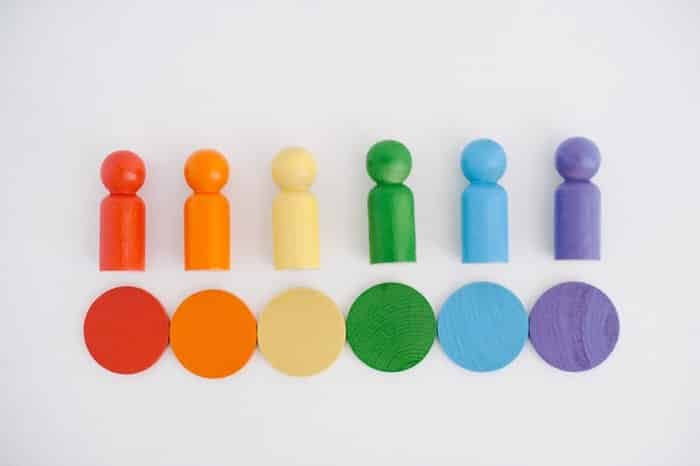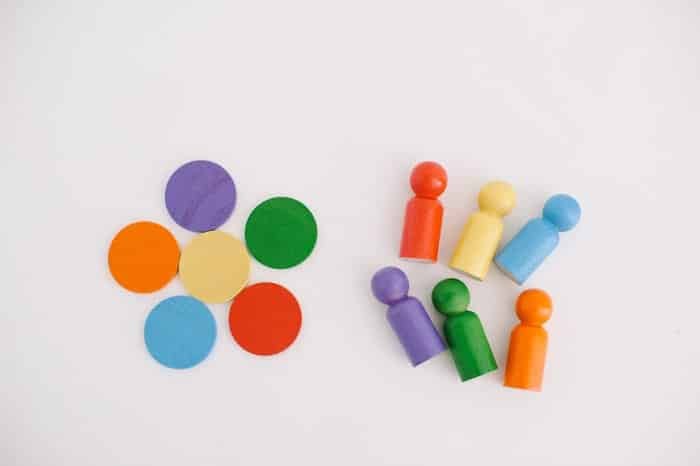 You can also use it as a matching game: match the peg doll and the circle of the same color!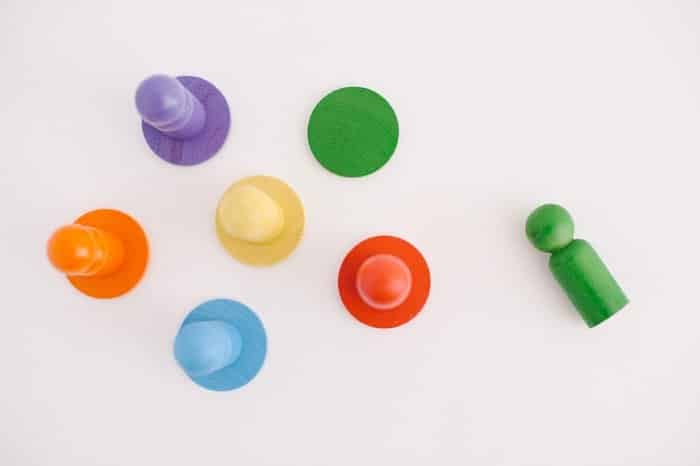 Kids can also use them in whatever way they want to play, making up stories with them or whatever their imagination creates!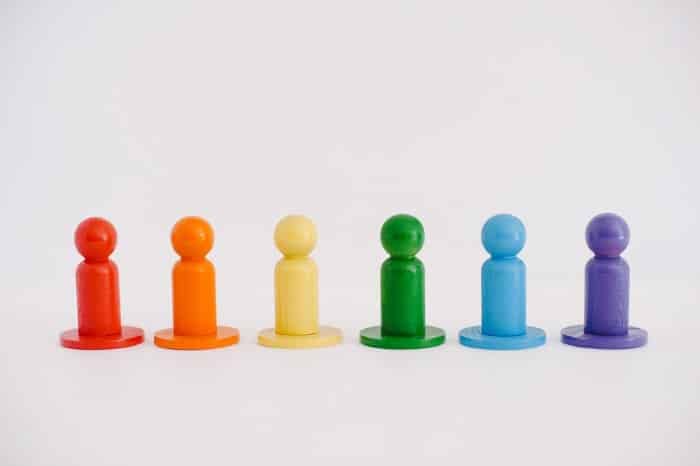 Right now, Raleigh's favorite thing to do with his "guys" are to dump over the little bucket I keep them in and let them clatter all over our hardwood floors. He carries them around the house, and practices putting them back into the bucket.
He's nearing 18 months soon, so I'll probably start pointing out their colors more frequently now.
(Edited to add: he's almost 3.5 now and I still see him playing with them and matching up the colors all these years later. So it's a toy that definitely grows with kids!)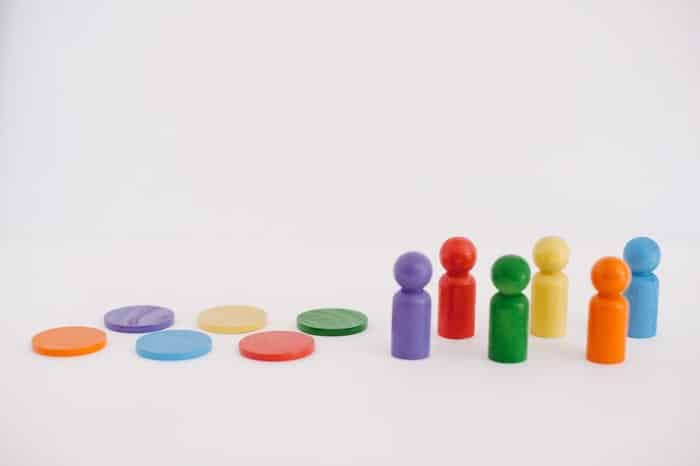 I think they are the CUTEST things EVER!
With a few minutes, a couple cans of spray paint and some wooden circles and peg dolls, making a set of rainbow peg dolls is so easy and fun!
P.S. The wooden peg dolls and wooden circles (a slightly smaller size than the ones I used in the photos) can both be bought on Amazon.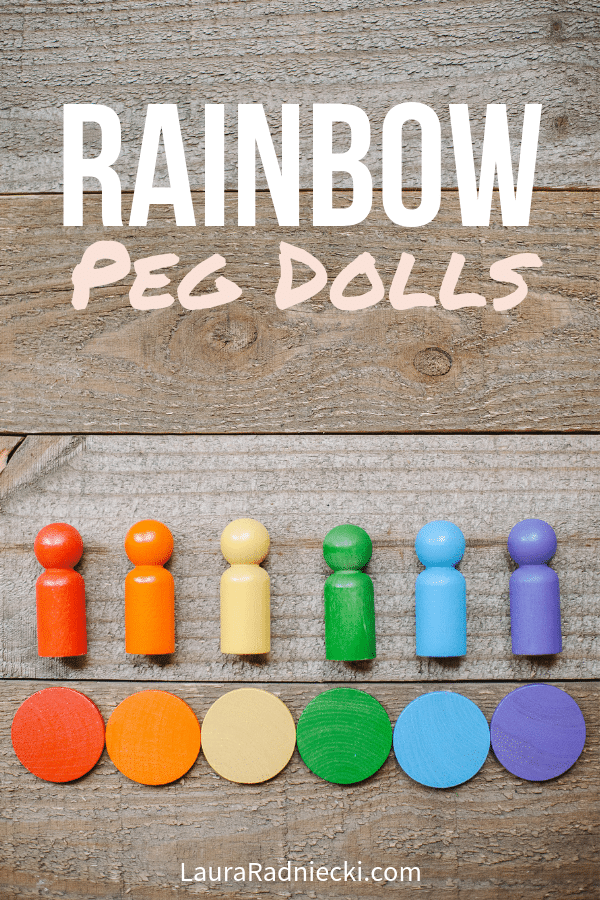 – If you liked this post, I would love if you would share it on Pinterest or Facebook. Thanks & xo! –