**These posts often contain affiliate links. Please see our disclosure policy for details.**
Make a DIY Rustic Letter with Fabric Flowers, using linen, burlap, cotton and tulle fabric flowers. A simple DIY tutorial for letter wall art!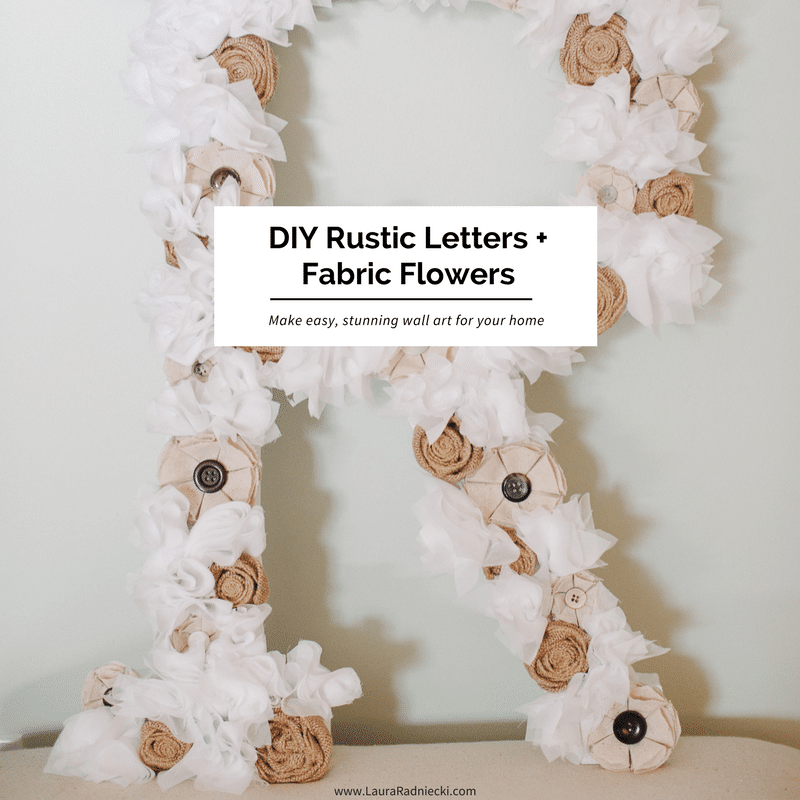 Recently, I was in a craft store walking through aisles of ribbons, fabric, beads and more. I turned a corner and saw a huge cardboard R that jumped out at me.
"Laura! Look, an R! Pick me! Buy me!"
That's what it said to me.
I immediately thought about covering it with fabric flowers which I LOVE to make, and hanging it on the wall in our house. I picked the letter R up and added it to my cart.
Here's how I turned a huge cardboard R into wall art in our home!
How to Make a DIY Rustic Letter with Fabric Flowers
This R is huge – maybe 2 feet tall from top to bottom. I just loved it when I saw it.
[You can find a large cardboard letter in the specific letter of your choice here.]
Step 1: Decide on your colors
The first thing I did was decide on the color scheme for the fabric flowers. I knew I wanted to use burlap and osnaburg fabrics which I am obsessed with, and I thought the natural browns of those fabrics would look good with some white tulle I already had. Because of the colors I chose, I decided to spray paint my letter white so it would be a good neutral canvas for my flowers.
If you decide on different colored flowers, you could spray paint your letter any color you wanted. Or just leave it natural.
Step 2: Paint letter if desired
I spray painted my letter white on all surfaces, even a light coating on the back.
Step 3: Make fabric flowers
I used burlap wired ribbon to make the rosettes, osnaburg fabric and buttons to make the petaled flowers, and white tulle to make the puffs.
There are lots of different ways to make fabric flowers, so choose what suits you best.
Step 4: Glue flowers onto letter
I glued the flowers onto the letter with my hot glue gun.
I decided to only cover the front surface with fabric flowers.
I did this for 2 reasons – the flowers take a long time to make and I was ready to be done once I had the front surface all covered. Also, I thought it looked just fine with flowers on the front and bare sides, since my white letter matched my fabric flowers so well.
If you wanted to, you could put fabric flowers on all sides except the back.
The finished piece of art! I love the outcome, and the natural tones of the R.

Step 5: Hang up the letter
It is so light, it's super easy to hang.
I poked a hole big enough to fit the head of the nail through, and then hung it up on the wall with a single nail.
Command strips would also work well too.
Step 6: ENJOY IT!
This is honestly my favorite piece of DIY art I have ever made.
Partly because I am so obsessed with fabric flowers and partly because I just love the look of it – the natural tones and the subtle elegance.
It makes me smile every time I look at it.