**These posts often contain affiliate links. Please see our disclosure policy for details.**
LOOKING FOR IDEAS FOR DIY EMBROIDERY ORNAMENTS? HERE'S HOW TO MAKE A KEEPSAKE FABRIC EMBROIDERY HOOP ORNAMENTS TO USE AS DECOR FOR YOUR CHRISTMAS TREE, OR EVEN FOR YOUR GALLERY WALL OR TO GIVE AS A HANDMADE GIFT.
Christmas is a sentimental season, and the decor plays a big role in that.
The ornaments that find their way to the branches of your Christmas tree might be family heirlooms that have been passed down for generations, or perhaps they are reminders of family vacations that take you back and help you remember.
Ornaments can also be a special, sentimental way to remember things like the your child's baby handprint, or the photo of your wedding day.
Or in our case today, to remember my son's all time favorite jammies (and his obsession with dump trucks) from his toddler years.
We're on Day 14 of The 30 Days of Ornaments Project, where we are making 30 handmade ornaments in 30 days.
Today, we're using a mini embroidery hoop to showcase a piece of fabric that is meaningful to me, and creating a DIY keepsake fabric embroidery hoop ornament!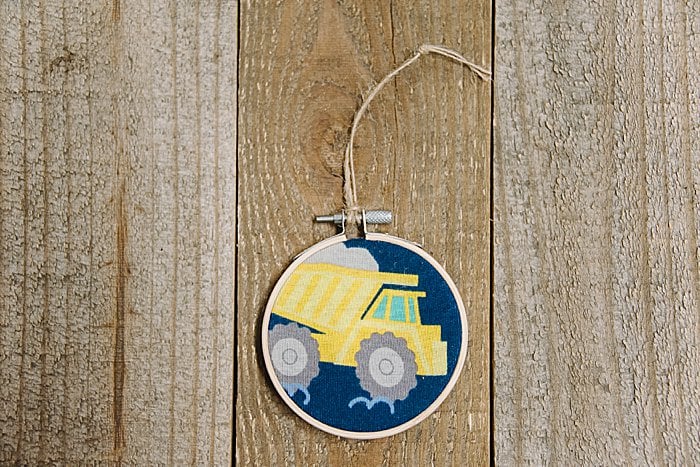 Here's how to make one!
Day 14: How to Make a Keepsake Fabric Embroidery Hoop Ornament
DIY Keepsake Fabric Embroidery Hoop Ornament
Step 1. Gather supplies.
Supplies needed: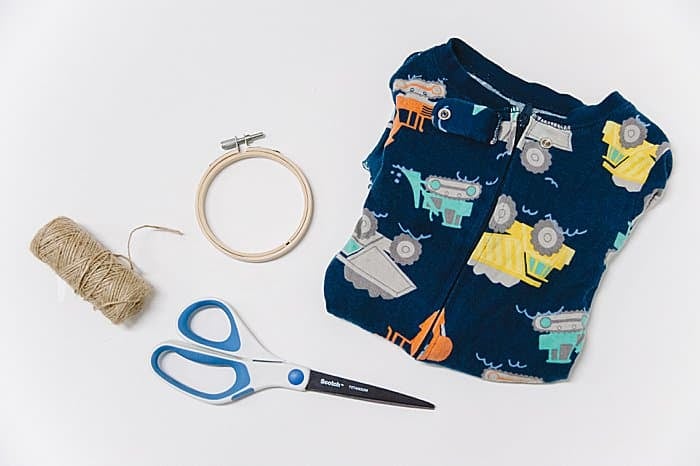 Step 2. Cut 12″ of twine for a hanging string. Set aside.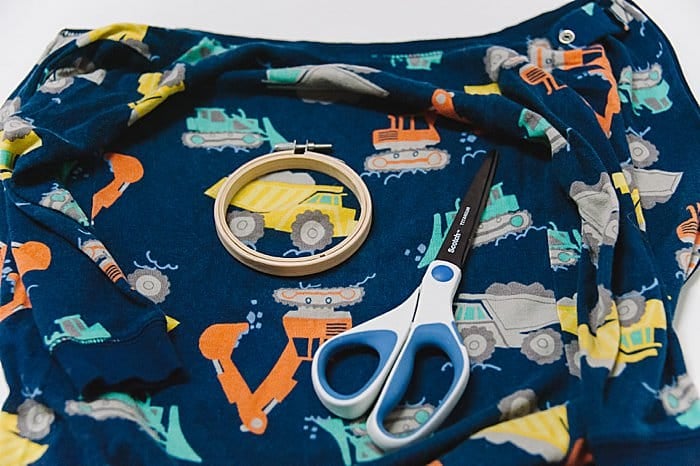 Step 3. Determine what section of your fabric you want to put in the embroidery hoop. Cut out a circle several inches bigger than the diameter of the hoop.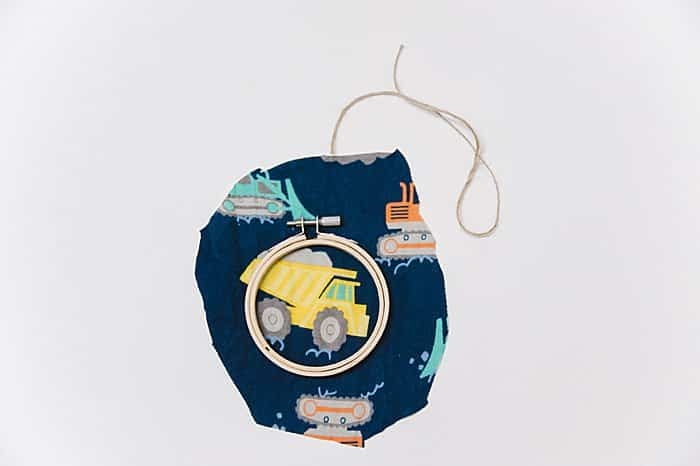 Step 4. Separate the two sections of the embroidery hoop by loosening the top screw. Set the outer hoop aside.
Step 5. Lay your selected fabric section on top of the inner hoop. Center it over the hoop to show your desired section.
Step 6. Take the outer hoop and push it over the inner hoop. The fabric should be pulled taut as you do this.
Step 7. Make sure the fabric is taut, and then tighten the screw on the outer embroidery hoop to secure everything in place.
Step 8. Finish the back of the embroidery hoop off by either doing a loose straight stitch around the edge of the fabric and then pulling to cinch it together. Or, cut off all of the excess fabric except for 1/2 inch around the edge. Then hot glue that 1/2″ extra to the inside of the hoop in the back.
Step 9. Inspect and hang up the keepsake fabric embroidery hoop!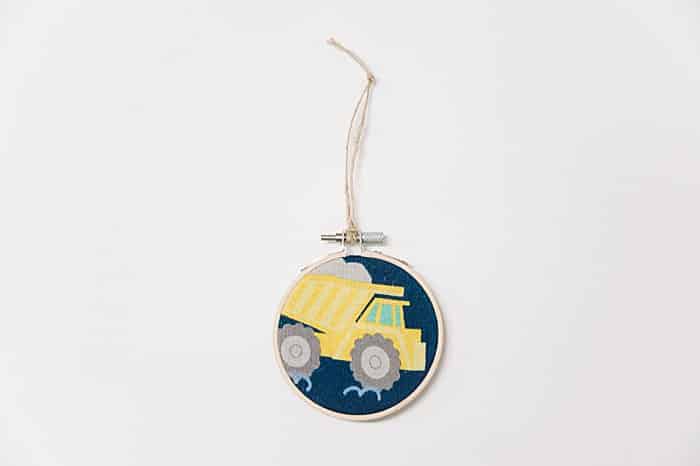 Christmas tree ornaments are a significant and powerful part of holiday decor.
They have the power to stir up memories of our childhood, bring us back to family vacations, and they remind us of things we want to remember like the year our first child was born, or the worn out jammies he wore for the entirety of his toddler years.
By using a small embroidery hoop and adding fabric that is meaningful to you, it's so simple to create an ornament that will become another cherished family heirloom.
And if your family has experienced loss recently?
I can't think of a better way to honor the memory of the loved one and help keep them a part of the holiday season than to create a remembrance ornament using a beloved piece of their clothing.
Save the idea for later by pinning the photo below to Pinterest!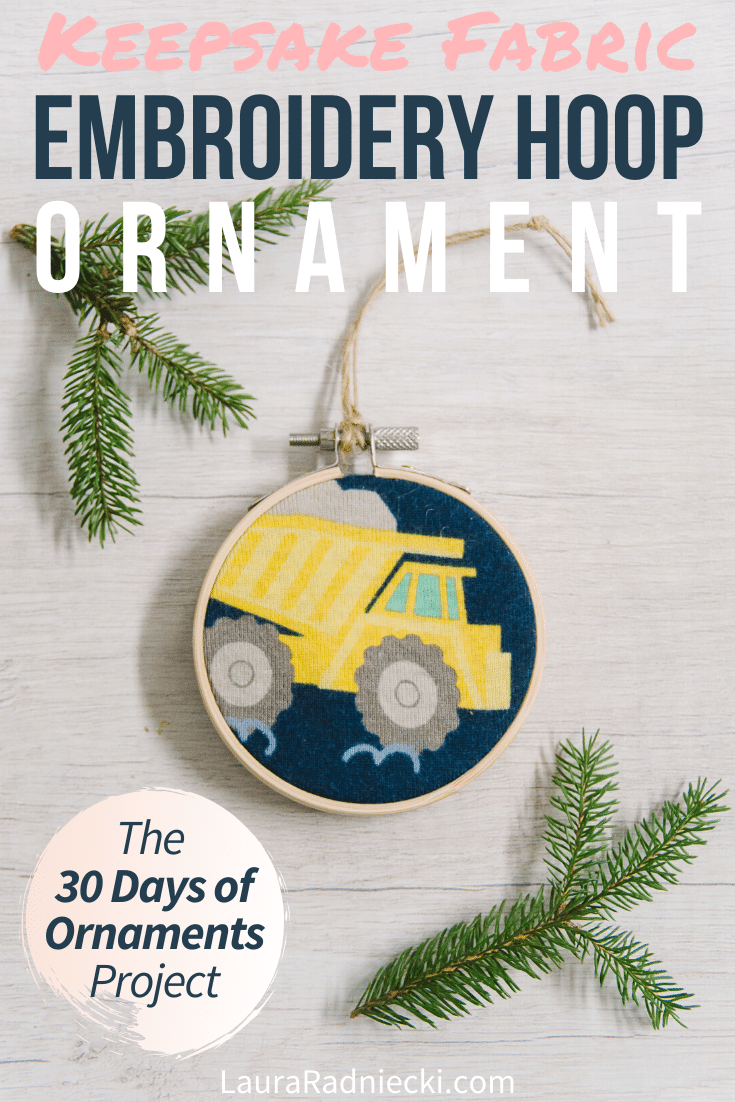 . . . . . . .