**These posts often contain affiliate links. Please see our disclosure policy for details.**
What is the difference between crochet and knitting? Is knitting or crocheting easier? Here is a look at knitting vs crochet and all of the questions people have about the two age-old crafts!
When you see someone with a ball of yarn in their lap, you might wonder, "Are they knitting or crocheting?" Or maybe you think to yourself, "What IS knitting vs crochet, and what is the difference between the two?
On the outside, both knitting and crochet appear similar; they both involve yarn and a tool(s) that you use with your hands, to make things with the yarn.
But what is knitting vs crochet?
What is the difference between crochet and knitting?
And is knitting or crocheting easier?
Let's take a look at some of these common questions that surround two of crafting's oldest past times, and get to the bottom of the crochet or knit debate.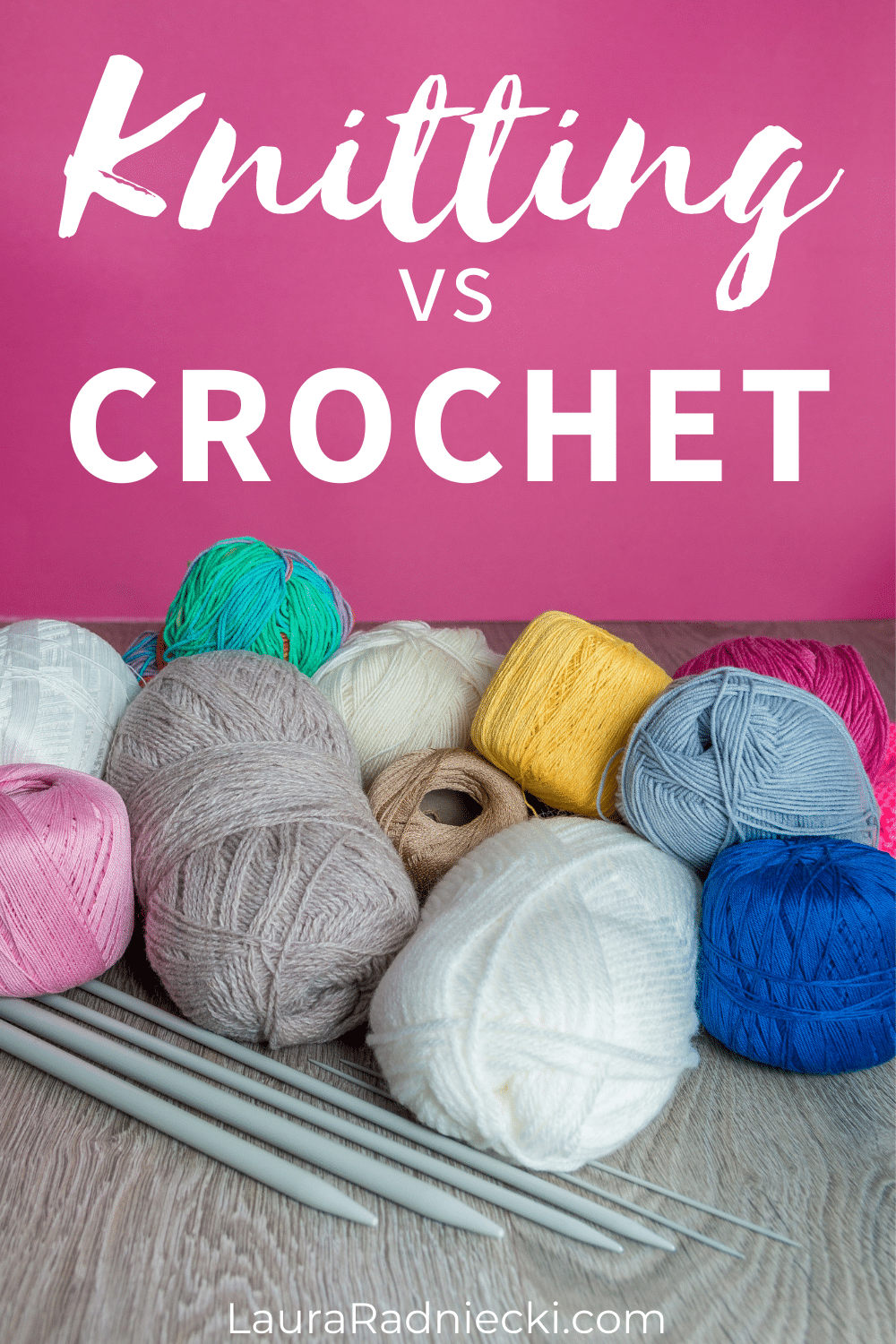 WHAT IS KNITTING?
Knitting involves using two knitting needles (long, pointed sticks), and yarn, to form a series of loops, which the knitter moves from one needle to the other.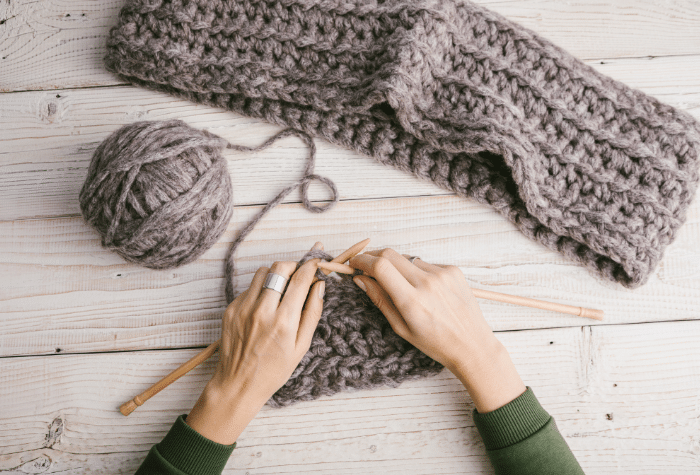 As the knitting adds rows to their knit blanket, hat, or other items, the finished product grows bigger.
The main knitting stitches are "knit" and "purl", and form stitches that resemble a "V" shape.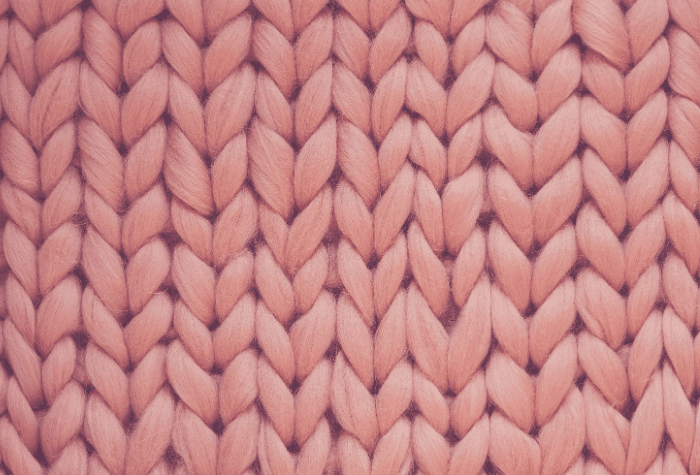 Knitting can be done by hand, with a loom, or with a knitting machine.
WHAT IS CROCHET?
Crochet begins with yarn and one crochet hook. The size of the hook depends on the type and thickness of yarn you are using.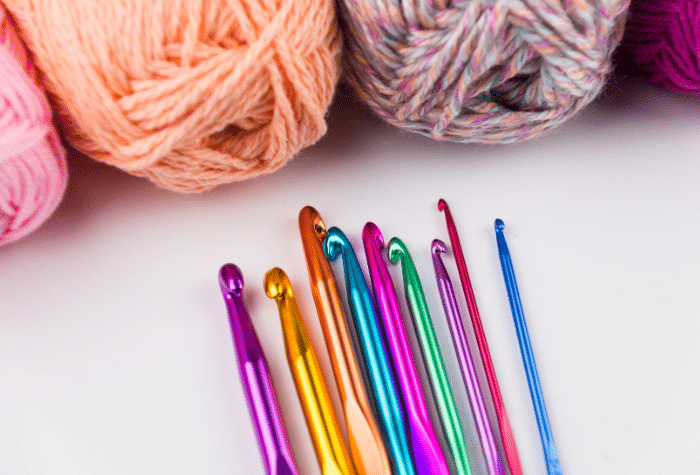 When you are crocheting an item, you are working only with one live stitch at a time, and you are adding stitches directly onto your item as you go.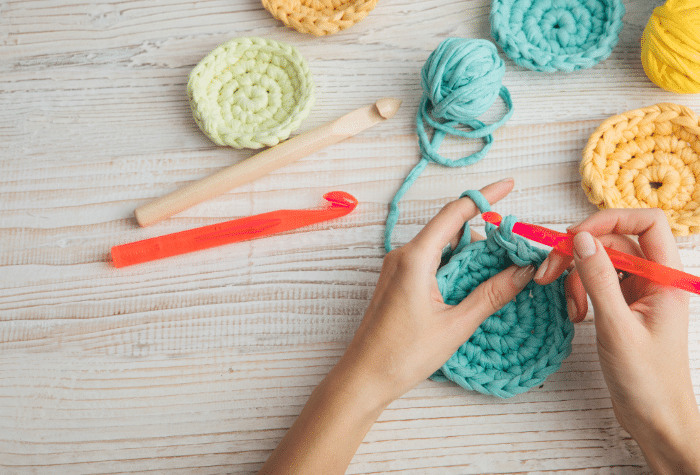 Crochet stitches resemble a chain of small knots, and can ONLY be done by hand. There are no crocheting machines that mimic the look of crochet; it's a completely handmade artform.
The most common stitches used when crocheting are the chain stitch and then the single, double, and triple crochet stitches.
KNITTING VS CROCHET?
Like most things in the craft world, if you ask a crowd which they like better, knitting or crochet, you're bound to get dozens of different, competing answers.
Some people are die-hard knitters, and wouldn't dream of picking up a crochet hook.
Others love the freedom of crochet and view knitting as tedious and stuffy.
And you'll find some that do and love both!
Some people even combine both knitting and crochet into one project; like adding a crochet edge to a knit blanket for example!
THE DIFFERENCE BETWEEN CROCHET and KNITTING:
Let's take a closer look at the difference between crochet and knitting.
Supplies Needed:
Knitting:
Yarn
Two Pointy Knitting Needles (usually made of metal, plastic, or wood.)
Crochet:
Yarn
One Crochet Hook (usually made of metal, plastic, or wood.)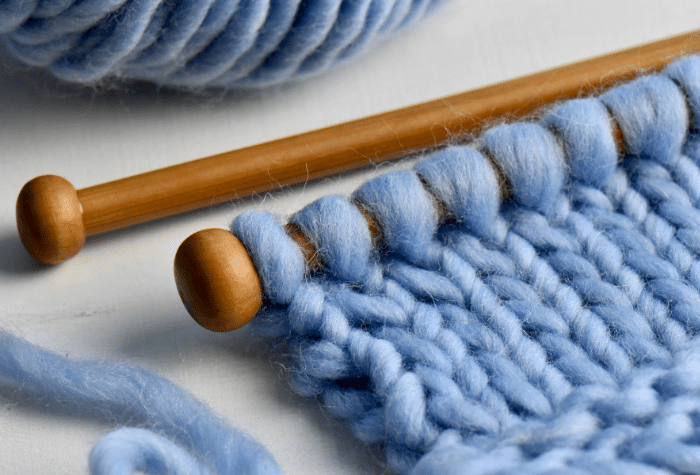 Types of Stitches:
Knitting:
Knit and Purl Stitches
Form "V" Shapes
Work with a Row of Live Stitches
Crochet:
Chain, Single, Double, and Triple Crochet Stitches
Form Small Knots
Work with One Live Stitch at a Time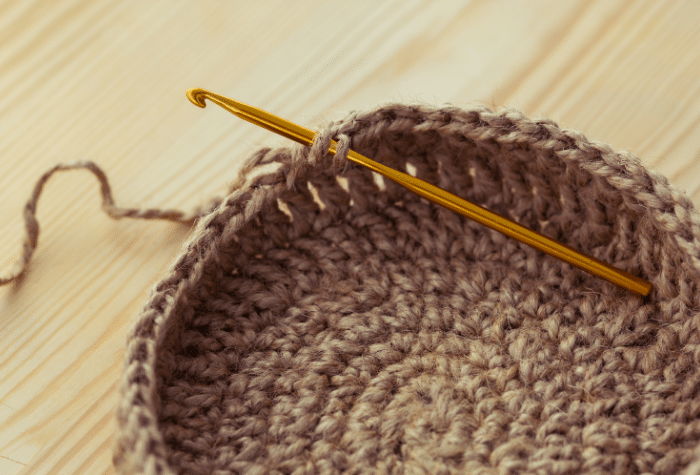 The Difference Between Crochet and Knitting:
Knitting:
Requires using two needles at once.
It only requires knowing one or two stitches.
You can make scarves, blankets, and more using just that one stitch.
Can make more complicated items as you learn to follow more sophisticated patterns, such as sweaters and socks.
Knitting is logical. You move stitches from one needle to the next in a methodical, uniform manner.
However, if you drop, lose, or miss a stitch, it can cause the unraveling of your garment.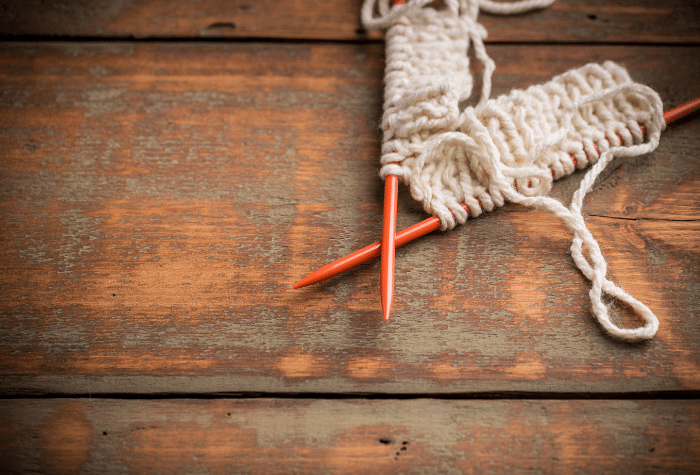 Crochet:
Requires manipulation of only one hook.
You are working with a single stitch at a time, and one hand is focused on the yarn while the other is focused on the hook.
It's easy to start and stop a crochet project; ideal for short bouts of crafting on the go.
Crochet looks handmade. The stitches are bumpier, more textured, and less machine-perfect than knitting can be. That's a plus if you're a beginner; that means it's forgiving as you are getting the hang of things!
Crochet also uses about ⅓ less yarn than knitting does.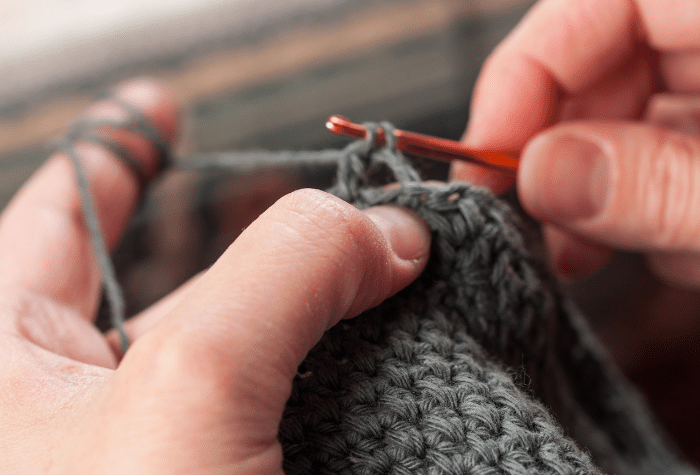 Is Knitting or Crocheting Easier?
The truthful answer is "It depends who you ask."
However, the general consensus is that crochet is easier for beginners.
Crochet is easier because it only requires the mastery of one crochet hook, uses ⅓ less yarn, and has a more forgiving, handmade appearance that helps hide imperfections.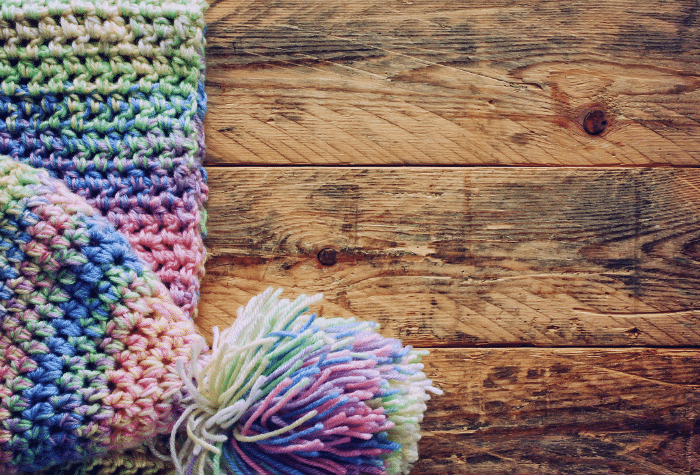 Knitting (while still easy to learn) requires two knitting needles and yarn, and utilizes more precision to create a uniform series of V stitches that mimic machine knitting.
Is Knitting or Crocheting Faster?
Crocheting uses less yarn and is usually faster than knitting.
That's why it's a crowd favorite for people who want to whip up a beanie or headband quickly.
Knitting projects typically take longer and may be more complicated, like socks or garments even.
PROS AND CONS OF KNITTING VS CROCHET:
Crochet:
Pros of Crochet:

Less tools to manage (one hook and yarn)
Uses less yarn
Projects come together faster
Handmade appearance hides imperfections
Easier to freestyle, and come up with your own patterns on the go

Cons of Crochet:

Handmade appearance might be too messy for some people's preference.
Projects can have a stiff feel to them.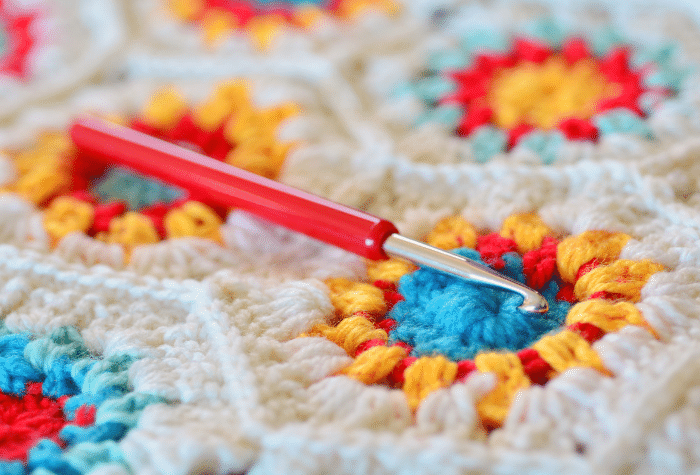 Knitting:
Pros of Knitting:

Two main stitches to learn and can create many projects with just those two stitches.
Knitting performs well with more complicated patterns, like sweaters, socks and more.
Can appear very clean and machine-like if done well.
Knit items typically have a softer drape and feel.

Cons of Knitting:

Requires more tools (two needles at once).
Following a pattern is more important, as is remembering where you are in the steps. This makes it harder to start and stop without losing your place.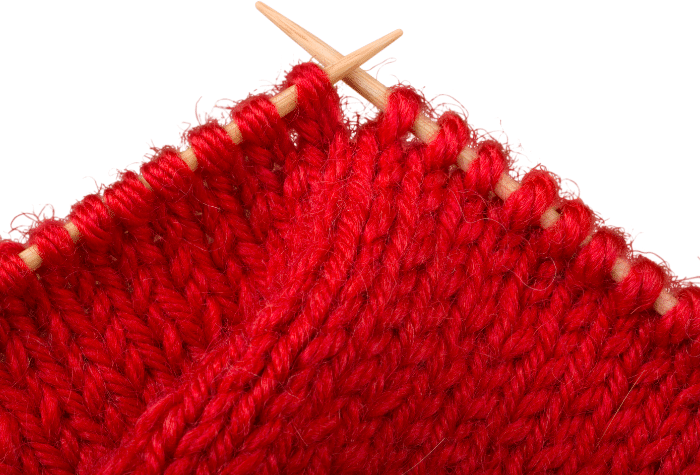 SHOULD I LEARN TO KNIT OR CROCHET?
It depends on if you want sophisticated and meticulous, or fast and funky.
It depends if you're logical and like following instructions closely, or if you prefer to go freestyle and figure things out along the way.
It depends if you want a project that you work on over a long period of time or a quick-win that comes together fast.
If you want to jump in, try things out, learn as you go, and make something handmade, CROCHET might be for you.
If you want to go slow, master two needles at once, follow a pattern, and create a masterpiece that resembles sophisticated knit fabric or machine-knit items, KNITTING might be for you.
Either way, many people eventually learn to do both!
– – – – –
Whether knitting or crochet ends up being your favorite, each offers a fantastic hobby that allows you to create something from nothing using only yarn and a few simple tools.
They both offer a meditative hobby that keeps your hands busy and your mind calmly engaged (unless you're trying to troubleshoot a problem with your project, and then it's not always calm haha!)
Both crochet and knit are portable and the hobbies can stay with you for a lifetime.
Pick one and try it out!
The other will be here waiting for you to try when you're ready.