**These posts often contain affiliate links. Please see our disclosure policy for details.**
Learn how to make leather earrings in this step-by-step photo tutorial. Includes a free DIY leather earring template for teardrop earrings, leaf earrings, and more!
Imagine you are on the lookout for earrings that are beautiful, timeless, fun, and most of all – lightweight.
What is the perfect solution?
Leather earrings!
Earrings made out of leather have taken the jewelry industry by storm, and now they're taking over the DIY jewelry space too! (And for good reason.)
With just a few supplies, you can make a dozen pairs of earrings in just a few minutes.
Let's take a look at how easy it is to make your own!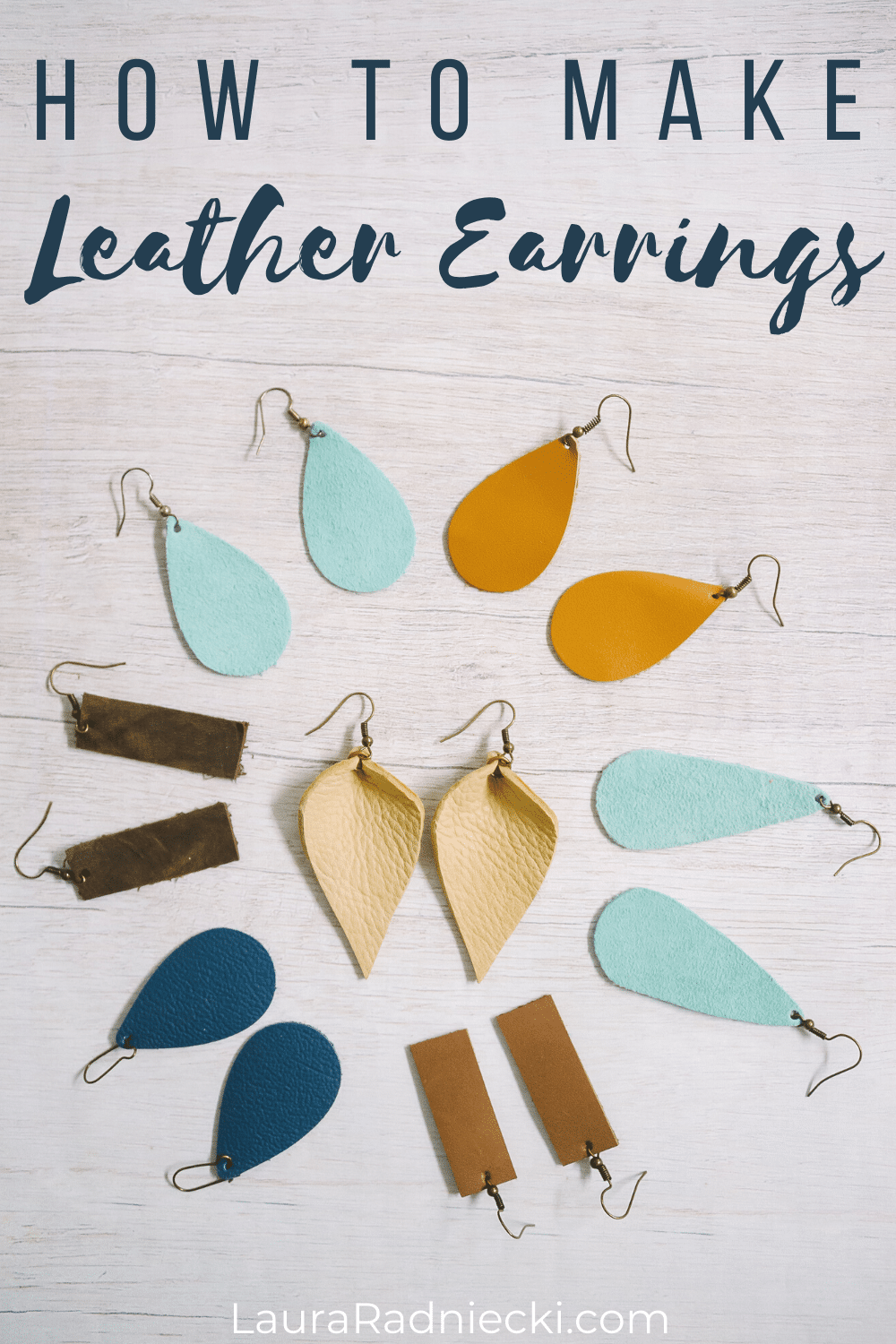 How to Make Leather Earrings
Step 1. Gather Supplies
Supplies Needed:
Step 2. Pick a leather earring design from the template.
Determine which leather earring template you want to use and cut it out.
Step 3. Trace the earring shapes on the back of the piece of leather.
Step 4. Carefully cut out the earring shapes.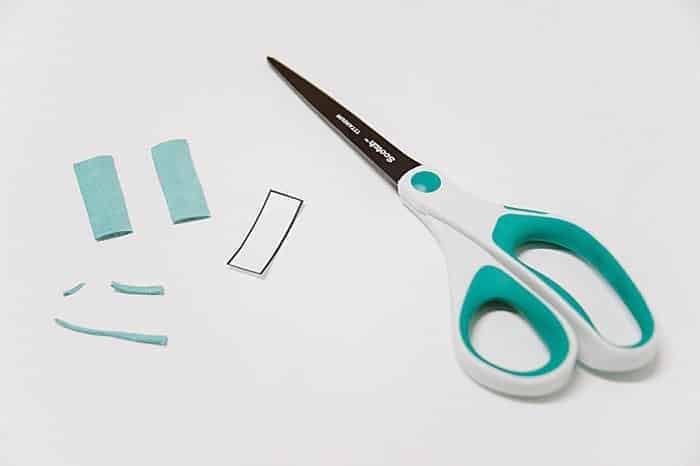 Look them over, and clean up any noticeably jagged sections.
You want the edges to be as smooth as they can be.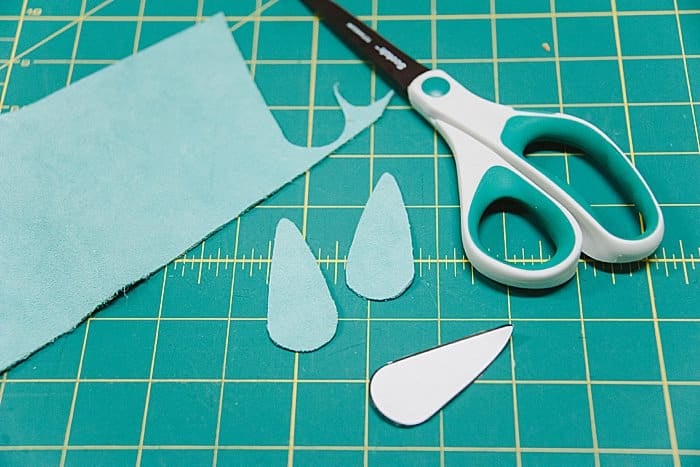 Step 5. Punch a small hole in the top of each earring shape.
Using a leather punch (or another small, sharp object if you don't have a leather punch), make a hole in the top of each leather shape.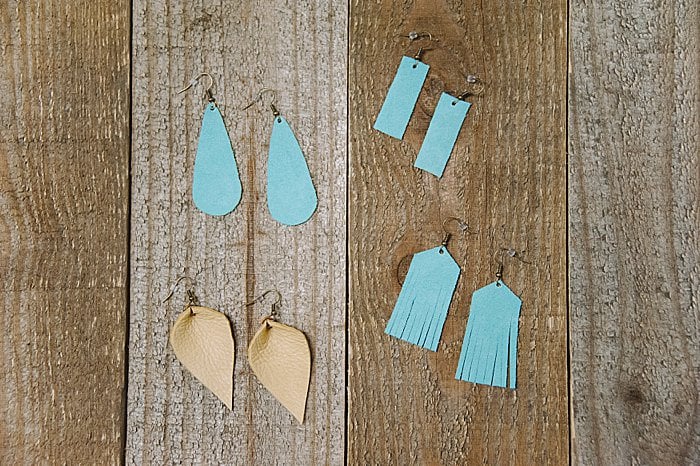 This is the hole you will attach the earring hook to.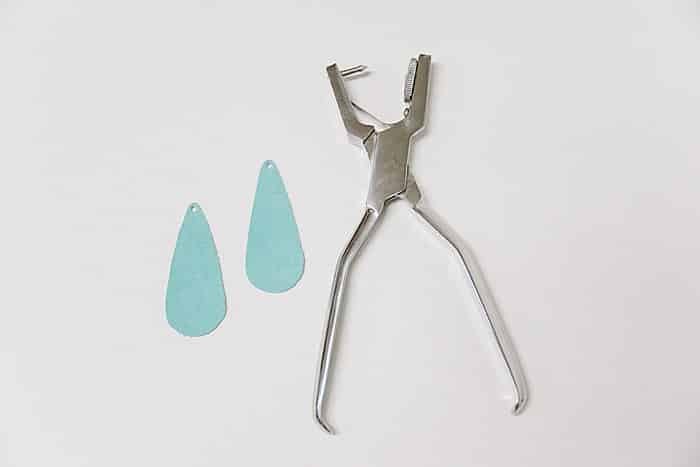 Step 6. Use pliers to attach an earring hook to each earring.
Open the wire loop at the bottom of each earring hook, using pliers.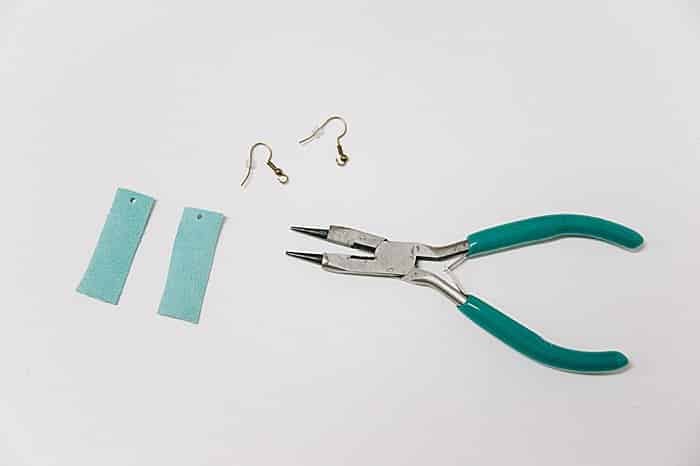 Attach one earring hook to each leather shape.
Pinch the loop closed with the pliers to secure.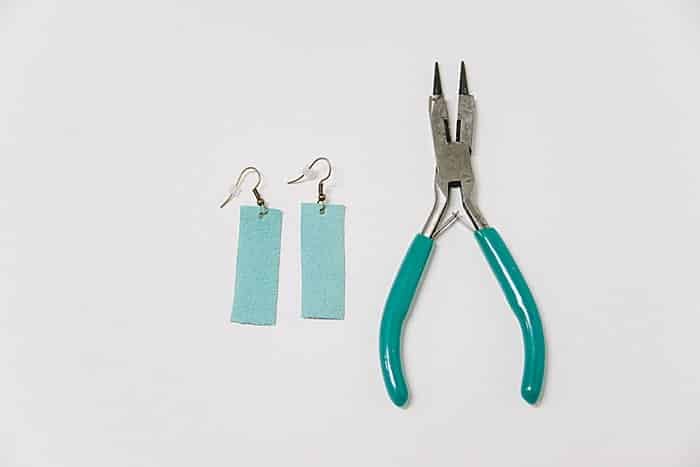 Step 7. Try on your new diy leather earrings!
That's it! Your new earrings are done!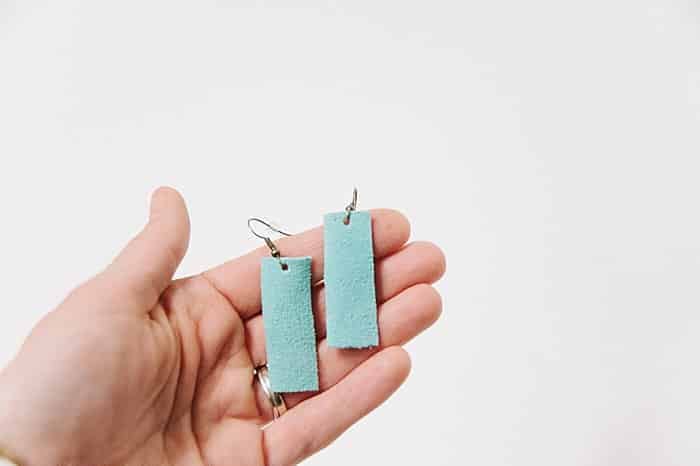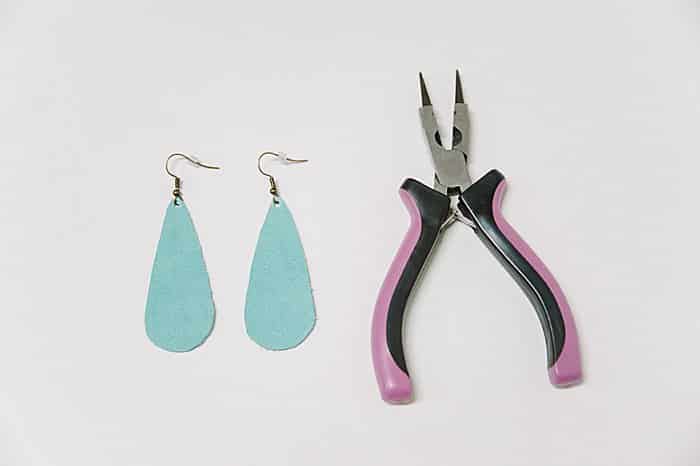 Joanna Gaines Leather Earrings | Leather Leaf Earrings
You can use the free leather earring template designs to make rectangle leather earrings, leather teardrop earrings, or arguably my favorite style of all: leather leaf earrings, which are also known as "Joanna Gaines Leather Earrings"!
The process for making leaf earrings is very similar to the general process for making any diy earrings out of leather.
You just have to add one more step.
Here's how to make Joanna Gaines Leather Earrings.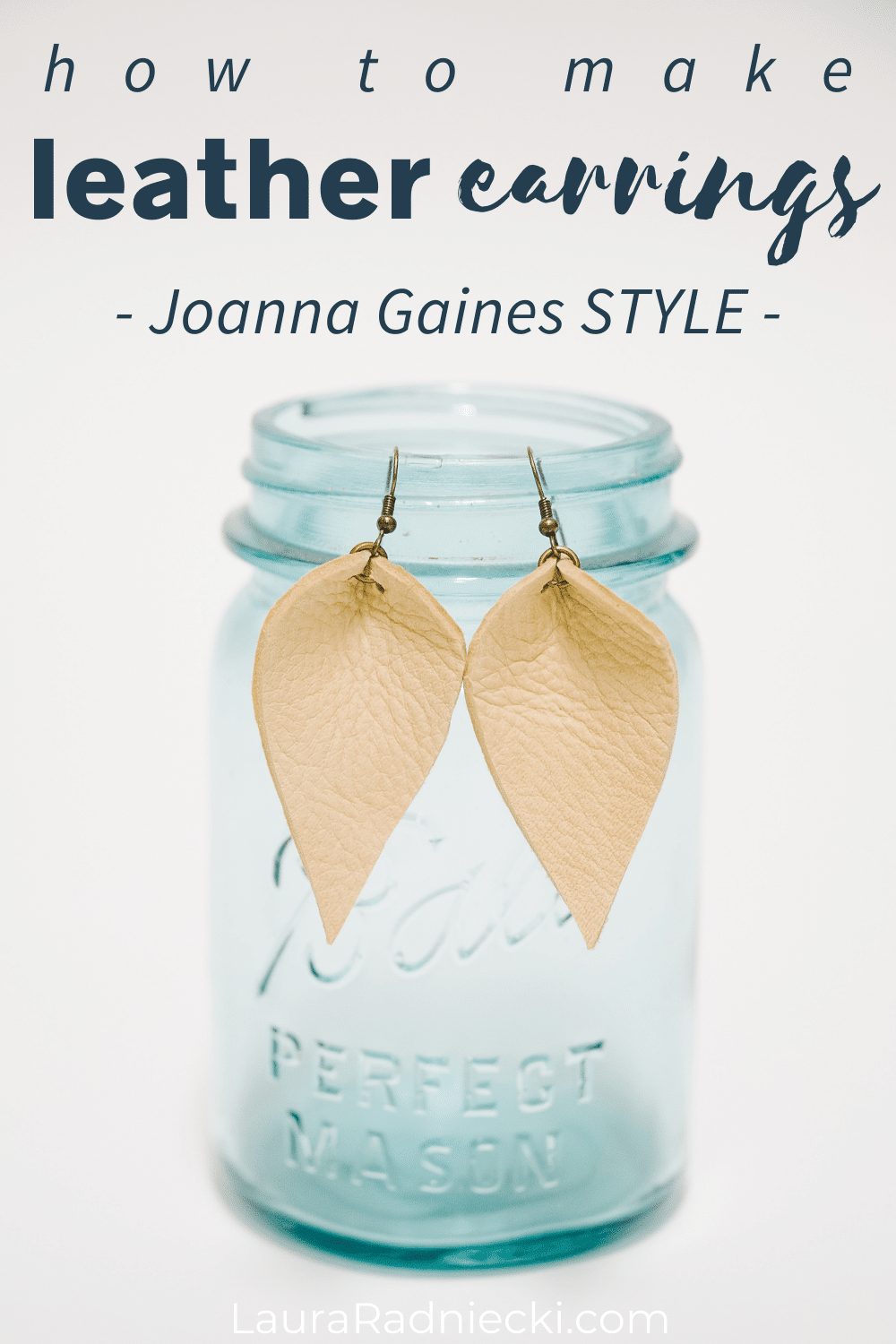 Step 1. Gather Supplies
Supplies Needed:
Step 2. Trace the cut-out earring template on the back of your piece of leather.
Step 3. Cut out two leather leaf earring shapes.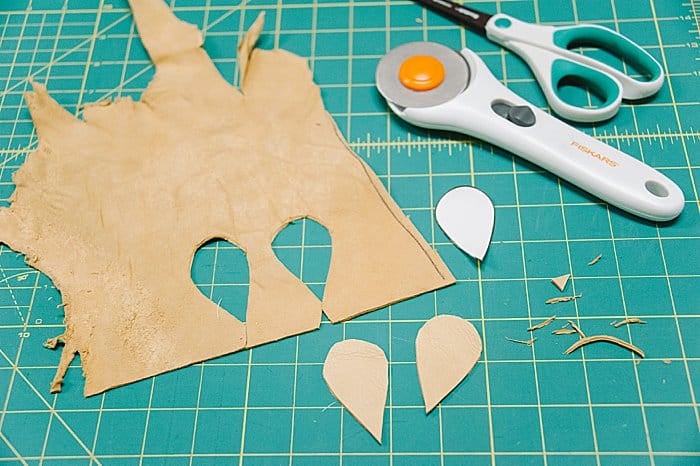 Step 4. Use a leather punch to make two holes in the top of each earring shape, as shown.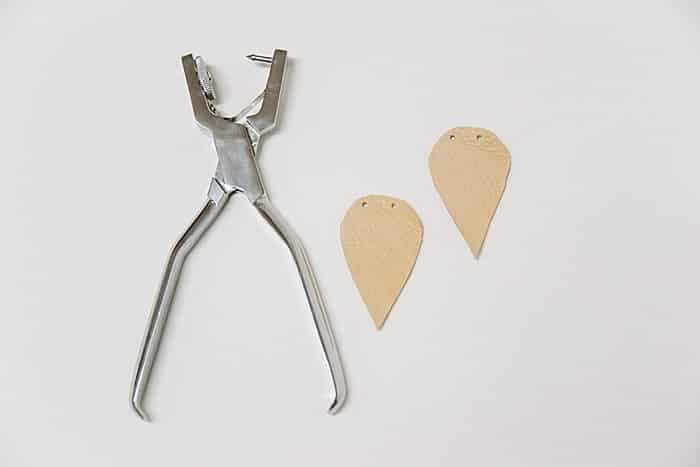 Step 5. Pinch leather leaf as shown, toward the middle, so the two holes come together.
This will be where the metal jump ring goes.
Step 6. Use pliers to open up a metal jump ring. Insert jump ring through both holes and pinch it to secure.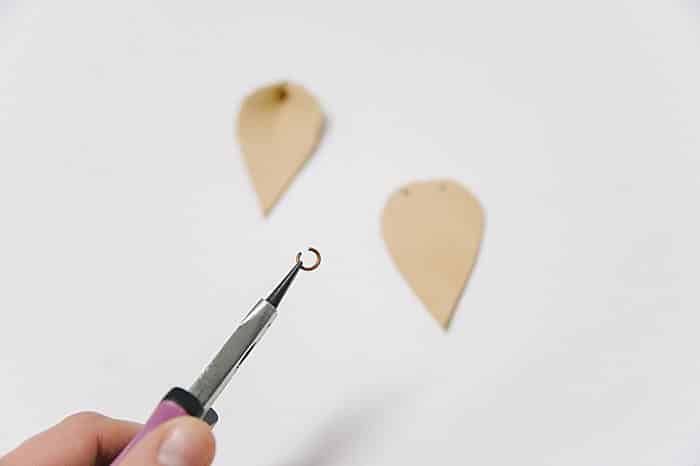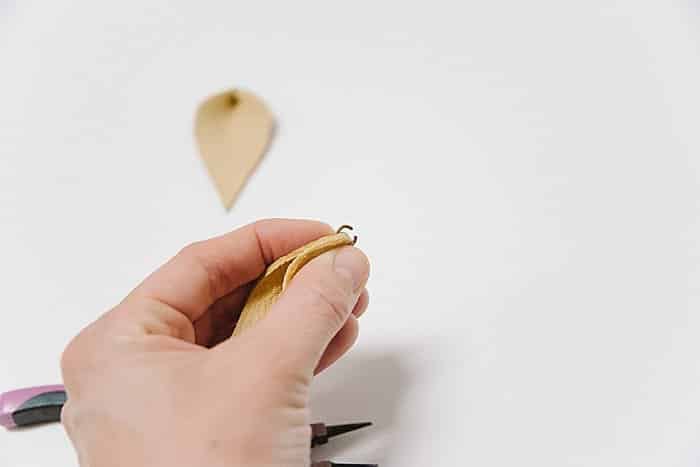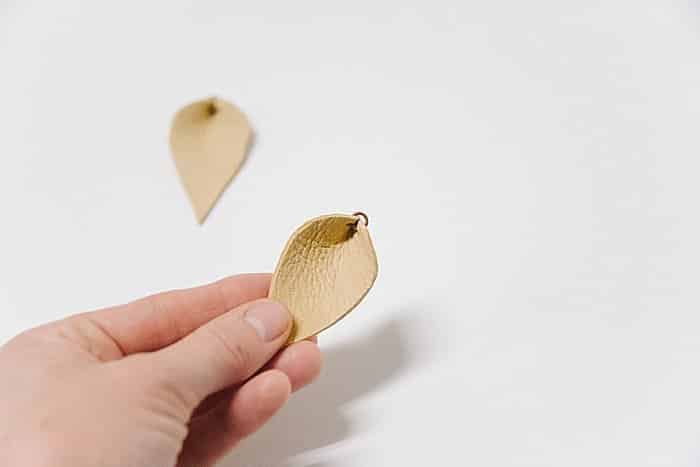 Repeat for the second earring.
You can experiment with different-sized jump rings. You can also alter the placement of the two holes slightly, to create different variations of how the leaf earrings will look.
A bigger jump ring will make a looser, more flat leaf shape, and a smaller jump ring will make a tighter, more folded leaf shape.
Likewise, holes that are closer to the midline will result in a flatter leaf earring. Holes that are further away, toward the edges of the leaf will result in a more 3-D, folded leaf earring when finished.
(It's largely personal preference, which style you like best. Experimentation is key!)
Step 7. Attach the earrings hooks to the jump rings and tighten the wire loops.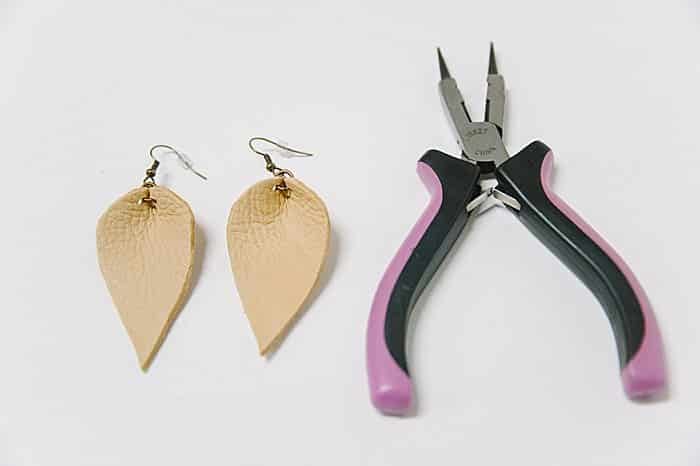 You are done!
You have made your own set of handmade earrings!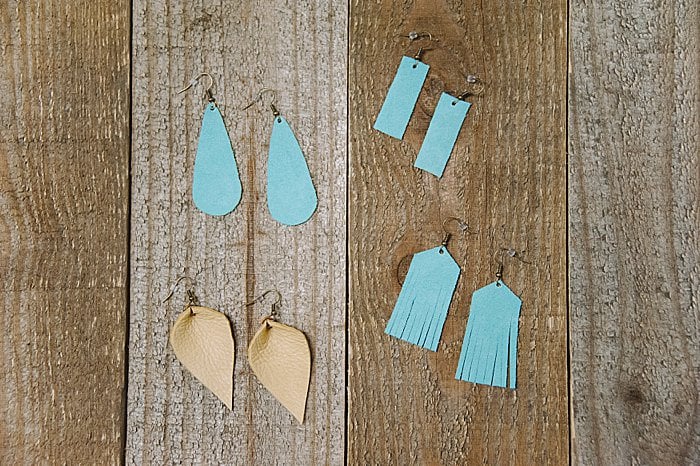 – – – – –
Leather scraps are easy to come by on Ebay, at craft stores, or maybe even tucked into a bin in your own craft room.
Leather earrings can be made from very small pieces of leather scraps; just a few inches are needed for each earring. That makes it the perfect scrap buster!
You can use colorful leather, patterned leather, or even upcycle an old leather purse or flexible belt into a pair of diy leather earrings.
Once you make a pair of your own handmade earrings, you'll already be thinking about your next pair, and looking for the perfect outfit to pair them all with!