**These posts often contain affiliate links. Please see our disclosure policy for details.**
The biggest reason (excuse) people give for why they don't do crafts is that they are too busy and don't have enough time.
There are always other things that need to be done, and just not enough hours in the day.
It's true, we are all busy… but no, we are not too busy to craft.
If crafts are a priority, we can and will make time for them.
Here to prove that even the busiest of people can make time to create is my friend and wearer of many hats, Sarah. She proves to all of us that if she can do it, we can do it too.
Welcome, Sarah! Thanks for being here to share more about how you fit creating into your already full life!
Let's get started.
How a Working Mom of 5 Can Make Time to Craft
Tell us about yourself: who are you and what do you do?
I'm Sarah, and I am a mom, foster-mom, wife, pastor, daughter, sister, and friend. I have deep South Dakota roots, but have been a Minnesotan for 8 years. I'm a graduate of Augustana University and Wartburg Seminary. You can find me on Instagram @sathomson
(*Laura adds: Sarah is incredible; she's a full time youth pastor, and she and her husband have 5 young kids through birth, adoption and foster care. They've been foster parents for years and have embraced the uncertainty of the system, and are making a major difference in so many children's lives by continuing to say "yes". The most amazing thing about them (to me anyway) is that they are super active and always on the go, even with such a big, young family. They're always out in the community, doing activities, camping, and traveling. I often think it's hard to go anywhere with my two little kids, but then I think of Sarah and if she can do it, I can do it too! She is my inspiration!*)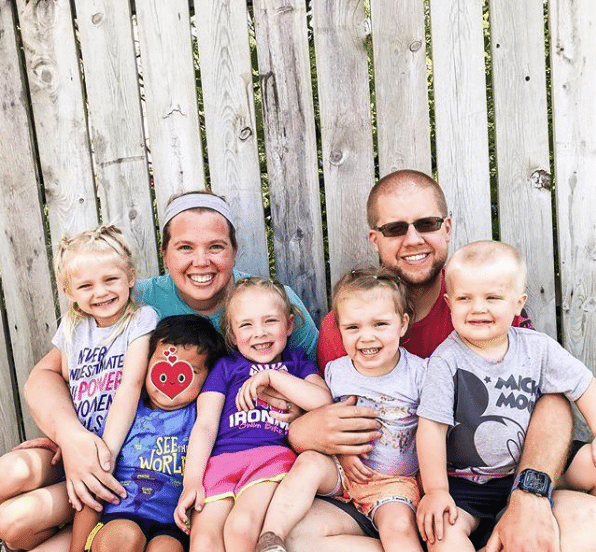 How long have you been making things?
Much to my mother's demise I have been making/creating things since I was a young child. I started out making things with toilet paper tubes and duct tape I stole from the garage and have come a ways past that.
I started crocheting while I was in late elementary school. A woman a church taught me how to crochet one Sunday at a time. Each Sunday she would teach me one more step in the crocheting process. The first week I learned how to single crochet and all week long I went home and crocheted this ball of yarn into a long single crochet, the next week she taught me how to turn and then I was making rows, and week by week I feel in love with crocheting.
I have been making digital photo books since I was in college, and sometime in my college years I also learned to knit.
The birth of Pinterest was a wonderful gift in my life and has inspired me to try many things I wouldn't have otherwise.
In the last two years I have also fallen in love with the art of making sourdough bread, and I am in my infancy of learning that.
What are your favorite projects to do?
Fall through Spring I love to crochet – I can't seem to find the desire to crochet in the hot weather.
When not crocheting I like to create photo books, hair clips for my girls, sew, and dabble in the latest trends on Pinterest.
As I mentioned, I am also learning about the glory of sourdough bread and that has been an interesting craft to learn. Yes it is baking, but there is also some beauty involved in creating wonderful loaves.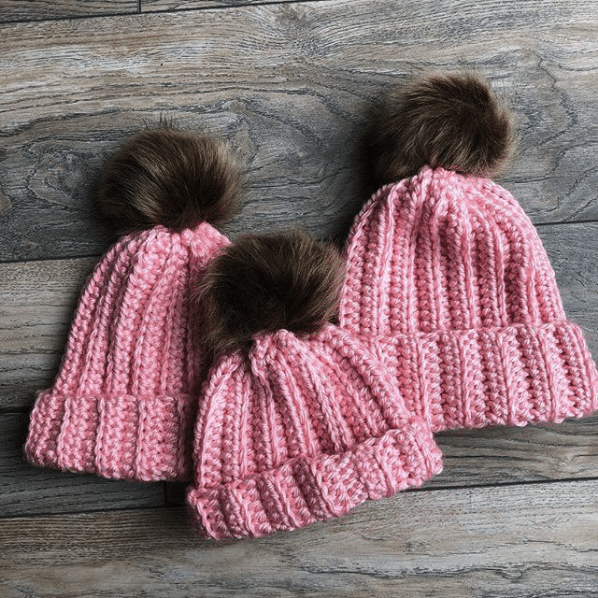 What things in your life make it hard to find time to craft?
As a parent to young children and working full time as a pastor, time management is vital. I am 99% convinced the idea of a "perfectly balanced" life is impossible. I do however, find it important amidst so much else to take time to do things that I love.
Some nights, my kitchen isn't as clean as it could be, there is laundry that goes unfolded, and dishes left in the dishwasher. I don't craft every night but most nights I try to find even a small window of time where I can tinker with something, even if it is just 30 minutes.
Our kids are 5 years and under, so they still go to bed at a reasonable time, which gives Marc (my husband) and I a bit of free time before we go to bed. During that time we always do the evening sprint of getting everything ready for the next day: our lunches, the diapers for daycare (we use cloth diapers and have to haul them back and forth), clothes in the kiddo's bins, workout, and dinner often gets prepped.
In that window of time I try to ensure there is some crafting time. It gives me a chance to relax, unwind, and create.
How do you make crafting a priority?
I try to take time to do some type of crafting, reading about some type of craft, looking at crocheting patterns, or falling down the deep rabbit hole of Pinterest.
Crafting also has enabled my family and I to give some fun gifts. While I'd love to just order lots of things off of Etsy, I have discovered the joy of making things for family and friends. Because the cost of supplies is usually lower than purchasing the item, it has been fun to think of wonderful gifts for people, find the perfect color, yarn, fabric, and create something that people love. It truly is a labor of love.
Everyone gets 24 hours and only 24 hours each day; what we choose to do with that time is up to us.
For me, it's important to try to take some "me time" somewhere in it. Crafting helps to fill my cup, which allows me to pour into others.
(*Laura adds:YES, AMEN SARAH! This is so in line with where my heart has been lately!*)
Any tips for mamas out there who are struggling with bringing creativity and the ability to make things into their daily lives?
Let go of the fact that your house/life needs to look like anything that could resemble Pinterest. It's okay to leave things unfinished. To-do lists can wait.
Take time for yourself, it is good for your mental well being.
Also, one thing I do frequently when I have a task I don't necessarily want to do, is I think about what "future Sarah" will think about my present choice.
For example: "5:00pm Sarah" is always happy with "morning Sarah" who made a pre-prepped dinner. While I wasn't really motivated to do it in the morning, when I am not scrambling to put something together for dinner at 5:00pm, I am always thrilled with my morning self.
This is enough to motivate myself to do lots of things. This also then allows me to have time to craft later at night. If I work hard through nap/quiet time, I will have uninterrupted time at bedtime when I can craft.
(*Laura adds: This concept of Sarah's has been revolutionary for me too. I often feel myself resisting things I don't want to do like putting away laundry or making a phone call. I think, "I'll do it later." But really, I won't want to do it later either. So when I think to myself, "Future Laura will be so happy that you did this now," it's often enough to motivate me to act. And I'm so happy later on when the tasks are done! Sarah's a genius to employ this tactic to help her get things done and make more time for the things she loves!*)
– – – – –
Thank you so much for sharing your story and your tips with us, Sarah!
You are an inspiration to me and I often look to you for motivation and courage.
Making it a priority to fill your cup is essential, especially for moms who are pouring so much of ourselves out to those around us all day long.
For those of us who love to craft, we can (and need to!) make it a priority.
If Sarah can do it, we can do it too!
Here's to many more crafts and family adventures!